July 23, 2007 - Day 24






>>

Dick is Head of Household - Jen used veto - Kail & Mike are nominated

<<

>>

If the site's slow or pics don't load, please try again later.. mornings are slowest

<<



Mustard wars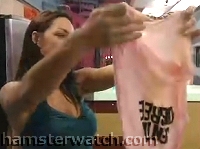 Okay, "wars" is highly exaggerated

Eric targeted Jen to "vandalize" for his latest task.. he splurted mustard on her pillowcase/t-shirt

She doesn't react much, making this another dud in the ongoing America's Player dud-a-thon.. instead, she washes it out.. she does say that she thinks she knows who did it.. Daniele approaches her and says she didn't, she would never do something like that - Jen says she knows it wasn't Daniele

Inquiring minds want to know and yes, there's proof today that Howie's jackshack/cabana box is still on the premises.. Jen continues to do her part to make Big Brother 8 what Big Brother 8's producers want it to be - Mike continues not to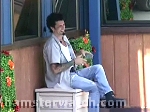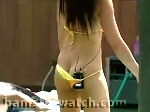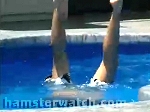 Mike's such a non-entity in there that it takes a full hour after the veto meeting for me to confirm that he was nominated - usually these things are clear within 10 minutes of the blues evaporating.. he & Kail have a check-in that actually shows her to be paying attention: she tells him that Jen & Dick went to bed at the same time last night/this morning, and that she caught wind of Amber talking about getting rid of Dick.. Dick & Kail then have another rehash of the same convo they've been having all week, although this one is quiet, calm, and not as vindictive as most that came before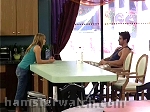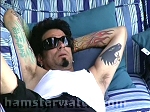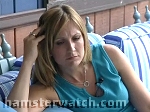 Dick [about earlier]: I'm not cussing you out, I'm calling you out.. in my vocabulary I cuss a lot, so I'm not cussing you out [followed by an apology]
....
(Check the overnight videos for Dick telling Jen that they'd make better allies than enemies, if you missed it)

So what's our new nominee all about? Who is Mike?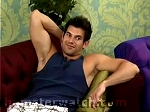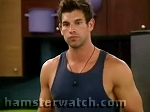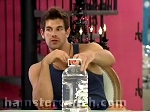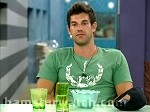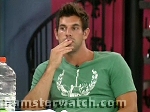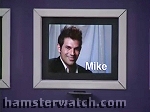 That's all I got.. shrug



While we're at it..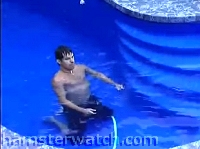 What are the rest of these dweebs about?

Zach's defined in-house as "creepy".. the producers seem to like him - I can't figure out why

The camera crew zeroes in on the "creepy" aspect today as they toggle back & forth from Daniele's rear end to his face, rapidly.. the rapid swaps catch my eye so it's almost over when I catch on, but I trust those guys on stuff like this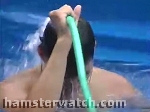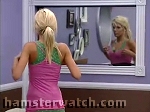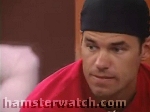 Eric's another producer pick (openly this time).. Dick pointed out today that he's predicted everything correctly so far.. here he is uhh.. feeling melons, and showing his goodies.. I'm just glad we have Jessica there: she does make an effort to be what a hamster should be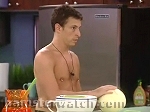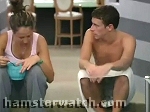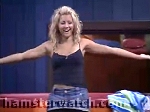 Amber & Dustin seem like separated conjoined twins reunited, but they stop their everlasting heart-to-heart long enough for Dustin to run his fingers through Nick's hair for the few moments of the day he's out of Daniele's bed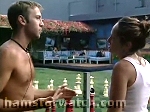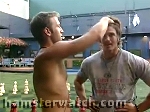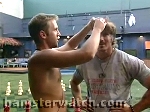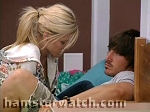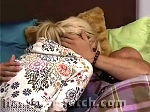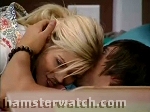 "I hope you see this, internet fuckers!
I hope it makes you fucking happy"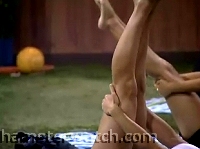 © BB5 Nakomis.. and she had good reason

Tonight it should be amended to include Showtimers, and the producers should be ashamed of themselves, once again

After a day of absolutely nothing, 9pm brings along the usual T&A, once again in the form of abs class which means (when it takes places at 9pm for Showtime) lots of long, caressing pans over Jen's body and close-up zooms on her crotch

Amber's there too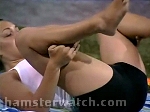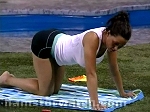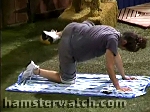 Then they take us to Dick & Daniele again, and they shouldn't have.. they shouldn't have put her in there in the first place, let alone make an exception to their own age limit rules for their stupid "twist", let alone put her & him in there together.. but they did

They shouldn't have put this on the feeds, but they did.. they definitely shouldn't have run it on Showtime, but they did.. Nakomis's breakdown and very apt words echo in my ears as another very private situation unfolds in this very public arena for the sake of CBS dollars and ratings

But they did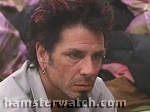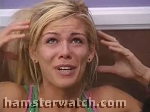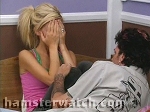 It's different than her first breakdown, and different than their fight yesterday.. (mostly) gone is brash, arrogrant, loudmouthed Dick of the last week.. here's a caring, sensitive man struggling to reconnect with his daughter who doesn't seem to know what to do with her pain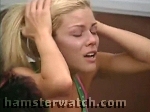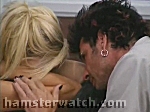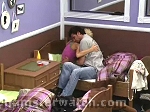 It's wrenching stuff and I feel for both of them.. she has a load of resentment and he acknowledges that some (at least) is warranted.. they really do seem like they aren't that very far apart - in many ways, they're no different than most parents & kids that age - and it feels like each made some progress tonight, but neither has the tools to get there on their own

She finally hugs him back, a first for us.. later he says it's the first in two years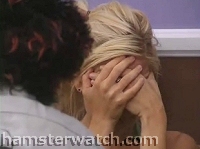 Nothing would make me happier than to have Dick & Daniele walk out of this mess together and get the help they need to rebuild their relationship, in favor of winning some cash that will just get spent (if not fought over) or not winning at all and having done all this in public for nothing.. walking out now might lead to them starting to get fixed.. it would kill the show which is no less than CBS deserves at this point, and the rest of us could go home

To top it off, Nick works on Daniele later, in bed, pressuring her and guilt-tripping her, letting her apologize to him and telling her "You can look at me when I'm talking".. she finally gets up and leaves with that one

Nick's almost starting to make Boogie look good



BBQ Smackdown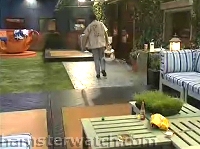 On a lighter note, the 2007 Fourth Annual Barbecue Smackdown got off to a quiet start tonight, as Dick attempted to grill some burgers

After a half hour, they were still raw

It turns out the summer-long sized propane tank is already empty.. they just got it a few days ago

It's only the introductory round and doesn't necessarily set the tone for the season but as of now, the grill remains undefeated

Results for Round 1 The Beast Returns - final score: BBQ 1, Dick 0



Daily videos






Mustard reaction; Dick & Kail talk; Mike speaks(!); Dustin & Jessica have some fun (til Zach farts it up); Eric throws Jessica around; Dick & Daniele's talk; and a subdued Dick at Night Show are in the forum




WATCH BIG BROTHER FEEDS ON SUPERPASS


TWO WEEK FREE TRIAL - SIGN UP NOW!
Daily linkage - see all links

Today's must-click specials: Zooma Zooma Zooma and Birthday celebrations BB8 Parks by TD


Latest twitter - sign up below - posted :
""

RealOne SuperPass
Get a 14 day free trial with this link

Aldav first to find big news, all the edgy stuff & the best mini-recaps in town (adult content)
Attw x's houseguest tributes all seasons fun & reference by BB's number one fan
BuddyTV - Big Brother 8 news, articles, discussions
Reality TV Links - Big Brother 8 emphasis on individual hamsters' sites
Reality TV Links - Big Brother 9 emphasis on individual hamsters' sites
Sir LinksALot Big Brother 8 all the links
Sir LinksALot Big Brother 9 all the links

CBS Big Brother the official site includes archives of the aired shows

Hamsterwatch Big Brother 8 navigation tool for the daily recaps on this site
Hamsterwatch YouTube videos off the feeds
Hamsterwatch MySpace friend me for special bulletins and to play Caption This
Hamsterwatch Twitter text 'follow hamsterwatch' to 40404 for updates to your phone



Please do not repost any content from this site (or any other) without permission, and do not repost or hotlink to any images
!! THIS MEANS YOU !!

LINKS FOR NO TIME-OUT FEEDS

14 DAY FREE TRIAL


Watch the feeds on SuperPass









FREE TEXT UPDATES


Text 'follow hamsterwatch' to 40404 to sign up for feed updates, spoilers and big news right to your cell phone or IM. A Hamsterwatch exclusive - more info







HAPPY BIRTHDAY KRIS


Don't blame her







EMMY NOMINATIONS


Four reality tv categories - zero noms for Big Brother







BBQ SMACKDOWN SCORECARD


Round 1: BBQ 1, Dick 0







POWER STATUS


Dick is Head of Household
Jen used veto
Kail & Mike are nominated







AMERICA'S

PRODUCERS' PLAYER
Whose personal property should Eric covertly target? Polls closed at midnight: Jen
The last one - try to get nominated - was also Jen







NEXT SHOW


Tuesday, July 24 at 9pm - Westies can watch live thanks to Jen & Sean







RATINGS WATCH


Sunday's show had a 4.2 rating and 8 share, placing it 2nd, tied with 'Extreme Makeover Home Edition'. 'Dateline NBC' won the timeslot with 5.5/10. Thursday's show also placed 2nd with 4.7/9 behind 'Are You Smarter Than a Fifth Grader?' with 5.0/9.







Groceries delivered to your door!

NOTHING SPECIAL EDITION


Is it too late to swap this cast out for people who actually applied to be on the show? Daily ratings are based on entertainment value. Editors are based on the most recent air show.






PLEASE TURN UP THE VOLUME ON THE FEEDS (but not the blues music).


Sunday is usually the fluff show but this one was the slander show. They continue to show Amber only when crying in Diary and they continue to make Jessica look like a mindless ditz (she isn't). They introduced Nick's ambiguity, began to paint Jameka in the angry black woman 'role', and exploited Kail's homophobic naivete for no reason other than to crucify her. They did air Dick's 'retarded' (perhaps in an attempt to balance Kail's 'vendenna') but otherwise his editing was exceedingly kind considering the amount of post-vote browbeating he did to her & others, not to mention his spitting habit. At least they got their money's worth from the only remaining 'twist' participants. Nick & Daniele went from Thursday's 'bud' to 'blossom' (gag) and the Jen/Eric wrestling match was a couple weeks old, but by and large it was The Eric Show start to finish.. plus a healthy dose of gratuitous bikinis diving in pasta, of course. It's no wonder they got no Emmy nominations.. as a standalone tv show, it generally tanks. That's sad - it doesn't have to be that way.






I have nothing to say here.. just send her home.






I'm so tired of seeing her lay around with Nick I could spit. Neither seems to give a poop about a game - I say send 'em home. Together. Only put a camera on them when she watches his intro's from the premiere show and how his whole game is going to be about flirting. Last minute upgrade to neutral for getting out as much to her dad as she did, and for doing it in front of an audience that shouldn't have been there.






HEAD OF HOUSEHOLD
His stock dropped this week among fans but he's still carrying the entire show on his shoulders. He suggested a partnership to Jen (something I got jumped on for suggesting awhile back, I might add) but she's still got the upper hand there and left him with an unspoken 'maybe' that's probably making him crazy. All this, and he still finds time to hide the bunnies. Last minute upgrade from neutral for making a very good attempt (in my opinion) with the limited parenting tools he has to reconnect with Daniele in a wrenching convo none of us should have witnessed.






He doesn't seem to be in the game much more than Mike, but at least he does a few things in a day other than let Amber hang on him, and he's likeable. He should be sent home for his own good.






AMERICA'S PLAYER
Mustard??






Like Jessica, she tries to make some lemonade from all these lemons, and it isn't her fault they're mostly all sour.






USED VETO
The overnight Dick & Jen show may be the only thing left worth watching in this mess, but it doesn't tend to kick in til 5am. He may be carrying the CBS show, but she's carrying Showtime. Send everyone else home so these two can get on with the angry sex.






She tries to step it up into the funzone and it isn't her fault the rest of them suck the life out of her. At least she's alive.






NOMINATED
She keeps wanting to talk over the week with Dick and the story keeps not changing so why does she persist? She's not done much else in there that we've seen, but the cameras are rarely on her unless she's glaring or whining. Send her home.






NOMINATED
His eyes are bugging a bit more than usual since he transitioned to a co-star role, but otherwise he's as drippy as ever. Send him home.






I'm so tired of seeing him lay around with Daniele I could spit. Neither seems to give a poop about a game - I say send 'em home. Together. Only put a camera on them when she watches his intro's from the premiere show and how his whole game is going to be about flirting. Send him to one of Boogie's joints.






One of the cameras switched back & forth between his face and Daniele's butt today. I don't know if he was 'creeping out' or not but if so, he's only doing what the producers seem to be expecting everyone else to do. Regardless, he brings nothing to the table: send him home.








His & Dustin's part in the 'twist' felt legit and disturbing to eavesdrop on. Joe was chatty and catty, he told stories and entertained, and will be remembered for 'Amber from Vegas' and gonorrhea.








She & Jessica didn't fulfill the 'twist' as advertised so off she goes. She wasn't prepared for this, she moped a lot and was barely around, but she gave a good show when she had it out with all the cameras watching her.



THANKS FOR VISITING


Donations are gratefully accepted through Paypal using the button below or direct by email. Please support other BB8 sites that you like, too. Many thanks!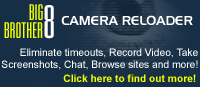 This site isn't necessarily thorough: it's what I catch and/or what interests me. It also isn't necessarily about who should win, who will win, who I'd be friends with or who is cute. It's about watching hamsters: which ones are doing what and why, which are fun and which are dull. If they aren't entertaining, get rid of 'em! Thanks for encouraging my behavior.