July 5, 2007 - Day 6






>>

Kail is Head of Household - Amber & Carol are nominated

<<
>>

Veto comp is Friday

<<



It's time






Ok, I've got a nice clean slate here and I'm ready to dive in with as many faulty first impressions, quick rushes to judgment, and snarky commentary as I can muster

If you're just getting here this season (and the feeds haven't started yet), there are a few episodes posted over the last couple of weeks with bits of info & speculation, along with new sections on the site - a forum and live chat, linked at the top & bottom of every page - please to enjoy

If you haven't yet gotten your SuperPass, do it now! - If you haven't yet configured your RealPlayer for no-time-out feeds, get them here!

I think I'm ready.. let the show begin



Frenemies?




It turns out Eric's the one we get to push around, and he's probably a very good choice for that since he's the most likely to be overlooked, at least for a few weeks

The only enemies are the ones that were figured out in the last week or so: Joe & Dustin are ex's (and shared way too much info on the show, along with the gonorrhea they shared awhile back), Carol & Jessica are indeed hometown rivals (they fought over $5 in seventh grade - "wow"), and Dick & Daniele are father/daughter (neither of whom seemed too surprised at the seeing the other)

I'm calling the Dick/Daniele feud a hoax: their stories have fluctuated too much - did they not speak for two years or five? Daniele told the other hamsters she lied about her age to get in - do none of them question that, as if she didn't have provide ID? She also said there would probably be more people than the initial 11 before the "twist" and remaining three hamsters were introduced.. Joe, Dustin, Carol and Jessica didn't seem overly surprised either, for that matter - although Joe & Dustin were each suitably dramatic

Oh well, what can we do? Maybe all the enemies are a hoax on us and/or on the producers.. either way, it's what we've got to work with here.. you know it's a lame theme anyway when Julie has to introduce it as "a rival, enemy, or someone with whom they have unfinished business".. why not toss in "or has a vowel in their name" while she's at it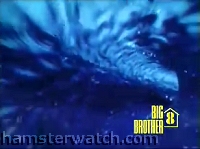 It looks like they'll be using the same screensaver program for feeds blockage as last year.. this time it's a nice blue watery tunnel effect, complete with the WAY TOO LOUD MUSIC we grew to hate with last season's flames

Waiting for the feeds to kick on now.. they have to let enough time pass first so they can fool us into believing tonight's show wasn't live (as if they're fooling anyone, jeesh)

Special thanks to 5tags/Jen and Sean for the Stickam!



We got feeds - and confusion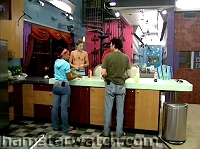 The feeds don't kick in til the show ends in the West, which is quite a bit later than usual - probably due to the Showtime arrangement, but a nice change for Westies

The first views are a kitchen gathering, and Carol talking with Amber in the oversize room - it doesn't take long to figure out they're both nominated

Carol moves to the gym to work on Dustin, like nominees do.. it's the usual nominee's loop: poor me - my last boyfriend - I quit the Kansas City Chiefs cheerleaders to come on here - rewind, repeat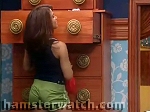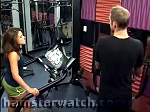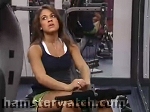 Then it's a hot tub body count with plenty of gratuitous flesh and boobies.. but these guys don't seem very animated, or fun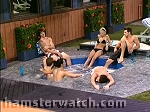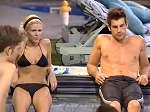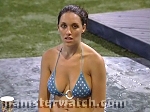 Later in the kitchen we do get a minute of horseplay from Joe, but Jessica doesn't seem to think it's all that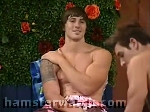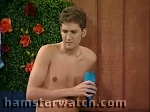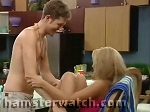 It's a lot to take in, as usual: they've been in there five or six days (we've had conflicting counts from them - it should become clear on Sunday's show) and we get no recap of what's gone on but apparently a lot has: nominations, a food comp, a tampon situation, and tons of getting-to-know-you's that we'll never see.. most of them seem a bit guarded.. when they break off into twos and threes, most mention The Six (the frenemies) as a problem.. Dick, being one of The Six, talks about the Gonorrhea Boys, the Gigglers, and everyone else

We're just trying to learn who's who at this point - new Showtimers must be saying WTF is this crap? Some are on slop already but I'm not sure which ones.. Kail & Jameka chat quietly over trying to cook it into something edible - both seem pleasant enough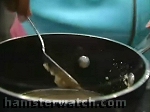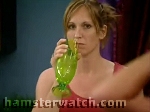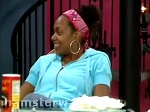 Kail looks closer to 17 than 37

Jessica seems a bit confused, like I am, but Dick seems to think he's got it all figured out.. the hammock's still in place: Zach & Jen have a veto/vote meeting in it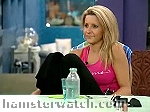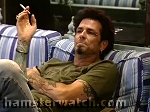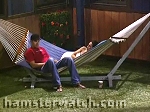 On to the fun stuff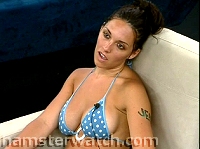 I expect a fully dysfunctional Waffle Alliance to form and so I'm not yet following all the ins & outs of the various convos about who's in with whom, who's going to use the veto, and who's going to vote for whom.. it's too early for all that and it'll all change - anyway, we're missing half the pieces to that puzzle - so it's on to the quest for fun (and there isn't a lot)

The camera crew likes Jen and does several long, slow pans of her feet, body & boobies for Showtime while she's watching the HOH spyscreen.. I don't know if this is her normal expression when she's alone or what - I didn't notice this look in her modeling portfolio but it shows up quite a few times tonight

Eric makes some good faces too: this one is when he & Dick are gossiping about all the others (and trashing most of them).. I don't think we'll see a lot of backyard convos on the air show this year as stripes play havoc on tv (you have to wonder who ok'd that design decision).. here's a look at this season's kooky drinking glasses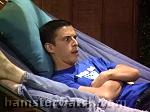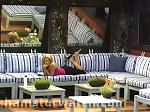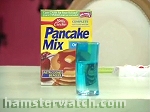 Most of them are concerned about tomorrow's veto comp and most head off to their beds by midnight.. it looks like Dick is our night prowler, at least for now.. he spends a few hours running around the house, muttering & laughing to himself, belching & farting, and decorating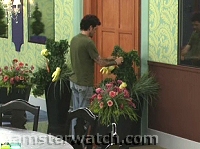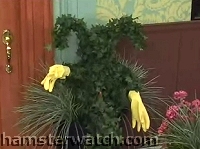 He doesn't seem as abrasive as he'd led us to believe he would be, but it's early days.. he's been a feedster and seems cocky about the game when gossiping with his boys, and very very aware that we're watching him as he putters around the late night house



First tears, already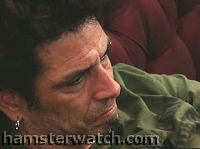 I bet nobody put money on Dick being the first to get sniffly

After a couple hours of solo night prowling, he starts muttering about "Alice" and the decor, and before you know it he's sniffling, wiping his eyes, and blowing his nose into his shirt (à la Puck)

It sounds like he's saying that Daniele "always wanted to be Alice, and now she is" and complaining about having discovered her there in the house to mess up his game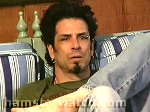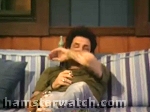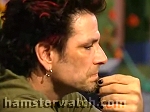 I don't think I'm buying it: he's been working too hard on too many people all night, and this crying jag is going on for too long to feel legit - it feels like he's working us, considering how aware of us he is - but it's a good show and that's what we're here for!

One odd tidbit to throw in before closing: tv listings for Yahoo, IMDB and some cable providers are describing the show as "Strangers coexist in an isolated house for a chance at $1 million" which is sure to prevent that false rumor from dying a timely death.. with "isolated" thrown in there it looks like some intern just copy/pasted Survivor's blurb to the syndication service with a few changes.. stop the madness, people! Repeat after me: this year's BB winner will get $500k, same as usual

That's it for tonight, kids.. I know I didn't catch all of them and I'm painfully low on details, but I'll catch up with the plot as we go.. I tried to upload an early video or two but was shocked - shocked! I say - to discover YouTube no longer accepts RealVideo.. well, not to worry - I'll get BBReloader Friday and should be good to go for vids again

Thanks to everyone who joined us in the chat and/or forum tonight, and do come back! Extra thanks to abt, attw x and Alwaysroomforcake for some great screencaps on the new board, TD for a terrific new BB8 Park, and Alwaysroomforcake and GoodGrace for inaugurating the updates board, and everyone posting on the forums - keep 'em coming!




WATCH BIG BROTHER FEEDS ON SUPERPASS


TWO WEEK FREE TRIAL - SIGN UP NOW!
Daily linkage - see all links

Today's must-click special: CBS BB8 I wonder if they'll get the full site up in time? (3am: not yet)


Latest twitter - sign up below - posted :
""

RealOne SuperPass
Get a 14 day free trial with this link

Aldav first to find big news, all the edgy stuff & the best mini-recaps in town (adult content)
Attw x's houseguest tributes all seasons fun & reference by BB's number one fan
BuddyTV - Big Brother 8 news, articles, discussions
Reality TV Links - Big Brother 8 emphasis on individual hamsters' sites
Reality TV Links - Big Brother 9 emphasis on individual hamsters' sites
Sir LinksALot Big Brother 8 all the links
Sir LinksALot Big Brother 9 all the links

CBS Big Brother the official site includes archives of the aired shows

Hamsterwatch Big Brother 8 navigation tool for the daily recaps on this site
Hamsterwatch YouTube videos off the feeds
Hamsterwatch MySpace friend me for special bulletins and to play Caption This
Hamsterwatch Twitter text 'follow hamsterwatch' to 40404 for updates to your phone



Please do not repost any content from this site (or any other) without permission, and do not repost or hotlink to any images
!! THIS MEANS YOU !!

LINKS FOR NO TIME-OUT FEEDS

14 DAY FREE TRIAL


Watch the feeds on SuperPass









FREE TEXT UPDATES


Text 'follow hamsterwatch' to 40404 to sign up for feed updates, spoilers and big news right to your cell phone or IM. A Hamsterwatch exclusive - more info







WELCOME AND/OR WELCOME BACK


And a very special Hamsterwatch shout-out to Nurse Jackie! (Ashley too)







POWER STATUS


Kail is Head of Household
Amber & Carol are nominated







AMERICA'S PLAYER


Eric will get $10k for every five assignments completed. They'll give vote choices at the end of every air show, starting Sunday.







NEXT SHOW


Sunday, July 8 at 8pm







RATINGS WATCH


Thursday's premiere had a 4.9 ratings/9 share, making it #2 for its timeslot behind a rerun of 'Are You Smarter than a Fifth Grader?' on Fox with 4.8/9







Groceries delivered to your door!

GET THE PARTY STARTED EDITION


Daily ratings are based on entertainment value.






If you still think the producers don't mess with the game, consider that they decided Eric has a chance to win a boatload of extra cash and that 3 didn't get to compete for the first HOH, and then get over it: it's what it is. I'm never crazy about the air shows but with all that on the first night, I'm a little disappointed - let alone the lame 'twist' and the non-shock of its victims against such overly dramatic music. I don't know why they felt they had to give Dr. Will more airtime, but I guess he's good for ratings. The 'Mushroom Madness' HOH comp makes it sound like we can expect a lot of Alice in Wonderland comp themes this year with mad tea parties and the like (a Down the Rabbithole claustrophia comp might be fun). It was nice of Julie to give us some disguised dirt about two having had plastic surgery, four would give up their best friend for cash, etc. so that was a plus. All in all, a neutral show but special free ups because it's back on the air.






NOMINATED
I hardly saw her at all so I have nothing. I don't know why she's nominated or how she feels about it or what she's doing about it, so she stays neutral by default.






NOMINATED
Jessica's school rival
Naturally she doesn't seem pleased by her nomination but she covered a lot of ground campaigning about it tonight. She seems like she's got some potential for drama and possibly our first tears which could earn her early ups in the days to come. She had the line of the night with 'I didn't think there could be copyrights on gospel songs' - she seemed genuinely shocked to learn otherwise.
Update: Oops, Dick beat her to the kleenex!






Dick's daughter
I'm not buying that she & DaddyDick were surprised to see each other in there: it seemed like she feigned her surprise and overcompensated way too much trying to seem shocked on the show and bringing up their feud on the feeds. I don't have much else on her yet though so she's stuck in neutral.






Daniele's father
Not only is he our solo night prowler, but he gets busy while he's prowling. He mutters and laughs, and moves around the house a lot. Earlier he gossiped and trashed up a storm with Eric and he has some fun nicknames for the rest of them already that will probably take hold around the web. He seems to be working various trust angles too hard for my liking, not to mention the feud with darling daughter - which I'm not buying for a minute.
Update: Surprisingly, he turned out to be the one to give us first tears, late at night, alone. Were they genuine or is he hoping for America's Choice votes and/or extra airtime and/or extra Googling power?






Joe's ex
He didn't bring up the gonorrhea but he might as well have: he's guilty by association and will likely remain so forever. I'm not so sure the two of them weren't expecting to see each other in there - what's the odds they'd show up wearing each other's shirts? I saw him around the feeds and probably heard him some, but nothing stood out so he also stays neutral.






AMERICA'S PLAYER
I'm giving him the benefit of the doubt here. I think he might be a good under the radar-er and that's a good thing for an AP to be. He got nasty - and hyper - when trash-talking with Dick in the hammock, but I guess he figures he's got nothing to lose, being the producers' darling and potential big money winner. He's kind of nerdy but he makes some goofy facial expressions, and we like that in a hamster.






I didn't see much of her but what I did see wasn't bad. She's soft spoken, seems likeable, and also seems to be paying attention - which is about the best thing one can do to stay alive in there.






I know she's already #1 pick for bikini fans and the camera crew made sure the Showtime audience got an eyeful on that score, but I don't rate them as easily as that. She earns easy ups tonight for her vacant, slack-jawed stare while distracted by the spyscreen or conversation around her, or maybe a lot of things. Sure, that's not a huge deal and I'm sure it'll get old, but it doesn't take a lot to get ups on the first day of feeds.






Carol's school rival
I'm not going to say airhead (yet?) but I'm not sure she's the brightest bulb in there. It's early still but I don't see much potential here for ups - I hope she'll surprise me there. It might be rough for her to go thru life with everyone knowing she got on a tv show because someone owed her $5 in 7th grade.






Dustin's ex
I thought he was going to be the AP but he turned out to be the STD announcer instead. I really don't know if anyone needed to hear about his gonorrhea days (let alone everyone) and he may feel the same when he gets out: I have a feeling that one's going to stick to him like an untreated case of the clap. I think he's got potential for some high drama and hissy fits and I fully expect to see some, but his medical disclosure on national tv earns him easy ups this time - in spite of calling us feedsters 'huge ass freaking nerds'. Well, it's better than BB6 April's 'pieces of shit' (but not as cute as BB7 Will's 'old ladies with lots of cats'). Don't be counting on winning any America's Choice goodies like that, buddy.






HEAD OF HOUSEHOLD
She wasn't around much and I have no clue why she nominated Amber & Carol - maybe she chose alphabetically. She seems to be doing a BB6 Rachel-style first HOH by not interacting much, but we just saw a few hours of her tonight. Dick & Eric were bitching about her being too high & mighty - which never sits well with me - but I'll withhold a downgrade for that unless/until I witness it.






Who? Suffice to say I had to refer to yesterday's sidebar to remember which one he is when I got to this point in the write-up.. that can't be good.






The sexually ambiguous references just keep coming with this guy. I missed him saying his dad thought he was gay, that he didn't have a girlfriend in high school, and that he gave a guy a BJ once, but I guess he said it all. That last one's usually a sign.. this guy bears watching (especially around Joe or Dustin).






I know which one he is, but activity-wise he's in the Mike category. I saw him talking game in the hammock, but I didn't pay much attention. He was wearing a Dolphincrash t-shirt tonight, which puts him dangerously close to the Boogie free advertising category, but that's excusable just this once since it confirmed beyond doubt that we had the right ID and MySpace for him.



THANKS FOR VISITING


Donations are gratefully accepted through Paypal using the button below or direct by email. Please support other BB8 sites that you like, too. Many thanks!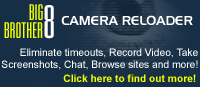 This site isn't necessarily thorough: it's what I catch and/or what interests me. It also isn't necessarily about who should win, who will win, who I'd be friends with or who is cute. It's about watching hamsters: which ones are doing what and why, which are fun and which are dull. If they aren't entertaining, get rid of 'em! Thanks for encouraging my behavior.