9/8/05 - Day 68



>> to the future >> to the past >> daily index
>> latest HamsterWatch episode >> linkage

>>

Howie evicted 2-1 - Janelle is Head of Household

<<



So long, Howie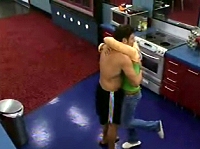 Even with one foot out the door he gives Janelle one last peptalk and hug, never complaining about being booted and just encouraging her to go on and wipe them out, every one

Howie's been a delight to watch, even when he's being disgusting.. he'll be missed

They pause during Thursday primp-a-thon to chat a bit.. Janelle comes in combing her hair, talking clothes, boyfriends, etc like she does to wind them up.. Ivette baits her for ammo they'll use to rip her apart later when they're alone, like she does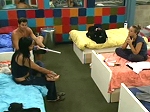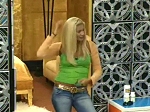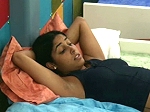 Maggie & April don't even bother to hide their contempt anymore, and they rush off to the bathroom to whisper hateful remarks, like they do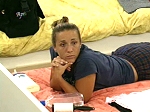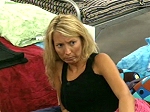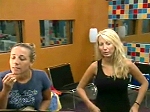 Final four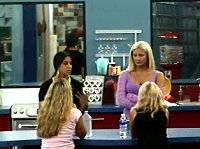 It's an all-female finish.. they sit around the kitchen and go over the evening.. Janelle looks from one to the other - they're all acting sociable - every now & then when none of them are looking she smiles, thrilled with her victory.. she has nobody there to share her joy








They feed the fish.. Maggie & April talk about who Janelle will take to finals - they've already decided she'll win the next comp too - how she's cheated all along, how the producers are letting her win and worse.. Janelle joins and tries to be sociable with them but it isn't easy: their surface chit chat can't hide their resentment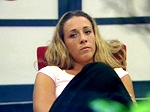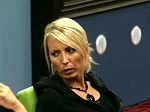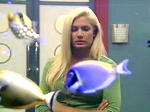 April had stuck a cross in her bra for luck, or something.. at dinner she pulled it out, chucked it onto the table and said "I guess this thing didn't help me"

Janelle waits alone til her room is ready.. when it finally is (during HOH comp for the west coast - thanks again CBS) they all attend the debut this time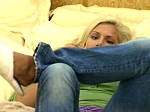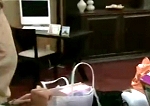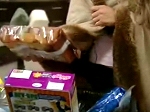 They explore the baskets of goodies & clothes & Mary Kay stuff from her mom.. they look at her family pics, perhaps realizing they've never really talked to Janelle much





They flip over the pic of her doggie Cupcake who's as cute as advertised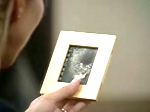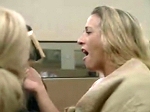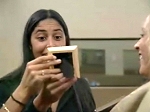 Maggie & April don't even pretend to be interested after a few minutes.. April scowls at the mirror.. they say (derisively) that Janelle's got the best goodies yet.. Janelle invites them to sleep over if they want to







Then she's alone with her music and her family pics.. she has no idea how many fans she's got out here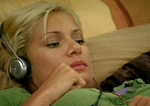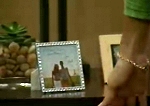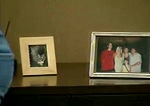 April trudges off to Diary - they'll have their hands full with her this week - Maggie just trudges around.. she seems to have some tragic heroine thing going, but she doesn't suit the part







Maggie's dying diva act continues to the hammock.. Ivette walks into HOH while Janelle's showering and tells her they'll sleep downstairs tonight but thanks, and congratulates her on her win saying she deserved it.. later Maggie opens the door to say good night, saying Janelle didn't hear her shouting.. she doesn't come in though, which says a lot about who's intimidated by whom.. Maggie & April cozy down together in one bed






Ivette: I have to respect her as a player in this game, even though I don't like her
Ivette: All those family photos though, makes me think maybe she is human
....
April: It's not fair we didn't have more time to answer, like a minute for each question
Ivette: That's ridiculous
Maggie: Our alliance has dominated this game
April: We just all liked each other
Maggie: They formed their alliance but they never stuck to it.. they didn't enjoy each other's company
....
Maggie: All the know-it-all doctors, nurses, and firefighters will tell me how I screwed up and how I should have played the game

The pantry's fully stocked for 10 so it's another week with no food comp.. Janelle reads her HOH papers, listens to her music, and does her nails






Later she goes downstairs to socialize with them for awhile, but the long convo is mostly fishies for us

It's a bittersweet day.. Howie's gone and missed already by them and us.. Janelle won when she had to but she has nobody to celebrate with, nobody to cheer for her and say "Way to go Janey! You did it!!" because her opponents are so mean and so nasty, so bitter and so jealous

Of them all, Ivette was the one who stepped up tonight and shut down April & Maggie more than once, saying Janelle won cuz she did the best, cuz she studied hard and performed when it counted, and that she deserved it



Mean girls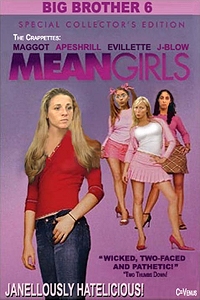 Poster by C=Venus

It fits all too well, except for the fact that these girls are not the hip in-crowd.. more likely they're the girls that were picked on themselves

That just makes their horrid behavior worse, in my opinion.. I have no sympathy or compassion for them, and I usually try to find something decent about people.. even Cowboy was loyal to a fault and devoted to the lovely April (his April, not this one)

These girls have no redeeming qualities at all, at least not that they've shown, and after 68 days you'd think something would come out.. it's pathetic how they've treated Janelle all these weeks - most of it based on jealousy that they deny but it's obvious to anyone, and the fact that James set up that Ivette-Janelle feud way back on day one before we were even allowed to join in.. April's fed them a zillion lies about Janelle too, that they believe without questioning

They fell for Michael the Harassing Molesting Maniac and booted him out after slandering him on the feeds & on tv based on Jennifer's resentment that he didn't like her back, and she let that happen.. these three remnants all claim to have felt horrible when they found out the truth, but they still persist on hating Janelle based on what? Based on nothing but their own miserable outlooks and the obvious fact that Janelle's prettier, smarter, and more liked.. they'll have all kinds of justification when they get out for their behavior and hateful, hateful words, but whatever happens in the next week or so, Janelle's the clear winner here regardless of who goes home with the money


Today's videos These links will launch your RealPlayer - it may take a few seconds

Maggie's ankles Maggie & April talk about how horny they are over dinner
Touch 'n cuddle Maggie & April wonder what Janelle will do, and look forward to cuddle time
Caught cheating Maggie says "we've caught her cheating, and they don't do anything about it" - when was that Maggie?? Before or after you sent Ivette out to spy??
The way we sleep The coven makes plans to sleep together after BB6



Linkage




What really matters must-clicks: Survival of New Orleans blog - Live video feed
Do the right thing: Direct Relief International - American Red Cross
Katrina damage: Satellite images from NOAA

Today's must-click special: BB6 Park for September 8 by TD

CBS Big Brother 6 the official site
House Calls weekdays live 10am BB/1pm ET on BB main page - show archives
Live feeds signup - No timeout feed links
BB6 Park by TD listed on Hamsterwatch daily index
Hamsterwatch on Youtube BB6 & BB7 videos off the feeds
Hamsterwatch Big Brother 8 here we go again
Hamsterwatch Big Brother 7 All-stars in the house - from me, that dingo person
Hamsterwatch Big Brother 5 Dailies, Cowboyisms & Hollyisms - also from me
Aldav has all of the edgier stuff & the best mini-recaps in town
BB Chatter feed updates, screencaps, and fun boards - easy to use and functional!
Screencaps refresh site is back, from bbfan
Reality TV Links - Big Brother 6 emphasis on individual hamsters' sites
Sir LinksALot Big Brother 6 all the links
Big Brother Link news, info, caps, forums, and links
Big Brother Fanatics chat, updates, caps, news, and links
Big Brother 6 Keyhole peruse various BB sites in the same window, feeds too
Joker's Updates Big Brother Grins can't do BB Park this year
2005 or 2006 Kaysar calendars by BBVoyeur - pdf format
C=Venus BB6 chops new site full of really great work
BB6 Houseguest Fun play Mr. Potato Head, mess up their faces, send cards
Destroy a houseguest fun for fishies times by johnbb
Patrick's Place one-man BB show - 15 streaming cams including his car, turn his lights on/off
YAYsports! snarky stuff for sports fans from the creator of Michael's Blog
another 2 cents quasi-intellectual sleaze & radical gumbo aka blog





Please read before linking to pics, 'borrowing' or stealing any content from this site - this means you

TV10 has forsaken us for the duration

Please do what you can to help the true reality in New Orleans and other areas hit by Katrina - producers and/or CBS really need to step up and donate the unwon $700k to hurricane relief

Kaysar will be on 'Young & Restless' Oct. 5 (probable date-no guarantees)

The CBS site has now failed to acknowledge two Team Jedi HOH tenancies other than in passing: no blog, no pics, no Julie Q&A.. coincidence?

America's Choice will send Janelle on a field trip down the street to visit a CBS sitcom set & taping - once they see her, they'll probably put her in a scene






Thursday's was a typical live show with Julie repeating the same tired lines again and reading the same phony 'viewer' questions for no reason but to take up air time that should be used better. It was sad to see Howie go and he proved why once again when he outshone both Ivette's HOH and April's co-evictee Q&As. He was a bit subdued (for Howie) sitting on Julie's bench but he still stepped it up and was more interesting than she was. Janelle's win was terrific and it was good to see Jenn's still-pissy behavior in sequester. Maggie got a bit of editing finally to show that she's not such a holy saint, and Ivette had a nice recap of some of her nasty moments, but overall these two are still getting away with murder as far as what they say and what airs, and I'm sick of it.






She's still clinging to her old habits, spewing trash about Janelle behind her back and sucking up to her face, while even Ivette knows it's time to get past it. All along April's just wanted to be liked and it's going to come as a shock to her when she realizes they would all like to take her to finals cuz they all know they'd win against her.






She gave her teamies a talking-to or two tonight when she told them Janelle's just a better player, congratulated her in HOH when nobody was listening, and even acknowledged Janelle 'may be human'.. ok it's not much, but it's a lot coming from Ivette. Nice to discover her mom and girlfriend like Janelle and thought she was ignoring her partner Beau, but the best was her momma talking about April & Jenn's plan to evict Ivette: the truth IS known and Ivette is gonna kick herself when she finds out how easily she was duped.






HEAD of HOUSEHOLD
She did it! She's got them all scared now and it's about time. She's definitely got America's Choice in the bag and that will only piss them off more and show them she is the favorite. She's guaranteed herself a spot in the Final 3 now and if everything goes according to Kill Bill plan she'll go all the way. She was a gracious hostess tonight and even paid a social call. Best moment of the day was her 'I did it Howie!'






You couldn't find a sourer face tonight - I guess all those sour grapes of hers have caught up. Even Ivette showed more class as Maggie complained some more about Janelle having cheated, but they're the ones who like to eavesdrop & plan sleepover spy missions. The reason Janelle beat the pants off them tonight is cuz she spent her time studying instead of being hateful like these cows, and I hope Maggie's the next to go. Any minute now they're going to add her picture to the dictionary under 'sore loser'.








Pure fun & entertainment, he gave us boobies, his jack shack, the Busto rant, and so much more. His friendliness & charm outweigh his explicit mouth & harassing ways and most everyone loved him in the end. He brought the Force into the house and inspired Jedi Janey to carry on. Never mind his looks, build, and future economic potential: his best trait is just being Howie.








As BB's double token he danced, he flashed, he puked and rode Ivette's jetstream. Not as fabulous as promised, and it doesn't seem right that he knows so many people that Janelle & Howie do, not to mention he's pals with BB2 Hardy. I thought he'd be this year's Cowboy at #2 but he won an HOH so he's gone.








He played a good game, saved himself too many times, and played both sides against each other instead of for himself. He wasn't a very nice boyfriend, and he was mostly dull with an excuse for everything. Arrogance was his undoing.








Half of the oddest pairing since Oscar & Felix, she did her best but went to bed too early to make it all happen. She's not the most fun hamster by a long shot, but she's one of the most decent and I wish her well.








She wanted to 'stir up the house like Kaysar did' but instead she stirred up everyone with a whopper of a lie to America's Choice, and she took out his partner with a huge lie of omission. So long Jenn and remember, roses really smell like poo poo.








America's Choice by 82% (at least) but he was out 4th and 6th. He turned the game on its ear, took out an emperor, and fell for Janelle overnights but was taken out by the cheerleader who took out his partner because she cried. He's a class act and did it all with brains, humor and integrity.








She was too young & too naive to be in there but held up well considering she played with the boyfriend from hell. I'm glad she got out early and alive.








Maybe the poorest loser in BB history but he gave us the best fight sequence. He said it nonstop but he never understood that 'it's just a game'.








Not blameless but not the villain they made him out to be either. He had funny voices, 'The Continental' and Janelle - plus the best hoax of the season.








There's never much to say about the first out except they're gone. She blabbed too much so she wouldn't have lasted long but she was fun while she was there.



I love keeping tabs on the feeds during summer, and wish I didn't have to do this.. but the reality is it takes a ton of time that I can't really afford to give away. If you like the site and would like to help support it, please visit my sponsor links by clicking on the banners, or make a Paypal donation here. Please support other BB6 fan sites that you like, too - many many thanks!



This site isn't necessarily about who should win, who will win, who I'd be friends with, or who is cute. It's about watching hamsters: which ones are doing what and why, which are fun and which are dull. If they aren't entertaining, get rid of 'em! Thanks for encouraging my behavior..

that dingo