9/1 & 9/2/05 - Days 61 & 62



>> to the future >> to the past >> daily index
>> latest HamsterWatch episode >> linkage

>>

James evicted 4-0 - Howie is Head of Household - Ivette & Beau nominated

<<



Uh oh, it's another buxom blonde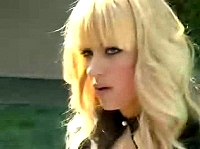 Looks like feeds are blacked out (again) til after Saturday's show airs in the west (again).. obviously it does no good to complain nor to rant - apparently rants are only effective for hateful personal attacks both in & out of the house

The special guest Julie mentioned turns out to be BB5's Holly: she hosted Friday morning's veto comp and somebody forgot to flip the fishies switch for a good 4-5 minutes and we saw her in the yard as they prepped, with a big comp apparatus that seemed to have a casino theme.. lots of hamster face-discs as usual.. two staffers were even seen & heard - they were having shadow problems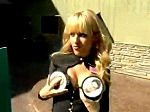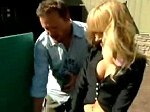 Watch the video - link should launch Windows Media player - it may take a few seconds
Thanks to BB6World and Aldav for the vid

Before they abandoned us, Beau reported to Howie that he'd done the deed - he went off to the pimp room so Maggie didn't hear anything after all - he reported that it took 35 minutes with a 35 second finale.. Maggie asked Janelle if she could borrow a red tanktop.. Janelle said she didn't have one but lent her red baseball jersey from movie night.. later Maggie said "cuntface" to her cronies, which is presumably coven-ese for "that was nice of her"

April seems to be losing it in a big way.. just before the fishies came to stay she was digging in her nose again & complaining it was bleeding at the same time.. Ivette snapped at her to stop picking it.. April said "BB you fricking suck a big one!"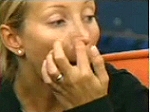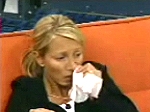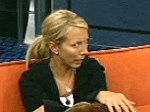 Another reality show with live feeds



There is another webcast to watch this weekend though, and it matters a lot more than some silly kids locked up in a tv house: these guys are in an office building in downtown New Orleans.. they've been writing a blog about what's going on there, with a webcam running.. they're already becoming legend and rightly so.. they acknowledge their viewers and send messages of frustration & greeting more than the hamsters do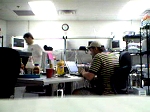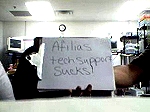 Survival of New Orleans blog - do not miss the photo sections
live feed - no audio, but no fishies either.. you can watch them in Windows player and keep the fishies swimming in Real

This is far more compelling than anything that's ever gone on in the habitat, obviously.. here's one of them fielding IMs - he turns the cam to his monitor for a minute so we can see the rate they're coming in BLAM BLAM BLAM BLAM BLAM.. he seems to be answering questions from some folks.. not too long after what may have been the last blog entry, it looks like someone asked if they're cool, if they've got protection if they need it, should they lose power.. yes, they do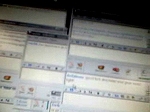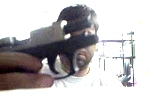 Saturday, September 3rd, 2005 - 12:52 am - Situation Critical
Well, people, I'm not sure how much longer we're going to have internet. Our last OC3 which is located down the street is going to run out of fuel sometime tomorrow according to the providers. They had a fuel drop scheduled for today and they didn't make it in. Now it's scheduled for tomorrow morning. Our fuel drop was a no-show also. We have fuel for several days, but if the provider goes down it's game over man. There's no reason to be here any longer at that point. Our primary mission will be over and this blog will not be able to be updated.. (click blog link above for the rest)

I know this is a Big Brother site and escapist by nature, but we can't ignore what's going on.. I won't make this political because it's much bigger than that.. please give what you can to the relief effort of your choice.. I recommend Direct Relief International - they're sending 100% of Katrina-designated donations where needed - your contribution won't go to administrators

Just a couple photos of a water "delivery" on Friday to the bloggers' neighborhood:

The bloggers are just a few guys among thousands in dire need, but they're hanging in there for us webbies & feedsters, and keeping it all too real

That's it for awhile from here.. sorry the site's gotten slow again



Return of the Jedi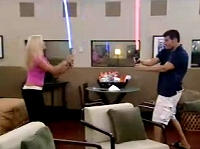 Like Howie's Star Wars heroes, the badly outnumbered remaining good guys triumphed over evil once again on tonight's show, and Howie put up sole surviving pair Ivette & Beau within minutes of winning the comp

When the fishies swim away at show's end we find Ivette crying again, April looking concerned but more likely just glad she's not nominated, and Maggie in a state of shock that two from her team went up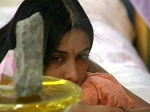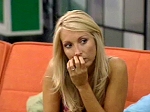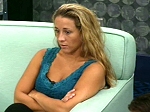 Ever the good sport who's not only talked to both sides all along but is genuinely friendly Howie comes along but Ivette, Beau & Maggie are too busy demonstrating what lousy sports & sore losers they are once again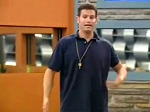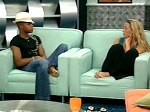 I didn't go on the feeds before the show today, but found out Howie did a "special" prep.. he used the bathroom instead of his patio box this time, and April listened in - thanks to attw x for capturing the moment.. after the show, Janelle tells April that she knew what James was up to.. then she & Howie celebrate and decide he shouldn't be unattended with the other team for long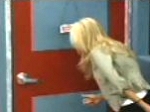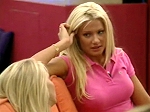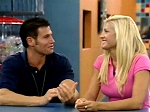 Janelle: I heard that James was telling everyone I was going to give him a sympathy vote, saying I pinky swore it
....
Howie: Any questions, I'll talk to you - you'll be with me anyway
Howie: I was so excited when I won it, my two best times in here are when I won it and when you won it

Howie apologizes/peptalks Ivette with what she knows anyway - he wasn't going to put up Janelle - Ivette mopes some more.. she & Maggie complain about their "viewer" questions.. Ivette peptalks a sulky Maggie and snaps at April who snaps right back





April: What a bunk question to ask! What was I supposed to say when she said 'not your husband'?
(Maggie complains about her question)
Ivette: Some people struggle & struggle to lose 5 or 10 pounds
Maggie: I told them I didn't want to talk about that, it has nothing to do with the game
Maggie: I just want to go home, I don't want to go to sequester
....
April: I can ask her (Janelle) what they plan to do
Maggie: You're the one who says she lies all the time, so why ask her?
Ivette: Don't deal with her anymore
(Ivette jumps on April for returning something of Janelle's)
April: Don't tell me the fuck what to do!
(April goes on a rant about why she's nice to Janelle)

Watch the video: Link will launch your RealPlayer - it may take a few seconds
April logic She describes how/why she "keeps the peace"

HOH room debut time again - the crowds have thinned but everyone shows up.. no booze in the fridge.. they all gather round as Howie reads about his special gift from Master Replicas: two Star Wars lightsabers! They're awesome - Howie's jazzed!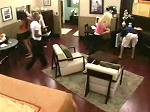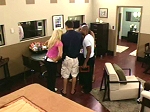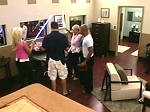 He's pretty good with it right off the bat.. he lets everyone have a turn who wants to.. you can check them out yourself on today's link of the day






Howie has a quiet moment with his photos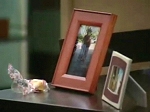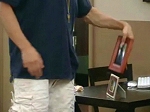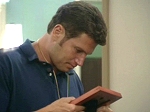 The light sabers are cool in night-vision, and even cooler in total darkness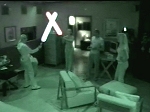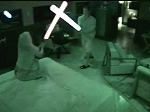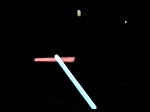 The coven settles down to their nightly round of hate-spewing and name-calling with their usual target Janelle as it dawns on them that one of them is surely leaving tomorrow.. Beau & Ivette start to pack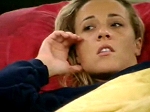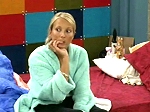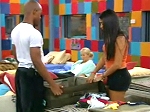 Maggie: Looks like I'm back shoveling shit out of patients' assholes


The Force is with him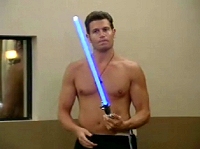 Howie goes back & forth from up to downstairs, paying social calls and hanging out, like he does

He brings his light saber with him, like Jedis do

The coven sneaks into the pimp room to snoop around? See what it looks like? They've always said Janelle wrecked it.. they sit down to study and must be parannoying some cuz they shut the lights off.. Howie & Janelle study upstairs at the same time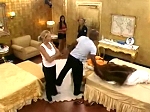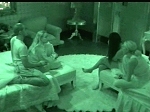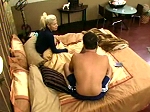 They have an early wake-up call but April stays awake for a long, long time.. Howie & Janelle stay up late chatting too, but they always do.. it's a short episode today but a pivotal one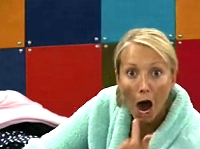 More videos
These links will launch your RealPlayer - it may take a few seconds.. some of these are just for fun, and some are to keep a record of the venom spewed by Maggie, April & Ivette since CBS keeps not showing it

Bye bye bitches!

Beau's speed rap His version of the noms, and Howie
The worst soul Maggie imitates Janelle, April rambles, Ivette boggles the mind
Make noise Maggie urges Beau to jerk it and she wants to listen
Good job, Anakin Howie shares Jedi lore, plus chiropractic lessons
Powerful Jedi Howie & Beau battle while April pokes Ivette
So rude, so fucking selfish Maggie & April trash Janelle, Ivette joins in



Linkage




Today's must-click specials: Star Wars light sabers like Howie's from Amazon.com:
Anakin - Darth Vader - Darth Maul - limited edition Anakin - limited edition Yoda
Bonus must-click special: Kaysar on "Young & Restless" sneak peak pics

CBS Big Brother 6 the official site
House Calls weekdays live 10am BB/1pm ET on BB main page - show archives
Live feeds signup - No timeout feed links
BB6 Park by TD listed on Hamsterwatch daily index
Hamsterwatch on Youtube BB6 & BB7 videos off the feeds
Hamsterwatch Big Brother 8 here we go again
Hamsterwatch Big Brother 7 All-stars in the house - from me, that dingo person
Hamsterwatch Big Brother 5 Dailies, Cowboyisms & Hollyisms - also from me
Aldav has all of the edgier stuff & the best mini-recaps in town
BB Chatter feed updates, screencaps, and fun boards - easy to use and functional!
Screencaps refresh site is back, from bbfan
Reality TV Links - Big Brother 6 emphasis on individual hamsters' sites
Sir LinksALot Big Brother 6 all the links
Big Brother Link news, info, caps, forums, and links
Big Brother Fanatics chat, updates, caps, news, and links
Big Brother 6 Keyhole peruse various BB sites in the same window, feeds too
Joker's Updates Big Brother Grins can't do BB Park this year
2005 or 2006 Kaysar calendars by BBVoyeur - pdf format
C=Venus BB6 chops new site full of really great work
BB6 Houseguest Fun play Mr. Potato Head, mess up their faces, send cards
Destroy a houseguest fun for fishies times by johnbb
Patrick's Place one-man BB show - 15 streaming cams including his car, turn his lights on/off
YAYsports! snarky stuff for sports fans from the creator of Michael's Blog
another 2 cents quasi-intellectual sleaze & radical gumbo aka blog





Please read before linking to pics, 'borrowing' or stealing any content from this site - this means you

TV10 please come back to us

Please do what you can to help the true reality - Hamsterwatch recommends Direct Relief International 100% of Katrina-designated donations will go to hurricane relief, not administrators

I hope CBS and/or producers step up and donate the unwon $700k to hurricane relief

Kaysar will be on 'Young & Restless' September 5 or October 5 (I heard October but next week makes more sense)

It's another fishies-thon weekend
Why do they use an apostrophe in D'oh! on the CBS site?








It was a good show Thursday in spite of Julie's questionable pompom-trimmed outfit, a 'Friendship' count of at least four, and continued misleading references to the two sides 'teaming up': sure, it was unanimous to evict James but the house was more divided this week than ever. The April segment didn't do anything to help her rep with the public but that's what happens when you trash the show (her employer) and the fans on tv. Maggie's still being portrayed as a decent person but she's starting to cuss out BB lately so I expect that to end soon and finally see some her own 'true colors' on the show. I'm not going to make any cheap shots at Mr. April or little Pepperoni other than to point out that April's often said the little doggie is staying with her mom, so that was all a bit faked to milk Howie's Busto stuff a bit more. It was sweet to see James finally walk the plank to Julie's boudoir, and even sweeter to see that a week in almost-paradise hasn't helped Jennifer gain any perspective at all: she's even nastier & pettier now, not to mention dumber with 'it's so colorful, it looks like a real television show'. The very shameless self-promotion at the end was sickening: Julie could have let it end with 'our hearts go out' or urged us to donate to Katrina relief efforts in general rather than 'go to CBS.com' but I'll let it go: whatever works to get some dollars to those folks.






A lovely segment on tonight's show - yes April, you do repeat yourself a bit. I'm wondering if the sorority sisters were laughing about an inside joke when they said something about April being 'magna cum laude' - it sure seemed like it. She was even more hateful about Janelle tonight than usual which is odd, considering she still isn't nominated. She admitted to Julie that she's really here to 'make friends' but I'll give her credit for not crumbling in her live Q&A like I thought she would. She was caught listening to Howie jerk it today in spite of her endless claims that she never listens at doors, and she almost got busted for a huge long string of lies when she said she'd ask Janelle what they were going to do about veto & voting. Maggie said 'You're the one who says she lies all the time, so why ask her?' Good thing for April that Maggie isn't smart enough to do the math on that one and realize she's been duped by April all along.






NOMINATED
He handled his nomination better than his pair but that was expected. He still moped a bit and bitched a bit but that's allowed. He got into light sabers and Jedi lore with Howie a bit tonight but otherwise he was his usual drippy self. He said he should jerk it tonight before he leaves the house - Maggie urged him to, and said she wanted to hear him make some noise too - but I don't think he did.






HEAD of HOUSEHOLD
Star of the live show and hands down Hamsterwatch Star of the Day thanks to his ever-cheery self and friendliness that's always crossed team lines in there. Nobody has or will make their nominations by saying 'I love you' and nobody else makes a comeback like he did after his 2nd HOH win 'they stuck a fork in me and said I was done!' He was thrilled with his light sabers and so were we: he's so good natured it was great to see him get a cool new toy that he totally loves. Ivette said it to be nasty, but it says a lot about him (and her) when she said 'Howie's only strength is his way of getting along with people' - maybe not his only strength, but one that's earned him far more fans than her, and one that might win him the game if he's in the finals.






NOMINATED
The ultimate sore loser and the nastiest, most hateful person in town.






Another great live show appearance thanking us for giving her the phone call and asking James to 'say hi to Jenny & Rachel for me' on his way out are the kind of thing that make her fans love her and her enemies hate her.. go figure. She was happy for Howie's HOH win of course and the cows downstairs are so intimidated by her that they've already decided they've been beaten even though there's still more of them. Her quick shoe-fix in the Diary hall after voting was pure Janelle and I loved it. I don't think she has any idea what a liar they think she is and that's sad (and mostly April's fault). She needs another HOH win tomorrow - let's hope she pulls it off!






She's practically thrown in the towel but even as she's telling her teamies to be good sports and go out smiling, she's cussing up a storm and griping that she's going to have to go 'back to shoveling shit out of patients' assholes' - what a charming PR endorsement for Summerlin Hospital! She's too dumb to realize Liars Club President April is the one making Janelle seem like such a liar, and she's too bitter to catch on that she's every bit as bad as Ivette when she said about her 'it's a waste of time to be totally negatively repeating things all the time.' Yes it is, so please quit doing it with her, Maggie. A final note on her hypocrisy: she wore the same thing on tonight's show that she said was 'half naked' when Janelle posed with Beau's Bible yesterday: camisole type top and long pants.








He played a good game, saved himself too many times, and played both sides against each other instead of for himself. He wasn't a very nice boyfriend, and he was mostly dull with an excuse for everything. Arrogance was his undoing.








Half of the oddest pairing since Oscar & Felix, she did her best but went to bed too early to make it all happen. She's not the most fun hamster by a long shot, but she's one of the most decent and I wish her well.








She wanted to 'stir up the house like Kaysar did' but instead she stirred up everyone with a whopper of a lie to America's Choice, and she took out his partner with a huge lie of omission. So long Jenn and remember, roses really smell like poo poo.








America's Choice by 82% (at least) but he was out 4th and 6th. He turned the game on its ear, took out an emperor, and fell for Janelle overnights but was taken out by the cheerleader who took out his partner because she cried. He's a class act and did it all with brains, humor and integrity.








She was too young & too naive to be in there but held up well considering she played with the boyfriend from hell. I'm glad she got out early and alive.








Maybe the poorest loser in BB history but he gave us the best fight sequence. He said it nonstop but he never understood that 'it's just a game'.








Not blameless but not the villain they made him out to be either. He had funny voices, 'The Continental' and Janelle - plus the best hoax of the season.








There's never much to say about the first out except they're gone. She blabbed too much so she wouldn't have lasted long but she was fun while she was there.



I love keeping tabs on the feeds during summer, and wish I didn't have to do this.. but the reality is it takes a ton of time that I can't really afford to give away. If you like the site and would like to help support it, please visit my sponsor links by clicking on the banners, or make a Paypal donation here. Please support other BB6 fan sites that you like, too - many many thanks!



This site isn't necessarily about who should win, who will win, who I'd be friends with, or who is cute. It's about watching hamsters: which ones are doing what and why, which are fun and which are dull. If they aren't entertaining, get rid of 'em! Thanks for encouraging my behavior..

that dingo