8/31/05 - Day 60



>> to the future >> to the past >> daily index
>> latest HamsterWatch episode >> linkage

>>

April is Head of Household - Howie & James are nominated

<<



Good morning April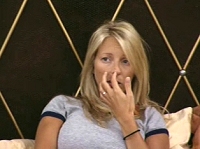 Big Brother wakes them up at 9am for no known reason

America's new sweetheart April greets the day by excavating her nose for a good long time for us, just hours after she called all us fans pieces of shit on Tuesday's show

She, Ivette & Maggie start trashing Janelle first thing, especially when they flip on their tv and see she's up before them again.. April starts in on James too.. it's going to be a long day in the habitat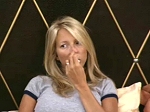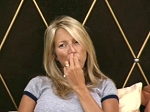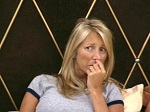 April (to Maggie): I wish you would talk to him, tell him 'Why should I vote Howie out instead of you?'
April: Will you do it?
April: He won't shut up.. he's annoying as shit!
April: What did you say in your blog?

Howie's as good natured as always even though he's on the block (and as overlooked for his good nature as always).. they record their farewells.. Maggie has a constipated look today, making pinched faces at most everything & everyone.. April continues stressing on her blog in earnest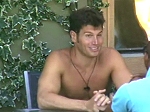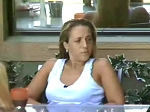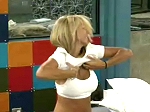 April: It was the hardest thing to say something to him (James)
Howie: Really?
April: Something decent? Yea!
Howie: I told him I loved him man, he's the best player
April: Him??
Ivette: He's the best player in Big Brother history
Howie: He's an awesome player
Needless to say, Hamsterwatch gloves are off with April, and I hope she visits this site.. she'll likely deny that she's said or done anything bad in there, but I don't make this stuff up

The photo wall is a blinking changing gallery of HOH digicam pics, delighting them all.. April finally gets her cam and they mug like crazy, like a big happy family.. that lie will be perpetuated some more when CBS posts this week's pics






Everyone seems to have a good time.. Janelle takes as many as she poses for, saying "cute" after each click.. (note what she's wearing)







I dare CBS to show some guts and air this - show them for who they are
It's one of the ugliest incidents we've had in awhile, and that's saying something.. Ivette sucks up and scrubs veto symbols like Cinderella as Maggie glares.. April & James come and go, instigating like crazy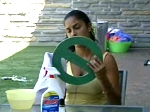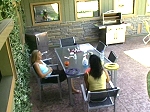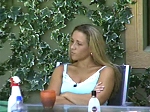 Ivette: And she says she doesn't want to do 'Playboy'? Please!
Maggie: I don't think someone half naked should be photographed together with the Bible
James: She told me she's been on the cover of 'Playboy'
James: I wonder who's gonna start getting blamed for everything after I go?
Half naked?? See above for Janelle 'half naked' - and note Maggie's wearing the same thing

Janelle comes out and looks through the pics - she doesn't seem at all happy like a minute ago and she leaves again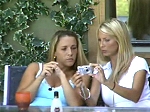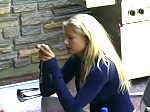 (they say Janelle's erasing pics)
April: Don't let her have it anymore!
April: That just shows how much of a whore she is, so I'm just gonna..
James: You can't say that word April, remember?
James: I kind of find it almost flattering that people hate someone that much but I'm still going
April: I don't hate anybody
Maggie (looking at pics): Erase
(Janelle joins)
Janelle: You guys aren't going to erase any, are you?

James poses, takes a shot of the very cozy three, and checks the camera - April had asked him to check for deletions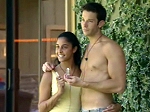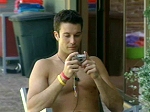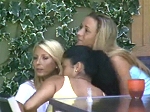 April: Let me see if she erased any right quick.. I know she did
I'm not going to say James deleted some pics, but I wouldn't put it past him so something else could be blamed on Janelle.. and by the way, April's deleting pics she doesn't like as she goes

Watch the videos: These links will launch your RealPlayer - it may take a few seconds
part 1 Half naked with the Bible (watch Maggie's face)
part 2 That just shows how much of a whore she is
part 3 Should I do a porno picture? If you want.. go with Janelle

Another quick cuddle, then Ivette starts doing mass amounts of laundry as they prepare to move downstairs.. April has an epiphany and Maggie revives her Lies Of Omission Disclaimer.. James drags in his suitcase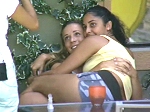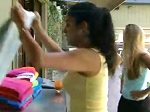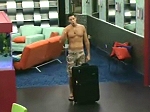 Ivette: I'm gonna grab all Janelle's stuff in the trashcan and dump it on her bed
Maggie: Why don't you just leave it in the trashcan next to her bed?
....
April: I can't believe I called her that.. I've officially.. I'm in trouble
Maggie: But you know what, no one can tell.. I'm sure it won't be on

Watch the video: April's in trouble She's already said "she's a slut" and "the fans are pieces of shit" on tv along with countless bleeps.. what's one more "whore"? Let's not even go into all the update & chat sites, videos, etc with her constant pottymouth

Maggie & Ivette go on a cleaning rampage: Maggie wears a napkin/bib to wash dishes & bottles while Ivette empties the fridge and cupboards.. they bitch about the mess non-stop, blaming everyone up to and including clean-freak Rachel.. the atmosphere is thick & tense, it's like a passive-aggressive training video.. when they finish James comes along and cooks himself a meal







James joins Maggie outside - she's got Beau's Bible - James works her easily and transparently, poking at her tough outer shell with game talk, then getting her to converse normally as he asks her about books & babies - she likes Tom Clancy & toddlers - he says something about newborns and she says "eewww"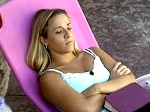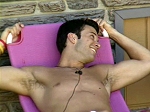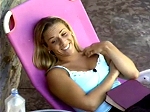 Note: earlier Beau asked Janelle not to move the paper/bookmark in his Bible, that his momma gave it to him.. she says ok and she never has.. he says well it was on the table before

They get some quarters and their recent behavior is rewarded with toys: April & Janelle play Jenga, Beau plays Bedazzler.. subtle but deadly digs keep flying at Janelle but they don't affect her, plus she has her pal Howie.. Ivette's won a catered dinner for them all.. Janelle gave one of her quarters to Maggie, saying "sharing is caring"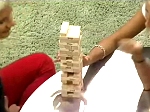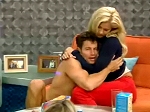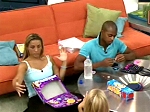 Beau's Bible again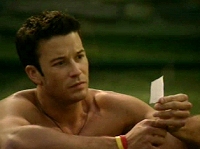 James joins a sulky Ivette outside and finds a piece of paper - it's got a psalm number written on it (I wish I'd caught which one)

It's obviously Beau's Bible bookmark - Maggie's the one who had his Bible out there but just wait, Janelle will likely get blamed for almost losing it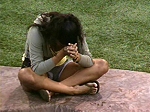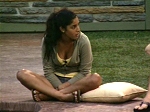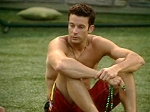 They make little clay versions of themselves and bake them, then the real dinner arrives: they couldn't decide what kind to get and Ivette was acting like a martyr about her first prize win, telling them to get what THEY want.. Janelle suggested getting two types so everyone would be happy.. there's a ton of food and everyone is happy, but they bitch about her "taking over" later anyway







Janelle isn't too perky as she & Howie count up how many quarters were found today and total (for a possible future comp question).. Maggie tells Beau to hang around Howie so he can't strategize or study with Janelle tonight, and to tell him about the sympathy vote plan.. April says she's been so stressed all day, she screwed up her blog and couldn't finish it, that all that food will go right through her - it hits as she's saying so and she runs to the bathroom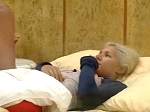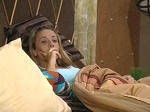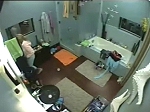 Maggie (to Beau): Why don't you sleep in Howie's bed tonight?

April & Maggie find four more quarters in HOH room.. they decide not to let Howie & Janelle know, and to save them for the next quarters round for better prizes, which they say they'll split.. they decide not to tell Ivette & Beau either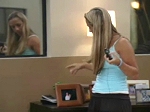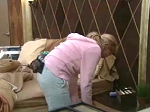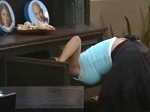 Janelle's recovered from her funk.. she puts on her best ditz to entertain Howie & Beau outside with stories about aliens and impersonations of BB3's Lori - it's good stuff - Beau tells a ghost story of his own.. Maggie comes out to make sure her minion's on the job and say good night.. she tries a joke by telling Howie he's leaving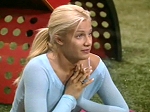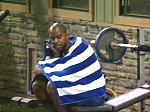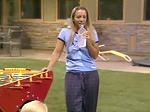 Howie (after the abduction story): Did they bang you?
Janelle: No!
Howie: You're cute when you're stupid, Janey
....
Janelle: When I was little I used to get abducted every day
Beau: How often did it happen?
Janelle: Every night until I was 3, 4, 5, 6, maybe 7
....
Maggie: I don't know tv, can you say dick?
Howie: No
Maggie: How come you can say bitch and not dick?
Janelle: You can say fucking!
....
Maggie: Ok good night
Howie/Janelle: Good night
Janelle: 14 PIECES OF CANDY!
Howie: 16 PIECES OF CANDY!

Watch the video: Abducted by aliens

Ivette sits with James for awhile on his last night.. he goes under when Ivette baits Janelle about money, men & moms - Janelle rallies back like a champ.. Maggie & April continue their creepy ritual they've titled Tickle, as they hate & parannoy about James, Ivette & Janelle.. April worries about how much trash she's talked in Diary






James: What'd you do to your eyes?
Ivette: It's mascara
Janelle: I'm not wearing any
Ivette: Are you serious?
Janelle: Well, I have dark eyelashes I guess.. lucky me!
....
Maggie: Have you been ripping on people in there (Diary)?
Ivette: No
Maggie: I won't get any airtime, I'm not good at it
April: Me either
....
April: When someone doesn't like me there should be a valid reason for it
Ivette: It's going to happen, welcome to the real world
April: It's never happened to me
April: I want to know why he doesn't like me
April: I want to know what he says about me

Beau gives facials to his new late night buddies.. they mug in the mirror and frolic a bit.. Janelle has an extra-cute moment winking at Howie, even with mud on her face - it would drive them mad upstairs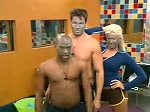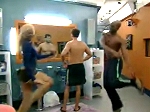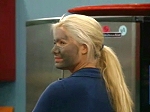 Beau finally goes home but Howie's restless again & worried about tomorrow's eviction or HOH, so he goes back out to his box, unpacks it all, lines it with more towels than last time, and goes in.. he does the scolding thing again then comes back out, packs everything back into the box, and cleans up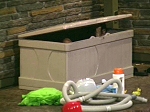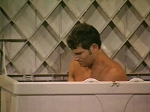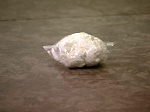 Howie (inside): C'mon, get a woody
Howie (inside): C'mon, get a fucking woody fercrissake
Howie (after): That was horrible.. pathetic

Linkage

Today's must-click special: BB6 Park for August 31 by TD
Super must-click special: April's message to us, the fans audio by Aldav

CBS Big Brother 6 the official site
House Calls weekdays live 10am BB/1pm ET on BB main page - show archives
Live feeds signup - No timeout feed links
BB6 Park by TD listed on Hamsterwatch daily index
Hamsterwatch on Youtube BB6 & BB7 videos off the feeds
Hamsterwatch Big Brother 8 here we go again
Hamsterwatch Big Brother 7 All-stars in the house - from me, that dingo person
Hamsterwatch Big Brother 5 Dailies, Cowboyisms & Hollyisms - also from me
Aldav has all of the edgier stuff & the best mini-recaps in town
BB Chatter feed updates, screencaps, and fun boards - easy to use and functional!
Screencaps refresh site is back, from bbfan
Reality TV Links - Big Brother 6 emphasis on individual hamsters' sites
Sir LinksALot Big Brother 6 all the links
Big Brother Link news, info, caps, forums, and links
Big Brother Fanatics chat, updates, caps, news, and links
Big Brother 6 Keyhole peruse various BB sites in the same window, feeds too
Joker's Updates Big Brother Grins can't do BB Park this year
2005 or 2006 Kaysar calendars by BBVoyeur - pdf format
C=Venus BB6 chops new site full of really great work
BB6 Houseguest Fun play Mr. Potato Head, mess up their faces, send cards
Destroy a houseguest fun for fishies times by johnbb
Patrick's Place one-man BB show - 15 streaming cams including his car, turn his lights on/off
YAYsports! snarky stuff for sports fans from the creator of Michael's Blog
another 2 cents quasi-intellectual sleaze & radical gumbo aka blog





Please read before linking to pics, 'borrowing' or stealing any content from this site - this means you

TV10 please come back to us

It's all so trivial really.. New Orleans is the reality show we should be paying attention to right now

Kaysar will be on 'Young & Restless' October 5.. apparently he's rejected Hamsterwatch's invitation to post here in favor of being Nakomis' replacement on the CBS site - I can't blame him, they pay (but I'm taking it personal anyway: I was on his side way more than they were)

Three weeks, seven of them, but only six shows left






CBS & PRODUCERS, IT'S THIS SIMPLE: WE DON'T EVEN LOVE TO HATE THEM
Feedsters were happy to see Ivette cry on Tuesday which is a little cruel.. I'd have preferred they share more of her hate spewing with viewers. 'The Friendship' was mentioned at least six times and Maggie still seems to be their pick for who we're supposed to like and/or feel sorry for, next to James of course, still teacher's pet likely cuz they can't even figure out if he's going to pull it off again or not. April & Ivette's constant bitching about Diary is coming back to haunt them in a big way: April's immortal words 'fans who watch this show are all pieces of shit' and 'America made a bad, stupid decision' were bad, but I wish I could be there when she finds out how wrong she was with 'America cannot like Janelle, I'm sorry' - gosh I'm sorry April, but you're the one America (and international viewers) do not like. Instead of calling us names for that, try looking at yourself for a change: you're simply not likeable.





HEAD of HOUSEHOLD
She really earned herself a neutral today by nervousing so badly about James and what he's saying about her (which is only made sweeter by the fact that he barely acknowledges her existence), and nervousing over her blog (which she didn't finish) but since we're all just pieces of shit in her world, she can stay negative. Her week at the top was the longest ever and she spent her last day panicking over what James might say to her on live tv and realizing she's a potential nominee again soon. She had plenty of time left though to trash both James & Janelle in the ugliest ways possible all day while worrying that anyone might not like her: she's a real piece of work. Her timeless remark about us repeats as today's link of the day courtesy of Aldav.






He did his mistresses' bidding by dogging Howie all day and almost all night, making him worry that Janelle's betraying him and preventing them from chatting let alone studying. He was almost fun for some of that time but not quite,, but it also made Beau absent from most of his teamies' hatefests which can't hurt him in the long run. He's still mostly a drip but he's an easy neutral by comparison to them. He made it clear that it hasn't dawned on him that his full monty was not only seen by all but is posted on the web forever, and he probably doesn't realize we all heard him confess tonight to having had two wet dreams since he's been in there (do the Unholy Trinity know he's doing that in their room at night?)






NOMINATED
I feel bad for him: everybody seems to have forgotten he's nominated except him and of course it's always different when you're the one sitting in one of the matching chairs. I still don't know for sure if Janelle told him about James' request that she give him a pity vote but Beau sure reminded him of the plan and made him doubt Janelle's loyalty to him, so much so that he didn't even mention it to her when Beau finally ran off home. If this is his last night, it wasn't a fun one and Howie deserves that, so let's hope everything goes according to plan as usual in spite of the usual week's worth of waffling over alternate schemes. He went into his patio box again tonight, but it didn't seem like it was as rewarding for him as it should have been.






She never ceases to top herself when it comes to pure hate for no reason, and there isn't a much sadder comment you could say about anyone. Her cleaning frenzy was downright scary and just proved how bitter & petty she and Maggie really are. It makes me happy that Ivette doesn't seem to know how sick of her Maggie is, or that she's more of a target for Maggie & April than her tagalong Beau. She doesn't deserve anymore space here today.






NOMINATED
Still whining about leaving and having to get a job soon at the same time he keeps gloating about his veto record, he was beyond tiresome today. His work seems to be done as far as 11th hour efforts, so I can't fathom why he spent most of the day creating hornets' nests for them all to step in over the next couple weeks unless it's just plain cruelty. He seems like the kind of guy who would have enjoyed tormenting insects as a kid and I have a feeling that's what he thinks the rest of them are. Sore losers abound in this crowd and James is going to have to admit to Julie and the world tomorrow that he not only didn't make it to the end, but he lost to the likes of Beau & April, and he's not looking forward to that at all (but I am - good riddance!) Check today's video links to see his scummy tactics at work.






The amount of venomous bile that was thrown on and at her today was unbelievable, yet she not only held up to it but she came back and rallied through the night with the kind of Janelle show her fans love. She plays the ditz so well that it's a joy to watch her tell stories of alien abductions, Scoobydoo and not liking Ferraris. It looked a couple times like the Unholy Trinity was getting to her (who else could have held up this well, this long?) and I wonder how they'd react if she did break, but she didn't and proved that it really doesn't have to matter what people say about you. I don't think she's going to throw James a vote and I sure hope not, cuz she should tell Howie if she's going to. We'll know soon enough.






She spent most of the day making nasty faces and going along with everything her hateful co-crones said about James & Janelle, throwing in her own bits of poison along the way. She believes whatever she's told and it'll be sweet payback when she finds out that she's the one being lied to and that she's bought it all without blinking. She seems to be the kind of person who wouldn't want a disservice done to someone like she's doing to Janelle by stirring the cauldron in such a nasty way, but there you are: that's Maggie in a nutshell, proven by the fact that she agreed to hide her & April's extra quarter finds from their teamies Ivette & Beau. Noteworthy item to watch: she's the one who practically lost Beau's momma's note out of his Bible today, but Janelle will surely get blamed for it in another day or two.








Half of the oddest pairing since Oscar & Felix, she did her best but went to bed too early to make it all happen. She's not the most fun hamster by a long shot, but she's one of the most decent and I wish her well.








She wanted to 'stir up the house like Kaysar did' but instead she stirred up everyone with a whopper of a lie to America's Choice, and she took out his partner with a huge lie of omission. So long Jenn and remember, roses really smell like poo poo.








America's Choice by 82% (at least) but he was out 4th and 6th. He turned the game on its ear, took out an emperor, and fell for Janelle overnights but was taken out by the cheerleader who took out his partner because she cried. He's a class act and did it all with brains, humor and integrity.








She was too young & too naive to be in there but held up well considering she played with the boyfriend from hell. I'm glad she got out early and alive.








Maybe the poorest loser in BB history but he gave us the best fight sequence. He said it nonstop but he never understood that 'it's just a game'.








Not blameless but not the villain they made him out to be either. He had funny voices, 'The Continental' and Janelle - plus the best hoax of the season.








There's never much to say about the first out except they're gone. She blabbed too much so she wouldn't have lasted long but she was fun while she was there.



I love keeping tabs on the feeds during summer, and wish I didn't have to do this.. but the reality is it takes a ton of time that I can't really afford to give away. If you like the site and would like to help support it, please visit my sponsor links by clicking on the banners, or make a Paypal donation here. Please support other BB6 fan sites that you like, too - many many thanks!



This site isn't necessarily about who should win, who will win, who I'd be friends with, or who is cute. It's about watching hamsters: which ones are doing what and why, which are fun and which are dull. If they aren't entertaining, get rid of 'em! Thanks for encouraging my behavior..

that dingo