8/28 - 8/29/05 - Days 57 & 58



>> to the future >> to the past >> daily index
>> latest HamsterWatch episode >> linkage

>>

April is Head of Household - Howie & James are nominated

<<



Quick check-in






It's a less than skeletal episode for Monday, with the only big news being that April used the veto and put James up for eviction.. he continues to work both sides by telling all.. Ivette continues to campaign to save him in a way but she seems to be working against herself more than anything - her teamies are not pleased with her at all.. Beau continues to hang around Howie & Janelle more and more, urging them into pervy territory then rushing back to tell tales as if it was all their idea

The coven has finally caught on that two America's Choices for Team Jedi might mean something - they blame editing - if they only knew

The show returns tomorrow and hopefully I will too



A beautiful morning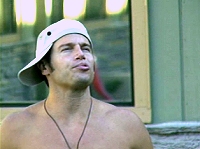 Howie's up at dawn, just as yesterday's Hamsterwatch episode is getting posted.. keeping tabs on them just doesn't let up

He sees a birdie in the yard and whistles to it, trying to coax it back with some Triscuits with no luck.. he disappears from the feeds, presumably gone back to bed or maybe to his patio box

James is up next, roaming around alone and swallowing a bunch of pills outside - vitamins or Tylenol, who knows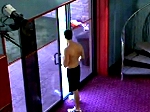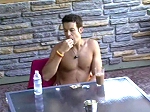 I figure I can leave them unattended awhile, and return in the afternoon to find out Janelle's won the phone call & spoken with Michael, and that all hell has broken loose again: James spilled everything he knows about "Sovereign 6" and past history, the coven had a major bitchfest over Janelle being more popular than them with viewers, and etc.. I'm not real sorry I missed it - the everlasting negativity is getting to me, but I haven't been much better.. I'm going back to fun where I can find it

Aldav got the videos: these links will launch your RealPlayer - it may take a few seconds
Ivette cries about losing AC - The coven's upset - more videos below

Ivette's still working on Maggie hoping James can stay (then she & Beau will have a 3-2 shot over April & Maggie).. she strokes Maggie and says how good she's looking lately and they trash Janelle






Ivette: You are not the fat one here
....
Big Brother: Ivette please go to the diary room
Big Brother: Ivette please go to the diary room
Ivette: I don't feel like talking in there right now

April's working overtime to ensure she looks good with everyone





April: I just wanted to come out here and tell you it doesn't matter, I want James out
April: I don't know, I haven't heard anything
Howie: Communication is the breakdown in this game.. in life

Maggie & April hate whoever they're not talking to at the moment.. Maggie sweeps out the hot tub.. Ivette mopes.. James whines







Screw it, there is no fun anymore.. the hatred in the house is only outdone by the fans' hatred for them.. I don't see much difference and I know I've been guilty of the same



Janelle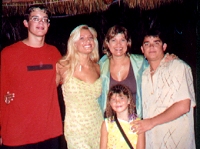 Janelle's mom has been visiting some BB6 chat sites

She was kind of enough to share these family photos and early pics of Janelle with Hamsterwatchers and I'm very grateful to her

Even if the ones we're sick & tired of end up winning (which looks likely) Janelle's gathered a much bigger fan base than any of them by far and I think she'll do well whatever she does after BB.. many thanks to Mom for sharing these pics with us

Janelle & siblings, and as a young cheerleader - this one was on the show I think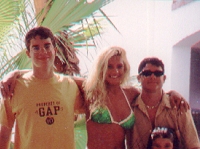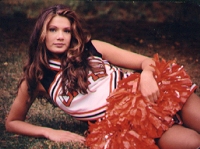 At Mom's wedding.. a nice looking family.. Janelle at 14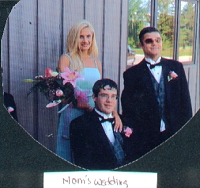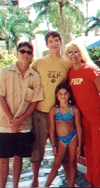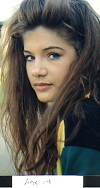 Elsewhere in the house tonight.. Maggie, Ivette, April & Beau bitched about Janelle non-stop.. they went out on the balcony for awhile to bait her then talked about her when they went back into HOH, in really ugly language.. Janelle & Beau tweaked Howie's boobies - it hurt - he squeezed Janelle's in retaliation then made a masturbation station - Howie's Jack Shack.. Beau & Janelle roughhoused with him and he hurt his thumb, kinda badly.. BB made him take apart his jerking fort but he did it undercovers later, with Jennifer as inspiration

More videos of this shambles of a day - links will launch your RealPlayer, it may take a few seconds.. These are mine and hopefully make up for the short episode today.. conversation from the supposed "nice people" <koff>

- Adult content -
Baiting from the balcony 1 - no couth
Baiting from the balcony 2 - boring fuck
After baiting aftermath in HOH - you suck dick too

Hamsterwatch is taking a day or two off - sorry and thanks for visiting




Linkage




Today's must-click special: BB6 Park for August 28 by TD part 1 - part 2

CBS Big Brother 6 the official site
House Calls weekdays live 10am BB/1pm ET on BB main page - show archives
Live feeds signup - No timeout feed links
BB6 Park by TD listed on Hamsterwatch daily index
Hamsterwatch on Youtube BB6 & BB7 videos off the feeds
Hamsterwatch Big Brother 8 here we go again
Hamsterwatch Big Brother 7 All-stars in the house - from me, that dingo person
Hamsterwatch Big Brother 5 Dailies, Cowboyisms & Hollyisms - also from me
Aldav has all of the edgier stuff & the best mini-recaps in town
BB Chatter feed updates, screencaps, and fun boards - easy to use and functional!
Screencaps refresh site is back, from bbfan
Reality TV Links - Big Brother 6 emphasis on individual hamsters' sites
Sir LinksALot Big Brother 6 all the links
Big Brother Link news, info, caps, forums, and links
Big Brother Fanatics chat, updates, caps, news, and links
Big Brother 6 Keyhole peruse various BB sites in the same window, feeds too
Joker's Updates Big Brother Grins can't do BB Park this year
2005 or 2006 Kaysar calendars by BBVoyeur - pdf format
C=Venus BB6 chops new site full of really great work
BB6 Houseguest Fun play Mr. Potato Head, mess up their faces, send cards
Destroy a houseguest fun for fishies times by johnbb
Patrick's Place one-man BB show - 15 streaming cams including his car, turn his lights on/off
YAYsports! snarky stuff for sports fans from the creator of Michael's Blog
another 2 cents quasi-intellectual sleaze & radical gumbo aka blog





Please read before linking to pics, 'borrowing' or stealing any content from this site - this means you

TV10 please come back to us

This weekend may have two evictions

Hamsterwatch sends best wishes to Chicken George & his family.. and also to everyone in Katrina's wake

Kaysar will be on 'Young & Restless' October 5

Sorry, no Hamsterwatch episode for Monday






No Saturday show so Thursday's stands but reduced to a single negative for calling Ivette to Diary while she was spying.

It's criminal what they keep showing, knowing how many thousands of us know it's wrong. We had Janelle (captioned) again 'Give me that key bitch' but once again we did not see Jennifer throwing the key away. We had several references to Howie's Busto rant even though April's confessed knowing about it ahead of time, and even though they've long made up - they even laugh about it now. Julie even said 'Howie's behavior last week angered Maggie' (when was this??) and she brought it up again with Rachel 'Howie caused some problems in the house last week' - the only problems were April's over the hubby & doggie and they were fleeting. Maggie sat that one out too. We still don't see a hint that April or Maggie are anything but angelic but we hear lots of bad stuff said about them by Howie & Janelle (and it's minor compared to what the Fiendship says constantly). We had five - count'em FIVE! references to 'The Friendship' while the other guys were tagged a made up on the spot 'Sovereign Two'. We didn't even get a whiff of Ivette's intensive rant about Rachel at the hot tub the other night - which was entirely unprovoked but completely sanctioned by her teamies who not only stayed and listened, but laughed the whole time. We did get a hateful good-bye to Rachel from Ivette.. but it seemed like it may have been her farewell to Howie from the key words 'your behavior' but we'll never know. Janelle got one over on them though by saying (live) she'd like to see friends & family in MN most of all, even though CBS seemed to have edited in 'I'd love to talk to Michael' from a convo unrelated to America's Choice. What CBS is doing here is unfathomable and it disgusts me more than all the hate spewed by the coven. The jury will see the air shows with the nasty Maggie, slippery James, and unbalanced April as the righteous, noble people they all say they are. Former teacher's pet Ivette's done something to piss them off though: she's coming across just a bit truer to character lately.. finally.






HEAD of HOUSEHOLD
I can't take much more of her talking behind everyone's back so viciously when she's so friendly to everyone's face. Nobody in the house seems to like her much either.. it's ironic really, since the thing she seems to be afraid of most is having people talk badly about her.






He's using up bandwidth that could be better used for someone who's more than a collection of negative stereotypes. He's skating his way through much like Cowboy did, and may finish as well if he doesn't stop acting like a snotty little brother attacking everyone.






NOMINATED
His act is wearing thin even on me, and I'm one of his biggest supporters.






New methods include moping, crying, whining, and Bible study along with the usual Spreading Of Oozing Hate.






NOMINATED
See Ivette.






America's Choice this week and the only one who continues to be good natured about everything, even as she's the target for Oozing Hatred Brigade to her face and from behind closed doors. She's held up better than any of them - or me - and she's the only only whose mom sent me pictures.. thanks Mom!






Oozing Hate Brigade chairperson but she sends everyone else to do her dirty work. As soon as she cusses out Janelle for (anything & everything) she turns around and does the same stuff.








Half of the oddest pairing since Oscar & Felix, she did her best but went to bed too early to make it all happen. She's not the most fun hamster by a long shot, but she's one of the most decent and I wish her well.








She wanted to 'stir up the house like Kaysar did' but instead she stirred up everyone with a whopper of a lie to America's Choice, and she took out his partner with a huge lie of omission. So long Jenn and remember, roses really smell like poo poo.








America's Choice by 82% (at least) but he was out 4th and 6th. He turned the game on its ear, took out an emperor, and fell for Janelle overnights but was taken out by the cheerleader who took out his partner because she cried. He's a class act and did it all with brains, humor and integrity.








She was too young & too naive to be in there but held up well considering she played with the boyfriend from hell. I'm glad she got out early and alive.








Maybe the poorest loser in BB history but he gave us the best fight sequence. He said it nonstop but he never understood that 'it's just a game'.








Not blameless but not the villain they made him out to be either. He had funny voices, 'The Continental' and Janelle - plus the best hoax of the season.








There's never much to say about the first out except they're gone. She blabbed too much so she wouldn't have lasted long but she was fun while she was there.



I love keeping tabs on the feeds during summer, and wish I didn't have to do this.. but the reality is it takes a ton of time that I can't really afford to give away. If you like the site and would like to help support it, please visit my sponsor links by clicking on the banners, or make a Paypal donation here. Please support other BB6 fan sites that you like, too - many many thanks!



This site isn't necessarily about who should win, who will win, who I'd be friends with, or who is cute. It's about watching hamsters: which ones are doing what and why, which are fun and which are dull. If they aren't entertaining, get rid of 'em! Thanks for encouraging my behavior..

that dingo