8/11/05 - Day 40



>> to the future >> to the past >> daily index
>> latest HamsterWatch episode >> linkage

>>

Sarah evicted 6-1 - Kaysar back - Jennifer is Head of Household

<<



82% can't be wrong - what up Kaysar!!!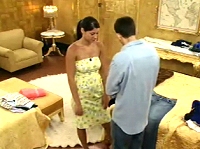 So long Sarah - James will have to get himself dressed on his own now

Hello again Kaysar - good to have you back where you belong

And off they go into the greenhouse of horrors.. this would be a REAL good time to update Kaysar on what's been happening while he was away - everyone's versions at once - he'd easily figure out the truth and a few liars would be outted, finally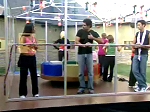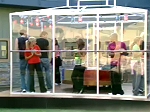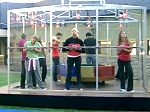 Four hours in and they're dropping like the flies they're sharing the box with.. ok not really - they're holding up pretty well and these are only quick break snaps.. nobody's out yet, nobody's peed, and no more boxes have been opened






Flashback interlude: I didn't catch much of today, but before the live show we found Ivette & Beau thinking about saying good-bye to each other and the big money, then Ivette teasing Howie about his undies again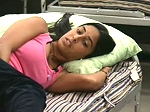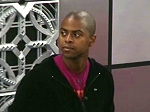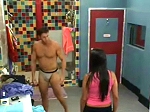 Sarah joined in the fun by towel-slapping Howie's undies - her last official act before meeting Julie - Jennifer laid around while Janelle prepped for this evening's comp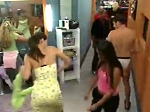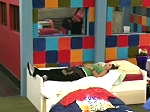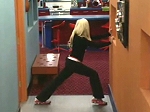 Back to the badly-named Pressure Cooker: the boxes remain a mystery, as does the Beanie Baby cheering section.. lots of shoe-shots, awaiting pee puddles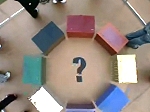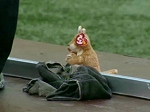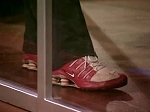 Howie walks around the box showing them all the photos from home received so far.. they say Kaysar missed arts & crafts week and Howie shows him their tie-dye campaign shirts.. Kaysar says he didn't know who'd won HOH or anything else all week, and tells about his visits to Julie's boudoir, and about seeing Michael & Eric.. April's worried about her tampon

Rather than cutting deals, they play Porno Telephone






Beau leads a round of Fabulous Beau-Beese chants - even Rachel joins in - then Howie reads a communiqué from Diary





Howie: You're now at the 5 hour mark.. No sitting or kneeling now, no knees or butts can touch the ground - only squatting.. In one of the boxes is a martini bar, and in another is a 42" plasma tv.. if no boxes are opened in a half hour, I'll open the green one


Oooo that smell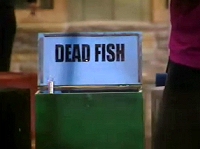 Nobody takes the martini bar or tv bait so Howie steps inside and opens the green box as promised, revealing DEAD FISH

"Is that all?" they wail.. then the smell hits them








Beanie Baby has a private bleacher now.. April digs around.. somebody's light goes out, James' I think - nobody says or does anything - Howie sucks down Budweiser #3 and reads a new message






Howie: You're now at the 6 hour mark, it's midnight and the PB&J restriction has been lifted.. there's tons of food in the storage room, waiting for you

Howie brings out a food selection to tempt them.. he lays everyone's favorite stuff down in front of them






April asks for cucumbers, which he has (nope, too easy).. looks like April has to pee too.. they yell at Howie to put the food back in the fridge, then yell at him again for throwing it all "quit breaking the food!".. they yell to the staff, Rachel gets a little snappy, and the fishies swim






April: Jim, Danny, Brian, hello? Can I ask you a question?
Ivette: How do you guys know these names?
Rachel: We ask

The fishies swim away and Howie announces that Beau's disqualified, his knee touched the ground.. he wins the martini bar and mixes one up






Ivette whispers something to him, and Kaysar swallows a fly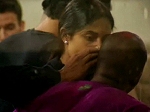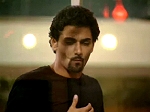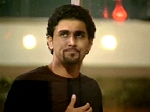 At 7+ hours Janelle's alarm rings & her light turns green - she says she didn't take her hand off! but the fishies come & go and she's trying to pick a box.. she scopes them out carefully, confers with Kaysar, jokes with Ivette, and finally opens one she likes






She gets a Netflix membership "I already have one" but there's more, the 42" tv.. she jumps & squeals with Beau "I'm the luckiest bitch alive!".. Maggie's smile looks forced







Past the 8 hour mark and they're getting tired.. James actually laughs once or twice.. Beau tries another concoction "ewww.. wait, I like it, I think".. April shares way too much info about her tampon, again







Beau's had to pee since he started sipping, he finally uses the DEAD FISH box.. Janelle helps Maggie & Rachel fend off the cold.. April turns down an Ivette deal and lets go soon after.. she opens a box and finds $3000 - Jennifer asks if they can go shopping - Beau, Janelle & April are finally freed.. Jennifer makes no points with the next HOH by saying "All the fun people left"






Just before the 9 hour mark Howie tells them to choose a hand they'll use for the rest of the comp - no more switching

10 hours and still six are left.. Howie kisses Beau, windexes the box, and starts "99 Bottles of Beer".. they're getting tired but no deals yet - Kaysar finally asks what happened last week, they say "a lot" but nobody provides details







Janelle renews her friendship & partnership with Kaysar through the glass.. then Ivette's out.. she cries.. she opens a box of cockroaches and says "I'm sorry guys".. she's had a rough day






Maggie: We should just let Kaysar have it
Kaysar: Why?
Maggie: Unbiased party
I was going by the sign on the cockroach box but I'm told there was a toot horn inside it (thanks attw x)

A few minutes later James says "Maggie just made me realize something" and he lets go.. then she does.. he opens a box with pizza, she opens rotten eggs.. lobbying for Kaysar's loyalties begins in earnest






Jenn's crying.. Kaysar says he left everyone with a mission, for James to be gone.. everyone gathers around him with their agendas & histories of the week suddenly.. Maggie says "I don't understand why there's still a competition going on!" - she explains the deals made last week about James & Sarah, when Kaysar wasn't here



And then there were two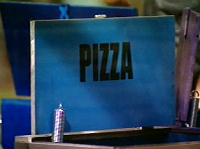 Rachel's out - I don't know how, maybe she just let go.. I don't think she opened a box

Jennifer starts lobbying in earnest, sweet-talking like she does.. talking about the pastry food comp, pouting for pics from home, telling him he's safe if he gives it to her and that she'll get James out.. Kaysar's not buying







Jennifer: We have a strong bond in my group, and I know they would trust me
Kaysar: When I left there was a job to do and it didn't get done

12 hours and dawn: the others gather around the box like vultures waiting to pounce on the new HOH - most are in a dodgy position so it's understandable - Howie says he's going to bed (but doesn't).. I guess the Beanie Baby is Jenn's - her friends and/or suckups turn him into a rally beanie to keep her going.. we lose Rachel





Jennifer: I didn't know you felt so strongly about James
Kaysar: I promised myself in sequester if I get to come back and James is still here, I'll take the fucker out myself
....
Jennifer: Hey Kaysar, I thought you had to pee hours ago
Kaysar: I didn't have to pee, I just said that
....
Howie: I'm in my fifth year being HOH

Jennifer gets loud & cocky then quiet again then silly in cycles.. Janelle urges on Kaysar and Jennifer makes a face.. Howie comes out with new rules: no squatting, no touching or leaning on the glass, no sleeping (closing their eyes more than 3 seconds)

13 hours: Ivette becomes Jennifer's biggest supporter.. Howie starts a rousing commentary "Now it's Kaysar, now it's Jenny, the James Busters! Will it be the big boobied girl from Texas or America's Choice?" Jennifer complains "Hey maybe I would have been America's Choice!" Rachel's still stuck in the box with them but not asleep anymore.. she says "Bring back Michael for Janey" - Kaysar hears that







Coming up to 14 hours: Jennifer & Rachel tell Kaysar how James won the last veto, that they gave it to him.. they're both eager to tell him Janelle was hung over so didn't play.. Kaysar takes it all in and most likely considers the sources - he has to be wondering why Rachel's trash talking Janelle.. Jennifer asks if they'll share the title of longest endurance, since the winner will let go as soon as the runner-up does.. Rachel's still stuck in there with them.. Ivette and Rally Beanie don't leave their posts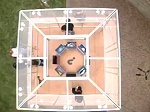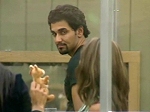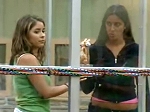 Jennifer wins at 7.45am! I don't know what happened.. Kaysar was getting bothered by flies waking up and the fishies came.. when they swam away it was done and they were hugging - she was crying & wouldn't let go - they compare finger indentations & techniques.. Howie gives her the very well-earned key and carries her inside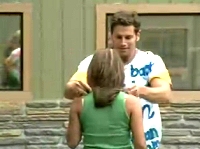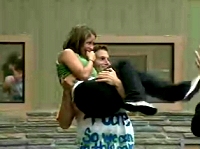 Kaysar: Enjoy it
Jennifer: That was killing me, dude
Kaysar: Could you have gone another five hours?
Jennifer: Yep

Linkage

Today's must-click special: BB6 Park for August 11 by TD part 1 - part 2 pdf format
Bonus must-click special: FBI caps like Kaysar's for sale on Ebay

CBS Big Brother 6 the official site
House Calls weekdays live 10am BB/1pm ET on BB main page - show archives
Live feeds signup - No timeout feed links
BB6 Park by TD listed on Hamsterwatch daily index
Hamsterwatch on Youtube BB6 & BB7 videos off the feeds
Hamsterwatch Big Brother 8 here we go again
Hamsterwatch Big Brother 7 All-stars in the house - from me, that dingo person
Hamsterwatch Big Brother 5 Dailies, Cowboyisms & Hollyisms - also from me
Aldav has all of the edgier stuff & the best mini-recaps in town
BB Chatter feed updates, screencaps, and fun boards - easy to use and functional!
Screencaps refresh site is back, from bbfan
Reality TV Links - Big Brother 6 emphasis on individual hamsters' sites
Sir LinksALot Big Brother 6 all the links
Big Brother Link news, info, caps, forums, and links
Big Brother Fanatics chat, updates, caps, news, and links
Big Brother 6 Keyhole peruse various BB sites in the same window, feeds too
Joker's Updates Big Brother Grins can't do BB Park this year
2005 or 2006 Kaysar calendars by BBVoyeur - pdf format
C=Venus BB6 chops new site full of really great work
BB6 Houseguest Fun play Mr. Potato Head, mess up their faces, send cards
Destroy a houseguest fun for fishies times by johnbb
Patrick's Place one-man BB show - 15 streaming cams including his car, turn his lights on/off
YAYsports! snarky stuff for sports fans from the creator of Michael's Blog
another 2 cents quasi-intellectual sleaze & radical gumbo aka blog

Please read before linking to pics, 'borrowing' or stealing any content from this site - this means you

A new BB endurance record is set at 14 hours - Jennifer wins and deserves credit for taking out Kaysar

Think outside the box






Thanks for doing the right thing CBS, and thanks to the voters who made it known they had no choice. Thursday's show was everything it should have been: minimal recaps with a spotlight on April & Jennifer's shady behavior, a clean eviction, grown-up behavior from the 3 returnees, and most important, announcing the 82% landslide results for Kaysar.. anyone who's been online lately knew he was a shoe-in whether CBS admitted it or not - I'm very glad they did. Feedsters chuckled when Julie gave Howie the go-ahead in HOH to 'say whatever you want' (uh oh) but he did well as did both nominees, particularly Ivette who I thought gave an excellent maybe-farewell speech. Top it off with an endurance comp guaranteed to go well into the night and it's ups all the way this time.






Third out at close to the 9 hour mark - tampon problems and all - she surprised many including me by lasting that long. She opened a box with $3000 cash and was thrilled.. Jennifer didn't seem too pleased for her and neither did Maggie. She was the most entertaining one in the box (if the grossest) but Beau & Janelle were happy to be set free when she was disqualified.






First out of the HOH comp (who's surprised?) but he made good use of his new martini bar driving them all nuts by getting tipsy in there. Ivette tried to whisper some directions to him and he said out loud 'Who?' - she sent him back to the other side of the box. Anything that makes April, Jenn, Maggie, and James annoyed is fine by me, and Beau did a fine job of that in there.






He was fun (and honest) telling Julie he needs Kaysar back to think for him again, and now his horrible week at the top is finally over - but not til he stumbles his way thru the overnight stamina battle emceeing the HOH comp. He drank a bunch of beer, blew a lot of script lines, and reverted to his old self, making crude & lewd remarks and 'breaking all the food'. Kaysar's not the only one who returned to us tonight - the old Howie's back too!






Fourth out after about 10 hours, she lost it and cried. Call me sentimental but she's had a rough day thru no fault of her own (this time only). She gave a really nice speech before her possible eviction, she didn't get her Cappy back (good for us), she was practically silent for the whole marathon and then kicked herself for not getting HOH for her & her girl's anniversary. Then to top it off she opened a box of cockroaches after three nice prizes. She's been pretty good lately, especially today - it isn't all sympathy ups. Turning into Jenn's most solid supporter might have been self-serving and she may regret it after learning Jenn was the one behind the backdoor plan, but she stuck it out way better than Jenn's 'real' teammates.






Sixth out - he let go just after Maggie. He's toast and he knows it - I don't know why he let go unless it's that he's sure he's gonna win the veto again, and he probably will. The sooner he's out of there the better for all of us.. but let Sarah's friends & family talk to her first.






Second to be DQ'd which was a surprise and not a good one, but she made a few of the others green with envy when she picked the box with the big screen plasma tv, shrieked with joy, and proceeded to get mock-sloshed & obnoxious with Beau - that stuff makes the other girls crazy. I'm glad she's back in the game now that Kaysar's back, and I'm also looking forward to their late night convos and odd but compelling flirtation to start up again.






HEAD of HOUSEHOLD
She took out Kaysar in a 14-hour standoff that will overshadow Diane vs. Jase in 9½ from here on out in BB lore. She got obnoxious and cocky along the way, and we're likely in for a bumpy ride in the week ahead, but she deserves solid ups for going longer & farther than anyone expected she would or could, and for outlasting all of them.






RETURNED
Aside from being America's Choice he's most feedsters' choice, and he proved why once again as he stood up to 'Little Jenny' in a 14 hour standoff but she took him out in the end. He's on a mission to rid the house of James (and likely half the others when he gets wind of what went down while he was getting room service and watching movies.) Chances are good that he'll stick around this week - let's hope so anyway.






Fifth out just after Ivette and I'm not sure why - she said they should just give it to Kaysar but it wasn't agreed, then she just lets go. That's fine, but when James followed suit but Jennifer-Kaysar-Rachel kept holding on, she cried 'I don't understand why there's still a competition going on' - proving she's the epitome of a self-centered cow once again.






Seventh out and I'm not sure if she let go intentionally or not - I was over on Kaysar's overpopulated section at the time. Maybe she felt she was safe between Kaysar & Jenn, and maybe she is. She scowled thru most of the comp but she lasted 11 hours (it's almost time for her to get up) so she gets a courtesy upgrade from her negative attitude for holding out so well and so long. She might have earned ups for staying in there til the bitter end, but she neutralized that by bad-mouthing her supposed teammate Janelle to Kaysar - twice.








She was too young & too naive to be in there but held up well considering she played with the boyfriend from hell. I'm glad she got out early and alive.








Maybe the poorest loser in BB history but he gave us the best fight sequence. He said it nonstop but he never understood that 'it's just a game'.








Not blameless but not the villain they made him out to be either. He had funny voices, 'The Continental' and Janelle - plus the best hoax of the season.








There's never much to say about the first out except they're gone. She blabbed too much so she wouldn't have lasted long but she was fun while she was there.



I love keeping tabs on the feeds during summer, and wish I didn't have to do this.. but the reality is it takes a ton of time that I can't really afford to give away. If you like the site and would like to help support it, please visit my sponsor links by clicking on the banners, or make a Paypal donation here. Please support other BB6 fan sites that you like, too - many many thanks!



This site isn't necessarily about who should win, who will win, who I'd be friends with, or who is cute. It's about watching hamsters: which ones are doing what and why, which are fun and which are dull. If they aren't entertaining, get rid of 'em! Thanks for encouraging my behavior..

that dingo