8/4/05 - Day 33



>> to the future >> to the past >> daily index
>> latest HamsterWatch episode >> linkage

>>

Kaysar evicted 7-1 - Howie is Head of Household

<<



Black Thursday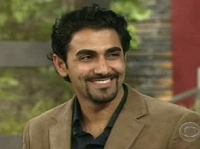 WHAT UP KAYSAR!!

Bring him back, Hamsterwatchers
(CBS should be objective, but I don't have to be)

Text 3 to 22788 - it will cost a few cents
or vote online at CBS.com Big Brother

Primp day rolls around again, this time it's bad news for Kaysar fans, of which there are many.. the pimp room warms up to primping with Howie talking boobies to Sarah & Rachel, and Janelle starting to cycle through her wardrobe.. Howie jokes that he's engaged to Rachel - Janelle plays along and James buys it.. Kaysar's the only calm one






Control room slippage and we hear Julie rehearsing "Tonight's game is called Eliminator".. Jennifer grooms Ivette with April supervising.. they check the results.. Maggie & Rachel are blown away







Beau sexually harasses Howie in the shower.. the nominees change clothes, they do a final check - both are looking good, and nervous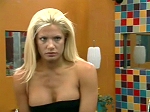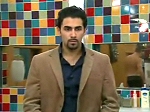 Then it's showtime - James & Sarah's families send postcards







Kaysar walks the plank to Julie's boudoir, as expected - not before nine heartfult hugs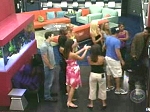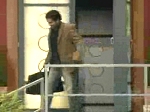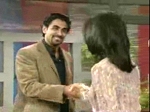 The World Famous Cappy Keys Memorial.. Howie's undies in Diary.. a rare side by side smiling pair.. and our new HOH







They learn the new twist.. then Janelle learns Ashlea isn't bringing her back another shot at a million bucks (she had prior plans this month)




Here we go again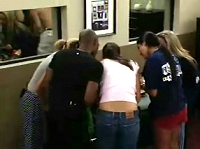 Like every Thursday, the fishies swim away to reveal shocked faces and various suckup techniques already on the job

Everyone looks forward to HOH room debut, to make it formal

Maggie's concerned.. James is in shock.. we're in shock seeing Beau & Ivette helping with Janelle's dress, with Jennifer supervising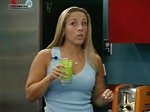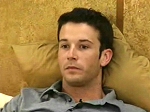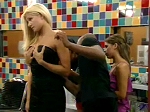 Jenn then moves on to her usual safety-thru-grooming technique.. Ivette & Janelle are in close promixity again, so soon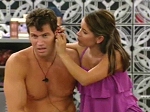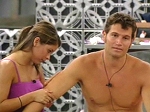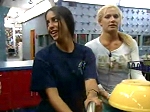 Room debut! Howie leads the way.. the others follow squealing and circling like little girls at a birthday party, or vultures.. it's all smiles & hugs over the pics






They discover his Coke and stars 'n stripes mandana.. Ivette parades his new black speedos around






Janelle & Ivette even share a joke! James isn't happy at all.. he seriously looks like he's about to cry (this should have all been his, you know).. Howie tells them all to make themselves at home, and wow do they: Rachel stakes out her spot.. Maggie tells Howie how to be HOH, then takes over the CD (U2), headphones and bed






Jennifer goes for snacks.. Janelle wears a hat.. Sarah takes over goggles & mirror.. James checks out the Trix, opens the little prize car inside, and applies its little decals






All I can think of is the little toy car segment in the Jackass movie.. starring James

And then it's time for lobbying

April's first: it's all James this, James that - we've heard it all before but she's really worked up this time, cardiologists fear for her health.. Howie & Janelle listen, adding some of their own dirt on James.. both sides share what he's said about the other






She goes for over an hour.. Jennifer gets called to Diary at the start - when she returns she says "are you still in here??" - she's missed all of it






Howie says he'd like to get James out too but they have to consider there may not be a winnable veto.. he says he'll let them know what he's going to do

Next Ivette & her bitch show up, a little miffed at having to wait so long.. she does a quick double-take when Howie says Janelle's gonna stay "she's my brains".. Ivette's also all about getting James' ass outta town and they all swap a little more dirt on him.. she even says she respects Howie & Janelle still being a team from the very start, but that James is a team-hopping snake.. it's all fairly calm (for Ivette) and cordial - there's even a moment where they split into girl-girl and guy-guy convo, but Beau doesn't say much of anything.. Ivette offers to go up as a pawn against James





Howie pretty much agrees to put up James & Sarah and when it's time for him to say why he'll go around the table and let everyone list their James crimes

Then it's the man of the hour himself, and Sarah.. James comes in jumpy & sweating, he looks ill.. he asks if he's on the block? Howie says he had to tell everyone he's nominating James, and there's gonna be a lot of shit flying all week, but it's cool.. James alternates from swaggery arrogance to sheer panic like a strobe light





Howie tells James he'll put up somebody.. Maggie & Ivette, I think

Next thing you know Maggie's got Howie in her special bath/conference room.. Howie tells her it was James who stirred it up to get Eric out instead of himself, that Kaysar mostly just wanted to out the pairs & shake up the house.. he also tells her that Eric wouldn't hug him at the door, but Howie patted his shoulder anyway.. and he tells her that Kaysar's offer last week in the gym was valid: she would have been safe til all her minions had been dispatched, and that James had been two-timing them all from the start, with details

She tells him that James is gloating all over downstairs saying he's safe, he's safe.. she also tells him about her convo with Kaysar that we saw on the show, where he explained his intentions were as he'd stated, but no hard feelings, etc and that she'd believed him

This is interesting: here's Rachel chowing away in there in my caps between James' and Maggie's appointments.. later she'll bitch at Howie for days for meeting with Maggie without her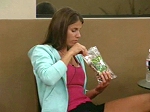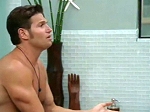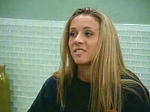 Much of this comes as a surprise to Maggie, especially the no hug from Eric.. it's a good convo and I believe they're both being genuine, if a bit guarded, naturally

Howie says he'll put up James & Sarah and they'll kick James unanimously first, and Sarah the following week.. if James gets a veto, they'll bounce Sarah and just keep at it til James is gone.. Maggie gives her word she'll hold up her side of it, and she gives Eric's word on his behalf if he comes back next week

James makes a return visit - more of the same - then Rachel shows back up again and throws a major hissy fit when she finds out what Howie's been doing all night and why hadn't he done it all with her there?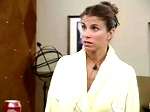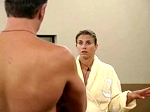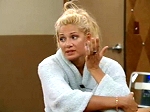 Rachel & Janelle remind Howie that if Eric comes back (they seem to think he will) they're doomed for sure by the numbers.. James can wait til they take out a couple more from the other team.. Rachel says either way Maggie can't be trusted to hold up her end of the deal - all it takes is for one of them to put up Howie & Rachel together and they lose their million bucks.. she goes on & on.. Howie's kicking himself now and says why weren't they there if they wanted to be? Rachel says she didn't know Howie was going to do all that (even though it's their 4th eviction and 5th HOH, the pattern is established that Rachel set herself)

Janelle goes downstairs to read her Bible and eventually to bed with the coven.. Howie & Rachel go round and round til about 4am.. it sounds as if Howie will go to Maggie and take it all back, then nominate April & Ivette, and send Maggie out the back door

This is the same thing that happens each week: James is targeted and agreed upon, then it all swings to somebody 'more dangerous' and James lingers on.. at this rate he may go all the way and as despised as he is in the house, if he's by some chance in the final two he'll get the 'played the game best' votes against anyone but Kaysar

Maybe this wasn't Howie's best option and maybe he went for it before he thought it all through or conferred with his teamies, but it's done now - taking it back will cause far more trouble down the road for Kaysar's Remnants than going through with it, in my opinion

Nothing here is guaranteed accurate or complete, but I do my best.. I'd much rather report on Howie's undies and April's nicotine fits and Jennifer's attention getting ploys than all this junk - it'll all change anyway - but there was virtually no fun in the house since Julie eased the sting of Kaysar leaving with the returnee news and "Howie you are the next head of household".. it seems so long ago now




Linkage




Today's must-click special: America's Choice bring Kaysar back - vote early, vote often

CBS Big Brother 6 the official site
House Calls weekdays live 10am BB/1pm ET on BB main page - show archives
Live feeds signup - No timeout feed links
BB6 Park by TD listed on Hamsterwatch daily index
Hamsterwatch on Youtube BB6 & BB7 videos off the feeds
Hamsterwatch Big Brother 8 here we go again
Hamsterwatch Big Brother 7 All-stars in the house - from me, that dingo person
Hamsterwatch Big Brother 5 Dailies, Cowboyisms & Hollyisms - also from me
Aldav has all of the edgier stuff & the best mini-recaps in town
BB Chatter feed updates, screencaps, and fun boards - easy to use and functional!
Screencaps refresh site is back, from bbfan
Reality TV Links - Big Brother 6 emphasis on individual hamsters' sites
Sir LinksALot Big Brother 6 all the links
Big Brother Link news, info, caps, forums, and links
Big Brother Fanatics chat, updates, caps, news, and links
Big Brother 6 Keyhole peruse various BB sites in the same window, feeds too
Joker's Updates Big Brother Grins can't do BB Park this year
2005 or 2006 Kaysar calendars by BBVoyeur - pdf format
C=Venus BB6 chops new site full of really great work
BB6 Houseguest Fun play Mr. Potato Head, mess up their faces, send cards
Destroy a houseguest fun for fishies times by johnbb
Patrick's Place one-man BB show - 15 streaming cams including his car, turn his lights on/off
YAYsports! snarky stuff for sports fans from the creator of Michael's Blog
another 2 cents quasi-intellectual sleaze & radical gumbo aka blog

Please read before linking to pics, 'borrowing' or stealing any content from this site - this means you

America's Choice: Revive A Hamster
Vote at CBS.com or text message to CBSTV (22788)
1 = Michael
2 = Eric
3 = Kaysar << dingo recommends

Text message costs 49¢ plus your service's fee, if any
Online power voters make sure your browser isn't resetting to Eric

Come back Kaysar, we need you more than ever.. already






Downgraded for this bitter morning after pill: Julie's teaser on the Early Show 'Coming up, evicted houseguest Kaysar - hear about his string of broken promises' - go vote a few more times.

Still a skewed pro-Eric & pro-Ivette show Thursday but they are shifting slowly, likely under pressure from us - WTG guys! Eric still had more screentime than most of them still in there, but his segments came across a little culty finally; however the only anti-Eric bits were from the Kaysar team making fun, making them look like the nasties. Still no tv hints of the hate speech Maggie, Ivette & company spew 24/7 so this upgrade stops at neutral. Maggie said they go upstairs to sleep early like Eric said.. CBS should show how they talked graphic anal sex up there every night after 'lights out bitches'. But it was a good twist this time and I'm glad I was wrong about it. HOH comp was also a good one and well-designed to really stir it up. Fun to see Julie has to keep asking Jennifer, April & Sarah couch questions cuz they never have game footage. 'James & Sarah heating up the house' was another fallacy - as lfaddict says 'Janelle & Kaysar heated more up than James & Sarah, and they didn't even kiss!' Julie needs to start telling us who single vote holdouts are.. I'm still guessing April even though James confessed to it.






She was the epitome of good tv tonight when she was lobbying to get James gone.. feedsters thought she might have a coronary on the spot but she kept going. She told some whoppers too - the best was that she can't pretend to like somebody if she doesn't like them <choke>.. Howie had a great comeback for one of her conscience stricken moments: 'Do it for Pepperoni and your husband.'






He's in the house, he's bouncing around the feeds, but he's not in the game is he?






HEAD of HOUSEHOLD
What a great few moments he had today! First rallying the 'what up Kaysar' chant on live tv and continuing it on his own til the others finally joined: it added to a fine sendoff. Then winning HOH when he had to, and letting everyone eat, use, and decal his goodies. He hosted campaign stops like a pro, firming up plans and striking deals, but he prolly second-guessed himself right outta the house after Rachel found out. Howie's plan wasn't bad: it would most likely have gotten James out, he remembered to factor in possibly no veto plus a returnee, and it would have given him brownie points with the opposition. But Rachel is gonna make him take it all back.. let's hope we don't lose Fun Howie as a result of this mess.






I am a forgiving sort of person and I have to give her props for decent behavior today, whatever her incentive. She sat next to Janelle and smiled (like an adult), she even helped the Janelle's dress team, shared a joke with her, and talked to her rationally, face to face. I know, it was all for Ivette, but not to worry: I can always downgrade her again tomorrow. It was just such a relief to see a human being in her today for a change.. 'Do you understand what I'm saying? Do you know what I mean??'






He almost deserves double ups for the amount of sweating and stressing he was doing tonight, but I save those for ethical types. James asked Howie 'please take my key out first' no less than five times, complained about how hot it was in HOH (others said it was fine), and finally let himself be lulled into a very false sense of security that he might be safe come nominations.. as it happens, now he prolly will be. His mom has to stand by her boy but you can always get the truth from siblings and his sister didn't sound too encouraging about his true character. The ironic part of all this mess? They all hate James and want him gone, but they're all scared to death of him except Howie, and Howie's gonna have to cave to the new witch of the house Rachel. Result: James owns them all, just like he thinks he does.






She looked like a million Kim Basinger bucks for the show but that's not enough to keep her from being neutralized. She was with Howie for most of his meetings but later claimed they'd all been blindsided by Maggie having a one-on-one.. she & Rachel could have been there and chose not to be. Now he's going to have to undo his deals that would have given all 3 of them some mercy, and the bull's eyes they're all wearing will get a little bit bigger. Kaysar didn't factor in a returnee in his tutoring, but Janelle says she'd rather have Michael return anyway.. she can't seem to see that she was at her best as a person - I'm not talking romance here - when under Kaysar's influence than Michael's. And she played the game a lot better then too.






Our sleeper nutcase may go berserk this week, grooming & parannoying her way right to Big Brother stardom. Even BB is getting in on it: she was called to Diary for nearly all of April's harangue, and then she was called back again later! She wasted no time picking at the new HOH's skin and popping up every time something big was going down in the war room. She'll be all over Howie until noms and veto are done, then he'll be just another sexual harasser to her. She would just die if she knew Howie confused one of her phony excuse visits (laundry call, she claimed) - later he said it had been Sarah snooping around on laundry patrol. She only skipped two beats when answering Julie's million dollar question before she gave the requisite lie about giving a big chunk of it to charity.. yea sure you would, Jenn.






I don't like her hypocritical self-righteous act much but I think I believe her if she says she'll do something or won't, and so did Howie. They built a bridge between their two camps in the HOH conference room/bathroom tonight: we were all going to be rid of James, Howie would have been safe next week - from Eric too, if he does indeed return - and there would have been peace in the tiny kingdom for awhile.. til Rachel came along and went tirading. Now it's likely gonna be bad news as Maggie does not like it when people back out on deals (who does?) She was a lousy outgoing HOH good tv-wise but pretty funny seeing her being the HOH room & procedures know-it-all. Hey she's still just a neutral - she's got miles to go before she gets a Most Improved award like Ivette.





The true Rachel came out tonight, privately in HOH with Howie, when she bitched, moaned, cussed, berated, and pretty much said he was an eejit and she wanted her million dollars! <footstomp> She sounded every bit like the new queen crone right down to the namecalling roll calls, and she seems to think she's head of this sorry household again.. but even the 'Fiendship' members don't order the HOH what to do. She's got a passive aggressive style that's a finely honed world class guilt-creation device: after an hour or two of yelling at Howie cuz she decided to skip meeting rounds, she finally huffed 'well, come up with a plan your own then!' uhhh he already did Rachel.. STFU. Best part of the night was her staying up well past her 10pm curfew for all this; when they finally stopped and went to bed around 3am (pillow separator = NOT dating, engaged, or married! jeesh!) Howie said every 2-3 minutes 'are you still up?' and he started another round. Go Howie!






She's as hated in there as James is - partly guilt by association and partly her own doing - but she has no idea, she thinks they all love her. She came within a hair tonight of being bounced or separated from James next week and reunited with him the week after, but thanks to Rachel's 'no more wire hangers' mom act she will prolly get a free pass until the rest of Kaysar's team follows in his footsteps out the door.








Possibly the best player we've seen even though he's out 4th. He turned the game on its ear, took out an emperor, and fell for Janelle overnights - all with brains, humor and integrity. A class act.








Maybe the poorest loser in BB history but he gave us the best fight sequence. He said it nonstop but he never understood that 'it's just a game'.








Not blameless but not the villain they made him out to be either. He had funny voices, 'The Continental' and Janelle - plus the best hoax of the season.








There's never much to say about the first out except they're gone. She blabbed too much so she wouldn't have lasted long but she was fun while she was there.



I love keeping tabs on the feeds during summer, and wish I didn't have to do this.. but the reality is it takes a ton of time that I can't really afford to give away. If you like the site and would like to help support it, please visit my sponsor links by clicking on the banners, or make a Paypal donation here. Please support other BB6 fan sites that you like, too - many many thanks!



This site isn't necessarily about who should win, who will win, who I'd be friends with, or who is cute. It's about watching hamsters: which ones are doing what and why, which are fun and which are dull. If they aren't entertaining, get rid of 'em! Thanks for encouraging my behavior..

that dingo