8/3/05 - Day 32



>> to the future >> to the past >> daily index
>> latest HamsterWatch episode >> linkage

>>

Maggie is Head of Household - Kaysar & Janelle are nominated

<<



Bathroom politics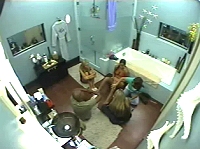 Afternoon check-in finds the coven in their new conference center

It sounds like they're having second thoughts about making it personal rather than focusing on James when they had the chance.. too bad they haven't learned to think beyond just the next move yet

The "Friendship" cult is getting snippy with each other, starting to splinter before they've even finished their week.. Maggie & April need to work on their poker faces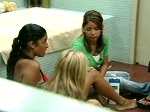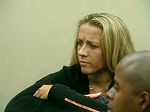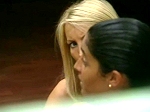 Beau contributes nothing.. neither does Jennifer but she continues to bribe via grooming.. half the time this group looks like an intro for a soft porn flick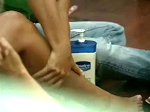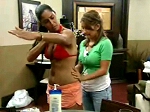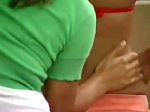 The horrible evil people they speak of are laying around the pimp room, not plotting and scheming as suspected, just hanging out, joking.. Howie says sure, he'd marry Janelle.. Sarah asks through candy what about her, his tv girlfriend? Howie says she & James go back and forth too much and the line between tv and reality is too thin, somebody always gets hurt.. topics range from history to bayonets to St. Paul (the person, place, and cathedral) to religions to Jedi.. Rachel comes in to report they're bitching about dirty dishes and ants in the kitchen






Kaysar: I would imagine you would be Howard and then your guy would be Howie
Howie: Well it's my johnson, couldn't I be Howard Johnson?
Howie: How about Big Howie and Little Howie?
....
Howie: George (Lucas) will be waiting for me when I get out, and also my mom

Nothing's changed by evening.. all-natural Ivette blow dries (straightens) her hair.. Jennifer's sulking.. Howie isn't.. James isn't as nervous tonight cuz voting is done, but he's still on guard







Sarah hacks up a watermelon.. more grooming rituals at the table.. the bong's out







Jennifer's still sulking - Howie tries to help.. Beau tweaks a nip.. April complains she's fat and needs laxatives or dexatrim






Jennifer says she's fat too.. Howie slides her soda & candy closer for her







It's the last night for hookah.. April's glad to see it come out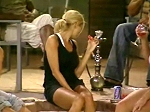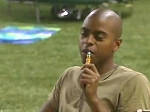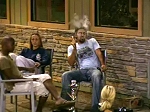 Jennifer's feeling a little better but not a lot.. Beau gives her a little attention





Howie's undies, again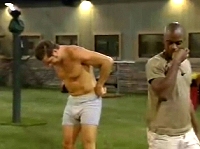 He surprises everyone by showing up at the hot tub in new ones

Oops, they aren't new - they're the ones that used to be Kaysar's, before Howie pooped in them

Somebody sees a bug - it's a roach! No, it's a beetle.. Howie clips its wings, distressing April & Rachel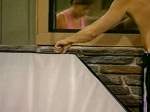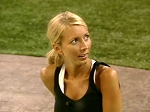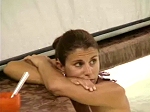 Then it's the Howie the Dolphin show, with Ivette as Maggie the dolphin trainer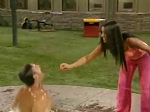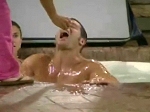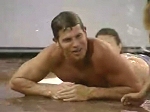 I don't know if the "Fiendship" makes an appearance out of courtesy or spite, but it doesn't much matter - nobody even acknowledges that Kaysar (or Janelle) is leaving tomorrow.. I can't believe how fat April is







Then the doomed trio share a few more words about James, Maggie, etc and the coming weeks.. Kaysar is noticeably off camera most of the evening, by the way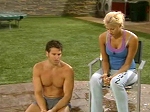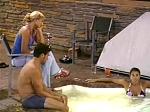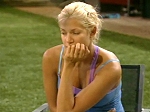 James & Sarah show up to spy/buzzkill.. Sarah spies a zit on Kaysar and says she wants to squeeze it.. he says "no don't, no no" but she goes for it anyway, then she does the same to Howie.. it's disturbing






Sarah's all wound up tonight.. she notices Howie's in his undies and starts squealing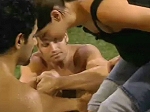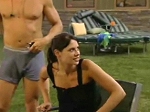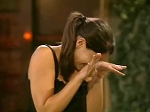 Always the party and never the pooper (party pooper anyway) Howie takes a freeeeeezing cold shower and flies into the pool!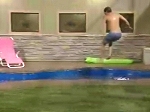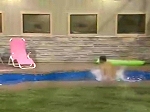 James & Sarah hang out for hours, like watchdogs.. Sarah's wound up like a speed freak on crack, shouting and being extremely obnoxious.. nobody knows what to make of it but feedsters all over want to reach in and slap her






Howie & Janelle begin Operation Let James Ass-ume, and quite well too.. Kaysar stays mostly quiet (still mostly off camera too)



The boobies ban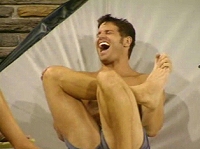 Rachel put Howie on boobies restriction this morning - I missed it - I think she beat him at Coasters or made a bet.. either way, he held out pretty well, mostly

When midnight comes he breaks free, singing & shouting from the hot tub cover like Venus rising from her shell

Howie explodes all over the hot tub zone with "boobies & clitori" then he & Janelle start singing their little song, at the top of their lungs






RUG CHOMPER, CARPET MUNCHER, BUTT PLUGGER, BUTT PIRATE and etc
James & Sarah finally leave.. Sarah gives Kaysar the only good night/good bye hug of the evening.. Kaysar tells Howie he'll probably get more airtime than any other day

There was virtually no closing night Bath Buddies Shower Hour - all three of our late night power pals were mostly quiet and subdued.. Kaysar revived a little of last night's hilarity with Howie, but Janelle was off somewhere and it didn't last long.. later Kaysar & Janelle read silently in the dark for an hour, then sat silently, then chatted quietly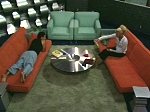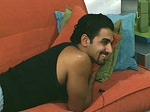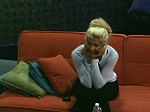 Then he moved to her side - romantic hearts leaped and icy cynics melted a bit - it was a ruse about her nails, and the moment fluttered away, like they do.. to the kitchen, to the photo wall.. a hug that lingered, it would have had a kiss if it were normal circumstances, if there were no Michael.. then the usual jokey backing off by both






And again, the same dance.. is she toying with him? He's clearly head over heels, anyone can see that.. maybe it's Michael, maybe it's the cameras and us watching.. maybe it's all just wishful thinking on the part of late nighters who've spent a month of pre-dawns with them both.. a final hug in the doorway and good night







Even without anything "more" these two are a good pair and I believe will be good friends long after BB6 is forgotten.. it's probably better this way - they each go out with as much integrity as they came in with, neither of them betraying the phantom Michael between them which surely would have given their detractors much to gloat about

I'm just sick either one of them's leaving tomorrow.. I've never liked and respected any of them this much this soon, and I like and respect both of them a great deal



Linkage




Today's must-click special: Aldav tribute to Kaysar

CBS Big Brother 6 the official site
House Calls weekdays live 10am BB/1pm ET on BB main page - show archives
Live feeds signup - No timeout feed links
BB6 Park by TD listed on Hamsterwatch daily index
Hamsterwatch on Youtube BB6 & BB7 videos off the feeds
Hamsterwatch Big Brother 8 here we go again
Hamsterwatch Big Brother 7 All-stars in the house - from me, that dingo person
Hamsterwatch Big Brother 5 Dailies, Cowboyisms & Hollyisms - also from me
Aldav has all of the edgier stuff & the best mini-recaps in town
BB Chatter feed updates, screencaps, and fun boards - easy to use and functional!
Screencaps refresh site is back, from bbfan
Reality TV Links - Big Brother 6 emphasis on individual hamsters' sites
Sir LinksALot Big Brother 6 all the links
Big Brother Link news, info, caps, forums, and links
Big Brother Fanatics chat, updates, caps, news, and links
Big Brother 6 Keyhole peruse various BB sites in the same window, feeds too
Joker's Updates Big Brother Grins can't do BB Park this year
2005 or 2006 Kaysar calendars by BBVoyeur - pdf format
C=Venus BB6 chops new site full of really great work
BB6 Houseguest Fun play Mr. Potato Head, mess up their faces, send cards
Destroy a houseguest fun for fishies times by johnbb
Patrick's Place one-man BB show - 15 streaming cams including his car, turn his lights on/off
YAYsports! snarky stuff for sports fans from the creator of Michael's Blog
another 2 cents quasi-intellectual sleaze & radical gumbo aka blog

Please read before linking to pics, 'borrowing' or stealing any content from this site - this means you

Nielsen watch: Tuesday's show was the most watched of the season, and won its time slot too.

America's Choice text message & web voting starts August 4

Will the public vote to evict? Doubtful. That's the main difference between BB USA and the rest of the world, where creators Endemol still run it. BB1 (by Endemol) had a public vote, then Shapiro/Grodner took over. There's a big difference between this and 'American Idol' where the public just chooses who gets the chance to go out and prove themselves. There's too much room for abuse here - I hope if they do have a public vote for something more substantial than a barbecue that they'll limit it to one vote per phone number or computer.. and that the results are audited.

Is it coincidence that both parties in the July 16 fight are gone? Or that Michael's 'second' Kaysar is probably gone next, with talk of Eric's 'second' Ivette's eviction being talked about on both sides? this Thing That Makes You Go Hmmm from Big Pauly

Out on a limb edition: yesterday I was sure it would be unanimous to evict Kaysar, now I'm not so sure. Maybe I should listen to all their whisperings more, but jeesh. I'm still guessing 8-0.. unless it's 6-2 with April & Ivette disobeying their substitute leader.







First double downs of the season for Tuesday's show. WTF are they thinking? 'Kaysar's alliance panicked' - when?? 'James & Sarah began playing both sides'.. yea, about a month ago. 'Maggie carried out Eric's wishes' and Maggie nominated 'with Eric's emotions in mind' - we don't need more martyring of the guy whose ethics were pure lip service. James is suddenly a romantic in Diary and when he hugged Sarah after veto comp we got 'Chariots of Fire' music.. but CBS doesn't show him monitoring her food intake or calling her fat and asshole all day. Sarah's birthday party was never shown, nor was the genuine 'thought that counts' party the hamsters put together from scratch for April, but K-mart and Kodak sponsorships call for an on-air segment, as do movie partnerships: 'Four Brothers' promotion turned about 10 minutes of the show into an infomercial. CBS-only viewers don't realize that 'the Friendship' of Maggie's coven is more of a morally corrupt Fiendship, spending HOURS every day cussing, degrading and cruelly belittling the other team, nor do they air Ivette's comments comparing Kaysar to Osama Bin Laden, Saddam Hussein, and suicide bombers. Meanwhile Kaysar is portrayed as a cold, selfish manipulator and Janelle is still a bimbo. CBS SHOULD BE ASHAMED OF THEMSELVES! They're turning Big Brother into a cheesy movie of the week or CSI episode, complete with fabricated political agendas. if you agree call or email and tell them so.






She started jonesing bad for smokes today, likely from the pressure of voting and not being able to talk about it, so she was first in line for hookah hour. She had the line of the day when she said 'Rachel, you are fuckin' OCD psycho woman!' Go figure. Likely voted out Kaysar but she was sticking up for him in post-vote meetings so it's hard to say for sure.. Kaysar has been good to her in there.






He keeps using up space in there, and he's on the move a little more again lately so he's using up more oxygen too. He's the only one of the coven who stays mostly quiet during their many, many meetings.. it's like he's their mascot. Never forget, Cowboy finished #2. All signs indicate he voted out Kaysar.






He showed he has some self-control for 'no boobies' day but he exploded with pent up boobies joy when midnight rolled around. He's the only one who can save us from deathly gloom for the next few weeks.. let's hope he can keep inspiring himself to deliver the lighter and pervier side of BB. He's got real good game too, but is it enough? Here's hoping. Kaysar asked him to vote him out - he doesn't want or need sympathy votes, and unanimous would mess with the coven's one brain.






She was a little fun playing dolphin trainer this evening, but not enough to bring her cumulative everlasting negative up to neutral. She's the most universally despised hamster I've ever seen (I skipped most of BB4). She's supposed to vote out Kaysar but it's very hard to imagine her not saying 'I vote to evict Janelle' given the chance.






The party this guy was having with Kaysar & Janelle among others was despicable. Not only did he betray those who trusted him - ok, that could be considered game - but he sat there and whooped it up for hours in their faces, talking about future weeks, HOH comps, etc. He never even acknowledged one of them is leaving tomorrow.. hell, it prolly never even crossed his mind. All he's aware of is that he's not leaving. The epitome of an insensitive ass tonight, it'll be great payback when he finds out both sides have one thing in common: plans for his exit. There's no doubt he voted out Kaysar.. he knows he's inferior to him in every way. Guys like James don't keep guys like Kaysar around as ongoing reminders that they ain't all that.






NOMINATED
One of two classiest nominees of all time. She seemed to have a good enough time today, but knowing her partner and tutor is definitely putting a damper on her spirits that she let show a few times. Late night was sad and slow, neither wanting to acknowledge Kaysar leaving, Kaysar wanting to get closer without betraying his pal Michael, Janelle stepping back but not leaving his side either. Whatever happens or doesn't between Janelle & Michael, I think she's got friends for life in both Kaysar & Howie. She's prolly still here tomorrow, but late nights won't be the same.






She was pissy every time I saw her today, for apparently no reason, except when she was playing seen-but-not-heard personal groomer in the HOH toilet meetings. She likes to act all independent but I have no doubt she voted the way Maggie told her to. Unless she voted the way April told her to.






NOMINATED
Talking walking real live example of a class act in every way.. compare his (probable) last night in the house to Eric's last week. He let people have their fun and look ahead without reminding them he wouldn't be there to share in it, and he told his two most loyal supporters not to give him sympathy votes cuz he's secure enough in who he is to go out with zero (and cuz it'd mess with the coven's one shared brain). He's given Howie, Janelle & Rachel the best stuff he's got for them to carry on with.. hopefully it doesn't turn out like the midnight hot tub song when he told them 'Since you guys started organizing you mess it up every time.' It was painfully sweet watching him & Janelle's last night together, still underway at 5am. Last night I was sure he'd be the one leaving, now I'm only practically certain. CBS better allow enough time for the best exit interview Julie's had since Will's karma electra.






HEAD of HOUSEHOLD
The only good thing I have to say about her is that she won't be HOH tomorrow.






I don't know why April (of all people) called her an OCD psycho, but she did show her naivete tonight while questioning the weird bond between Ivette & Eric. (Not that it's not weird.) She said she couldn't see 'someone like Ivette' as a guest in Eric & Mrs. Eric's home cuz she's so loud and she cusses so much.. huh? Maybe Rachel didn't spend much time with Eric. She went on to say that a fireman hero type shouldn't and wouldn't expose his kids to someone who has smoked pot. Puh-leez! Send her back to storybookland. The authority figure wannabe and hardcore rules follower absolutely did what Kaysar told her to and voted him out.






She put on a loud, obnoxious display tonight equal to most of Ivette's behavior - worse in fact, as Ivette was practically civilized today. WTF was that all about? Nobody knows, and since she's tied with the scum of the season nobody cares. She's the #1 target of most of the house now.. but once again I think they overestimate James. Sarah's his ticket to a million bucks in his eyes, a pretty bauble on his arm, and a warm body under the sheets but he sure as hell isn't gonna curl up and die if she's evicted like they're hoping. Of course she followed Master's desire and evicted Kaysar.








Maybe the poorest loser in BB history but he gave us the best fight sequence. He said it nonstop but he never understood that 'it's just a game'.








Not blameless but not the villain they made him out to be either. He had funny voices, 'The Continental' and Janelle - plus the best hoax of the season.








There's never much to say about the first out except they're gone. She blabbed too much so she wouldn't have lasted long but she was fun while she was there.



I love keeping tabs on the feeds during summer, and wish I didn't have to do this.. but the reality is it takes a ton of time that I can't really afford to give away. If you like the site and would like to help support it, please visit my sponsor links by clicking on the banners, or make a Paypal donation here. Please support other BB6 fan sites that you like, too - many many thanks!



This site isn't necessarily about who should win, who will win, who I'd be friends with, or who is cute. It's about watching hamsters: which ones are doing what and why, which are fun and which are dull. If they aren't entertaining, get rid of 'em! Thanks for encouraging my behavior..

that dingo