7/28/05 - Day 26



>> to the future >> to the past >> daily index
>> latest HamsterWatch episode >> linkage

>>

Eric evicted 5-4 - Maggie is Head of Household

<<



Pond scum gets a new name






It's wizardofozmom at the Yahoo group CBS_BigBrother_6 - she needs to get a clue

She makes the hamsters look ethical - check it out - looks like she's closed it up now "members only" but she's been reposting my daily episodes over there as her own along with content & caps from Aldav, BBFan, Morty's, and BBChatter.com as if she invented it all

She also goes by zoavery and tvjunkiemom .. I bet she tells her kids not to steal

Thanks to all good Hamsterwatchers everywhere for the quick action on this cow
and super big ups to the person who tipped me off



"A quick fall from first to worst"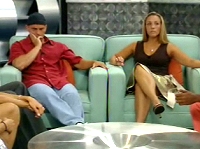 Eric & Maggie are nervous in the eviction chairs.. most feedsters agree they look good in them

Primp rounds are busy as always but mostly segregated today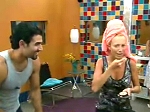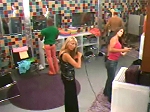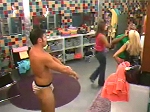 Eric rallies his troops one last time.. Ivette does "jazzy fingers" but nothing's cheering up Maggie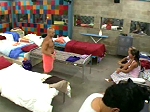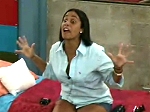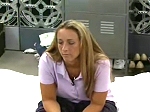 Jennifer makes her own special preparations







Places everyone! Eric's new place is out the door and into Julie's boudoir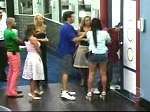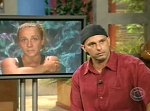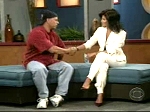 Then it's skeeball/boobies final.. still au pair'd April, James & Ivette react to Julie's $1,000,000/$250,000 announcement





"Meet the new boss - same as the old boss"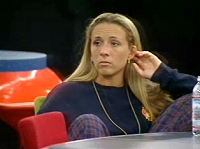 It's a shocked habitat when they're back on their own again

The former A-Team doesn't face defeat as badly as last week's losers, but they're definitely mopey



title by the Who - I'm not the plagiarist here



April & Rachel start their vigil, watching for signs that it's ok to start sucking up again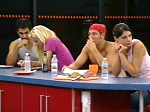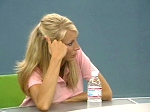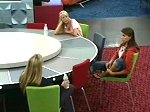 Ivette knows better than to waste time - she holds an emergency meeting in the pantry and gets the critical first pounce and first finger-shaking







Then it's a free-for-all for the four who voted to evict Maggie to see who can cozy up closest to her now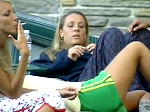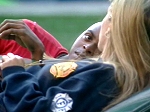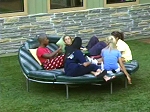 Thursday night unveiling of the goodies and pics (much interest in the boyfriend this time) and the music (Dave Matthews).. all factions show up as usual and pretend to be a happy family as usual.. Maggie smiles for the first time in a week.. this time it's James who does the no-class too-early exit






Jennifer: You look really skinny in this picture
April: She's not saying you're fat now!
Jennifer: Where was this taken?
Maggie: In Bermuda, about 9 months ago
Jennifer: Maybe you're pregnant

The rest of the losing team leaves and Maggie discovers the spyscreen she & Eric had used to watch fishies.. Jennifer complains about something, sounds like mumps.. they tackle Maggie on her bed.. April piles on and humps them all a couple times






April goes on being April, first with a stuffy pillow, then digging around in her pants awhile - she describes in great detail how her panties are too tight in the crotch, they're "stuck".. eventually they all leave and Maggie sheds a tear over her guy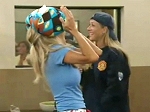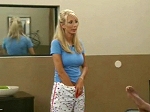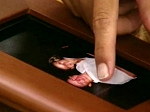 James tries to make his move but he's gotta get through Beau & Ivette first and it isn't happening.. Ivette does all the talking for their team - you'd think she was HOH - Maggie just listens.. Jennifer's right in there, picking at somebody's toes






James basically says it's Sarah's fault he jumped ship.. Ivette basically says at least he's got somebody in there, and this team is about bonding, they don't strategize and they aren't nasty like the others.. feel the love.. it's not bad at first, it's calm, each makes a few valid points, but you know Ivette.. pretty soon we're off on some Janelle/Kaysar tangent, she's loud & bitter again.. she takes a new approach: subliminal holy woman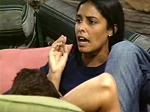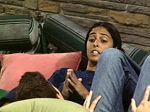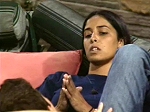 Then it's plea bargain rounds: Rachel doesn't do well.. Kaysar gets off to a good start but goes too long and too far, like he does, and has a poor finish.. James makes another attempt, offering up Janelle & Kaysar but he strikes out worse than the others - by the time he leaves Maggie's got him doubting everything she's ever said






Maggie: You lied about being a teacher
James: Are you really a nurse?
Maggie: Maybe I am and maybe I'm not
James: That's not fair
Maggie: Oh well
James: I bet you're not.. are you a cop? You're a cop, aren't you?!

Rounds are over and the HOH slumber party can start.. Maggie sees the others on the spyscreen and peeks out the door to see if she can hear them.. Ivette helps.. that doesn't work so they try listening through the floor






Maggie (about spying with spyscreen): Why didn't Eric and I think of this?

Before they all pile into bed Ivette leads them in a prayer even though Maggie said she didn't want religion brought into her HOH room.. one of them chides Ivette "you Catholics always have to add something extra"



Back to what matters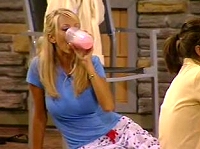 Once again Amy's Bus Ticket saves the day when she catches April taking some much-needed nourishment, finally

Both camps carry on into the night, like they do, each side doing the same things they're bitching about the other side doing, namely bitching about them

I try to keep this side of the page (relatively) objective but let's face it, one team does a whole lot more of that than the other

It looks like Maggie will put up James & Kaysar but it's too soon to call for sure

Howie forgets the toilet door or just doesn't bother, then he flashes Kaysar who hides behind his towel.. their late night shower banter makes this day worthwhile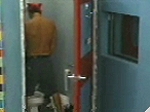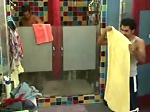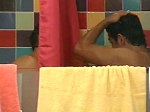 Friday is April's birthday - for some reason I doubt they'll have pizza & cake

Today was HamsterWatch.com's birthday - the first episode went up on Day 26 of BB5

Serious thanks to all visitors who didn't steal anything, and everlasting gratitude to everyone who's made a contribution.. thanks for encouraging my behavior




Linkage




Today's must-click special: Yahoo abuse reporting
Let them know when you see stolen & uncredited stuff from any site, they'll act on it

CBS Big Brother 6 the official site
House Calls weekdays live 10am BB/1pm ET on BB main page - show archives
Live feeds signup - No timeout feed links
BB6 Park by TD listed on Hamsterwatch daily index
Hamsterwatch on Youtube BB6 & BB7 videos off the feeds
Hamsterwatch Big Brother 8 here we go again
Hamsterwatch Big Brother 7 All-stars in the house - from me, that dingo person
Hamsterwatch Big Brother 5 Dailies, Cowboyisms & Hollyisms - also from me
Aldav has all of the edgier stuff & the best mini-recaps in town
BB Chatter feed updates, screencaps, and fun boards - easy to use and functional!
Screencaps refresh site is back, from bbfan
Reality TV Links - Big Brother 6 emphasis on individual hamsters' sites
Sir LinksALot Big Brother 6 all the links
Big Brother Link news, info, caps, forums, and links
Big Brother Fanatics chat, updates, caps, news, and links
Big Brother 6 Keyhole peruse various BB sites in the same window, feeds too
Joker's Updates Big Brother Grins can't do BB Park this year
2005 or 2006 Kaysar calendars by BBVoyeur - pdf format
C=Venus BB6 chops new site full of really great work
BB6 Houseguest Fun play Mr. Potato Head, mess up their faces, send cards
Destroy a houseguest fun for fishies times by johnbb
Patrick's Place one-man BB show - 15 streaming cams including his car, turn his lights on/off
YAYsports! snarky stuff for sports fans from the creator of Michael's Blog
another 2 cents quasi-intellectual sleaze & radical gumbo aka blog

Please read before linking to pics
This means you CBS_BigBrother_6 yahoo group

Who is Winston Smith? click 'n learn

Thanks to Amy's Bus Ticket for helping collect diary pics






CBS Fireman Hero Martyr Campaign was on the job Thursday. Noticeably missing: Julie asking Eric about that scuffle - she always asks about that stuff but instead we got more lip service about his 'morals' and tape of him agreeing with Kaysar that Michael is a good guy - gimme a break. The happy pairs outing party was criminally out of sequence: it was most definitely not right after the veto comp - that was the most tense night we've seen yet in the habitat. They better have some spectacular comp apparatus (apparati?) coming up - enough of the cheap cardboard booths and wooden skeeball chutes, rev up the earthquake machine! The big reveal was a dud, but it was pretty funny when the final 'let's listen in on the houseguests' revealed only stunned, hostile silence. It's time Julie get trendy and drop the 'chopping block' phrase.. she's still got 'without going over'.






She wasted no time sucking up to the new power, giving up all kinds of dirt she'd heard and skewing retold convos right and left. She forgot to add that she'd 'crossed over' to the other side for awhile - lucky timing for April that she ran away from James back to the dark side in time. It was odd when Julie picked her out of the crowd to ask about PB&J - I don't think April's had any. Amy's Bus Ticket caught her drinking a shake tonight though, whew.






He lucked out this time and will for awhile longer, but he's nobody's favorite. He's always quick to cozy up to whoever he can hide behind. The crones will put his snitch talents to use this week.. maybe they'll send him out for another attempt at HJs for Votes, being the highly moral & ethical types they are.






He swore he'd skeeball his way upstairs but it looked like he lost on purpose.. he knows he doesn't need to make enemies yet. He ended the post-show pity party by showing his goodies at Truth or Dare and got caught peeing with the door open later, but it isn't enough. We need the old Howie back.






She's getting more Diary time than any of them but they didn't come across so fun on Thursday's show. She might be singing Cappy praises but she's on the opposite end of the CBS spectrum: they're starting a smear campaign against her - not that 99% of feedsters mind. She sucked up bigtime tonight, even though she always hung with Eric and never had much time for Maggie before.






He's back in panic mode now, desperately looking for a bridge he hasn't burned yet. He tried crawling back to Maggie but she put Ivette, Beau & Jennifer between them for the block. He didn't win any points with Eric's leftovers when he said it was 'pathetic' that he has to have Sarah in there with him. He topped that off by a one-on-one session with Maggie where he tried to sell Kaysar & Janelle to her, but she trounced him and now he's certain that she's really a cop and not a nurse at all.






Say what you will, she's the only one who isn't taking it personal, and up til now she's had the most crap directed personally at her. She came seriously close to winning the skeeball but close doesn't get a nod from Julie. There are plenty of other targets this week though so she might linger even longer - she's already lasted longer than most expected. She & Kaysar had the only serious convo I heard about splitting the remaining and potentially rich pairs, but they'll keep Rachel with their Howie if they can.






She thinks she's playing both sides but everyone's on to her as she putts back & forth hoping to get some dirt. She's literally in bed with the new power tonight and thinks she's on the team, but she's really just a cheerleader. Still, she does some of the kookier things in there and that's always good.






He had a good run but now it's a new week and he's got to find a bed again. He waited a dignified period of time before making Maggie rounds and he did a good job there explaining the facts of life and game to her.. but he had no comeback for 'why didn't you tell me?' and that will count big against him. He should have laid a bit lower after last week's victory - he's going to need everything he's got to avoid a meeting with Julie in a week.






HEAD of HOUSEHOLD
I swore off her but she's in the power place now so I'm forced to see more of her than I want. She has to believe in pawns/ponds now since she was one and it got her a new room. I had some hope that she'd revert to who she appears to be after Eric took his influence away, but within a couple hours she was back to spewing venom against lying, sneaking, trashing, strategizing, and cussing - all things she does better than most. Line of the day was hers: using the spyscreen like a spyscreen she said 'Why didn't Eric and I think of this?' She provided a BB first tonight when she went to bed with the four people who voted to evict her.






She team-hops as much as April & Jennifer but she's a lot slippier about it. She thinks she can hop right back into HOH but they're on to her, finally. Many still give her credit for being brilliant, but I think she's just trying to take the path of least aggression, plus she's been lucky. That's all well and good, and it works fine for the sorority sisters, but Rachel's got no visible personality.. who needs that?






She's not sitting as pretty as she thinks - she's half of a $1.25 million payoff but she's partnered with the habitat's most unwanted hamster. When the crones discovered the spyscreen's real purpose the first thing they said was 'where's Sarah? is she in with them?' so she's skated past them up til now, but the birthday party's over. James said having her there with him is pathetic and that she's a liability - but she'd do a lot better if she ditched him.








Maybe the poorest loser in BB history but he gave us the best fight sequence. He said it nonstop but he never understood that 'it's just a game'.








Not blameless but not the villain they made him out to be either. He had funny voices, 'The Continental' and Janelle - plus the best hoax of the season.








There's never much to say about the first out except they're gone. She blabbed too much so she wouldn't have lasted long but she was fun while she was there.



I love keeping tabs on the feeds during summer, and wish I didn't have to do this.. but the reality is it takes a ton of time that I can't really afford to give away. If you like the site and would like to help support it, please visit my sponsor links by clicking on the banners, or make a Paypal donation here. Please support other BB6 fan sites that you like, too - many many thanks!



This site isn't necessarily about who should win, who will win, who I'd be friends with, or who is cute. It's about watching hamsters: which ones are doing what and why, which are fun and which are dull. If they aren't entertaining, get rid of 'em! Thanks for encouraging my behavior..

that dingo