7/12/05 - Day 10



>> to the future >> to the past >> daily index
>> latest HamsterWatch episode >> linkage

>>

Rachel is Head of Household - Kaysar & Ashlea are nominated

<<



Farm report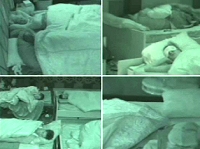 I thought I'd check in on them early to see what they do in the morning, since I've never done much pre-noon hamsterwatching

They're not doing anything

I want to poke a stick at them, tap on their glass, pick up their habitat and shake it

Ahh the bitching starts early: Rachel tells April there should be a rule "whoever is head of household, there shouldn't be a party outside their door after they go to bed" - April reacts appropriately, then counts how many fishies are sick today and applies first aid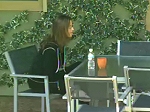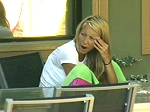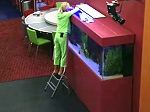 Rachel fights the fridge.. James rolls out and tells about his dream "I was on this commando team, you were there but it wasn't you.. Beau was on the other team but he had dreadlocks" hmm.. Eric shows up and starts a monologue that goes on for days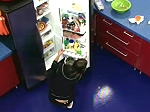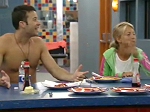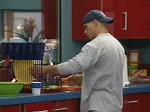 Pretty soon it's a flurry of people, food, and chit-chat: hope they have something to do today, spanking kids (Eric did, James was), lots of food chat, gun chat, trailer trash people, everlasting Eric firehouse stories.. then someone mentions PETA - James goes off, reciting from his blog, and boom! Fastest fishies we ever had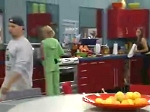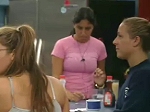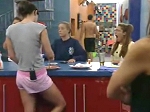 Ok, now I know why I don't watch them in the morning.. yawn

Everybody outside for exercise class.. Eric's on the weights and drops one on his hand.. MEDIC!! Nurse Maggie to the rescue but Eric brushes her off "I'm fine, I'm fine.. owwwwmotherfucker I'm fine! If they'd open the gym this wouldn't happen, I'M FINE!!"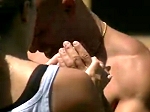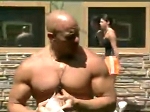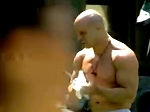 Rachel tells Maggie she's a hobby horse breeder, not profession (I predicted this, but didn't catch what she does do).. they compare who they like and don't - they say Ashlea & Janelle are so unhealthy (huh?).. Rachel adds "And I like Howie" She says she almost put up Eric "Cuz he's strong" - Maggie says "Yes, he is" too politely.. They encourage Jennifer to show her stuff (they think she's a full-fledged Broncos cheerleader)






Outside lockdown: yap yap yap all of them all at once, especially Eric, April & Ivette, especially Eric - he knows everything about everything.. James joins in, they both know everything about high profile murders, when they go to Jonbenet Ramsey we get fishies (Ramsey lawyers are better than CBS's) - we are glad to get the fishies, scoop and all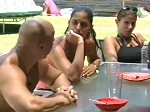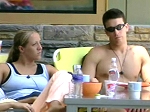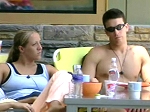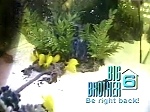 James takes a shower and shaves his pubes, belly, nips, and chest (remember Drew?)
he touches up missed spots afterward.. they really need to clean that bathroom mirror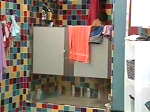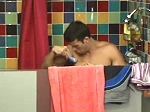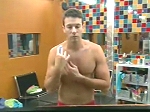 Kaysar pumps up.. Janelle helps Maggie with her hair and she does a weird puppy-paws-up thing, automatically-like.. against all odds, Rachel turns into a hoochie-momma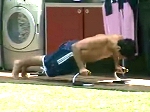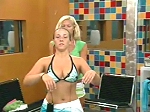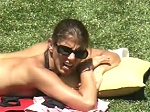 Afternoon body count is a skin show: the cams do long, slow pans up & down bronzing bodies, zooming in on legs & feet, bellies, butts & boobs.. they cover every inch of Janelle in particular a few dozen times.. then Howie shows up







Post-nap chit chat and then sudden sugar rush when Eric (of all people?) notices - and points out to all - that Howie's got wood - they all see it, they all bust up, it's funny as hell.. even more so when Howie goes to the mirror to check





"You cannot let them see you sweat"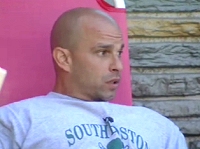 Yep, he said it

Game reporting gets so tedious because it all revolves around "we will win HOH this week".. the most unlikely person will prolly win it and all this becomes so much fishie poop, but there are some subtle shifts going on, and the fact that Eric said that.. it's just too funny

It goes something like this: Kaysar tells James that Beau & Ivette are trouble, he'll put them up when he's HOH; James tells the Harassment Alliance and they all praise Eric; Ivette tells the harassees that Kaysar is evil personified; Eric tells Kaysar he's in too thick with Michael & Janelle and threatens him with eviction; Kaysar's head blows up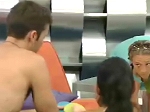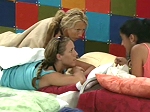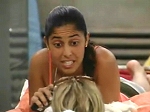 Ivette: His religion says he can't lie but he's in here playing and lying all the time! So he's not religious at all!
Ivette: And you know what else? He doesn't even have a frickin' accent!
Ivette: And you know what else? He came to me, and he told me they clean up all the time - he doesn't clean up shit! He's a fucking sultan here!
James: No, that's Janelle
Ivette: Whenever we finish eating, the sultan, the psycho, and the princess go off together! They don't clean up shit!
....
Eric: I'm telling you, I've got the votes lined up right now, it's gonna be 10 to 1 but because of that conversation that took place, you were involved in it, about putting up Ivette & Beau, I'm telling you, it looks like you're grouped in with them, I'm telling you
Kaysar: Yea I know, I'm over that
(Eric tells him the Michael-Jennifer harassment/homicidal maniac story)
Eric: But obviously Michael's hanging on to this, and he's pissed at me for it!
Eric: Beau hangs around with some high class people, famous people, I know who they are - and she's a waitress! They can't be friends.. but Ashlea & Janelle, they come from the same modeling agency!
Kaysar: I know, it was just something that happened.. I'm over it now
Eric: You're playing this too emotional.. you cannot let them see you sweat!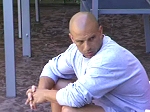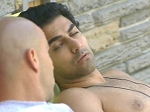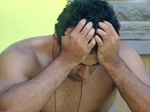 It just keeps going - "trust me", you don't wanna know - much more amusing is Michael explaining Harassmentgate to Eric: he starts with the facts, he came in to pimp room and Jenn was upset, almost crying, about "other people" and then Eric came in - as it happened - then he puts on "The Continental" voice and proceeds to explain that he thinks like an adult ever since he was a child, he understands his thought processes and his thought processes are thus.. it goes on.. even Eric shuts up and tunes out







They gaze into the gym, lusting what they can't have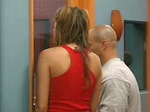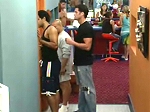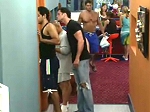 This morning April told Eric that she gets 'the big O' from one of the machines in there.. he was surprised but intrigued.. all eyes will be on her when it opens

I spared you last night when Howie was picking at and complaining about his gross feet ("everything else about me is great so a hot chick wouldn't mind") but tonight it gets real bad when Rachel & Jenn lovingly hack away for an hour at the manky crusts and blue-green moldy toenails.. look away





Jibber jabber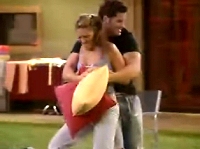 Michael tries to pull of Ashlea's shirt and they throw wet stuff at each other for awhile.. He tells Beau he's not part of any jibber jabber team and he's not going to jibber jabber; then he goes inside and tells the former-Harassment Alliance he's not part of any jibber jabber team and he's not going to jibber jabber; then he comes back out to Beau and says he told them he wasn't part of any jibber jabber team and he isn't going to jibber jabber







Later &quotThe Continental" bonds with Ivette for awhile






Beau gets stung by a bee.. Rachel & Maggie look at the spyscreen but only half-heartedly.. Howie recites an inventory of his plastic surgery and dental work..
James & Sarah seem to be missing.. everybody else just keeps doing more of the same

Newsflash Confirmed: Howie and Rachel know each other - full story
[Howie] Gordon and [Rachel] Plencner had met through a mutual friend, Elkhart native Francine Lamble. Gordon had auditioned for 'Big Brother' after appearing on a previous reality show, 'Elimidate.'

'Rachel went out to the interview, but she initially had no intention of being on the show,' Gaddis said. 'When she was chosen, she really struggled with the decision. She didn't want to lose her job, and she didn't know if she wanted that kind of national exposure.'

Overnight update Kaysar and Janelle are still a go - they were keeping their distance all day and evening as a cover, and Kaysar is just pretending to go along with Eric.. he says he's just here to "fuck with their heads".. they still haven't gotten much past Beau & Ivette as far as pairings though and they're looking to Eric/James/Ivette as the power to conquer rather than focusing on their minions.. I think Ashlea is the first to play with the cameras, and now she's leaving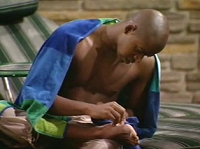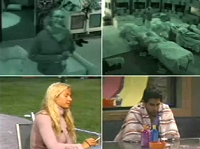 Linkage

CBS Big Brother 6 the official site
House Calls weekdays live 10am BB/1pm ET on BB main page - show archives
Live feeds signup - No timeout feed links
BB6 Park by TD listed on Hamsterwatch daily index
Hamsterwatch on Youtube BB6 & BB7 videos off the feeds
Hamsterwatch Big Brother 8 here we go again
Hamsterwatch Big Brother 7 All-stars in the house - from me, that dingo person
Hamsterwatch Big Brother 5 Dailies, Cowboyisms & Hollyisms - also from me
Aldav has all of the edgier stuff & the best mini-recaps in town
BB Chatter feed updates, screencaps, and fun boards - easy to use and functional!
Screencaps refresh site is back, from bbfan
Reality TV Links - Big Brother 6 emphasis on individual hamsters' sites
Sir LinksALot Big Brother 6 all the links
Big Brother Link news, info, caps, forums, and links
Big Brother Fanatics chat, updates, caps, news, and links
Big Brother 6 Keyhole peruse various BB sites in the same window, feeds too
Joker's Updates Big Brother Grins can't do BB Park this year
2005 or 2006 Kaysar calendars by BBVoyeur - pdf format
C=Venus BB6 chops new site full of really great work
BB6 Houseguest Fun play Mr. Potato Head, mess up their faces, send cards
Destroy a houseguest fun for fishies times by johnbb
Patrick's Place one-man BB show - 15 streaming cams including his car, turn his lights on/off
YAYsports! snarky stuff for sports fans from the creator of Michael's Blog
another 2 cents quasi-intellectual sleaze & radical gumbo aka blog

Today's must-click special: New pre-show interviews 10 minutes each with Marcellas

Today's pics are a tribute to (and very cheap imitation of) Grins at Jokers, and a plea that she'll find time for some BB6 Park - Julie is hers, others from here





Please read before linking to pics

Daily ratings may change as the day/night progresses.. You & me to the end!

Who's Winston Smith?






Ups for finally pulling one over on us: I don't think anyone knew the Jennifer HOH sneak was coming and it explains a lot of her poutiness. But that's balanced by negs for not revealing the pairs as promised (conflicting Julie messages don't count) and also for showing Beau's 'I'm here to enlighten' but leaving off what inspired it (Howie asking if he'd like one of the girl's butts 'if he was a man'). We're off to a lousy start on music again: do we really need such frenzied spy music for Rachel creeping around the pimp room or the life-n-death tune for the silly rope comp? I'm not crazy about veto team outfits matching the pricey apparatus but oh well. I don't envy the editors having to mash this week down into a few minutes but it seems they forgot all about the Twist on Tuesday.. but at least they got Howie's 'future economic potential' speech in there.






She wasn't featured very prominently on the show or the feeds today - or I'm getting better at tuning her out. She's itching to get into the gym so she can have 'special' workouts.. just follow Eric cuz he's the one she told (in great detail) and he'll be right there when it happens.






NOMINATED
Even using up half the air time as a nominee she doesn't have much to offer: send her packing.






He's a lot more fabulous in Diary than in the house and he got so much air time Tuesday that he almost lived up to the token status the producers expect of him. Considering what a focal point he is for all the chaos, he is doing pretty good and hasn't made anyone hate him.. not easy in there. He got a little high strung tonight when he got his first bee sting ever, but he even recovered from that quickly.






Any minute he (or CBS) will claim he was a hero at WTC.. enough already! It's beyond ironic that he keeps telling everyone else to relax - if he doesn't pop pretty soon everyone will be surprised. I wouldn't have expected him to be the one to bring up enema chat, but he did - and he endorsed it. He was busy busy today and couldn't move from one alliance to the next fast enough. By the way, what was up with him announcing in Diary that he, Mike, James, Kaysar will be final four? You got some splainin' to do, Julie.






It's inconceivable to me that nobody tells him to STFU other than Kaysar, even when he's so far over the line he's in his own country. Intimidation by interrogation into deeply personal territory is a new angle, and against all odds it seems to be working for him - nobody even calls for Sexual Harrassment Panda. He got the crusts cut off his feet finally, so the hot tub & shower are safe for all again. Confirmed now that Rachel's his friend (see bottom of page) but I wonder if that's technically still true. Be a clown, be a clown - or be a first rate eejit - it's all the same to us.






Her routine is so old already: 'Kaysar is an evil heathen' 'Howie bit my butt' 'At least I'm all natural' 'I hate Janelle & Ashlea' rewind, repeat.. but she gets ups for the speed her eyes darted to get Kaysar & Janelle's reactions when Rachel said she wouldn't save either. Her and Eric's bond is hard to fathom: it makes no sense at all but BB makes strange alliance-fellows. It's still fun looking forward to everyone's reactions when they find out she's lesbionic.






He's still in stealth mode and was hardly seen on the show or the feeds, and I can't be bothered to change his arrow.






She made a brilliant start with her twist busting plan, but didn't go far enough with it. Now Kaysar seems to have doubts if she's playing him, and it's hard to tell if she knows Michael's hanging with her again to keep her from doing more damage to the rest of them. Newsflash for her critics who are sure she's a ho (and also her lusting fans), I have it on very good authority that she doesn't and hasn't posed nekkid.






Great fun on the show when she scampered out of HOH after Rachel busted her using her bathroom, and all of that helped explain why she was so pouty when we finally joined them. You can't blame the Little Princess for wanting to pee alone, but who knew Rachel was going to go ballistic about it and 'feel so violated'? Jenn's finally gotten her 15 minutes of fame (spread over 2 days) so maybe she'll join the rest of them and play along now.






NOMINATED
CBS is pushing hard to make him fulfill their token quota, to the point of making it look like he's sneaky about prayers, but he's too much of a class act to succumb to their wiles. Unfortunately he does seem to be succumbing to James & Eric's wiles instead of Janelle's, where he belongs. Maybe he's playing all of them and all of us too (well, me anyway) - we may find out if CBS ever catches up.






It happened days ago but there was something very sweet about seeing she & Rachel beat the pants off He-Man Eric & Kaysar in a physical comp! She came close to telling Eric 'forget the game, you need to go to the ER' when he bashed his hand, but he squashed that: 'I'M FINE!' She gets the females' politics better than any of them, and she's holding her own more than she appears to be, but she isn't a barrel of monkeys either.






He's been great today: he switches from 'The Continental' to snotty 10 year old to horny goat and back again in the blink of an eye. Soon as he got excused by the Harassment Alliance he was at it again, this time with Ashlea.. but they hate her so he's free to harass at will. Line of the day was his: 'The best way to get on my bad side is he said-she said' - so what's he doing here?






HEAD OF HOUSEHOLD
Whoa, she's got a few control issues. Miss Priss is even worse than I thought, and I don't like the precedent she's set for HOH up in her ivory tower. She made an 'oh How-eee' face when he asked Jennifer if she's Mexican or American (after she said she wasn't born in Mexico).. but they were cutting the crust off his feet at the time so it's understandable they were distracted. The Rachel-Howie tie sounds like friends (see bottom of page) but does she regret being linked with him now, and when are the rest of them going to stop being scared of her?






Other than afternoon bikini pan hour, she was noticeably absent from the feeds today just like her partner in crime James, and even more noticeably absent from the show: don't they know she's everyone's favorite non-threat?



I love keeping tabs on the feeds during summer, and wish I didn't have to do this.. but the reality is it takes a ton of time that I can't really afford to give away. If you like the site and would like to help support it, please visit my sponsor links by clicking on the banners, or make a Paypal donation here. Please support other BB6 fan sites that you like, too - many many thanks!



This site isn't necessarily about who should win, who will win, who I'd be friends with, or who is cute. It's about watching hamsters: which ones are doing what and why, which are fun and which are dull. If they aren't entertaining, get rid of 'em! Thanks for encouraging my behavior..

that dingo