7/6/05 - Preshow prep, still



>> to the future >> to the past >> daily index
>> latest HamsterWatch episode >> linkage




Start the countdown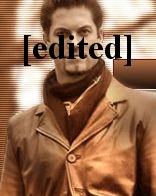 Michael's Blog gets better and better - there's no way the real official blog will be more entertaining than this official blog.. I hope whoever's behind it keeps it running.. it's a bonus that so many people believe it's Michael just cuz it says it is - PT Barnum was right

We may have to fire James' pinch-blogger Dustin though, he hasn't made a peep since June 30.. his own blog may provide a clue: "I enjoy spending quality time fucking with people"


Try the human clock to do the countdown til Julie's back in her boudoir and Real flips the switch.. let's hope they get off their bottoms and get the streams working right, the fishies are practically floating tonight

Take the BB trivia quiz to help pass the time til summer starts officially tomorrow

Things that make you go hmmm bbfan got a threatening email about his screencap site, yet bb6world announces "If you do not have the live video stream that's not a problem, we will be having a Live Feed Update announced every 5minutes!" - what's up with that? They are affiliated with the sites that have been having all these "sneak peeks" from inside, too

Hamsters in da house I don't know how these sites keep getting these leaks, but here are photos of them inside from TVRules.net this time.. it'll make you kind of sick if you have the feeds and are stuck watching fishies til Thursday night, but it's pretty cool too - it's almost here!



7/5/05 - Drew & Diane come back, kinda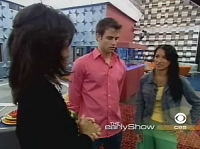 Ok, The Early Show finally got it together - watch the piece.. it doesn't have much news if you've been keeping up and have seen the other house tours & hamster video interviews, but it was still kinda fun.. Drew & Diane had about 5 seconds screen-time (hardly worth the airfare to fly them out) but they were obedient and pushed the "perch" that CBS seems to think is so spiffy

The much-rumored "hidden bedroom" exists! It has a secret door in the wall covered with the silver & black ØØØ logos - they call it the Rainbow Room and it can be seen on the HOH spyscreen, though maybe not til BB decides HOH can get that channel.. Actually that could be a very cool twist: if the HOH sees it and thinks WTF is that place, will s/he tell the others about it or not?

Arnie stepped into the glass-walled HOH shower and asked Julie "Is that enough privacy?" looking silly and seemingly forgetting how they hang towels on the glass shower doors - but ahhhh, since HOH bathroom is private, they may think that since other hamsters can't see 'em in there they can relax and get nekkid - we may have more nekkid hamsters this year than ever, with the added bonus of making us feel like creepy voyeurs if they believe they aren't being watched while we're watching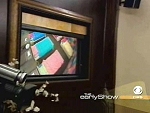 For all the new house hype, the camera angles don't look like they're gonna be all that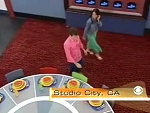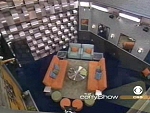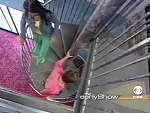 Obviously co-host Renée has never watched the show, as the main double shower made her nervous about co-ed showering: "Just one <whoosh> of the curtain (to pull it back) and there you have it!" Well Renée, hamsters are well known to shower in bathing suits for the most part (but see above possible season 6 HOH disclaimer).. A high point was co-host Charlie asking Julie afterward if everyone knows that everyone is a pair, since Julie forgot to mention that part in the piece (oops).. "No!" she said enthusiastically.. "Each of them thinks they're the only pair!

BTW editors, please note it didn't go over my head that the HG video snippets you included this morning were almost to a word the same ones I highlighted the other day.. I know it's early days, but I am keeping track of this stuff this year

Official word on the Official Blog from Yahoo news.. I am gonna guess the editors will take as many liberties with the HOH blog as they do for the air shows.. The article also reminds us that House Calls will start Friday and be on every weekday at 10am BB/1pm Eastern, Marcellas & Gretchen both returning

Comp creator interview Jym Buss is the guy behind all those zany comps and wacky apparatus - AOL's resident BB blog has the goods.. I see he doesn't mention the dreaded earthquake machine that prolly cost more than all the others combined and was only used about 15 minutes, even when asked which comps went awry of their original intentions.. he also says this is the smartest cast ever - we'll see about that soon enough



7/4/05 - Hamster trading cards






Before you read on Remember you heard it here first - if you launch BB houseguest trading cards, you owe me a chunk of the profits cuz I thought of it before you did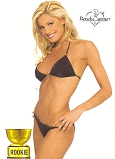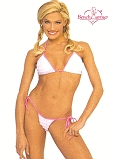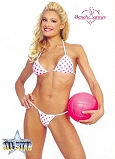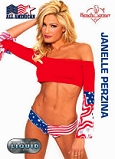 Apparently Janelle is more of a star than we thought - she's featured on several Benchwarmer cards (kinda like baseball or Pokemon cards, but with bikinis).. She must be pretty good too, she went from Rookie to All-American in just a couple years.. In the latest ad she says she's gonna bring "100 pounds of clothes into the house" - it doesn't look like she wears more than a couple ounces at a time

Newsflash I am "investing" in a few of these.. I doubt they'll make me rich but I hope she stays long enough to be a little famous.. if not I'll prolly have a giveaway here at some point, trivia game or something.. maybe I'll do that anyway - hope I can give 'em away



It's ok, Maggie knows heimlich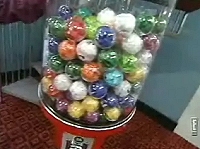 E!'s house tour shows they have a gumball machine in there this year.. why? All I can think of is that movie Jawbreaker which in turn makes me think of that book Dead Famous about a murder inside a Big Brother house.. I guess this is a bit morbid but you gotta admit it's kinda fun to think about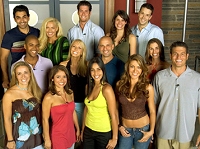 Here's the happy group at FOTH - they won't be smiling like this for long.. Big Brother Link has posted a few more shots, including the one when the director said "Ok, act animated and goony now"

Forget the Early Show - They can't get their schedule hammered out for beans.. wait til it airs and catch a web replay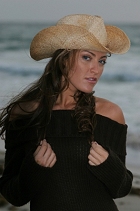 I missed this one but Aldav didn't - I guess Ashlea is confident enough about winning BB that she gave up her shot at a $10k prize plus $10k modeling contract - she entered the SportCrew sorority model of the year contest but finals are in August.. or maybe she figured she'd be out by then and can do both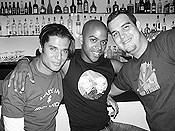 It seems our Beau (real name: Bradley Milton Beasley II) is quite a Miami club & party scene fixture - here he is at The Cafeteria, where he apparently is, in fact, the marketing director - which means he sets up party events there, I guess - from Miami New Times

He doesn't seem to have done a supergreat job of promoting the place - it has no website and just a couple posted reviews - I guess it's a word o' mouth kinda scene.. here's the menu.. Apparently he left his last club promotion gig cuz the place "wasn't doing so well".. heh, do the math




7/4/05 - Giddy with anticipation






Early Show BB preview is scheduled again, this time for Tuesday morning - will Drew & Diane show, or was that yet another factless rumor?

Test hamster report Producers hired some lab hamsters to stay in the house last week, like new hotels do, to make sure it's habitable and to do a couple comp run-throughs.. The best news? Nothing is soundproof! Read more from RealityNewsLive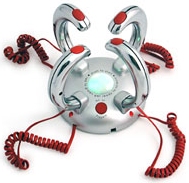 Nothing's going on, nothing to do but wait, and reminisce.. remember when Big Brother spent a couple days electrocuting them? That was a fun day: Drew learned to forage his own food, Marvin got a touch-up, BBQ Smackdown began with Part 1 The Initiation, Adria set off the end-game, and Diane had her first major fall/rebound/fall cycle - those were the days! We can only hope we get as much amusement from this new batch

Just a few days to go - take this time to pay your bills, do laundry, run errands.. everything you'll want to delay doing in a few days

Is this Michael's blog? It claims to be the Official BB6 Blog and that BB is letting him post to it from sequester - both claims sound ludicrous - but if someone is doing it to punk us all, they are doing a good job of it: it links to two genuine Michael-affiliated domains, one of which takes a bit of digging to verify.. hmmm.. the writing style is different than Michael's auto-bio (pack a lunch) but the first entries are June 26 - he wasn't announced til June 29.. if it's a hoax (likely) it's a good one, and fun reading

How are they gonna deal with Ivette's diabetes, if in fact she has it? Surveys say she is newly diagnosed - if so, it's likely Type 2 which everyone and their cousin seems to have lately.. it isn't as serious as Type 1, but a PB&J diet would still be bad news, as would many BB grocery lists

What about Kaysar's 5 times daily prayer? I guess we can write him off for any endurance comps, but if he gets special allowances like alarm clocks or being excused from group outings to face Mecca, we are gonna have problems

Rumors are already on that James is gonna jihad just cuz Kaysar is Iraqi - throw in special treatment for his religion and it could happen

Come to think of it, nobody else has mentioned faith or Bibles yet.. I have nothing against anyone having any religion, but I don't watch these guys to hear scripture - there are other venues for that - but if Kaysar's faith gets him special treatment from BB then it's just a matter of time til the Baptist hamster can't participate on Sundays, the Jewish hamster can't play on Saturdays, and the wiccan hamster will get extra personal item allowances so they can bring in their altar & crystals

Who's that guy Maggie left behind? She might be technically single, but that didn't look like a good-bye grab from a casual date or friend.. in fact, it looks like she left an established family home in the Las Vegas 'burbs - all that was missing from that video snippet was the 2.5 kids and dog




There is a story here
Ivette's blog lists among people she'd like to meet "papa in heaven, my baby, the judge who looked beyond my family's pain, the boy who i hope loses sleep over night for destroying my family..."




Linkage




CBS Big Brother 6 the official site
House Calls weekdays live 10am BB/1pm ET on BB main page - show archives
Live feeds signup - No timeout feed links
BB6 Park by TD listed on Hamsterwatch daily index
Hamsterwatch on Youtube BB6 & BB7 videos off the feeds
Hamsterwatch Big Brother 8 here we go again
Hamsterwatch Big Brother 7 All-stars in the house - from me, that dingo person
Hamsterwatch Big Brother 5 Dailies, Cowboyisms & Hollyisms - also from me
Aldav has all of the edgier stuff & the best mini-recaps in town
BB Chatter feed updates, screencaps, and fun boards - easy to use and functional!
Screencaps refresh site is back, from bbfan
Reality TV Links - Big Brother 6 emphasis on individual hamsters' sites
Sir LinksALot Big Brother 6 all the links
Big Brother Link news, info, caps, forums, and links
Big Brother Fanatics chat, updates, caps, news, and links
Big Brother 6 Keyhole peruse various BB sites in the same window, feeds too
Joker's Updates Big Brother Grins can't do BB Park this year
2005 or 2006 Kaysar calendars by BBVoyeur - pdf format
C=Venus BB6 chops new site full of really great work
BB6 Houseguest Fun play Mr. Potato Head, mess up their faces, send cards
Destroy a houseguest fun for fishies times by johnbb
Patrick's Place one-man BB show - 15 streaming cams including his car, turn his lights on/off
YAYsports! snarky stuff for sports fans from the creator of Michael's Blog
another 2 cents quasi-intellectual sleaze & radical gumbo aka blog

Today's must-click special: Houseguest video interviews from WeLoveBigBrother.com

I've revised my preconceptions now that we have videos and am making entertainment value predictions, but everyone still gets a free starter neutral. You & me to the end!






I'm itching to downgrade here since we are missing the crucial early days of first meets, bed scrambles, and all of their first impressions of each other, but I am going in with an open mind, and ever hoping to get offered a dream job (or any job) from them (or anyone), so I'll be kind until they deserve otherwise. Thursday's debut show will likely be 80% new house and Twist, 15% Julie, and 5% news for us.






30 - newlywed
Dallas TX
Pharmaceutical sales rep

She says she's animated, talkative, and funny but she doesn't sound convinced - each statement goes up at the end, like a question? She also claims to be a drama queen 'over the top, even' - that's good for us. She's clearly hesitant about living with people she doesn't know and says so with an 'eww' face - that's also promising. She seems genuine and pleasant overall.






22 - single
Plantation, FL
Fashion design student

Says she loves to have fun and pull pranks, and hates backstabbers (uh oh). Her flirting strategy's been carefully planned, and she's in the 'experience of a lifetime' camp. She doesn't look or sound transgendered so whoever started that one is just evil (I'm waiting to see her hands to be 100% certain tho). She seems genuine and likeable enough, but might not be either in the game.






25 - single
Pembroke Pines, FL
Personal shopper

You're gonna love him or hate him. He's definitely flaming, and has a great hysterical laugh that will prolly grate after a couple days. He seems very much a Marcellas Mini-me and that might be fun, but it's sad that BB casting has put all their diversity eggs into the same basket. Hopefully I'm typecasting here too and he'll be more unique than he seems. Forced makeovers will be fun.






36 - married dad
Boston, MA
Firefighter

He's studied and has a gameplan that sounds pretty solid. He'll be a strong viewer favorite of the males (well, look at the competition). He seems like a genuinely good guy and may go the distance, but he may be dullsville for entertainment value and that's what matters.






34 - single
Chicago, IL
Meteorology student

This guy is so fulla himself he makes all our previous mirror-face types seem shy in comparison. This level of arrogance and bravado is almost always covering up something, and I hope he sticks around past the first week so we can watch the cracks form and find out what his damage is. I think he only signed up to get laid.






25 - single
Miami Beach, FL
Waitress

I guess we're supposed to shocked or titillated by having a lesbian in the house, and even though that's mostly all she talks about in her video, never forget what a heavy hand the editors have. Signs are promising that she'll be a star - she seems fun, funny, and genuine, she's had some mysterious tragedy, and she claims a big mouth and a temper - good HamsterWatching all around!






29 - single
Atlanta, GA
Loss prevention manager

If his bio & video were all we had on him, I'd say he seems a little boy in a man's body who's here trying to please his dad (Drew?) but his ultra-right-wing political stance adds a layer that's pretty sure to be a very early ticket home. He's liable to incite riots inside and outside the house when he gets political, but I hope he sticks long enough to get drunk and turn into Rick James for us.






25 - single
Miami Beach, FL
VIP cocktail waitress

She seems so utterly predictable and 'package' that I can only hope there's something here we aren't seeing - Mensa member maybe? No, I didn't think so either.. wait, I found it: in a travel show Nautical Angels she plays 'Action Angel'. She & Howie seem made for each other and if that happens, even Jase/Holly haters may want them back.








27 - single
Plano, TX
Arena football league dancer

She claims she has lots of people skills but calls her cheerleading fans 'weird, crazy people' on camera.. hmm.. not the best people skills there (nor great PR for the Desperettes). She seems like she might be fun and genuine, but she might also be a drip and a phony - chances are she'll fluctuate, which will be fun for us and drive them nuts inside. She has a rare pre-season invisible negative for making me have to re-code already to accommodate her photo re-take, but it won't count against her.






24 - single
Irvine, CA
Graphic designer

This guy's the wild card this year. Again, careful video editing makes him look like a religious zealot who will demand (and get) all kinds of special treatment, and rumors about him & Michael and him & James are rampant. But he seems a decent enough guy, intelligent, and more Americanized than most are giving him credit for. I hope he doesn't end up being a catalyst for BB6 becoming The Political Season - this is so not the venue - but it seems somewhat inevitable.






26 - single
Las Vegas, NV
Emergency room nurse

She seems smart, genuine, and likeable, and her job has probably given her more people skills and coolness under pressure than all the others put together. She is worried about not having privacy, so the combo of 13 roomies and 46 cameras will probably chip away at her slowly, gradually, and excruciatingly.






28 - single
Orange County, CA
Artist

I am already a little tired of so much travel-languages-artist talk from him, but maybe that's editing at work again. I have strong suspicions he's living off family money and may have deadly expectations (BB-wise) of people as a result. He doesn't seem quite as arrogant as Howie, but maybe it's just not as blatant. I don't really know what to think of him overall so I'll just wait 'n see.






33 - single
Parker, CO
Horse breeder

She's a clean freak and has already volunteered like a martyr to clean up after everyone. I think she's got some esteem and confidence issues that will only magnify in there, obviously. She seems pleasant enough, but may provide some BB1 Karen-like trauma for us. I think the identity of her pair is key in how she'll act and how she'll perform.






22 - single
Chicago, IL
Retail manager

Her stock's gone up net-wide since her video was released. She's cute, likeable, genuine, and funny. Others mentioned the pair twist in the edited 'news' video, but hers is the only interview edit that mentions it.. prolly cuz she is only one smart enough to realize hers isn't the only pair. I predict great things from her.



I love keeping tabs on the feeds during summer, and wish I didn't have to do this.. but the reality is it takes a ton of time that I can't really afford to give away. If you like the site and would like to help support it, please visit my sponsor links by clicking on the banners, or make a Paypal donation here. Please support other BB6 fan sites that you like, too - many many thanks!



This site isn't necessarily about who should win, who will win, who I'd be friends with, or who is cute. It's about watching hamsters: which ones are doing what and why, which are fun and which are dull. If they aren't entertaining, get rid of 'em! Thanks for encouraging my behavior..

that dingo