This site is about the Big Brother feeds and contains spoilers! It isn't necessarily thorough: it's what I catch and/or what interests me. It also isn't necessarily about who will win, who should win, who's cute or who's horrid. It's about watching hamsters: who's doing what and why, who's fun and who's dull. If they aren't entertaining, get rid of 'em! Thanks for encouraging my behavior.




WHERE'S JERRY'S BLOG?
GET THE FEEDS ALREADY
See all the action 24/7
Choose monthly or quarterly - both include a two week free trial.
BB10 DRINKING GAME ALIVE/WELL/SMASHED
Take a swig every time Jessie mentions his body - find a sponsor





NEXT SHOW


Wednesday, July 23 at 8pm: Everybody Loves Steven and his [probable] eviction, HOH comp, assorted dramas







RATINGS WATCH


Tuesday's show placed second for the hour with a 4.0 rating and 7 share, behind 'America's Got Talent' with 7.7/13.




Donations are gratefully accepted through Paypal using the button above or direct by email. Please support other BB10 sites that you like, too. Many thanks!







UPCOMING EVENTS


BB8 Evel Dick's pre-show show Wednesday at 4pm PT/7pm ET

Veto comp on Thursday

Plotting, scheming, hating

I think Revive-a-Hamster is coming








FAQ


Slop ended at midnight

'Dominican Republic' might refer to Diary - I'm not sure

Jerry is being called 'The Colonel'

The winner will once again receive $500k. Second place will probably be $50k again, and the weekly stipend for the others will probably remain at $750, including sequester weeks.

The habitat has 52 cameras and 95 mics this season

Finale is scheduled for September 17 so it'll be a slightly shorter season than usual, by about 10 days





July 22, 2008 - Day 15



>> past >> present >> future

>>

Jessie is Head of Household - Dan & Steven are nominated

<<



All dressed up, nowhere to go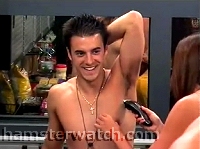 They were told to be pretty & ready for a surprise at 5pm, so they had a bonus 2nd day of primping this week.. Angie & Steven teamed up to give Dan some pit grooming, making them patron saints for feedsters

They cycled through possibilities that included an early Brian revival, a luxury comp, $10k offers of various sorts, a Rodeo Drive shopping spree, and worse.. most people might be a bit disappointed after building up those kind of hopes to end up in a short segment on a late night show and some sounded like they were, but these are hamsters and none were crushed: it's all more tv exposure

Some didn't know who Craig Ferguson is, which is their loss.. April seemed a little upset that "feel my boobies" is now common knowledge: apparently Craig asked Jerry about that, which set off the Misery Girls on their Public Enemy #2 loop again when it was all over.. I'm just pleased I finally called one right this season



Slops & spats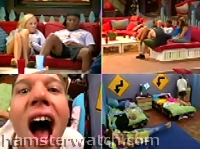 Trashing carried on, like it does: Michelle trashed Angie to Jessie, Memphis Bob trashed Jerry to Keesha and Libra trashed him to Ollie, and the rest of the Misery Girls trashed him to whoever would listen.. Jerry pretty much has full blown BB plague now

Ollie & April got into a little tiff: more heavy relationship chat again.. at this point they're barely past a

one

two night stand but they do go on about this stuff.. he admitted he hadn't had a girlfriend before and it took her by surprise.. Dan & Memphis Bob were their audience

Sloppers did get off slop a day early.. they counted down midnight and dove into spaghetti, pizza, salads, and assorted other foodstuffs.. for Steven's last night, he reminded us again that he's an individual kind of hamster, makking with the camera while the others sat around the feeds being dull

Find a few screencaps in the forum including April & Ollie's opus #2, thanks to ABT



Daily ratings - Quit touching that edition






Ratings are based on entertainment value



I'm equally confused why Jerry kept reading about spelling in the EEE VICK SHUN veto comp, and why Julie announced Brian was a fan of the show who's watched it a lot on 'The Late Late Show'. I skipped most of the CBS show again but caught the comp, and I'm surprised they didn't use BYE BULL SWAYER just to drive home the point when Libra & Keesha each balked. It's a banner day though: Craig is the first non-hamster Line of the Day recipient, so congrats are in order.



Kudos to her for braving the wild rainforest that is (was) Dan's pits, add the fact that she didn't wear her angry hat tonight, and it's all good.





She's been reeling Ollie in for the past few days but her line snapped when he admitted he'd never had a girlfriend. That might fade away or it might blossom into a Terrible Lie: time will tell. Either way, she wasn't amused by his fat joke later. And yes April, your father saw you offer up your boobies with introductions and so did everyone else, and most of us saw you boinking Ollie the other night. And again tonight. But no worries, you'll have plenty of time to read your contract after you go home.





NOMINATED
Someone in chat asked if he's got a hearing problem due to his shouting in Diary. I suspect he's the only one who could muster up some phony enthusiasm about a comp that has come and gone (we know Libra's not into that). They're using Diary footage of him for promos for Wednesday's show too: it must be the only place he comes alive.





He was looking even worse today, but he perked up enough to stick his foot in it again to Craig. The Hate Jerry Club didn't need any more ammo but they sure got some more during that, and they used it. They'll get a whole lot more when they find out he was in the room when April & Ollie got busy, but that one wasn't his doing. Let's hope tomorrow's HOH isn't an endurance comp with a 6 foot drop for the exhausted quitters, and that he's safely back home by the time those come around.





HEAD OF HOUSEHOLD (aka HO)
Yes Jessie, you were the butt of the jokes on 'The Late Late Show' and you fulfilled your role very well.





She's about 50/50 complaining and entertaining, but by the end of the day I usually can't remember much of anything she did. I did notice her doing a major duck 'n swerve when Steven asked her & Libra for votes, and later she cried because he's leaving but hey, that's typical hamster behavior. She'd be a good HOH tomorrow as she'd finally have to pick a side.





When it was HOH blog time, she was cracking on people who have time to read blogs and 'comment comment comment' - and yet she knows every detail about Britney Spears and the other news-y celebutantes, and repeats them often. Her 15 minutes are just about up.





Won: Classic Camaro
He defined 'blog' for the uninitiated as something having comments, comments, comments. I guess he's never seen the Big Brother HOH blogs, but neither have we - at least this season, so far. He & Keesha shared some dog poop stories today.. I guess the less said about that, the better.





What was going on with her hair in that veto comp??





His inexperience is bursting out all over, starting with asking who was that guy who showed up on their plasma with Julie, making a fat joke about April a few minutes after a near-spat, and wrapping up the day with quickie sex that rivalled Ryan & Jen's bathroom event. But hey, he's new. Sooner or later he may develop some finesse in the erotic department, but the lack of before and after activities combined with an extended undies hunt through the bedcovers afterward, this one was more comedy than sex.





She popped some good funnies today and handed out sage advice also, by telling Steven he better go campaign for votes while he was campaigning for votes to her. She joined the greenlight party again too.. she's at her best around 2am.





NOMINATED
He went through some mopey moments today as the reality of leaving hit home, but he still rallied and entertained here & there, like he does. He did a good coaching job for Angie on Dan's foliage and I'm grateful he took time out of his busy last-day schedule for that. It'll be sad to see him go, but I think/hope we'll see him again.






He made more of an impact than most who get voted out first and he had the potential to be a fan fave but he over-allied and betrayed too early and had a very negative edit to boot. He was smart, funny, and a good ringleader for the guys - time will tell if they can be as fun without him. Sock Puppet Theater on only the second night of feeds, under his direction, could be the highlight of the season.


Please do not repost any content from this site (or any other) without permission, and do not repost or hotlink to any images
!! THIS MEANS YOU !!

* SEE WHAT CBS WON'T SHOW YOU *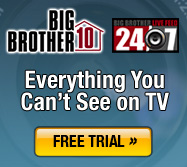 14 day free trial
Monthly or quarterly billing

Your subscription will include
BB8 Evel Dick Donato's live show
on eviction days






GET TWITTERED! FREE TEXT ALERTS
Get free Hamsterwatch updates to your cell phone! Text 'follow hamsterwatch' to 40404 to sign up (21212 in Canada; 5566511 in India; +44 7624 801423 anywhere else). my tweets - more info






LINKS OF THE DAY

'Hamsterwatchers, you are free to move about the house'

Sennheiser wireless headphones with

charging cradle

or

AAA batteries

are on sale at Amazon.com


Click to see my full list of BB10 links. These are some of my favorites:


24/7 feeds - 14 day free trial see everything that happens before it gets edited into something else for tv

No time-out feed links including set-up how-to, plus Real contact info

Hamsterwatch Chatroom

Hamsterwatch Forum

BB9 adult/explicit links - might get updated for BB10 if we have hamsters with naughty pasts

CBS Big Brother 10 the official site

DogDave BB10 aka Aldav scouts all the BB sites so you don't have to: all the news, edgy stuff & the best mini-recaps in town

Attw x's houseguest tributes all seasons fun & reference by BB's number one fan

BuddyTV - Big Brother 10 TV supersite with news, articles, discussions

Sir LinksALot Big Brother 10 all the links, once again



LINES OF THE DAY
Jessie: I'll just sit here and take pictures of myself all day, til I get one right
Jessie: Why do I look like such a little boy?
Ollie: I wonder how he's [Jerry] getting along with slop, with not eating
Libra: I don't know
Libra: This is as tan as I'm gonna get, right here
Keesha: We're typecast now
Ollie: What's that dude's name? (Craig Ferguson)
Ollie: Julie Chen is a public figure now.. she's getting spots on late night shows now
April: It's a little embarrassing when your dad is watching
Jerry: It's okay when it's somebody older than your dad
Jerry: I'm not sure that was live, 'cause the show is on late
Renny (to Steven): You better go try to get yourself some votes, pal
Renny: They're being Chatty Cathy's tonight, these people back here [in the walls]
Steven: I've had the same cell phone number since 'Nam
April (making out with Ollie): I don't think that's a microphone

SPECIAL GUEST STAR
LINE OF THE DAY
Craig Ferguson: HOH? Sounds like ho to me





EXTRACURRICULAR TALLY



Sex: April/Ollie (2x)

Makeout pairings: April/Ollie, Angie/Steven

Major fights: 2
Keesha vs April
Libra vs Jerry, plus Renny

'The Soup' mentions: 1 (meet April's boobies & Jerry's affirmation)




GET $10 CASH BACK
when you sign up with
your PayPal account
Limited time offer!


Greatest American Dog Store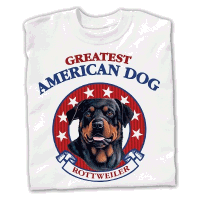 Get 10% off anything at the CBS Store including Big Brother gear!
Enter code AFFDA at checkout