This site is about the Big Brother feeds and contains spoilers! It isn't necessarily thorough: it's what I catch and/or what interests me. It also isn't necessarily about who will win, who should win, who's cute or who's horrid. It's about watching hamsters: who's doing what and why, who's fun and who's dull. If they aren't entertaining, get rid of 'em! Thanks for encouraging my behavior.




HAMSTERWATCH FANTASY GAME
Sign up in the
forum
before Wednesday's eviction show! Free! With a first place prize! Huge thanks to Hanto for setting this up
THE FEEDS ARE HOPPING
Sign-ups
are slow this season for many of the sites - be sure to get your feeds through a site you want to support. Big up to those of you who have already gotten them here, and thanks very much!
No time-out feed links
are posted and ready for Hamsterwatchers to grab
BB10 DRINKING GAME
Take a swig every time Jessie mentions his body





NEXT SHOW


Tuesday, July 15 at 9pm: Veto comp, Jerry vs. Brian 'Semper Fi' situation







INTERNET STREAM


Westies can watch the air show live when it's on in the East at www.watch.videobrother.com







RATINGS WATCH


Sunday's premiere was first for its timeslot with a 4.2 rating and 8 share, ahead of 'Extreme Makeover: Home Edition' on ABC with 3.3/6, 'America's Got Talent' on NBC with 2.7/5, and 'The Simpsons'/'King of the Hill' on FOX.




Donations are gratefully accepted through Paypal using the button above or direct by email. Please support other BB10 sites that you like, too. Many thanks!







UPCOMING EVENTS


Mass drama is breaking out all over

Eviction shows will have a live audience - the first one is July 16






FAQ
Jerry is being called 'The Colonel'

'London' or 'England' is their code to talk about people who didn't sign a release (specifically Brian's ex girlfriend)

Slop ended at midnight Sunday night

The winner will once again receive $500k. Second place will probably be $50k again, and the weekly stipend for the others will probably remain at $750, including sequester weeks.

The habitat has 52 cameras and 95 mics this season

Finale is scheduled for September 17 so it'll be a slightly shorter season than usual, by about 10 days





July 14, 2008 - Day 7

>> past >> present >> future

>> Jerry is Head of Household - Renny & Brian are nominated <<

The game is on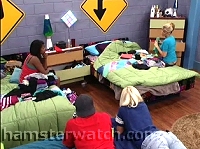 They're already gaming hardcore: whispering, hating, Bible-swearing, trashing and strategizing their brains out.. they've rarely done this so much before the first eviction, when reality sets in

Brian looks like a definite goner at this point.. it's still a long time til they vote (in hamster-relative time anyway) but he's acknowledged that he over-allied himself and backstabbed too soon: "My plan was to become the asshole - I just did in 6 days what I should have done in 3 weeks".. I suspect Tuesday's show will focus on the early betrayal that shook up the habitat so soon

We had a glimpse of Brian in Diary - it looks like they were asking him about being nominated, and to look bummed.. later Angie had an under-pillow meltdown, with various hamsters peeking under the pillow, comforting her, replacing the pillow, and moving on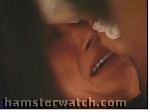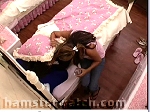 Sock Puppet Theater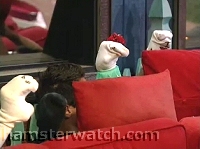 Nail polish got new life when it turned gym socks into hamsters: Brian, Steven, Memphis Bob and Dan pre-enacted Brian's eviction show, with Angie taking the part of Julie

It was way better than the actual eviction is likely to be, and rivaled (possibly surpassed) Dr. Will's Duckie Puppet Show from the BB7 HOH bathtub.. xx2000xxx caught the video

It also showed us (and them) what a loss Brian will be if he goes this soon.. I'm not optimistic, but am hoping they'll do one of their infamous flips before Wednesday

Random caps of the day & night are in the forum thanks to ABT, and Aldav has posted some videos there - big ups to both!

Daily ratings - Feeding frenzy edition




Ratings are based on entertainment value



Several quick Diary slippages but no audio that I heard, and that's pretty good for this early. They aren't cutting to fishies as often or for as long as usual, and that's obviously good news. They seem to have called off the bikini requirement for Showtime but they aren't delivering enough booze to make that show any good, and the phony gathering of all 13 to yuck it up at 9pm fell real flat. Jerry tried to stir up the political arguments that were hyped up to the press.. maybe Diary egged him on to do that? A trivia game about 'who started the Iraq war' doesn't come up every day. Nobody wanted to play that though, so they settled for drunken charades that were as dull for us as for them.. at least until Angie had an under-pillow meltdown.



I think she's in most of the many alliances but she might have lost her standing in the boys club tonight. I thought she was one of the more stable ones, but she had a good crying jag after Jerry said the movie 'Psycho' would be perfect for her during charades. She went off to her pink room and hid under her pink pillow, as one after another came to comfort her. (Each one replaced the pillow over her upon leaving, which was a nice touch.) In her many many rehashes later, Jerry escaped blame and she talked about her various comforters to the others and what they did wrong in comforting her. She may be an emotional minefield or she may be an emotional blackmailer and either will get old fast, but it's all good for now. She also did a commendable Julie during Sock Puppet Theater.





I didn't catch her doing much of anything very interesting today, and I'm really not happy that we aren't seeing a lot of her much-ballyhoo'd OCD manifest itself with tidying, rearranging, etc. I know, give it time.





NOMINATED
He seems resigned to going home and that's probably wise as some of them are talking a 9-1 vote to send him there. It's too bad as he's a funny guy, and we need more of that. I have no idea what the context was when he said 'Do you know how many kittens I've killed today masturbating?' but it's a great line that stands on its own. His Renny sock puppet was brilliant, and he added a mini barbell to the Jessie sock puppet, and the ensuing show was hysterical any way you look at it. He's a keeper, dammit!





He didn't volunteer for Jerry's proposed Iraq debate so he's definitely laying low and playing it carefully.. too bad for all the press promises about a summer of political raging starring him, whew! He asked Jerry how he thinks he's being perceived which means he's probably not feeling 100% secure. Otherwise he seems to stay mostly quiet in the global strategizing: no telling if that's by design or default. Last minute upgrade to ups for his part in the late night sock puppet show.





HEAD OF HOUSEHOLD
He sure got things going at drunken charades but unfortunately it was all indirect, and by the time Angie rehashed it 100 times he wasn't even part of the whole thing anymore, let alone the cause. He definitely needs a little more booze: he was almost there tonight but didn't quite make it over the edge. In a discussion about sexy attributes, he defined Vanna White as having all the ones he cherishes, and he also talked about the 'image he wants to create' in there.. Vanna-lust and an ongoing date with the 'Wheel' would seem to go along with the image he brings to the table naturally. During his eventual sort of apology to Angie, he said he's a street fighting guy. He may be getting a little DOMish for some of their tastes, and that bodes very well for our future with the Street Fightin' Colonel.





He actually got animated for a minute tonight and it wasn't about his body: it turns out he is emotional about football. He has some lengthy and private tete-a-tetes with Michelle, and he said if they get caught two-timing anyone they can 'deny deny deny'. Ups are for his later talks about how worldly he is, due to his many life experiences such as 'I've lived in New York for 2 months' and 'I can get along with people from Texas.' He also got really riled up later in the greenlight about everyone he hates in there. Otherwise the Jessie-inspired BB10 drinking game is alive and well.. <hic>





Her neutral is generous and may not last long unless she steps it up. She's in as many alliances as the next hamster, but she doesn't seem to contribute much to the 24/7 strategizing other than her presence and joining in to bash whoever's being bashed. She talked a lot to Memphis Bob tonight about their show biz offers & ambitions, and she mentioned a lot of agents and Hooters customers who have offered to further her career.. yet here she is. She laughed a lot today and dolphins everywhere perked their ears.





She's very busy gaming hard with all and sundry, and she hashed things out with Steven in a very long, very drawn-out replay of whatever their problems are with each other, complete with a tear or two. She seems to be doing well at portraying the compassionate listener role, which may or may not work out well for her.





Won: Classic Camaro
I'm not sure what it is about Memphis Bob that earned him ups today, as he spends most of his time telling raunchy stories (always about other people) and gloating about his glorious past & future as an actormodel. There's something that makes him unintentionally comical though: maybe it's his Pillsbury Doughboy pudginess that's such a contrast to Jessie the Body Boy, or maybe it's his range of baffled and/or goofy expressions. Either way, I guess it doesn't take much to get ups at this early stage, but the late night sock puppet show solidified them for him today.





I finally figured out who she reminds me of: Heather Chadwell from 'Rock of Love'. No further confirmation of Michelle's past exploits, but she jumped on Libra's lap at one point for a faux lapdance and it seemed to come naturally to her. She's already having grouchy spells, complaining about wanting to go home, go shopping, and send text messages, and she's another surprise (to me) member of the smokers club. Gamewise, she really gets around and raises a lot of rabble wherever she goes, which means a lot of stuff getting stirred up that we'll get to watch fallout from in future.





From everything I've seen, he seems to be playing a totally under the radar kind of game, but his name keeps coming up as a villain whenever he's absent. The oddest thing about him at this point, aside from his revolving assortment of headwear (which a lot too many of them have going on this season), is whenever he's called to Diary it sounds like 'Holly'.. giving lots of us flashbacks to BB5.





NOMINATED
She doesn't seem to have any fans in there, yet she's probably safe in a possible 9-1 vote.. go figure. For all her Wild 'n Crazy Lady hype, she's something of a dud so far, and she keeps changing costumes but she doesn't do anything with them. She threatened a seance at one point but never followed through, and she was a glittery lump for drunken charades. She's saved from a negative though for the oddest moment of a very odd day, when she blurted out 'Hello to all my Asian friends!' - seemingly randomly and out of any context.





Okay, I still haven't been unlucky enough to see him spit his chaw wads and I didn't hear any racial ignorances today, so I was going to give him the benefit of the doubt and a neutral until he, Dan, Memphis Bob and Brian painted up sock puppets with nail polish to utterly crack up several of them and all of us with their impersonations of some of their fellow hamsters including Jerry, Renny, Jessie, and April & Ollie (together and separately). Even if we weren't privy to the situations they were lampooning, their hysterics were infectious and gave me lots of hope for some creativity and laughter in there this summer along with all the usual lying, crying and gaming.


Please do not repost any content from this site (or any other) without permission, and do not repost or hotlink to any images
!! THIS MEANS YOU !!

* THE FEEDS ARE ALREADY HOPPING *
Don't miss these first days!

14 day free trial
Choose monthly or quarterly billing

Your subscription will include
BB8 Evel Dick Donato's live show
on eviction days






GET TWITTERED! FREE TEXT ALERTS
Get free Hamsterwatch updates to your cell phone! Text 'follow hamsterwatch' to 40404 to sign up (21212 in Canada; 5566511 in India; +44 7624 801423 anywhere else). my tweets - more info






LINKS OF THE DAY

B-Side Blog

on the premiere

Hamsterwatch BB10 Fantasy Game

easy, free, and the winner will get their choice of an autographed Janelle Pierzina bikini card or $25 Amazon.com gift certificate. You have to be registered in the forum to participate. Huge thanks to Hanto for setting this up!


Click to see my full list of BB10 links. These are some of my favorites:


24/7 feeds - 14 day free trial see everything that happens before it gets edited into something else for tv

No time-out feed links including set-up how-to, plus Real contact info

Hamsterwatch Chatroom

Hamsterwatch Forum

BB9 adult/explicit links - might get updated for BB10 if we have hamsters with naughty pasts

CBS Big Brother 10 the official site

DogDave BB10 aka Aldav, still the first to find big news, all the edgy stuff & the best mini-recaps in town

Attw x's houseguest tributes all seasons fun & reference by BB's number one fan

BuddyTV - Big Brother 10 TV supersite with news, articles, discussions

Sir LinksALot Big Brother 10 all the links, once again



LINES OF THE DAY

'I just don't want you guys to think I'm dumb' - April

'What vote has ever, ever been guaranteed? Not one!' -Ollie
(many have been - for feedsters)

'..thrown under the bus..' -Libra

'I felt bad to break my word' -Jerry (which he did to match Brian breaking his word.. maybe Semper Fi means
tit for tat?)

'A lot of murderers and serial killers look at porno' -Renny

'4 weeks? That's a month' -Jessie

'Do you know how many kittens I've killed today masturbating?' -Brian




EXTRACURRICULAR TALLY

Makeout pairings: April/Ollie




GET $10 CASH BACK
when you sign up with
your PayPal account
Limited time offer!




Prison Break * Family Guy
24 * Simpsons * American Idol