February 27, 2008 - Day 20 (or 21)





>>

Alex & Amanda evicted 3-0 - Joshuah & Sharon are Heads of Household

<<



Close quarters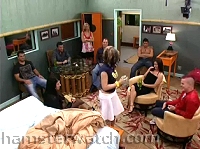 They all got locked down in HOH room so the crew could scurry around downstairs, doing what they do

They reminisced about stripper night.. Joshuah said to Natalie "You definitely did stand out" - past tense - does he mean that night, or BB9 in general? We'll find out soon enough.. James said he "did a lot blow at the Cheetah Club with the casting director for American Gangster".. cue flames

Alex: Are those pants for you, Natalie?
Natalie: Yep
Alex: It's like like constant camel and like constant wedge, I'm sorry
Natalie: It's supposed to help my butt like that
Alex: No, it's the front

They also talked about what day it is, and once again all agreed it's Day 20 <sigh>.. they've got drinking cups again

Alex & Amanda walked the plank, and Julie threatened us with new twistage next week



Restraining order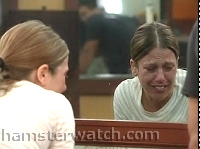 According to Allison, Joshuah isn't allowed to come within five feet of her

I'm unclear when their scuffle took place: it sounds like it was before the show, and maybe what Sharon alluded to when she told Joshuah he should apologize to Allison (he said hell no, or something more colorful).. it might have been after the show too, but it sounds like it was behind flames regardless, so it's moot

Apparently Joshuah got in Allison's face, called her some names, and threatened to strangle her and/or slit her throat (per Allison).. apparently she went to Diary and tried to quit, supposedly fearing for her physical safety, but got a five foot restraining order instead

Let us pause here and take a moment to reminisce.. and another

A hearsay snippet, according to one of them (maybe Joshuah himself? I can't read my notes) that may have set things off: Allison said "I heard you called me a bitch" to which Joshuah replied "No, I called you a fucking bitch"

Meanwhile, it's all good with Joshuah, Sharon, Sheila, Chelsia and Natalie (and maybe the rest of them too, for all I know).. meanwhile Matt & Adam had a little DIY chiropracty session.. pizza arrived and the two remaining sloppers dove in gratefully along with the others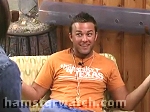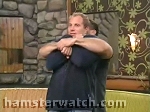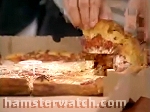 Allison had gone to bed crying, boycotting Joshuah & Sharon's HOH room debut, but she came out to eat with them.. silently, with puffy eyes.. she & Ryan hopped up to do the dishes, and we'll probably hear about that later

The new drinking game tonight is take a sip every time Allison says "I don't care" - be sure to designate a driver



And then there's this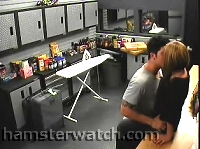 Matt & Chelsia went to take out the empties.. he picked her up, set her on the counter and moved in

She was coy and/or played along, and it was quick

I guess he's carrying through with his makk attack strategy, as threatened



Back to our story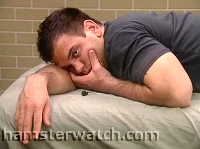 Allison was on overdrive, repeating her woes to anyone who would listen (which isn't many of them) and reinforcing how much she doesn't care

When it was Sheila's turn with her in the gym/spa, Ryan came in to protect her, or something.. his face pretty much says it all

Allison's hair flipping and pulling didn't help her cause, but after awhile Adam came in and laid down to hear her troubles.. he sounded interested but was umm.. fiddling in his pocket too.. then he went out to the hot tub crowd and told them how ridiculous she was - but he had a new kind of swagger about him.. you could almost see the thought bubble over his head: {{Hey, I laid down with a chick under 40}}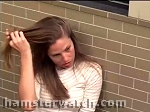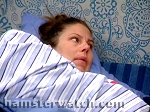 Ryan & Allison agreed that she should go out and make some kind of peace, or something, so she stomped out to the hot tub and bitched at Joshuah some more, who bitched right back in triplicate.. Ryan called her out for not saying what she was supposed to say, and Allison escaped to Diary

They didn't let her stay long, and Ryan followed her to her room and bitched at her for not doing what they'd agreed.. she ran her Woe Is Me routine again and finished up with "By the way, just so you know, everything that I've ever said to you was not right at all about you" (with a dozen "I don't cares" of course) and now he's done with her too.. next up was Chelsia who played along.. but Allison doesn't care



Tiara finale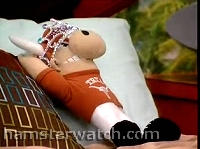 Joshuah celebrated with a tiara and a little dance

From there he painted negative 6 (as in scale of 10) and No Nips Tit on Allison's bowl, and wiped her key on his backside

Sharon's been telling him all day he's going too far, but he keeps going farther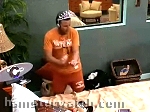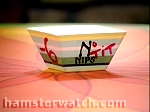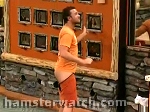 Allison finally went to bed but the habitat kept buzzing, exchanging Allison stories into the night.. she tried to rebuild her soulmateship with Ryan a few times but used her same stale Woe Is Me/I Don't Care/It's Everyone Else style.. Ryan listened but didn't seem to be buying it

Natalie tried for a little postscript to the night by revving up her same routine with Matt that he talks to everyone but her, but nobody can take much of that again on top of all this



Daily videos






HOH lockdown; Joshuah & Sharon confront Allison then strategize; Allison meltdown; Joshuah about Allison and her mascara; Matt explains the Joshuah/Allison situation while Chelsia changes; Allison defies her own restraining order; Allison versus Ryan; Allison doesn't care; and Joshuah's tiara dance are posted in the forum and at Veoh, linked top & bottom of every page



Daily ratings - Saint Allison's tragic fall edition






VTE = Voted to evict
Ratings are based on entertainment value



Well, they're sticking to the lie about the day count, despite a dozen contradictory voices who would know these things. Typically for this season, Wednesday's show did not hold a candle to what's been happening on the feeds it's supposedly culled from. Julie said 'the house was rocked to the core' by something or other, but they're still overlooking the real rocking going on in there, and Natalie. She also said 'It was certain Alex & Amanda would be going' and I'd like to know where she got that from: this group waffles like no other! They got some more mileage out of the EMT visitors and made James look like a choirboy in his outside life.. umm okay. All in all, it was interchangeable with most any other eviction show, save for the now-expected surprise of which of our non-expendable hamsters would be expended. I was looking forward to hearing Julie pronounce Goethe but she never did; instead she smugly corrected Sharon (who got Goethe right) when she murdered Dostoevsky's name. Julie's parting announcement about next week is posted in the sidebar and that's all anyone knows at this point, so stop asking.




VTE Alex/Amanda
Paired with Sheila

He turned on the charm (well, maybe that's not the right word for Adam, but you know what I mean) and Allison responded, pouring out the details of her persecution and saying she doesn't care. For a minute I thought he was going to move in on her and I was truly afraid to see that.. yet I couldn't look away.



VTE Alex/Amanda
Paired with Ryan

Very soon it's probably going to feel cruel, but for now everything she got today is sweet just desserts. If she says 'I don't care' much more, I'm going to have to start using a picture of BB6 April here.





No vote (HOH)
Paired with James

She wanted to keep Amanda as she thought she'd be easiest to break, but she came through tonight by providing a phony shoulder for Allison's not caring. Although it looked like Chelsia was having a hard time keeping a straight face, I think Allison bought it.





No vote (HOH)
Paired with Chelsia

He stayed pretty clear of Allison's fall from grace even though he was in on it all, and I guess he should be commended for that. After all, he'd just gotten the limelight on national tv for having saved a life. They pumped up his supposed world bike ride on the show and made him sound like a Boy Scout.. they sure left out some stuff.





Co-HEAD OF HOUSEHOLD
VTE Alex/Amanda
Paired with

Neil

Sharon

Big ups for earning the first in-habitat restraining order in BB history! Not even BB6 Howie or BB8 Dick managed that and boy, did they try. Joshuah might step over the decency line any second, but for now he's dancing right atop it. In a tiara.





No vote (nominee)
Paired with Natalie

This guy can't catch a break. He put some moves on Chelsia so apparently his plan is still on and he probably enjoyed that. But he'd only just been saved from Julie's boudoir and was starting to enjoy the evening festivities and a new (probably) safe week, when Natalie started in on him again with her same ol' song and dance. No tiara.





No vote (nominee)
Paired with Matt

She needs to stop the Matt doesn't talk to me stuff and move on. If she wants to see real soulmate problems, she need look no further than the last two pairs who walked the plank, let alone Allison & Ryan. Her Heart Of Gold shirt on tonight's show was classic.





VTE Alex/Amanda
Jen's boyfriend/Paired with Allison

Big ups for calling out Allison in private for changing her tune, and super big ups for doing it in public! Wild applause! The crowd goes wild!!





Co-HEAD OF HOUSEHOLD
VTE Alex/Amanda
Paired with

Jacob (her ex)

Joshuah

She got over-excited a few times today & tonight, but it was more trying to rein in Joshuah Gone Wild than her usual intensive strategizing and that made all the difference. Although Dick won last summer using in-yer-face tactics, I don't see that necessarily repeating, which would make her the current front-runner for best player in there. Best players aren't always fun to watch though, and they rarely win, so she'll need to step it up to stay out of neutral or worse this week. She also needs to whisper louder.





VTE Alex/Amanda
Paired with Adam

Another bravo for her part in tonight's show of shows, from her non-sappy response to Julie's Allison question, to her one-on-one with Allison under Ryan's fading protectorship, to her letting Allison get most of the

credit

blame for the lesbian story.





Paired with Amanda

He started out looking like he was on board with Matt's showmance plan and CBS picked up that angle, but then we got to know a bright, charismatic, and goofy guy who had everything going for him in there except his partner. His diplomacy was remarkable and he might have gone the distance, but he went out as another casualty of 'Til Death Do You Part'.





Paired with Alex

She began with hysterics & drama and was at the center of the biggest BB fight ever, but she went out with more of a whimper than a bang. Her moods dropped as fast as her blood sugar but to her credit, she rebounded just as fast. She & Allison had dual 911 events, but Amanda's collapse brought unexpected (and uniformed) guests into the habitat and onto the air.





Won: $5k
Ryan's girlfriend/Paired with Parker

She & Ryan could have gone far if she hadn't opened her mouth in the first days. She made loads of enemies in a short time and took Parker down with her. She'll be remembered for super-quickie sex in the bathroom and a rash on her backside.. hmm, coincidence?





Won: $5k
Paired with Jen

He was good watching at first til he gave up and went on strike. He bounced back a bit at the end but his doom came early when partner Jen couldn't keep her trap shut about her & Ryan. She had to go, and he was just the innocent bystander casualty. 'I'm sick of people's dumbass assinine ass comments' might be Line of the Season.





Paired with Joshuah

He left suddenly and mysteriously but wrote on his MySpace that he didn't leave for health reasons and that he won't be back. He seems like a good guy and I wish him well.. he's probably lucky he got out when he did, unscathed.





Paired with Sharon (his ex)

Gone before the feeds kicked in: he didn't even make an appearance. All that potential for rehashing their breakup and/or a jealous rage up in smoke. To make it worse, he & Sharon didn't even get an exit interview in Julie's boudoir - how rude!



Please do not repost any content from this site (or any other) without permission, and do not repost or hotlink to any images
!! THIS MEANS YOU !!

BEST FEEDS EVER, SO FAR
TWO WEEK FREE TRIAL

This year for the first time, you can sign up for monthly renewal
or save with a three month subscription
- both come with a 14 day free trial



LATEST TWITTER


posted :
""

Get free Hamsterwatch updates to your cell phone! Text 'follow hamsterwatch' to 40404 to sign up (21212 in Canada). Click for more info






UPCOMING EVENTS


Nominations probably Thursday, possibly food comp also






POWER STATUS


Joshuah/Sharon are HOH
Nobody is nominated






FAQ


Per Julie: next week 'the evicted couple will get a surprise that no one will see coming, and a new chapter will begin for this season of Big Brother'

Jen & Parker didn't do 'Housecalls' or 'Early Show', and Jacob hasn't surfaced either.. maybe they're all sequestered to rotate back in later.

HOH comp consequences:
No washing machine for 2 weeks
No hot water for 72 hours - done
Margarita party - done
Females wear bikinis 24 hours - done
No drinking cups 1 week - done
Females cook dinner 1 week - done

Nobody knows when or if they'll play solo at some point, but CBS has announced it will be a full season.






RATINGS WATCH


Wednesday's eviction show remained in third place with a 3.7 rating and 6 share, behind 'American Idol' on Fox with 15.2/23 and 'Deal or No Deal' on NBC with 6.0/9.







NEXT SHOW


Sunday, March 2 at 8pm: nominations, assorted dramas






EXTRACURRICULAR TALLY


Sex: 3 (Jen/Ryan)
Oral: 2 (Natalie/Matt)
Self-service: 1 (James)
Makeout session pairings: 3
(Jen/Ryan, James/Chelsia,
Alex/Sharon)
Nekkid makeout pool orgy: 1
Nekkid party favor: 3
(Natalie, James, Chelsia)
Nekkid party trick: 2 (James, Natalie)
Ambulance rides: 2 (Amanda, Allison)
Major fights: too many to count

See it all with a monthly
or quarterly
feeds subscription. Both include a two week free trial with no obligation to buy.









LINKAGE


Click to see my full list of BB9 links. These are some of my favorites.

24/7 feeds - 14 day free trial
see everything that happens before it gets edited into something else for tv

No time-out feed links including set-up how-to, plus Real contact info

Hamsterwatch Chatroom

Hamsterwatch Forum

BB9 adult/explicit links

CBS Big Brother 9 the official site

DogDave BB9 by any name, still the first to find big news, all the edgy stuff & the best mini-recaps in town

Attw x's houseguest tributes all seasons fun & reference by BB's number one fan

BuddyTV - Big Brother 9 TV supersite with news, articles, discussions

Sir LinksALot Big Brother 9 all the links

Reality TV Links - Big Brother 9 emphasis on individual hamsters' sites










THANKS FOR VISITING


Donations are gratefully accepted through Paypal using the button below or direct by email. Please support other BB9 sites that you like, too. Many thanks!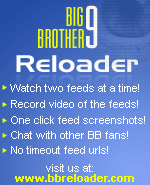 This site isn't necessarily thorough: it's what I catch and/or what interests me. It also isn't necessarily about who should win, who will win, who I'd be friends with or who is cute. It's about watching hamsters: which ones are doing what and why, which are fun and which are dull. If they aren't entertaining, get rid of 'em! Thanks for encouraging my behavior.