February 21, 2008 - Day 14 (or 15)





>>

James & Chelsia are Heads of Household - Alex & Amanda and Matt & Natalie are nominated

<<



Swimming in fish guts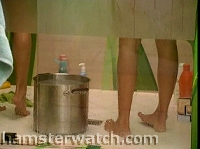 They finally had a food comp today and that's what they said it entailed.. fun for all, considering they don't have hot water showers

The comp also entailed passing out new bikinis in team colors.. show of hands, who's surprised at that?

Some of them figured out they can heat water and use it to clean up.. it doesn't sound like any of this crew has seen feeds before, so I guess they missed Dr. Will's kitchen sink baths on BB7 and/or haven't thought about doing that yet

Alex/Amanda and Adam/Sheila are on slop, and the bounty came out to rub in their faces, like it does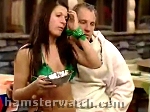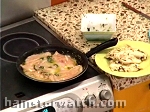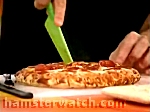 Observant hamsterwatchers will notice new FAQ and sex tally sections in the sidebar along with a page of adult links for those who want to see the James porns and whatever else turns up along those lines as we go.. note these are links to adults only, explicit XXX content - you have been warned

Trivia came and went, and Alex & Amanda are nominated along with Matt & Natalie.. Matt & Amanda were mopey at first - she talked like they have an alliance (maybe they do?).. then Matt tried to mope with Natalie but she talked him out of that, reminding him the whole house wants Amanda gone.. Amanda wasn't impressed with slop so set off concocting recipes, which is something BB8 sloppers never bothered doing - maybe this group isn't as dumb as they look after all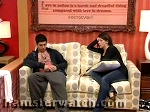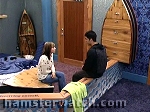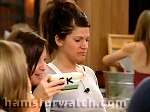 Speaking of dumb, yes I know who's who but am still tagging some names wrong on the first and sometimes second passes.. mea culpa and apologies for any confusion, and for twittering in triplicate



Yeast infections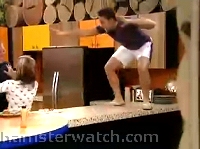 Don't blame me: they're talking about them

I guess Sheila has one.. I'm not sure if anyone else does or not, but Chelsia told a very graphic (and very funny story) about yeast infections past.. the guys were alternately enthralled and grossed out, along with most feedsters

Joshuah & Sharon are gaming hard - successfully so far - and cocooning already.. we got an odd point of view for this session.. Allison told some tales about her buddy Sheila when she wasn't around, but her body language changed drastically when talking with Matt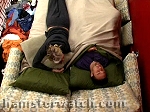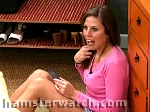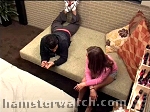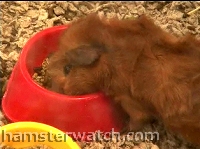 The hamstercam isn't on for us very often, but it's nice when it is.. sometimes the guinea pigs are more active than the 2-legged hamsters, and usually cuter

Adam told a number of stories today, including a detailed one tonight about a hernia.. Amanda laid down and moped alone awhile.. the feedmasters panned slowly between her and the sayings about love & deceit, between her and bait signs

Then she prayed awhile in a loud whisper, somberly asking for her & Alex to win the POV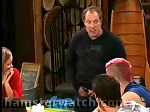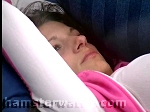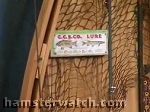 Hello boys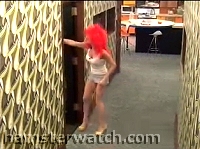 Natalie donned a comp wig and heels, and a crowd assembled in the gym/spa for a show

She stripped and grinded and lap danced her way among the crowd, who all enjoyed it

It wasn't the same without music, but Matt telling her to "Work for the votes, girl!" was a nice touch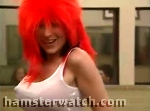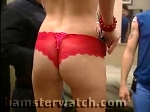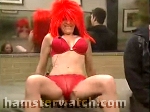 James carried a squealing Chelsia up the winding stairs, then did some squealing of his own in the cold shower.. either he doesn't know there are cams in there, or he doesn't care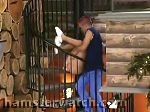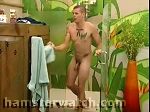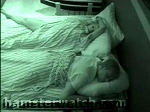 Downstairs, Amanda & Alex kept waking each other up and complaining.. if he moved any farther away from her in the bed, he'd fall out of it



Fun with RealPlayer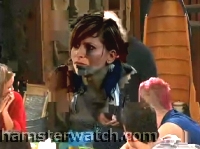 These happy accidents when switching between feeds make for some of my favorite caps each season

This one suits Natalie I think.. she is a larger than life character, she's often the center of attention without being needy or demanding about it, and her ever cheerful outlook is a good thing in there

Lots more caps of the day (including more nekkid James) are in the forum.. BB9 Park by TD is also there with a new 'toon most days



Daily videos






Alex tells James & Chelsia "put me up"; the guys after noms; Alex & Amanda have a gripe-off; James' broken finger strategy; and Natalie's strip show are posted in the forum and at Veoh, linked top & bottom of every page



Daily ratings - First noms for us edition






Ratings are based on entertainment value



Wednesday's show was high drama and good fun thanks to that, but ups are neutralized due to them stooping to put 'Ryan's a racist' on national tv. At least they did air Jen speaking the words which til now had been in question, but there was no reason to drop Ryan in it like that in primetime (even if nobody's watching): it will have implications for him that don't seem deserved. Naturally they worked in the noose comments for the fight (and did Allison seem to be grinning too much when talking about that?) but Julie stole some of Amanda's dead dad thunder when she asked Alex about his.. is Amanda even aware of Alex's situation? Joshuah's 'even your partner hates you' to Amanda during the fight must really have tv-only viewers confused after Tuesday's jealousy storyline. Parker was clearly upset in his interview and who can blame him? He got ripped off almost as badly as Jacob, and he had way more potential. Julie came close to thwacking Jen like she did Marcellas and I wish she had. Although I don't much care about it not being a live vote, I always like to hear it official from Ms. Chen who voted for whom. The HOH comp was just stoopid and obviously orchestrated for more bikini time, in the same way as the hot tub isn't off limits even though they're supposed to have no hot water. My biggest problem is Julie saying Wednesday the 20th was Day 14: I've been going by what they've been saying on the feeds.. who's off?




Paired with Sheila

He cut loose today with several mileaminute stories with lotsofmissingsyllables and a very high vulgarity quota. This stuff probably won't earn him ups for long, but for now I'm still amazed at the speed he talks and the fact that his subject matter makes BB6/7 Howie look like a boy scout - and a charming one at that.



NOMINATED
Paired with Amanda

He made a Dr. Will-style 'put me up' plea to James & Chelsia and he seems to be aware that most everyone is gunning for his partner. She needs to go for their sanity, but the drama level would take a huge hit if she did, and Alex is the only one other than Parker with a sense of humor. Plus he tells stories with funny accents. Here's hoping he stays put awhile, with or without Amanda.





Paired with Ryan

I got the idea today that she might win the game, which wouldn't please many. She's talking an awful lot about money lately: how much she makes, how much she spends, and should they split the $500k. She's still puppy-dogging Sheila most of the time but when she's not, she's bashing and mimicking her. Her Sheryl Crow look is coming out more daily, but I keep seeing her as a soccer mom - shopping the mall, driving a minivan (badly) and gossiping about the trashy moms.





NOMINATED
Paired with Alex

Everybody knows she's the target this week, except her. Late night feedmasters panning back &amp forth between her and bait signs was classic and the kind of stuff we feedsters love and appreciate. Praying for the veto was sad or funny, depending on your outlook, but doing it in a way too loud stage whisper for our benefit was ridiculous.





Co-HEAD OF HOUSEHOLD
Paired with James

She tried to wake up passed-out James at 4am but he grunted to leave him alone so she did. She seemed worried about the sleeping together rule but she doesn't realize BB doesn't care much about rules, especially new ones: they're mostly just there so Julie can make dramatic announcements about them. It was fun watching them discuss the keys order together: that's new! She told some funny & graphic stories to groups and to James, and she seems more comfortable doing that than making out with him.





Co-HEAD OF HOUSEHOLD
Paired with Chelsia

He & Chelsia seemed surprised at the pre-nom 'put me up'/'don't put me up' visits and wondered if everyone would show up to state their case. He said he's planning to break a finger late in the game in exchange for not being nom'd.. ooookay. He still makes me a bit queasy when he pushes Chelsia for more action than she's willing to give up. Tonight he displayed his manhood to the world (again) after a cold shower, but easy ups got neutralized by overnight self toenail biting.. eww.





Paired with

Neil

Sharon

Either he or Sharon is driving this game, and the other one is almost as good by getting everyone to do what they want. He explained the backdoor to Matt and others - some of them act like they've never even heard of Big Brother. Fun-wise he sleeps too much and is rarely around the big groups when fun breaks out.





NOMINATED
Paired with Natalie

He took his nomination pretty well, getting past the mopes and livening things up for the late crowd. He told James that his goal with Allison was to make her look stupid on tv and while she doesn't need a lot of help there, I'm glad he's on the job.





NOMINATED
Paired with Matt

She wasn't a bit phased by being nom'd: she's like a bikini full of sunshine in there, and isn't nearly as dumb as she seems. She spouted good advice today about Sheila and her moods, saying just let it go, 'some people are just like that'. On the surface she may look to have issues galore, but most of the time she seems more stable & grounded than the rest of them. She also has a good handle on BBs past and what happened when: she could be a dark horse here and one to watch game-wise.. not just skin-wise.





Jen's boyfriend/Paired with Allison

He's a bit more relaxed and chatty than when Jen was in there, but he's got a long way to go in the entertainment department.





Paired with

Jacob (her ex)

Joshuah

See Joshuah, with the addition that during a discussion about BB8 eviction order, she stepped in with the right info and set them all straight.. she knows her stuff!





Paired with Adam

Once again I asked if it was legit or game when she was shocked at doing noms already since they just evicted last night. Her moods and outbursts are becoming gossip fodder and that isn't necessarily a good thing for her, but her Monistat supply is good fodder for raunchy laughs.





Won: $5k
Ryan's girlfriend/Paired with Parker

She & Ryan could have gone far if she hadn't opened her mouth in the first days. She made loads of enemies in a short time and took Parker down with her. She'll be remembered for super-quickie sex in the bathroom and a rash on her backside.. hmm, coincidence?





Won: $5k
Paired with Jen

He was good watching at first til he gave up and went on strike. He rebounded a bit at the end but his doom came early when partner Jen couldn't keep her trap shut about her & Ryan. She had to go, and he was just the innocent bystander casualty. 'I'm sick of people's dumbass assinine ass comments' might be Line of the Season.





Paired with Joshuah

He left suddenly and mysteriously but wrote on his MySpace that he didn't leave for health reasons and that he won't be back. He seems like a good guy and I wish him well.. he's probably lucky he got out when he did, unscathed.





Paired with Sharon (his ex)

Gone before the feeds kicked in: he didn't even make an appearance. All that potential for rehashing their breakup and/or a jealous rage up in smoke. To make it worse, he & Sharon didn't even get an exit interview in Julie's boudoir - how rude!



Please do not repost any content from this site (or any other) without permission, and do not repost or hotlink to any images
!! THIS MEANS YOU !!

THE FEEDS ARE ON!
TWO WEEK FREE TRIAL

This year for the first time, you can sign up for monthly renewal
or save with a three month subscription
- and both come with a 14 day free trial!



LATEST TWITTER


posted :
""

Get free Hamsterwatch updates to your cell phone! Text 'follow hamsterwatch' to 40404 to sign up (21212 in Canada). Click for more info






A NEW HAMSTERWATCHER


Big ups and congrats to Cherryred and hubby on their new arrival!






UPCOMING EVENTS


Veto comp might be Friday? It won't be on the feeds.






POWER STATUS


Chelsia/James are HOH
Alex/Amanda and Matt/Natalie are nominated






FAQ



Jen & Parker didn't do 'Housecalls' or 'Early Show', and Jacob hasn't surfaced either.. maybe they're all sequestered to rotate back in later.

On slop: Alex/Amanda, Adam/Sheila

Operation Condor means getting rid of hamsters on the top row of the photo wall (Jen, Parker, Alex, Amanda). Lots of them are in on it.

HOH comp consequences:
No hot water for 72 hours
Females wear swimsuits for 24 hours
No drinking cups for 1 week
Females cook dinner for 1 week
No washing machine for 2 weeks
Margarita party coming (but don't expect mass quantities after James & Chelsia's HOH pass-outs)

Julie said tune in for couples nomination & couples veto, and 'the' live eviction. Maybe nothing, maybe something: last week she clearly said Feb 20 would be couples eviction.

Nobody knows when or if they'll play solo at some point, but CBS has announced it will be a full season.






RATINGS WATCH


Wednesday's eviction show dropped to fourth place with a 3.3 rating and 5 share, behind 'American Idol' on Fox at 15.2/23, 'Deal or No Deal' on NBC at 5.9/9 and 'Wife Swap' on ABC at 3.7/6.







NEXT SHOW


Sunday, February 24 at 8pm: nominations and assorted dramas






EXTRACURRICULAR TALLY


Sex: 3 (Jen/Ryan)
Oral: 2 (Natalie/Matt)
Self-service: 1 (James)
Nekkid party favor: 1 (Natalie)
Nekkid party trick: 1 (James)
Major fights: already too many to count

See it all with a monthly
or quarterly
feeds subscription. Both include a two week free trial with no obligation to buy.









LINKAGE


Click to see my full list of BB9 links. These are some of my favorites.

24/7 feeds - 14 day free trial
see everything that happens before it gets edited into something else for tv

No time-out feed links including set-up how-to, plus Real contact info

Hamsterwatch Chatroom

Hamsterwatch Forum

BB9 adult/explicit links

CBS Big Brother 9 the official site

DogDave BB9 by any name, still the first to find big news, all the edgy stuff & the best mini-recaps in town

Attw x's houseguest tributes all seasons fun & reference by BB's number one fan

BuddyTV - Big Brother 9 TV supersite with news, articles, discussions

Sir LinksALot Big Brother 9 all the links

Reality TV Links - Big Brother 9 emphasis on individual hamsters' sites



Watch single episodes or full seasons on your computer or TiVO!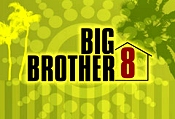 also available
Big Brother 9 episodes
Big Brother 7 All-Stars






THANKS FOR VISITING


Donations are gratefully accepted through Paypal using the button below or direct by email. Please support other BB9 sites that you like, too. Many thanks!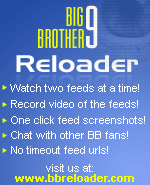 This site isn't necessarily thorough: it's what I catch and/or what interests me. It also isn't necessarily about who should win, who will win, who I'd be friends with or who is cute. It's about watching hamsters: which ones are doing what and why, which are fun and which are dull. If they aren't entertaining, get rid of 'em! Thanks for encouraging my behavior.



No obligation - No cost
if you cancel within two weeks



Best feeds ever - watch BB9 unfold before the editors get hold of it for tv