February 14, 2008 - Day 7





>>

Amanda & Alex are Heads of Household - Allison/Ryan and Jen/Parker are nominated

<<

>>

Neil's gone - Sharon's back

<<



Neil, we hardly knew ye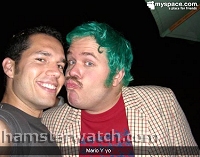 Somebody does though, and it looks a lot like Perez Hilton

There are lots of pics on Neil's MySpace with this green-haired guy.. the caption on this one is "Mario Y Yo" (Mario and me) - Perez's real name is Mario Lavandeira

I'm not saying that has anything to do with Neil's departure, but it's interesting to say the least.. it's also interesting that nobody seems to be talking about why Neil left, even in whisper sessions.. the control room was being very sloppy last night with the flames switch and a number of unimportant but verboten tidbits slipped through - nothing definite about Neil's departure though

Since it sounds like Sharon & Jacob were sequestered, maybe Neil was shuttled out to a hotel or Palm Springs condo to be rotated back in later

Not much else so far today, except for a big fight over a misunderstanding of a generalization, and the earth shattering news that Natalie told Allison that she was a stripper for five years.. who woulda guessed?

Line of the Day award is going to Parker.. it's still early, but I doubt anyone will be able to top "I'm sick of people's dumbass assinine ass comments"



Valentine's Day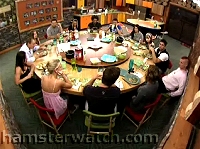 Not many hearts & flowers in this group, unless you count Jen & Ryan's superquickie in the bathroom last night

CBS seems to be basing the whole theme for BB9 around Valentine's.. I wonder what they'll do in a day or two when it's forgotten again til next year

They all had a nice family dinner, complete with gushy sentiments around the table about their loved ones and each other.. I bet The Powers That Be are sorry the prep 'n primp went on before Showtime, but I'm sure there will be more of the same in the weeks to come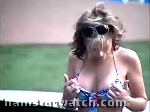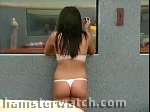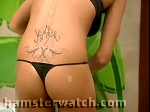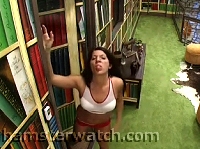 Alex really went after Amanda about the earlier fight and her being a blabbermouth.. he just kept at her as if she'd suddenly be able to pull out a time machine and have a redo

She finally cried and tried to explain herself.. it was all a little sad with her framed in flowers, on Valentine's Day and all

They both got over it though: they had a pillow fight later complete with bed tumbles in undies and ear piercing screams, and she paused to say hello to us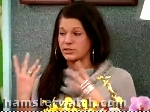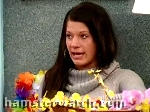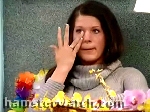 Feedmasters got some careful, loving shots of tinkertoys and blocks in the hamster cage, either for show segues or an upcoming memory/observance comp.. or just to amuse us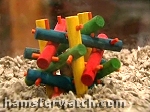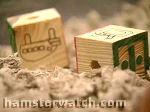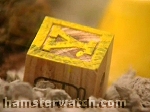 "Love in action is a harsh and dreadful thing compared with love in dreams"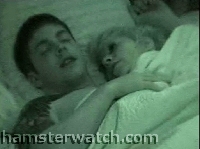 So says the Dostoevsky quote on their wall

Matt's been dissing Natalie around the habitat lately, but that wasn't enough to prevent them going at it - well, she went at it, he just laid there.. they wrapped up with a decidedly un-Valentine-like convo before going off to sleep

Matt: Do not get emotionally attached to me
Natalie: No
Matt: Promise me
Natalie: No
Matt: Promise.. I don't want to hear "I love you" or anything like that
Natalie: No
Matt: Okay.. just don't say anything
Natalie: Don't get emotionally attached to me either.. you never know
Natalie: That was fun



Daily videos






Paranoia and a big fight about more secret partner questions; Amanda to Alex about her dad & Parker (see the video's notes); a partial description of this year's magic ping pong ball veto rules; and Matt & Natalie go to town are on my YouTube (linked top & bottom of every page)

Correction: Within minutes of Matt & Natalie being uploaded, some whiny snitch reported them even though there was nothing explicit to be seen, and my YouTube account is now suspended.. a number of other BB9 YouTubers uploaded this series and they remain just fine.. apologies to my 5,400 subscribers - it wasn't my doing

I have a pretty good idea whose doing it was, but I haven't in the past nor will I now name this person - there's no point.. karma will boomerang itself sooner or later

Meanwhile you can watch the Matt & Natalie episode at Veoh: part 1 - part 2 - part 3 - epilogue
My other BB9 videos are now over there as well



Daily ratings: Romance is (not) in the air edition






Ratings are based on entertainment value



Dear Allison, Rich, Robyn and friends,
Another season and another set of 'twists' out the window before they even get off the ground. I know you guys check the sites, at least sometimes, and I know you've seen the utter lack of enthusiasm among otherwise diehard BB fans about this season's cockamamie setup and the mostly adolescent cast. I also know that ratings are your be-all and end-all and that we feedsters don't mean squat, but we are the pulse of your viewers so give us a listen for a change. Try something fresh this summer, please: regular people, true diversity in the cast, and no freaking twists! If you want sex in there - and you obviously do - put in real couples and don't sabotage them: it's simple. Genuine human behavior is the best bet for interesting dynamics any day of the week, and ordinary people are the true wackos.. the ones who seem like they'll be wild 'n wacky are usually dull dull dull once the novelty wears off.
Also, it's time to put in some new trivia or dump it entirely in favor of something else like say, the Hamstercam! And the music is still WAY TOO LOUD when you block us out of the feeds.
Thanks for your consideration in these matters.
Your pal,
dingo




Paired with Sheila

He showed up today! He didn't say much though. He's already in the 'why did they cast this guy?' category as far as I'm concerned.



Co-HEAD OF HOUSEHOLD
Paired with Amanda

He sure got upset about James' random comment and about Amanda's spreading it around, and he hasn't let go of it yet. Hey Alex, you're co-HOH and sitting pretty right now.. get over it or you're going to confront your way right onto the block next week. Normally I'm all for fights and the like in there, but this guy's hugely repetitive and boring about it. As far as what James said - about there might be more secrets they don't yet know about - this doofus needs to listen to Julie and expect the unexpected.





NOMINATED
Paired with Ryan

She was around a lot today but didn't do a lot, at least not that I noticed, but they've had a booze delivery for Showtime so things may be looking up.





Co-HEAD OF HOUSEHOLD
Paired with Alex

She's proving to be a real busybody and stirring up things right and left. That's good for us but unfortunately for her, it's made Alex go around bitching to anyone who'd listen how he's got no chance in the game due to his ditzy partner, which he followed up by browbeating her about it til he made her cry. For her part in this soulmates convo, she highly exaggerated a confrontation with Parker last night regarding a lightly-said suicide comment and her dad's death, and later stuck her tongue out at us.





Paired with James

She's not out there much, but she's busy. I'm still thinking she might have a lot of gameplay potential but if so, it might be hard to catch. She works quietly.





Paired with Chelsia

He caused an uproar around the habitat with a random comment similar to Julie's 'expect the unexpected'. Amanda's the one who spread it around but James got the flak for it. It all seemed to confuse him.





NOMINATED
Won: $5k
Ryan's girlfriend/Paired with Parker

She had a lower profile today than she has, but she's still whining and crying too often, and doesn't seem to have much else to offer. Some superfan: a lot of her BB facts are off and obviously her strategy isn't the tried 'n true variety.. I bet she only ever watched the air show and never got into the feeds - always a fatal error. She doesn't seem to be complaining about her & Ryan's instamatic sex so I guess nobody else should either.





Paired with

Neil

Sharon

He seems to be getting over Neil's departure and even told a story at the Valentine dinner table about some guy in his life back home. Other than that, he kept a fairly low profile today and didn't cry.





Paired with Natalie

Did he put on the crown randomly, or was he feeling a bit threatened at the moment and wanted to make a not-very-subliminal statement? No matter.. it looked silly whatever the reason. He had his fun tonight thanks to Natalie, and then he wrapped it up with a random 'Do not get emotionally attached to me.' Who says romance is dead?





Paired with Matt

Today she said she was a stripper for five years, which probably didn't come as a huge surprise to most. She's still got the widest variety of facial expressions of any of them, and she gets around and into the middle of everything enough that we get to see many of them often. Well, we didn't see her face when she was doing Matt: she was undercovers til she finished him off.





NOMINATED
Won: $5k
Paired with Jen

I'm not sure how directly involved he was in the causes of the James/Alex fight today but he sure ended up in the thick of it. Then again, he usually ends up in the thick of whatever controversy is going on. I think he's still trashing Jen to anyone who'll listen but that's not going to do much for him unless he and/or she can win the veto.





NOMINATED
Jen's boyfriend/Paired with Allison

Jen's a lucky girl. First we got to experience Ryan's snoring, and now he's inspired a remake of that old classic Sixty Minute Man (click to listen). They're going to change the lyrics a bit for him though: the new version will 'Sixty Second Man'.





Paired with

Jacob (her ex)

Joshuah

She seems to have gotten all her anger & angst out last night and was relatively quiet and low-radar today.





Paired with Adam

She had a few one-on-ones and small group combos but aside from her fake fight with Joshuah yesterday, and despite her Pet of the Year background and recent appearance on the Scott Baio reality show, her in-house moniker of Mom seems to fit. She's up early, she cooks and cleans, and is pretty much like watching Kail in there. I have a feeling Sheila may be doing more driving game-wise than Kail did though, and doing it better.





Paired with Joshuah

He left suddenly and mysteriously. Details to follow as/if they become known.





Paired with Sharon (his ex)

Gone before the feeds kicked in: he didn't even make an appearance. All that potential for rehashing their breakup and/or a jealous rage up in smoke. To make it worse, he & Sharon didn't even get an exit interview in Julie's boudoir - how rude!



Please do not repost any content from this site (or any other) without permission, and do not repost or hotlink to any images
!! THIS MEANS YOU !!

THE FEEDS ARE ON!
TWO WEEK FREE TRIAL

This year for the first time, you can sign up for monthly renewal
or save with a three month subscription
- and both come with a 14 day free trial!



LATEST TWITTER


posted :
""

Get free Hamsterwatch updates to your cell phone! Text 'follow hamsterwatch' to 40404 to sign up (21212 in Canada). Click for more info






UPCOMING COMPS


Food comp

might be Thursday

will happen eventually. Sometimes they put food comps on the feeds, sometimes not. Veto comp is Friday and won't be on the feeds.






POWER STATUS


Alex & Amanda are HOH
Allison & Ryan and Jen & Parker are nominated






RATINGS WATCH


Wednesday's show was third for its timeslot again with a 3.8 rating and 6 share, behind 'American Idol' on Fox with 14.2/22 and 'Deal or No Deal' on NBC with 7.1/11.







NEXT SHOW


Sunday, February 17 at 8pm: nominations & assorted dramas










LINKAGE


Click to see my full list of BB9 links. These are some of my favorites.

24/7 feeds - 14 day free trial
see everything that happens before it gets edited into something else for tv

No time-out feed links including set-up how-to, plus Real contact info

Hamsterwatch Chatroom

Hamsterwatch Forum

BB9 adult/explicit links

CBS Big Brother 9 the official site

DogDave BB9 by any name, still the first to find big news, all the edgy stuff & the best mini-recaps in town

Attw x's houseguest tributes all seasons fun & reference by BB's number one fan

BuddyTV - Big Brother 9 TV supersite with news, articles, discussions

Sir LinksALot Big Brother 9 all the links

Reality TV Links - Big Brother 9 emphasis on individual hamsters' sites










THANKS FOR VISITING


Donations are gratefully accepted through Paypal using the button below or direct by email. Please support other BB9 sites that you like, too. Many thanks!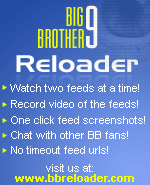 This site isn't necessarily thorough: it's what I catch and/or what interests me. It also isn't necessarily about who should win, who will win, who I'd be friends with or who is cute. It's about watching hamsters: which ones are doing what and why, which are fun and which are dull. If they aren't entertaining, get rid of 'em! Thanks for encouraging my behavior.