June 2007 - Pre-season
SuperPass early bird discount

Sign up here for the feeds before July 4 and get a discount! Save money, get your RealPlayer configured before the feeds kick in on July 5, and support Hamsterwatch - all at the same time

RealNetworks and SuperPass are generously offering discounts to Hamsterwatchers who sign up early this year - and that goes for your choice of three plans! Save $2 when you sign up for a month-to-month membership, save $10 when you sign up for three months, or save $15 when you sign up for six months! The six month early bird package costs the same as three months at the regular price - the feeds will rerun again this year after BB ends, and SuperPass has a ton of cool stuff year round

These prices are good for as long as you stay a subscriber, and include a no obligation, three-day free trial - but they're only good thru July 4th so sign up now!


SuperPass signups are the number one way you can help support this site so I can keep it going all summer, although donations are also greatly appreciated.. huge thanks in advance!



Trunk monkeys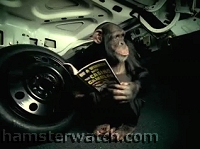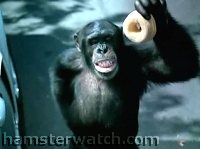 We seem to have feeds! kinda.. going through and updating various pages here, I started poking around my RealPlayer to see if I could get the new direct feed links

What do you know? A BB8 logo is showing up for F1-F4 plus Quad for dialup and IDSN, and trunk monkeys are on broadband! The lil critters seem to be an ad series for a group of Oregon (?) car dealers.. I hadn't seen them before - they're cute.. (well, stranger things have shown up on BB feeds: remember South American volleyball and televangelist Dr. Gene Scott's brief appearances?)

So head on over to the no time-out feeds page and check 'em out - they're also posted in today's linkage.. if you're really anxious, you can configure your RealPlayer favorites now so you'll be all ready on July 5 - like last year, I've made & posted one-click files (a Hamsterwatch exclusive).. I can't guarantee these will be the perm links, but they're looking like they might be

Some folks have posted an air schedule that runs thru September 30.. I don't think it'll run that long with only 12 hamsters but I don't know, so if you don't have a SuperPass yet you might want to wait til June 30 to be safe.. I'll keep issuing reminders with SuperPass signup links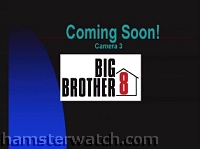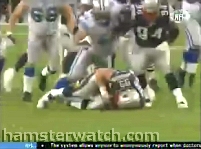 Update Well, the trunk monkeys seem to have moved on: as of June 21 we've got BB8 test patterns with new age/jazzy music and NFL Network - huh? Hey, isn't that a pay channel? Hmm I wonder if they've got licenses etc to stream that.. gotta love the overnight feed crew!



Getting ready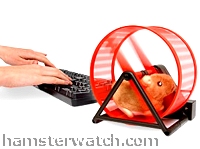 Apologies for the various links that aren't working yet, but I'm gearing up for the new season and am pedaling as fast as I can here.. everything's on the way

You'll note that the new chatroom is open and ready for business.. there will also be a forum here for less casual/more permanent chat as well as feed updates, screencaps, and of course TD's BB8 Park

The BB8 links page is off to a good start also.. there seem to be more Big Brother sites every season - I think this market is glutted, but still we carry on

Both the chatroom and forums will also have areas to discuss other 24/7 live feeds - there are more & more all the time.. some will fade away and some won't, but the concept is growing

After BB8 ends in September, I hope to shift my commentary & ratings over to these other feed shows like I did for Justin.tv on my MySpace blog the last couple of months, so hopefully you'll make this your one-stop Hamsterwatching site for all 24/7 feed shows!

And yes, the USB hamster wheel is a real thing.. apparently it speeds up or down according to your typing speed



It's official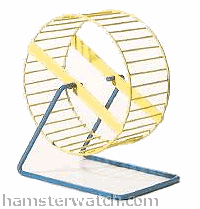 The paperwork's been signed: RealNetworks will once again provide the Big Brother feeds this year as part of their SuperPass subscription.. please remember to sign up for your feeds here! New graphics & links will go up as soon as they're available, and will once again include a free, no obligation 14-day trial

Showtime will be running feeds nightly on its ShoToo channel: "Big Brother After Dark" will air 9pm to midnight BB/Pacific time (midnight to 3am Eastern).. it will be interesting to see how cable subscribers react to flames/fishies/FOTH or whatever they plan on using this year for censoring

The show's regular air schedule is mostly unchanged with live Thursdays at 8pm, Sundays at 8pm and Tuesdays at 9pm.. full eps will be viewable on CBS.com after the fact

"Housecalls" is also confirmed to come back, with Gretchen hosting solo.. Janelle may do a few and maybe some other formers as well.. let's hope they get a clue this year and let the official BB internet show talk about the feeds as shown on the internet rather than the air shows with their stale news & often fictitious storylines

The rest of the new and (hopefully) improved Hamsterwatch.com will be launching here in the next couple of weeks too, so check back before July 5 (when the season officially begins)



Don't get me started






The season hasn't even begun and already I've found my caps the other day and my wordage pasted onto various BB sites and MySpaces etc, sans credit.. granted I don't own the CBS ad or the feeds that future caps will come from - and that's acknowledged at the bottom of every page - but it takes some time to cap, select, crop, tweak, upload, and so on.. it also costs money to keep all those images stored

I do own my wordage - hence the © symbol on every page

Quit taking stuff that isn't yours, kids That goes for stuff you lift from this site and every other site, Big Brother-related or not.. if you can't do your own homework, find a new hobby

So apologies in advance to the majority of you who are not two-bit thieves, but I'm going to have to watermark all the caps that go up here this season due to the lazy eejits who don't understand that it is wrong to steal.. maybe I'm being petty, but so be it - these morons piss me off

PS I'm not even going to address the high school friends & foes "twist" rumor - if that one's true, I don't think I could stomach watching


Daily linkage - see all links

Today's must-click specials:
Trunk monkey ads - Trunk monkey merchandise - also BB8 video anticipation by Aldav


Latest twitter - sign up below - posted :
""

RealOne SuperPass
Get a 14 day free trial with this link

Aldav first to find big news, all the edgy stuff & the best mini-recaps in town (adult content)
Attw x's houseguest tributes all seasons fun & reference by BB's number one fan
BuddyTV - Big Brother 8 news, articles, discussions
Reality TV Links - Big Brother 8 emphasis on individual hamsters' sites
Reality TV Links - Big Brother 9 emphasis on individual hamsters' sites
Sir LinksALot Big Brother 8 all the links
Sir LinksALot Big Brother 9 all the links

CBS Big Brother the official site includes archives of the aired shows

Hamsterwatch Big Brother 8 navigation tool for the daily recaps on this site
Hamsterwatch YouTube videos off the feeds
Hamsterwatch MySpace friend me for special bulletins and to play Caption This
Hamsterwatch Twitter text 'follow hamsterwatch' to 40404 for updates to your phone



Please do not repost any content from this site (or any other) without permission, and do not repost or hotlink to any images
!! THIS MEANS YOU !!

LINKS FOR NO TIME-OUT FEEDS

HAMSTERWATCH SPECIAL!


PRICES DISCOUNTED THRU JULY 4









FREE TEXT UPDATES


Text 'follow hamsterwatch' to 40404 to sign up for feed updates, spoilers and big news right to your cell phone or IM. A Hamsterwatch exclusive - more info







POWER STATUS


Nobody is Head of Household
Nobody is nominated







JULIE ON LETTERMAN


Julie Chen makes her annual pilgrimage to 'The Late Show with David Letterman' on

June 25

June 28 to hype Big Brother and get ribbed about her hubby Les Moonves (Dave's boss)







12? 14?


TV Guide's July 2 edition has an ad that says '14 houseguests' this season, which is two more than the number of photo frames Julie stands by in the new ads, hmmm. What does it all mean? We'll find out soon enough. Thanks to Hamsterwatcher Vance for the info!







NEXT SHOW


Thursday, July 5 at 8pm
Feeds will likely kick in after the premiere airs in the East







RATINGS WATCH


To follow






NOTHING TO SEE YET EDITION


Stay tuned for daily ratings. I will try to be kind & objective, but it's really up to them.. I'm making no promises here.






Everyone starts with a complimentary neutral, even them. Here's hoping for more reality and less 'twist' - it would be nice to give them lots of ups this year (for a change).






Ready & waiting for hamster #1






Ready & waiting for hamster #2






Ready & waiting for hamster #3






Ready & waiting for hamster #4






Ready & waiting for hamster #5






Ready & waiting for hamster #6






Ready & waiting for hamster #7






Ready & waiting for hamster #8






Ready & waiting for hamster #9






Ready & waiting for hamster #10






Ready & waiting for hamster #11






Ready & waiting for hamster #12



THANKS FOR VISITING


Donations are gratefully accepted through Paypal using the button below or direct by email. Please support other BB8 sites that you like, too. Many thanks!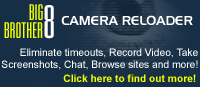 This site isn't necessarily thorough: it's what I catch and/or what interests me. It also isn't necessarily about who should win, who will win, who I'd be friends with or who is cute. It's about watching hamsters: which ones are doing what and why, which are fun and which are dull. If they aren't entertaining, get rid of 'em! Thanks for encouraging my behavior.