August 9, 2007 - Day 41






>>

Kail evicted 4-3 - Jessica is Head of Household

<<

>>

If the site's slow or pics don't load, please try again later.. mornings are slowest

<<



Medic!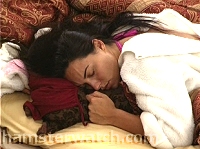 Jen seems to be getting worse, all for the want of some cheap earplugs

Jessica had a similar ear problem early on.. Boogie and a couple others had similar last year.. why does this have to be a repetitive problem? There's no excuse for them to keep dunking people's heads in slop without providing them earplugs so this stops happening

I don't know if I believe Jen when she says she's only here for the experience.. she was after all reportedly coached by Willboogie, and Will said daily last year that he wanted to go home.. but if it is true for Jen, she might just up and walk and get herself to a real doctor than go through this

The blues come and go, and we have our first semi-surprise eviction thanks to incessant waffling (and perhaps Diary "suggestions" due to boardroom politics and bad press)

Kail walks the plank in her bunny suit and Dustin's lying about his vote before she even plops her cottontail down on Julie's couch



"Booyah Dad!"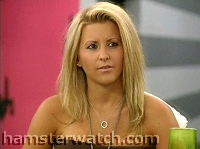 Jessica's win is a little overshadowed by hissy fits before CBS even signs off - that's not right

The bunnies are still bunnies til midnight, even though it's day 6 of a 5 day event - they don't even try to be convincing with these shams

When the feeds come back Eric's happy, naturally - he can barely contain his glee in fact.. Jameka's upstairs praying.. Amber's being Amber: fluctuating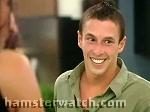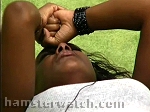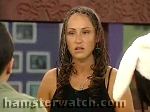 Zach's being Zach, and Dick's being Dick - trying to make the others uncomfortable by his mere presence.. Jen comforts Daniele, who's crying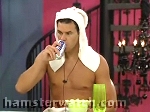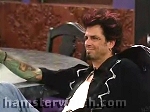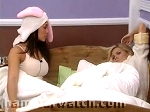 It looks all happy family on the surface, as Eric hugs Jameka and says he loves her.. Dustin's even happier than Eric and celebrates in the gym first with Amber and then with Eric, who lets a little oops slip out while goony happydancing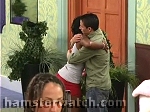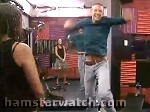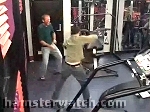 Dustin: Five of us rocked this house!
Eric: Let's make it fucking open war
....
Eric: The EPs [executive producers] are gonna be happy because they got back the fucking person they cast in this show

Daniele's melting down in the kasbah room, crying that she wants to go home, they all hate her, they're going to kick out Dick and she'll be alone in there.. it's 20-year-old stuff and Dick's very calm and supportive.. she even lets him hold her, which is a big win in my book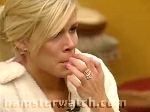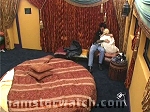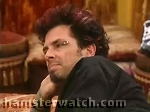 I said.. Booyah!!!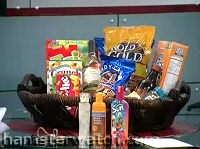 HOH room time comes around again, with its fully stocked convenience store counter

If anyone's HOH room should have been fun, it's Jessica's.. that isn't really the case though, thanks to all the tension and nastiness floating around the habitat.. it's another morose affair, with temporary smiles and folded arms on the hamsters & bunnies

She's happy with her pom poms and pictures, her sunflower and plushies and sweats, even if the rest of them don't seem as happy for her as they should be.. I say booyah for Jessica!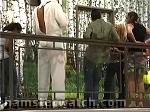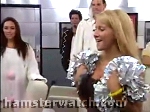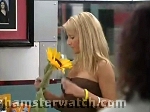 The feeds seem to focus on Dick & Daniele a lot - her likely nominees - they're as pleasant as the others.. nobody's overjoyed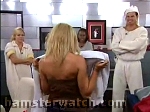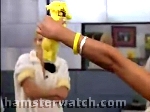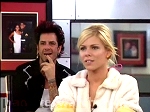 HOH exit order is always interesting - oddly enough, Dustin leaves first - I don't recall any room debut where the new head of household stayed behind alone, but Jessica does and reads her letter.. how can you not love someone who laughs out loud when reading to herself?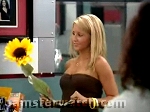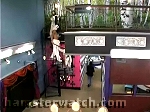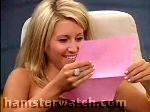 Eric heads up there soon after and proceeds to all but take credit for his own save, her win and the sun rising, and he instructs her as to what "they" are going to do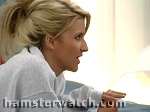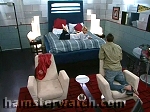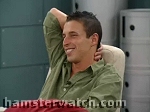 Dustin comes along and Jameka, and finally there are some smiles in the HOH bedroom again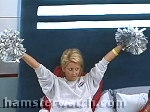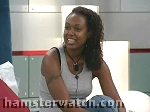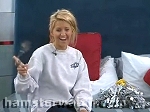 Big Brother 8: Jihad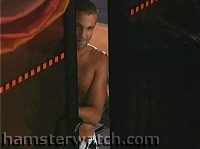 Dick's making tacos for himself and Daniele, and Amber & Jessica come by to chat

It starts quietly enough but quickly escalates to perhaps the nastiest fight ever seen in there in 7½ seasons

Dick seems under control and almost seems to be relishing it - later he says it's just to wind them up so they'll play personally rather than strategically.. he continues cooking throughout

Dustin peeks in at the door for a few minutes and smirks, but doesn't venture closer

Amber gets upset and Jameka tells her not to react.. she's taken out pretty quickly with some cracks about drugs and motherhood.. Jameka carries on, calmly at first but then it gets to her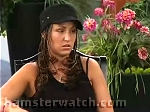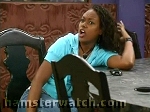 It goes to religion, with Dick attacking Jameka's - she counters with attacks on his mother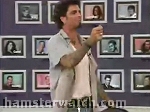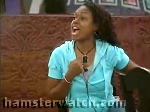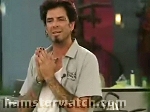 It gets personal and very nasty, on both sides.. we've seen this from Dick before, but not Jameka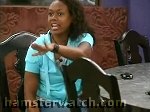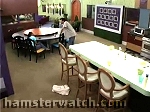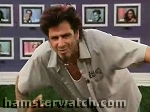 Jameka & Amber finally head outside and tell Dustin & Eric about it, from their point of view.. both guys take ownership and start talking as if they were in it, trashing Dick to hell and back along with Daniele (who wasn't involved).. Amber tells her side and cries, naturally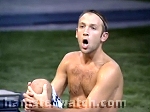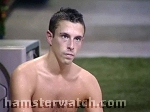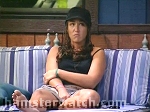 Dustin gets so worked up he starts screaming things.. he even marches up and shouts at Dick - through the closed door, sans microphone.. inside, father & daughter are enjoying a nice dinner together.. Dustin & Jameka eventually settle down a bit and start doing the laundry that Dick usually does.. Eric doesn't settle at all and surpasses even himself, spewing his most horrible stuff yet along with another possible oops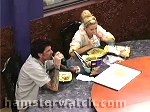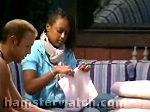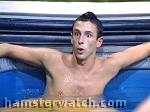 Dustin: Washed up deadbeat white trash dad!!
....
Eric: Is he the fucking twist? Is he a hired actor??
....
Amber: Did you see them in there eating dinner together, the two of them at the table with their salad and their..?
Dustin: Pathetic!
Amber: She's like 'Are you ok?' He's like.. they're in.. you'd think they're a fucking couple
Dustin: No, no, no, they're disgusting
Eric: I said outright the other day, I said I'm going to walk in on them fucking
Amber: You should have heard him the other night.. he was going off about he loved little petite blondes
Eric: What??!!
Dustin: Oh my god!
Eric: Oh my god
Amber: It sounds like to me he's got the hots for his daughter

hear it yourself

Midnight comes and the dust settles as Showtime signs off.. Dick's not upset at all.. Jessica, Jen & Zach descend from upstairs and join the hot tubbers.. Eric seems done but he rebounds later.. Jen gets to shed her bunny suit and is looking positively ethereal: she's gone from being in the worst spot in the house to one of the best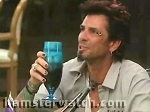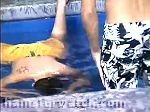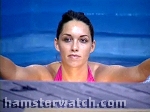 Shut up, Eric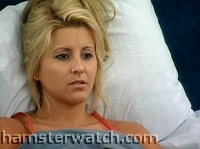 Eric presumably gets his AP assignment as he yacks at Jessica for a couple of hours, like he does

He talks so much trash about most all of them that it's too hard to filter out which one he's potentially getting paid for.. Jessica looks about as numb from trying to follow him as I feel

Zach chats with Dick & Daniele as if he's on their team, then follows up with a Dustin convo as if he's on that team - maybe he's just hedging bets for whoever's left when the blood's all mopped up.. Dick & Daniele have a long, relaxed and friendly chat into the pre-dawn.. they're getting along really well now most of the time, whether it's game chat or personal stuff, and they can even joke with each other.. it's good to see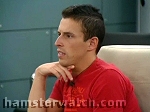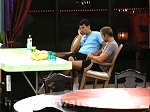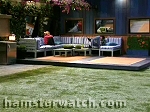 Dick: I feel like in this game and in this place that I really have accomplished my real goal, and the game part was secondary
....
Dick: Just know I love you very much.. I always have and I always will, that I promise
Daniele: Now, is this a love like the love that Amber has for Nick?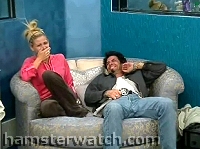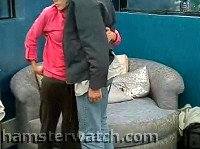 Daily videos



Post-HOH comp fallout: group; Eric & Jameka; Eric & Dustin; Dick & Daniele; Jessica's HOH room and she reads her letter; visits to Jessica by Eric & Dustin; Dick versus Jameka plus Amber holy war and fallout; convos between Dick/Daniele/Jen, Dick/Daniele/Zach; Dustin/Zach; and Dick & Daniele are on my YouTube.. see also videos in the forum by LilTiger




WATCH BIG BROTHER FEEDS ON SUPERPASS


TWO WEEK FREE TRIAL
Daily linkage - see all links

Today's must-click specials: Change of Guard BB8 Park by TD; and Daniele's HOH blog
and Julie tells Kail about Eric/AP on The Early Show plus follow-up fluff
and Eric & Amber insinuate incest about Dick & Daniele, with Dustin's encouragement


Latest twitter - sign up below - posted :
""

RealOne SuperPass
Get a 14 day free trial with this link

Aldav first to find big news, all the edgy stuff & the best mini-recaps in town (adult content)
Attw x's houseguest tributes all seasons fun & reference by BB's number one fan
BuddyTV - Big Brother 8 news, articles, discussions
Reality TV Links - Big Brother 8 emphasis on individual hamsters' sites
Reality TV Links - Big Brother 9 emphasis on individual hamsters' sites
Sir LinksALot Big Brother 8 all the links
Sir LinksALot Big Brother 9 all the links

CBS Big Brother the official site includes archives of the aired shows

Hamsterwatch Big Brother 8 navigation tool for the daily recaps on this site
Hamsterwatch YouTube videos off the feeds
Hamsterwatch MySpace friend me for special bulletins and to play Caption This
Hamsterwatch Twitter text 'follow hamsterwatch' to 40404 for updates to your phone



Please do not repost any content from this site (or any other) without permission, and do not repost or hotlink to any images
!! THIS MEANS YOU !!

LINKS FOR NO TIME-OUT FEEDS

14 DAY FREE TRIAL


Watch the feeds on SuperPass









FREE TEXT UPDATES


Text 'follow hamsterwatch' to 40404 to sign up for feed updates, spoilers and big news right to your cell phone or IM. A Hamsterwatch exclusive - more info







BBQ SMACKDOWN SCORECARD


Round 1: BBQ 1, Dick 0







POWER STATUS


Jessica is Head of Household
Nobody is nominated







AMERICA'S

PRODUCERS' PLAYER
Who should Eric 'get nominated'? Polls closed at midnight.







NEXT SHOW


Sunday August 12 at 8pm - Westies can watch live thanks to Jen & Sean







RATINGS WATCH


Thursday's show and Fox's NFL preseason game tied for 1st for the timeslot with a 5.2 rating and 9 share.






SPECIAL HOLY WARS EDITION


VTE=Voted to evict
Daily ratings are based on entertainment value. Editors are based on the most recent air show.






PLEASE TURN UP THE VOLUME ON THE FEEDS (but not the blues music).


Thursday's show moved on from Nick the Martyr to a combo of Stoopid Amber and Evil Saint Eric in a morality play that left out most of the major characters. The music's getting worse, from the hinkydink backing up Amber & King Dustin to Jameka's organ hymns making a joke of religion and the downright cruel clown music for Kail's hubby Darin.. what's up with that? Kail's farewell from Dustin was obviously 'led' or 'coached' since CBS exploited her gay comments, but she & Dustin were good pals in there. Amber's rant was the highlight of the show and it's exactly how they hoped the AP scam would work, even though it wasn't really related to that. It was wrong for Julie to only ask Daniele questions about Dick and when & where did they solicit 'viewer questions' anyway? I don't understand the point of a Q&A comp having a Western theme and titled 'Let's Make a Duel' but they do love to stir up hatred, don't they? If Julie could get through a show without a flub or a season without blurting out an answer, I think most viewers would faint from shock. As for the bunny suits? Best twist ever!






VTE Kail
I'm so done with her but I have to keep her at neutral because she's going to have enough to deal with when she gets out of there and finds out not only how CBS has crucified her and made her a laughing stock, but that so many viewers are so horrible about her. Maybe she brought it on herself but if she's getting this kind of treatment, why is Eric getting away relatively clean when he's so much worse?






No vote (HOH)
She had a whiney meltdown and 'I wanna go home' tears but that's neutralized for starting to come around to realizing she has a father who loves her. It was just wrong of Julie to ask her only questions about Dick - it was her HOH after all, and she's the one who figured out the Eric problem. Somebody needs to supply more accurate notes for our hostess that give credit where due.





VTE Eric
His fight with Jameka earns a negative easily even though it's just his style of game, but it's tempered by the way he dealt with Daniele's meltdown and the fact that those two are a team now, closer in many ways than most parents & kids that age. They still have issues but they've made remarkable leaps in their relationship and it definitely seems to be on the mend. That's still the story I'm watching here.. if I had my way, they'd walk out now in favor of further strengthening their new-found ties rather than spend a few weeks in Paradise©. They've both acknowledged they'll probably never see the prize money anyway.






VTE Kail
He's turned into a really bitchy little man taking credit for everything as much as Eric does, leading several of them to say 'We got rid of the wrong gay guy'. He was way too overjoyed at Jessica's win - you'd think he'd won - and he'd have double-downs for his big talk and non-action if it weren't for his comical way of being cowardly when not sticking up for his friends. Attw x put it best: 'Yelling at a closed door without his mic? I've got more balls than that - and I'm a girl!'






No vote (nominee)
AMERICA'S PLAYER
9 of 15: $10k so far per my tally:
#1 sob story to Kail - success
#2 evict Carol - success
#3 nominate Jessica - fail
#4 sleepwalk - fail (on a technicality)
#5 evict Joe - success
#6 nominate Jen - success
#7 vandalize Jen/mustard - success
#8 evict Kail - fail
#9 nominate Jen - success
#10 'I'd do that for a dollar' - success
#11 evict Kail - fail
#12 nominate Jen - success
#13 promise Jessica F2 - success
#14 flatter someone ??
#15 nominate ??
He rambles so much and trashes everyone so much that I can't even tell who his assignments are about anymore, and I don't care. Not only is he general pond scum, but calling one in there a child molester and two others incestuous is despicable. On top of that, he's no fun at all anymore.






VTE Kail
I don't mind her mm-hmm's and I can respect her faith, but she's pushing it too hard and too far for my liking, and rising to Dick's bait to the point of calling his mother (a Christian minister) a bitch was way over the line.






VTE Eric
Her live voting and farewell styles are hilarious and even more so in a bunny suit. She's gone from being untouchable to being in both camps and she's looking to go the distance. More & more fans are switching over - whether from lack of suitable other choices or for her own merits doesn't matter. She's more aware of more going on in there than any of them, and unlike the other get-around Eric, she doesn't spill any more than she has to. Ups all the way.






VTE Kail
HEAD OF HOUSEHOLD
She said her parents stay up all night and watch the feeds, and they've said they read here, so booyah and hi Mom & Dad! I'm sure they're thrilled with her win and rightly so. Her HOH room was kind of a bust thanks to the lack of enthusiasm from her fellow hamsters but watching her read her letter to herself, laughing aloud, and getting just a bit misty was one of the best moments so far in this mess. She got her ear talked off by Eric again and I sure hope he doesn't wreck this week for her like he did last by sticking to her like gum on a shoe. At least she's still removed from the ugliest of the ugly stuff, so far anyway.






VTE Eric
Between the well-tempered bunny suit, M&Ms calendar, and kooky rambling stories about 'Eight Mile' he's gone from an extra to a keeper. He used to be the guy nobody wanted around to the one they all shmooze and want on their side: he's this year's Chicken George! He summed it all up and spoke for me tonight with: 'It pisses me off cuz there's way too many morons still in this game.'








BB8's professional pawn artist didn't contribute much but she stuck longer and hung 'like a bat' longer than anyone expected. Some thought she was a mastermind but she needed a diagram most of the time.








He went from designated pretty boy to badass with pink nails but remained ambiguous. He got blamed for just about everything but spent most of his time laying around with Daniele so missed his chance to get in the game.








He was on Big Brother 8. Barely. His game was like Drew's but without Diane, and without winning anything.








His & Dustin's part in the 'twist' felt legit and disturbing to eavesdrop on. Joe was chatty and catty, he told stories and entertained, and will be remembered for Amber from Vegas and gonorrhea.








She & Jessica didn't fulfill the 'twist' as advertised so off she goes. She wasn't prepared for this, she moped a lot and was barely around, but she gave a good show when she had it out with all the cameras watching her.



THANKS FOR VISITING


Donations are gratefully accepted through Paypal using the button below or direct by email. Please support other BB8 sites that you like, too. Many thanks!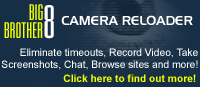 This site isn't necessarily thorough: it's what I catch and/or what interests me. It also isn't necessarily about who should win, who will win, who I'd be friends with or who is cute. It's about watching hamsters: which ones are doing what and why, which are fun and which are dull. If they aren't entertaining, get rid of 'em! Thanks for encouraging my behavior.