July 13, 2007 - Day 14






>>

Jen is Head of Household - Dick & Daniele are nominated

<<

>>

If the site's slow or pics don't load, please try again later

<<



Pre-nom jitters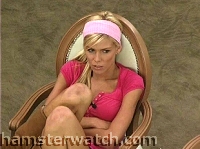 We missed the fun the first time but most of them are nervousing (© BB5 Cowboy) right on schedule today.. Daniele may or may not know she's one of the top targets, but she sure doesn't look happy.. again

They have their food comp, something about pies and blind taste tests.. I believe all the girls are on slop other than Jen of course, which will further irritate her detractors

She has meetings with most of them (I miss most of them) but I gather the Jessica movement grew through the day - well, it's nice to have a scapegoat other than oneself to turn the attention on nomination days

Jen & Jessica meet and Jen asks her point blank about what the others are saying, that she (Jessica) wants Jen out so she can be the prettiest girl in there.. Jessica poo-poos that idea, and seems to wonder why she's even being talked about.. I find it refreshing to have the habitat gossip brought out in the open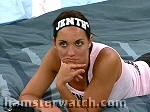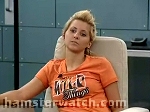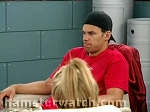 Zach joins them and they make up an odd trio.. there are odd pairings going on all over today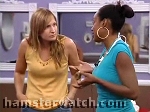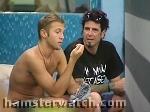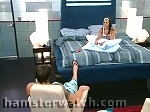 I catch Jen's meetings with Dustin and Joe.. they each go well and by the end of them, it's sounding like Joe & Daniele might be the choices du jour - we'll find out soon enough.. Amber's the only one who didn't request an audience

Bikini hour comes and goes, like it does.. I hope Nick's doing a Zoolander here and that it's not a natural expression.. Jameka's rocking a supermodel look today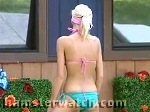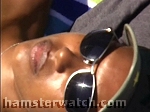 Oops, my bad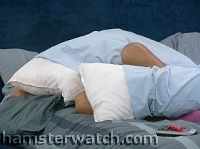 I should know better by now.. I didn't fall for the vote waffling but I did get drawn in a bit by the nom waffling

Jen put up Dick & Daniele, as originally planned, but it isn't easy to tell for a few minutes after the blues leave

Dick's obviously down so it seems either he or Daniele was named, but which? Kail seems smug but she's safe anyway.. uh-oh, Jameka's crying!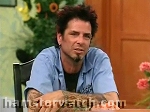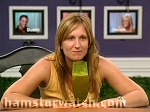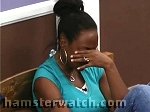 Amber's hugging Dustin.. Jen & her bikini top aren't giving anything up.. it's a problem for a minute but soon it's clear, father & daughter are on the block, and Daniele finally shows up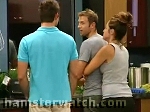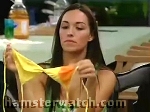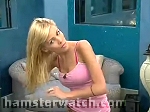 Whispering begins in earnest everywhere all over again.. Amber talks at Nick for days in the hammock, carried on from this bathroom whisper - his hair is particularly odd today.. Eric's got balls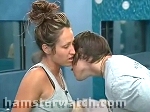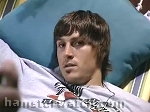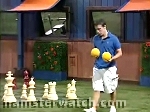 Zach's turning up on most hit lists lately - he's being called a racist and homophobe, and is unaware of the accusations - but he wasn't on Jen's.. neither was Mike who seems to making an effort to look alert here, after two giant yawns.. Jen's enjoying the reactions around the house, especially Dick's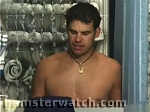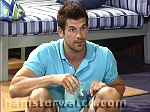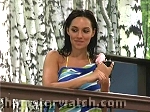 Dick: I'd fuck her so hard in the ass she'd bleed to death

Zach & Mike come out, together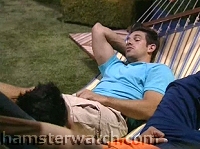 Zach seems to be running the game so far, at least to hear him tell Mike about it

They have some quality hammock time and Zach's story stops just short of having created Big Brother.. then he tells Mike how they can get dates now that they've been on here, and proceeds to go into small talk that sounds a lot like first date chat

Jessica seems as disappointed that I am that her co-host Daniele is busy being a nominee tonight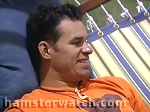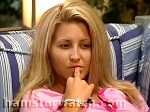 Mike: I haven't said a word to anybody, and I won't
....
Zach: So do you play any sports?

Later Zach goes upstairs to talk himself up to Kail & Jen.. Mike follows later and looks confused by them.. Joe & Jen cruise the hot tub awhile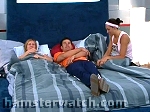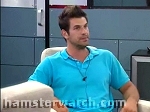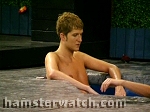 Daniele semi-cocoons, then ponchos, then gets majorly angst'd at by Amber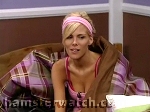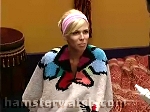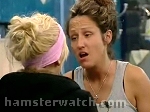 They have a 7am wake-up call Saturday and most of them have decided that means it's double eviction weekend.. it could be, but that usually comes later and the feeds usually go off for the sped-up cycle.. I kind of doubt they'd do that while so many feedsters are still on their free trial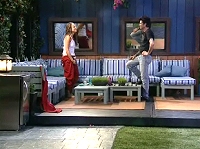 Chances are they'll be holding the veto comp early in the day before it gets too hot - the comparable veto comp was held the day after noms last year.. even if it is double eviction weekend, that has to start with the veto comp

They seem to be getting some hints from Diary that they're a bunch of drips, as several have made comments about how they're so "laid back" that we must be bored - a few days ago they talked like they were the hottest ticket in town.. they don't do much to improve the situation though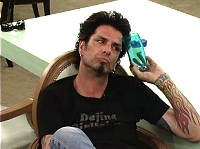 Daniele slipped a comment to Joe & Eric (in an odd late-night trio) about Alison hiding in the pot last year - that was only on the feeds, so it tipped Daniele as not being the uninvolved tag-along that she's portraying.. Eric laughed about it too - we know he's been a feedster but I don't know if they do.. Joe seemed confused by the whole convo

Joe did point out that maybe this is the Reject Show, since so many had applied and been turned down for previous seasons



Daily videos






Jen's pre-nom meetings with Dustin and with Joe, each in two parts, Daniele & Nick after noms, Zach explains all to Mike and maybe have Date Night or something, Kail laughing about getting one up on Dick, and a 2-parter of the The Dick at Night Show are all in the forum




WATCH BIG BROTHER FEEDS ON SUPERPASS


TWO WEEK FREE TRIAL - SIGN UP NOW!
Daily linkage - see all links

Today's must-click special: Mike spies (yes, Mike!) video by xx2000xx


Latest twitter - sign up below - posted :
""

RealOne SuperPass
Get a 14 day free trial with this link

Aldav first to find big news, all the edgy stuff & the best mini-recaps in town (adult content)
Attw x's houseguest tributes all seasons fun & reference by BB's number one fan
BuddyTV - Big Brother 8 news, articles, discussions
Reality TV Links - Big Brother 8 emphasis on individual hamsters' sites
Reality TV Links - Big Brother 9 emphasis on individual hamsters' sites
Sir LinksALot Big Brother 8 all the links
Sir LinksALot Big Brother 9 all the links

CBS Big Brother the official site includes archives of the aired shows

Hamsterwatch Big Brother 8 navigation tool for the daily recaps on this site
Hamsterwatch YouTube videos off the feeds
Hamsterwatch MySpace friend me for special bulletins and to play Caption This
Hamsterwatch Twitter text 'follow hamsterwatch' to 40404 for updates to your phone



Please do not repost any content from this site (or any other) without permission, and do not repost or hotlink to any images
!! THIS MEANS YOU !!

LINKS FOR NO TIME-OUT FEEDS

14 DAY FREE TRIAL


Watch the feeds on SuperPass









FREE TEXT UPDATES


Text 'follow hamsterwatch' to 40404 to sign up for feed updates, spoilers and big news right to your cell phone or IM. A Hamsterwatch exclusive - more info







A MESSAGE FROM DICK (and me)


Happy birthday to Vincent







POWER STATUS


Jen is Head of Household
Dick & Daniele are nominated







AMERICA'S

PRODUCERS' PLAYER
Who should Eric try to get nominated?
Polls closed at midnight: Jessica







NEXT SHOW


Sunday, July 15 at 8pm - Westies can watch live thanks to Jen & Sean







RATINGS WATCH


Thursday's show was #2 for its timeslot with a 4.2 rating and 8 share, behind 'Are You Smarter Than a Fifth Grader?' (4.3/8) and 'Don't Forget the Lyrics' (5.0/9) on Fox.







Groceries delivered to your door!

FIRST (TRUE) NOMS EDITION


Daily ratings are based on entertainment value. Editors are based on most recent air show.






Julie really worked the 'twist' on Thursday's show, probably because it's about done for. Dick & Daniele's backstory came out (coincidentally also over money? hmmm), as did Eric's. Kail's bobbing & weaving during her HOH interview was peculiar, but so was Julie's big hair. Ms. Chen didn't flub many lines tonight which was good - hey, the audio not being on for her first 'Hello houseguests' probably wasn't her fault. Although I'm always happy to hear her say 'without going over' some people are up in arms about the HOH comp (even though I gave fair warning to expect a Jen win) but look at it this way: it's a tv show. Sit back and be entertained and stop hoping for reality or a fair game.. it ain't gonna happen.






She comforted Dustin while her buddy Jameka was crying after her buddy Daniele was nom'd.. ooookay. She got real busy after noms but I pretty much tuned her out today after her hour-long monologue to Kail about her ultrasounds, her cervix, her sinus surgery, the scab up her nose after her sinus surgery, and on and on and on. Enough!






NOMINATED
No dramatics from her after her nomination which followed her going on slop again, so she's pretty much a bust as far as entertainment purposes, and she's also a totally silent whisperer, which we do not need. She tried to talk about the veto comp with Nick but he asked for a cuddle instead and proceeded to clip his toenails. She seems to be moving to cocoon mode and may not come out of it.






NOMINATED
He made a big attempt to act normal after nominations but he overcompensated and was too normal, for Dick. It didn't take him long to come back and start trashing Jen again, including a doozy of a threat regarding death by anal sex but hey, it's Dick and we forgive him that stuff. He doesn't like being put on the block by Jen of all people, and it shows: he seems like he might be cracking just a bit around the edges. He's in a no-win situation for the veto comp: if he wins it, does he take himself off or does he avenge his tarnished dad image (and Marcellas) by taking off Daniele; and if he loses, then he could lose it all. Most don't want to see him gone (including Jen), but he doesn't know that. Easy upgrade to ups for The Dick at Night Show.






He laughed up a storm with Amber this evening and even though I didn't know what it was about (since my feeds are currently on Amber boycott) it was an infectious laugh and it felt good. He made a good presentation to Jen and though his motives were mostly selfish - as expected by any of them - he stated a good case and presented it well.






AMERICA'S PLAYER
Is he a mole or is he a weasel? I think I've seen him before.. isn't he the guy who gets fired second on every series of 'The Apprentice'?






I'd like to give her ups for crying but her tears looked sincere (which feels bad) and they were misplaced, making feedsters think for a minute she was a shock nomination. I'm still not sure why she was crying.






HEAD OF HOUSEHOLD
Yep, she stirred up the house and did it good: just what we needed. I like that she asked people about what others were saying about them.. having more of the whispered gossip out in the open could add a bit of interest with a truly new 'twist' to this game.






After the great promise she showed yesterday, she was largely off my feeds today and that was a huge disappointment. Thanks to Eric's latest assignment she had her moment in the nomination possibility spotlight and that's good - it should leave her safe and available to entertain us for awhile to come.






Instead of making a nice presentation to Jen to save himself, he pretty much gave her a bunch of reasons to be nominated by being overly defensive and forgetting to offer up alternate names in place of his own. I gather she gave him a dressing-down about his attitude after the ceremony, which he proceeded to ignore by bitching about it to three or four people immediately afterwards. If the veto's used, Joe's a goner which is too bad as he can be real amusing, but he wasn't today.






She thinks she's got the upper hand with Dick now based on a passing comment, and she's gloating very loudly and very often about it. She really deserves ups for her naivete here but it's likely going to come back and bite her so hard that I don't have the heart to take joy in it now. She got absolutely giddy with each re-telling though, especially how she told Dick 'I have no in with Jen' and then cracked herself because 'Hey, that rhymes!'






He went from being AWOL to being all over, and every time he showed up he had the same lost look on his face. Zach spent an hour or so explaining everything about everything to him (including some stuff that seemed odd for casual guy chat, to me anyway) and later Kail & Jen talked everything out again, and about the only thing Mike said in response to either was 'Huh?' and 'Yeah'. He's getting to be pretty fun to watch, if you can find him.






He thinks he's stirring everything up but he's really better at doing Zoolander faces. He had one good line today though: 'Was that a real fart?'






This guy has no idea he's being whispered about all over town in very derogatory terms, and while everyone else was whispering in 2's and 3's about the next three HOH cycles, he was busy explaining his monumental role in the Carol versus Amber vote to Mike. He's really getting full of himself to the point of practically having the money spent but his real incentive may have slipped out when he told Mike: 'We'll be able to get dates now.'








She & Jessica didn't fulfill the 'twist' as advertised so off she goes. She wasn't prepared for this, she moped a lot and was barely around, but she gave a good show when she had it out with all the cameras watching her.



THANKS FOR VISITING


Donations are gratefully accepted through Paypal using the button below or direct by email. Please support other BB8 sites that you like, too. Many thanks!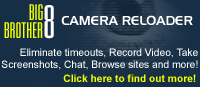 This site isn't necessarily thorough: it's what I catch and/or what interests me. It also isn't necessarily about who should win, who will win, who I'd be friends with or who is cute. It's about watching hamsters: which ones are doing what and why, which are fun and which are dull. If they aren't entertaining, get rid of 'em! Thanks for encouraging my behavior.