July 8, 2007 - Day 9






>>

Kail is Head of Household - Amber & Carol are nominated

<<




Major oops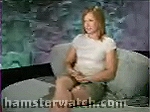 The day starts off with the biggest Diary slippage I've ever seen

Kail's up early and gets called to Diary, where we not only catch a peek of her sitting there but we get one minute of audio.. it sounds like they need some retakes and/or filler to put the show together, as happens a lot on show days

She has some trouble with her lines, so the Diary lady tells her exactly what to say

Listen to the video - there's nothing to see.. I caught the cap on a different feed

After that, Kail gathers her boys around and issues battle orders.. turns out she's quite assertive in the early morning hours, and both Mike & Zach seem to be on board, agreeing with whatever she says.. they complain about "them" a bit too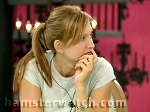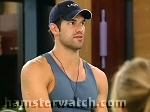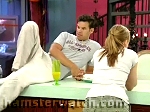 Kail: Is [the booze] all gone?
Zach: Yea, they drank it all.. well, I had three but some people had four or five

Joe models a towel-beard, or something, then checks out his belly, and then excuses himself for umm.. well, I'm not sure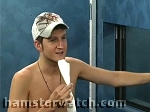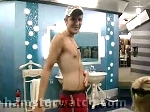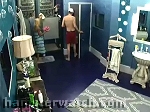 Joe: I'm gonna make magic in the bathroom happen

Jessica shows up more today (as if on cue) and gets confused about predicting votes.. the oversize chess set horsie got broken and is out for repairs.. Dustin models a towel-toga but a zoom shows us it's only got a temporary clasp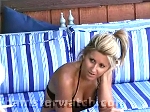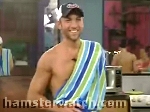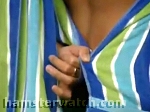 Jessica [about vote counting/predicting]: That would take way too much thinking

Showtime, the first



CBS comes along with the Dick & Daniele Show, including a highlight focus on her supposedly lying about her age again, a Final Two agreement, and a tag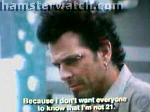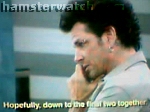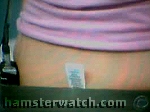 'Because I don't want everyone to know that I'm not 21'
'Hopefully, down to the final two together'

Then the rest of the CBS version of what we missed, including dueling waterworks, and Kail finally speaks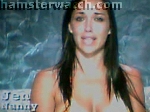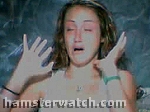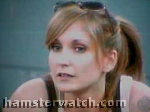 'Jen: Nanny' (why are they hiding her real job?)

HOH room debut, bikini food comp, etc etc, and penalty noms for throwing the first HOH comp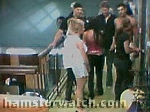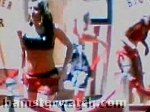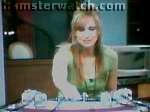 Ambiguously something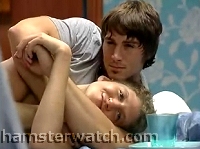 A series of afternoon poses begins with Nick wrapping himself around Joe and resting his chin on his head

Mmm-kay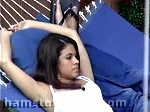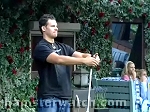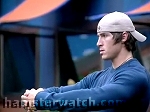 Jameka scoots out the little door and leaves Jessica on cam again, to pose.. Daniele joins her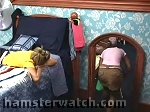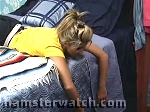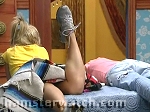 More posing in the backyard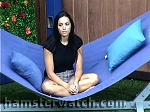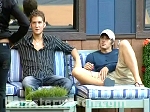 Then it's time to primp for Showtime: Dustin coaches Amber and then himself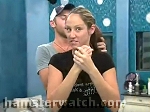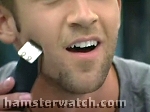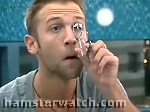 Joe takes his stink off, while Dick sets the table in his wordless slogan shirt for a family dinner.. he gives Jessica lessons about table settings etiquette.. Daniele makes some racial comments & "jokes" to Jameka, who doesn't respond but it's a safe guess she'll remember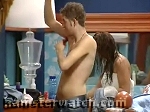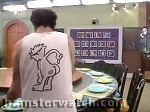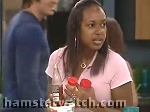 Date night, again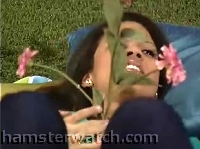 Dinner goes well (with a few more poses).. one camera stays on Daniele again - she eats

Then Showtime kicks in, and while the show part of it isn't as blatant as last night, they aren't acting natural either.. the worst of it is an Eric yack session upstairs - this time his victim is Dustin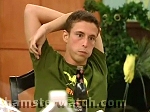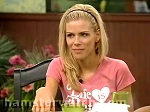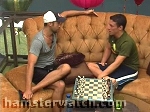 Mike goes on his second date, this one with Carol.. Dick & Kail spin around in the teacup for theirs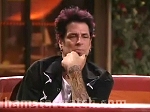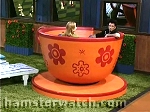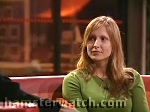 Dustin gives an abs class to Jen & Jessica, but it's really just an excuse to offer gratuitous crotch shots and body pans for Showtime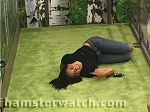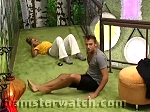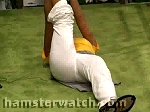 Wasn't about this time last year that Erika held a pilates class?

Even though Jen's been relatively covered up lately, she shows up tonight in a glitter bikini and poses here & there, for Showtime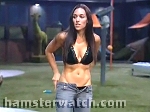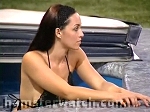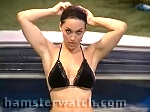 Later she puts on a bikini t-shirt, and the cameras find Jessica baring skin too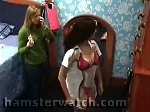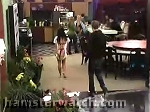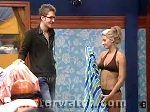 The Showtime show is subtler tonight, but it's still a transparent scam to titillate and to try to hook viewers into watching the CBS show and the feeds.. but since they're dishing out, I guess we have to take it - we don't have to like it though



Random stuff and nonsense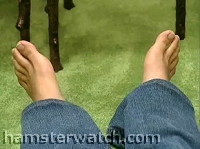 Things turn back to normal for late night, like they do - well, as normal as possible for the human hamster habitat, anyway

Lots of them stay up late again but Dick, Eric & Amber stay up later and talk about oral sex and genitalia for a long time, in very graphic detail

Eric wanders off and Dick & Amber stay up much later to bond some more over their mutual dislike of Carol & Jen (and/or their mutual goal of working each other against Carol & Jen).. they talk about all the others and each says they're not sure where Zach stands, so his position as Kail's secret agent looks solid

(Random caps of Jameka, and Daniele & Nick with their individual kitchen counter styles)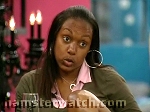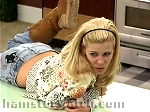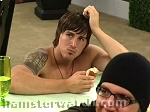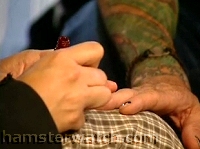 It looks to me like Dick's driving this game at this point, in much the same way Dr. Will did in his seasons.. (he even tipped his hat to Will's BB game while talking to Amber).. he doesn't have Will's finesse or charm, but he seems to be doing pretty well just the same.. so far

I can't fathom why they all think Carol has to go first: she has no understanding of the game and she'd probably tank at comps, but off she's about to go just the same

Once Carol's disposed of, the next one on everyone's hit list is Jen (who supposedly was coached by Will).. at this point, the only thing that would generate much interest in this mess for me would be for her to win HOH next week, and I hope she does



Daily videos






Today's videos (in the forum) cover this morning's Diary oops, Mike & Carol's "date", Dick & Kail's "date", abs class, and Eric on masturbation

If the site loads slowly please wait awhile and check back later - mornings are busiest here.. thanks for your patience

CBS and/or RealNetworks Please turn up the volume on the feeds


Daily linkage - see all links

Today's must-click special: More Alliances BB8 Park for today, by TD


Latest twitter - sign up below - posted :
""

RealOne SuperPass
Get a 14 day free trial with this link

Aldav first to find big news, all the edgy stuff & the best mini-recaps in town (adult content)
Attw x's houseguest tributes all seasons fun & reference by BB's number one fan
BuddyTV - Big Brother 8 news, articles, discussions
Reality TV Links - Big Brother 8 emphasis on individual hamsters' sites
Reality TV Links - Big Brother 9 emphasis on individual hamsters' sites
Sir LinksALot Big Brother 8 all the links
Sir LinksALot Big Brother 9 all the links

CBS Big Brother the official site includes archives of the aired shows

Hamsterwatch Big Brother 8 navigation tool for the daily recaps on this site
Hamsterwatch YouTube videos off the feeds
Hamsterwatch MySpace friend me for special bulletins and to play Caption This
Hamsterwatch Twitter text 'follow hamsterwatch' to 40404 for updates to your phone



Please do not repost any content from this site (or any other) without permission, and do not repost or hotlink to any images
!! THIS MEANS YOU !!

LINKS FOR NO TIME-OUT FEEDS

14 DAY FREE TRIAL


Watch the feeds on SuperPass









FREE TEXT UPDATES


Text 'follow hamsterwatch' to 40404 to sign up for feed updates, spoilers and big news right to your cell phone or IM. A Hamsterwatch exclusive - more info







POWER STATUS


Kail is Head of Household
Amber & Carol are nominated
Daniele did not use veto







AMERICA'S PLAYER


Who should Eric tell a sob story to?
(Polls closed at midnight BB time)
What's the point here? Eric already tells non-stop sob stories







NEXT SHOW


Tuesday, July 10 at 9pm - Westies can watch live thanks to Jen & Sean







RATINGS WATCH


Sunday's show was 2nd again for its timeslot with a 3.9 rating and 7 share. 'Dateline NBC' was #1 at 4.3/8.






SPECIAL SHOWTIME EDITION


Daily ratings are based on entertainment value during tonight's Showtime show time. Editors are based on most recent air show.






I don't know what to think of Sunday's show. I really am trying to keep an open mind but so much of it felt staged to enable the 'twist' and 'good tv' - Jen's tears over her pic, the tinkly piano for Dick & Daniele private moments, Joe & Dustin's bitchy reunion, but oh well, we expect that stuff. We also expect things like buttery bodies comps - they need ratings and that's easier than finding intriguing characters. They did give us the true first tears from Amber and Jen, and some good lines: Dustin's 'I shake like an epileptic in an arcade' followed by Joe's usual 'You gave me gonorrhea' and Kail's 'There's too many people' followed by Mike's 'Especially when three of them aren't eligible' (wouldn't that make it easier?) All in all, a typical Sunday episode, except we didn't have any feeds to assess for skew. I only wish they'd included the tampon fight we keep hearing about.






NOMINATED
I didn't see her much on the feeds at all during the Showtime window so she's neutralized by default.






NOMINATED
She had a 9pm Showtime 'date' with Mike that was dull by any standards. She talked about her boyfriend, her grandparents, her editing.. basically, herself. Granted, I tuned out midway thru but that was her doing. Later Dick used the c-word about her, on air.. that won't sit well with her - or the Senator.






DID NOT USE VETO
Dick talked about her on his 'date' but I don't think she did anything noteworthy on her own during the three hours other than show up a lot.






He had a starring role being on one of the 'dates' and he was surprisingly subdued on his with Kail in the teacup (even if he did 99% of the talking). He made up for it later tho by dropping the c-bomb about Carol, on air. (It wasn't necessary for the Nerd Herd to villify their chosen target after the fact and it's not necessary for him to do it either.)






Solid sympathy ups for sitting there and listening to Eric on one of his endless monologues for as long as he did. I couldn't do it - I couldn't even bring myself to click in to see what the tirade was about this time. Afterwards he went on to lead gratuitous crotch shots class.. Showtime may hire Dustin permanently!






AMERICA'S PLAYER
Will somebody please just shut him up?






I didn't see her much on the feeds at all during the Showtime window so she's neutralized by default.






She put on quite a show for the Showtimers between her glitter bikini, Dustin's crotch shots class, and being the subject of most everyone's on-air bashing. After CBS had her crying over her pic (which I think was phony), she even got a Showtime crawl about alienating herself from the others because of her spoiled behavior. All signs lead to her being the next HOH, and I'm all for that: just think how much it would piss off everyone.






She was Dustin's star pupil for crotch shots class, but she's a lousy actress and it was almost painful watching her try to be natural while doing her lines.






He offered to tell a story - which he does well - but he wouldn't start until he'd gathered a big enough audience and donned a costume.






HEAD OF HOUSEHOLD
She dressed down for her 'date' with Dick and spun with him in the teacup while he did virtually all the talking. She was definitely not a good date, and (so far anyway) she's definitely not good tv.






He went on date #2 in as many Showtimes so he must be the most hot or most eligible or something.. maybe most desperate for a date. He spent his time with Carol telling him how he lives rent free with his ex-girlfriend's parents - that's kind of odd for a 26-year-old isn't it? Let alone kind of awkward for real dates.






He seems to be the designated hunk role but so far he hasn't been on any 'dates' for Showtime nor let much of his ambiguous stuff slip between 9 & midnight. Instead he spent his time trashing Jen with Zach, strategizing with Zach, and talking about splitting the winnings if he or Zach wins. (Yes, I'm being generous about his ambiguity here, but he's usually a lot more blatant with it.)






He seems to be the designated brain role but so far he hasn't done much that seemed particularly smart for Showtime. Instead he spent his time trashing Jen with Nick, strategizing with Nick, and talking about splitting the winnings if he or Nick wins.



THANKS FOR VISITING


Donations are gratefully accepted through Paypal using the button below or direct by email. Please support other BB8 sites that you like, too. Many thanks!






Groceries delivered to your door!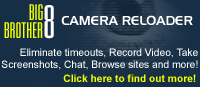 This site isn't necessarily thorough: it's what I catch and/or what interests me. It also isn't necessarily about who should win, who will win, who I'd be friends with or who is cute. It's about watching hamsters: which ones are doing what and why, which are fun and which are dull. If they aren't entertaining, get rid of 'em! Thanks for encouraging my behavior.