8/17/05 - Day 46



>> to the future >> to the past >> daily index
>> latest HamsterWatch episode >> linkage

>>

Jennifer is Head of Household - Janelle & Kaysar are nominated

<<



Ze plane! Ze plane!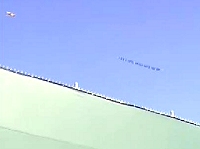 They're herded inside for a lockdown NOW!

Jennifer is the only one who sees it - she claims she couldn't read it

Rumors say it was anti-Jennifer/anti-April - if Jennifer looked right at it and says she couldn't read it, it's a fair bet it was anti-Jennifer

Kudos to Sndypsp at TV Clubhouse for capping it - I thought that plane sounded familiar
Suzie at Jokers said this morning she was going to send J-BLO AND YAPRIL AMERICA WANTS YOUR DOR (thanks to hamsterwatcher Sherri once again)

Jenn's called into Diary - Howie goofs like he's going too.. Beau & Maggie speculate about the implications, whispering about "DOR"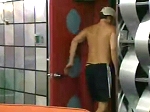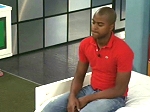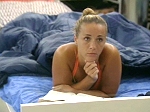 DOR = Discharge on Request.. voluntary exit without pay

Jenn comes out and reaffirms to her crew she couldn't read it.. she's wearing Dan's pic around her neck now.. they move on to hair - she says she "used to highlight her hair"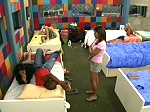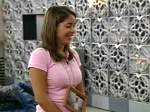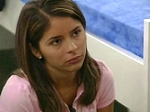 hmmm natural highlights aren't usually so streaky.. or get roots

James tells a story in front of a "Momma's boy!" sign and talks about world affairs.. the photo wall is all pics from comps today - Howie, Kaysar & Janelle study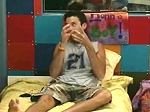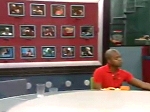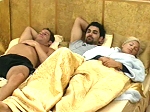 James: One time I got in trouble I thought I was gonna get a beating but my mom threw holy water on me.. give me holy water over a beating any day
....
James: Stupid assholes wasting money on those banners - they should just send it to me
Ivette: I thought she (Jennifer) was Colombian when I first saw her
James: Me too
Ivette: Little Colombian whore
James: Don't insult an entire country - they'll blow your shit up
James is a walking demo of 'pot calling the kettle black'

Kaysar gives Janelle a backrub as they chat, which she loves.. they go for grilled cheese & soup and Kaysar teases her, saying she's "got a fro going today"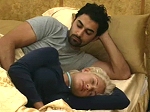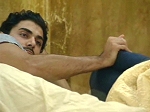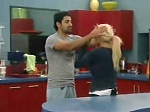 Ivette explodes in a rant - everything she doesn't like is in this house! - Maggie & April smile as they prep food.. Ivette moves on to squeeze Beau zits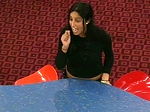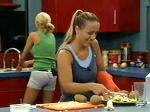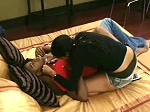 Rachel gives Howie & Janelle a talking-to.. Janelle looks forward to this evening.. Rachel plays solitaire: they were given cards today - two decks - one to each camp






Rachel: America doesn't want to see a bunch of arrogant assholes, and it doesn't want to see a bunch of bullies either
Howie: It doesn't want to see a bunch of sissies like April either.. don't worry America, I'll do what I can.. I'll try to get Busto out of here for ya
Howie: This was the worst HOH in history - no food, no competitions, no luxury, the house is in shambles.. besides that, it sucked
Janelle: It's Kaysar's last night again, we'll have fun - we can gossip, eat cheeseburgers and play cards
....
Maggie (later): Make sure that blue deck of cards is upstairs
Beau: Why?
Maggie: So they don't get them
Ivette: They got their own
Maggie: They'll decide they need two decks for something
Beau: Oh please! Whatever

James & Ivette have a meeting, like they do.. Ivette reports upstairs that he indicated Kaysar is staying.. April is so far off the game onto herself she doesn't even hear it.. Jennifer's walking around like none of them are there.. Maggie makes up beds on the floor even though Jenn said she wanted to be alone tonight

Maggie counts off their votes, which is forbbiden in the rules but no hands are slapped






April: I wish she (Janelle) would say all that mean stuff to me, I think it's funny
April: She keeps saying she's the most beautiful girl in BB history
Maggie: We're not willing to make ourselves look horrible like that
April: Her and her fake extensions
....
Ivette: Now the old gray wench (Rachel) is trying to tell them that Kaysar's staying so James will talk to them
Maggie: That's impossible: one, two, three, four, five
Ivette: James said 'It doesn't make sense Ivette, cuz look at the way Kaysar's walking around here'

Rachel goes for a meeting with James, like she does.. she rants, confides, and cries.. Ivette comes along and lingers longer than necessary






Rachel: I do the dishes every damn morning, I'm not gonna do it anymore
James: You're not gonna be the bitch anymore
Rachel: What?
....
Rachel: I don't care if you tell them or not, I truly believe you'll get farther with us than with them
James: I don't trust anyone anymore
Rachel: The only person I trust right now is Howie, and right now.. well right now I'm not too happy with him
....
Rachel: I'm not a poor sport, that's why you don't see me running around shouting obscenities or drinking or whatever
Rachel: Going up against any of them in the final two and I can't win, neither can you.. Howie shot his big ass mouth off and I'll probably be here alone
James: You gave me another sleepless night
Rachel: They're not gonna talk to you about it - Howie, Kaysar, Janelle - I told 'em I was gonna talk to you

Ivette moves on to April but her agenda doesn't get far next to April's.. April then moves on to gripe to James (her most hated enemy just a few short days ago)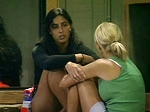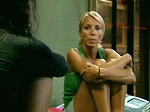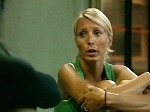 Ivette: She can't get in with James - I've been in with James since the first week!
April: She comes out here each morning and sits on her little fucking chair
Ivette: She's a fucking little grandmother!
April: Look how fucking old they (Howie/Rachel) are and they have nothing in their life - no college education, they don't own a house.. how can you be fucking happy at that age with nothing?
....
April: I'm not asking anyone to defend me (against Howie) but she's my fucking partner!
April: When she says she doesn't trust anyone here but herself, where does that leave me?
April: She even told someone that she doesn't have any friends - I've only known her a year but in here I thought we were friends!


America's sweetheart




Here's what Jennifer looked like at Wilson Middle School in Plano, TX

I can only imagine what she was like in junior high <shudder>

thanks to karrin for the snaps

left: 7th grade, 1991 - right: 8th grade, 1992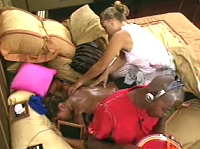 Maggie starts prepping for the end of Princess Jennifer's reign tomorrow by unhooking her bra and slicking her down.. it's disturbing

They call a meeting, which begins with a half hour of bitching about Janelle.. they've convinced themselves she's using all their hair products, even though they've lived upstairs for a week

The self-described fun crowd plays cards and rocks out to Jessica Simpson, then they call the meeting to order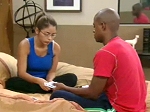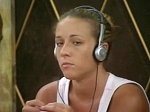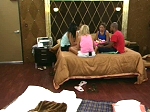 Rachel & James turn in early and chat in their bunks for a long time.. she talks about the game, about her team's plans, about sequester and jury.. James gets quite animated talking about former girlfriends and car crashes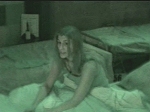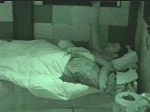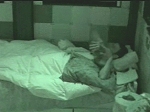 Upstairs the coven studies for a bit but they get distracted by how much they hate the rest of the house.. they wonder where it started, saying they were "always so nice to everyone in the beginning".. April says Diary asked her about calling Kaysar "a terrorist" and asks if the others have been asked the same.. they all feign innocence, even Ivette

Kaysar & Janelle finally show up on the feeds, playing cards.. they're depressed.. Howie comes out to save the day and/or ruin it - depending who you ask - picking his teeth as he pumps up for tomorrow's comp.. he does perk up their spirits some though






Howie: I hate 'em, I hate 'em, are they even houseguests?
Howie: Beau - non-houseguest.. Busto - non-houseguest.. I hate 'em
Janelle: Even though Maggie's lost weight her legs still sicken me
Howie: She sickens me mentally, physically, and psychologically
Kaysar: She sickens me too! Ok, that's it, I'm not talking anymore trash
Howie: It's personal and it's business.. it's personal business

They head in for snacks.. Kaysar reminds himself & Janelle that we're watching - he'll be one of us soon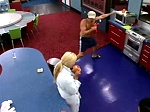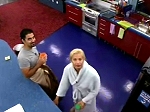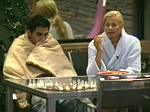 Good bye again, Kaysar.. you'll be missed again

apologies for the site being so slow today - it's ok for some folks and not others so nothing can be done but wait for the global worm issues to settle down



Linkage




Today's must-click specials: BB6 Park for August 17 by TD part 1 - part 2
Bonus must-click special: IAgram: Next nominations strategy by It's Aawwn at BB Chatter

CBS Big Brother 6 the official site
House Calls weekdays live 10am BB/1pm ET on BB main page - show archives
Live feeds signup - No timeout feed links
BB6 Park by TD listed on Hamsterwatch daily index
Hamsterwatch on Youtube BB6 & BB7 videos off the feeds
Hamsterwatch Big Brother 8 here we go again
Hamsterwatch Big Brother 7 All-stars in the house - from me, that dingo person
Hamsterwatch Big Brother 5 Dailies, Cowboyisms & Hollyisms - also from me
Aldav has all of the edgier stuff & the best mini-recaps in town
BB Chatter feed updates, screencaps, and fun boards - easy to use and functional!
Screencaps refresh site is back, from bbfan
Reality TV Links - Big Brother 6 emphasis on individual hamsters' sites
Sir LinksALot Big Brother 6 all the links
Big Brother Link news, info, caps, forums, and links
Big Brother Fanatics chat, updates, caps, news, and links
Big Brother 6 Keyhole peruse various BB sites in the same window, feeds too
Joker's Updates Big Brother Grins can't do BB Park this year
2005 or 2006 Kaysar calendars by BBVoyeur - pdf format
C=Venus BB6 chops new site full of really great work
BB6 Houseguest Fun play Mr. Potato Head, mess up their faces, send cards
Destroy a houseguest fun for fishies times by johnbb
Patrick's Place one-man BB show - 15 streaming cams including his car, turn his lights on/off
YAYsports! snarky stuff for sports fans from the creator of Michael's Blog
another 2 cents quasi-intellectual sleaze & radical gumbo aka blog

Please read before linking to pics, 'borrowing' or stealing any content from this site - this means you

TV10 please come back to us

Another eviction on Saturday

Some new ratings and some stale - tomorrow it's a new ball game again






CBS started payback on Tuesday's show for having to bring Kaysar back. They mentioned Jenn & April's Evict Ivette Plan several times, but never truthfully, that it was their plan and one they endorsed. They took the cheapest shot in the world by airing Kaysar's 'next week we terrorize them' - with caption - out of all the things he's said in there since Thursday night.. it's despicable and leaves no question as to their feelings about Kaysar (or perhaps about all Iraqi-Americans?) They did show Jennifer to be the liar she is, but by the end of the hour she came across as a strategic player who thinks about more than herself, which anyone can see is inaccurate. Howie's speedo, another K-mart party, bla bla blah. It's transparently obviously that CBS wants the coven to not only win, but to come across looking smart and righteous instead of the lying hypocrites they are.. this was clear in the first few minutes when they edited Jennifer's in-yer-face cleavage out of the tv version of her convo with Kaysar in HOH. Since when does network tv edit out cleavage? When it's 'America's sweetheart' aka the fraternity BJ queen's cleavage, apparently. I may not be able to keep watching the show with the continuing slant of the facts they persist on airing.





Everybody's tired of her everlasting reruns of Howie's attacks on her, and how much she 'doesn't care' about them. Give it a rest April - even your own team is sick of you & your mouth - even your own million dollar partner is sick of it. STFU already!






NON-HOUSEGUEST
(thanks Howie)






He can be a buzzkill for Janelle & Kaysar's alone time, but they're both a little awkward without him, all cuz of that darn Michael. He may not be able to win tomorrow's HOH comp but it won't be for not being geared up for it. If he does win it, heaven help him - it'll be as bad as last time but worse since his partner Rachel's taken up with his sworn enemy James. Howie still provides the most laughs per hour of all of them, and it is after all, supposed to be entertainment.






She's driving her team with a vengeance and letting them all think Maggie's in charge, including Maggie. She's a little threatened by Rachel cozying up to James these days - as are most fans - and now that Kaysar's got one foot out the door again she's starting to turn her bile towards Janelle again, her original nemesis. She skirted around the issue of who called Kaysar a 'terrorist' with lots of shallow excuses but guess what Ivette? As your buddy James would say 'check the tapes'.






Just give the spoiled little boy his damn money so he doesn't have to get a job after all, and let the rest of us go home. It's going to be torture suffering through another month of his know-it-all attitude and saintly new persona that CBS is embracing as much as the coven who hated him so very much only a few days ago. Now Rachel's vying to be his new best friend too - we're all in for it.






NOMINATED
According to the ones who are deathly jealous of her: she's using up all their hair products, even though they've lived upstairs for a week; she's fat (yeah right); she's ugly (ooookay); and she's mean & nasty.. but we all know which camp wears that tag. Janelle's the best thing that's happened to Big Brother for years, and she's opened a lot of eyes to the potential of smart, terrific people masquerading as bimbo types, including mine.





HEAD of HOUSEHOLD
GOLLUM
I still can't say it better than Outkast - it's nice that she & April are tiffing now though.
Caroline (Jennifer)
All the guys would say she's mighty fine
But mighty fine only got you somewhere half the time
And the other half either got you cursed out, or coming up short
I know you like to think your shit don't stank
But lean a little bit closer
See, roses really smell like poo-poo
Yeah, roses really smell like poo-poo
Crazy bitch
Bitch, stupid ass bitch
Old punk ass bitch, old dumbass bitch
A bitch's bitch, just a bitch

Today's rating courtesy of Outkast
click to hear a clip






NOMINATED
He's toast again, but he's still America's Choice by 82% and will remain so. People say he should go on 'The Apprentice' - I say screw that, Trump should be waiting outside Julie's boudoir to give him the job the minute he's out. My feeble offer that's not nearly as good but is genuine stands: Kaysar, if you're not fed up to here with them all when you get out this time, this is an open invitation to you to post here on Hamsterwatch. People seem to like the 'tell it like it is' style here and would love to hear it direct from you.






She doesn't want her team to appear horrible - too late! She's sniffing around Kaysar and James, hoping to find a way out of her team she swears loyalty to now that she's reminded them 20 times a day they're each worth a million and she's not. Her 'Friendship' is falling apart and she's so 'let's all get along' about everything she can't or won't see it, and certainly isn't about to do anything about it. I wish I could see her face when she finds out she's not on the winning team at all, not as far as 82% (or more) of viewers are concerned anyway.






She's playing her own game now, even though partner Howie's still in the house. She's going out to recruit James, telling him everything he needs to know about what her team's plans are, and he runs it right upstairs to tattle and keep in good with the other guys. At the rate we're going, it's looking like the ultimate alliance might end up being Rachel-James-Ivette, with Beau dragged along as mascot.








She was too young & too naive to be in there but held up well considering she played with the boyfriend from hell. I'm glad she got out early and alive.








Maybe the poorest loser in BB history but he gave us the best fight sequence. He said it nonstop but he never understood that 'it's just a game'.








Not blameless but not the villain they made him out to be either. He had funny voices, 'The Continental' and Janelle - plus the best hoax of the season.








There's never much to say about the first out except they're gone. She blabbed too much so she wouldn't have lasted long but she was fun while she was there.



I love keeping tabs on the feeds during summer, and wish I didn't have to do this.. but the reality is it takes a ton of time that I can't really afford to give away. If you like the site and would like to help support it, please visit my sponsor links by clicking on the banners, or make a Paypal donation here. Please support other BB6 fan sites that you like, too - many many thanks!



This site isn't necessarily about who should win, who will win, who I'd be friends with, or who is cute. It's about watching hamsters: which ones are doing what and why, which are fun and which are dull. If they aren't entertaining, get rid of 'em! Thanks for encouraging my behavior..

that dingo