This site is about the Big Brother 13 feeds and contains spoilers! It isn't necessarily thorough: it's what I catch and/or what interests me, and it isn't necessarily about who will win, who should win, who's cute or who's horrid. It's about watching hamsters: who's doing what and why. If they aren't entertaining, get rid of 'em! Thanks for encouraging my behavior. Your pal, dingo







POWER STATUS


Somebody is probably Head of Household
Somebody is probably nominated







BB13 DRINKING GAME


Take a swig whenever someone says they don't want to see Brendon & Rachel again, including yourself










FAQ


Which hamsters are returning and any other twist(s) will be revealed on the premiere

CBS shows will air Sundays and Wednesdays at 8pm, and live eviction Thursdays at 9pm

It sounds like BBAD will air 1-4 Thursdays and 12-3 other nights, on Showtime in USA and Global Reality in Canada

BB13 prizes are probably the same: $500k for the winner and $50k for 2nd place. The others probably still earn $750 a week including pre-show hotel and jury sequester.

The habitat has 52 cameras and 95 microphones.

The recorded Big Brother in-house announcements are the voice of producer Don Wollman.

All feeds stay on one 'scene' when someone's in Diary.





>> >> >>

SUBSCRIPTION INCLUDES $10 WORTH OF MUSIC EVERY MONTH
Julie, Leah, Sara, Sharon & Holly in the habitat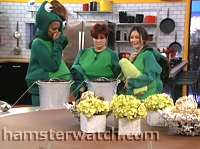 As reported here previously, the ladies of "The Talk" spent a half a day in the habitat and apparently it wasn't just a fluff PR exercise: they did Diaries, strategy talks (okay, those were a bit fluffy), and they even put them in silly costumes to do a comp, for which the dreaded slop made its official return

All this gives the control room, the camera operators, the editors and Diary staff a chance to get their chops back up to snuff before they go to work with the real hamsters, much like Media Day, but let's face it: in the end it's all a very nice PR vehicle for Big Brother too

The full piece will air on Thursday's installment of "The Talk" and looks like it'll be really cute if the teaser video is anything to go by - Julie even puts aside her usual glam and goes "houseguest casual" for her Diary sessions



Corner Office returns, again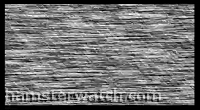 Corner Office, or at least someone using that name which has proven to have both reliable and faulty info in the past, has posted a video that sounds very much like BB12's Staboteur videos, in which he or she "confirms" the returning duos are Rachel/Brendon, Dick/Daniele, Jeff/Jordan and Dan/Memphis Bob.. he also said one duo was eliminated already and since Dan just got married the other day (congrats!), this new info pretty much confirms the rest of the leaks and rumors.. as much as rumors can be confirmed anyway - NOTHING is official until Julie says so

The video also says Rachel won the first HOH comp, which is also old news to anyone who's been keeping up, and that all the hamsters are paired up

Daniele wasn't able to be on Tuesday's final Rumor Control show on SuperPass due to "Skype issues" (and avian flu, per Ragan), so BB12 Annie sat in.. true to the show title, they did well at controlling rumors and didn't give up any new info, and reported some old info as news.. Janelle phoned in and confirmed that she knows Porsche - but you Hamsterwatchers knew that already - and she also said she thinks each of the new ones might know another

The rollout of the new SuperPass site happened this morning, with some technical issues that I'm sure they'll have worked out by Thursday.. they've changed their chat quite a bit.. if you don't like it or would just rather try an easier, quieter chatroom, a link to mine is posted at the top and bottom of every page here.. we have a great group of smart, funny folks and we'll be having the Big Fun in there this summer - please join us! Note that while I'm not a Pollyanna, I don't encourage vicious hating on the hamsters - there are plenty of other sites around for that



They're in!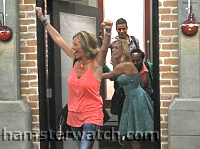 CBS posted this pic July 2, so Day 1 of Big Brother 13, after a few vague teasers throughout the day, showing Shelly, Porsche, Lawon and Dominic entering the habitat with their official BB totebags.. I don't know that they're the first four in or not - last year they fooled us and teased a few coming in that were actually in Julie's second or third assigned entry groups

I don't know if they all went in today or just the eight fresh ones and the returning duos will show up later - with any luck, they'll ding-dong live on the premiere, but we don't tend to get much luck in situations like this.. I suspect the returnees joined them but if it is just the eight, they'll think they're in a short season or something, and these first days will either solidify them against the has-beens, or they'll let their plans get shot to hell when the pros arrive.. some Twitter "leaks" are hinting all 14 went in today and they've been divided into pairs, but I don't know if these sources are legit or not

I was expecting them to move in July 3 since the premiere is usually on their Day 5, but then I remembered Julie doesn't work on Sundays



Special guest post: Janelle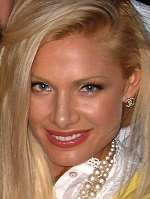 A Hamsterwatch exclusive: Big Brother fan favorite and mom-to-be Janelle Pierzina (now DeSanto) weighs in with her first impressions & predictions about the new hamsters, and speculates on the returnees in the first of (hopefully) several guest posts from her and other names you know this season.. please to enjoy

Kalia Love her, she seems very likable and easy to get along with. I also think she has kicking curves! It's nice to see someone who isn't a size 2.

Shelly Well I hope she doesn't turn into a piece of furniture like last season's Kathy. I hope she has game and doesn't throw every competion expecting to be taken to final four because she sucks so bad and is old.

Adam He seems like he has a pleasant enough personality. I see him teaming up with Dick for sure. I hope the females in house are not afraid of him.

Lawon He's gay right?? Well I really loved him in his interviews, but then again I adore gay men. Love his diva attitude and he seems very funny.

Cassi Wow! Is she on the right reality show? She should be on America's Top Model. She'd kill it! She seems very nice in her interviews, her accent is a little too twangy for my taste. I hope she goes far. The other girls could get very jealous of her though... I hope she has major game, that would be amazing to watch

Porsche She is very charming in real life and it's very difficult to not like her (believe me I tried once and she won me over). She is naturally flirtatous with men and women. She reminds me so much of Parvarti! I think she will do very well.

Keith Am I the only one that likes this guy?!? I thought his interviews were hilarious! I mean I was cracking up the entire time. I think he will be targeted right away though because he will be trying to make a big alliance and it will be obvious.

Dominic He's hot! I think he will be the one having a showmance this summer. Although I'm not sure with who. He seems smart and sexy. I like that!

The Twist

Ok this is speculation on the twist of who the dynamic duos are and what they will do game wise. Remember this is just speculation and just for fun.

Dick will be partnered with his daughter Dani. They will be the biggest targets in there because of Dani's previous comp wins. I think Dick wil go very far because out of the newbies there, a lot of them are Dick fans that want to align with him.

Dani Will try and break records this year. You go girl! You got this!!! She will play guns ablaze as I had to in All Stars because everyone wanted me out the first week. It's win or go home. Not the easiest way to play... but oh well.

Rachel I bet she wins first HOH. She will be looking for allies this time, hopefully she doesn't target Porsche and Cassi right away.

Brendon I hope he doesn't cry. I can't drink or smoke since I'm pregnant and don't have an easy stomach for men crying. I bet Dick brings up penisgate the first chance he gets.

Jeff I'm glad to see him back since he provided me lots of laughs his season. I hope he does well, but I see people getting him and Jordan out before jury due to them wanting America's favorite 25k prize and the coup de twat for themselves.

Jordan She is so likable that it will make her a huge target, plus she is a winner. I see a newbie nominating her right away just for those reasons. Newbies will be scared to go after D&D right away. Jordan is an easier target just because they will think she won't come after them.

Prediction on what will happen

Dick, Dani, Adam, Porsche, Jordan, Jeff align and tear though the house.

The other houseguests try and get together but can't because they are up against America's favorites and Dani Donato who will wins 6 HOHs and 5 Vetoes

Everyone is speculating that the ex BBers will align but I doubt it. Maybe for the first week or so, but they will be smart and want their biggest competition taken out. Personally I'd align with the newbies because most of them have never watched the show and are dumb as hell Big Brother wise. They have no experience! It's like watching an NFL player against a varsity high school kid. One is bigger, stronger, and has experience and maybe even a Superbowl ring and the other wants to be them when they grow up and are completley starstuck.



Much gratitute to Janelle for her insights & predictions (not to mention "coup de twat"), and best wishes for a happy, healthy pregnancy.. I look forward to more from her as the season gets underway





Pre-season Ratings - Rush to Judgment edition
I haven't watched all the interviews yet so I may adjust these if I do. Meanwhile here are a few of my first impressions and things I'll be watching for, along with their official CBS vital stats (which may or may not prove to be accurate). Most likely's will most likely be superseded depending on confirmation of returnees, especially most likely to stir things up. These initial ratings are based on their entertainment potential.



It takes everything I've got to not start them off with a negative, what with hamster revivals, threats of two twists & 'three shocking surprises', and managing to plaster Jessie's mug on their site again. I'm with Janelle on the returnees: every fiber of my hamster intuition is screaming that we'll soon be seeing Brendon & Rachel, Dick & Daniele, and Jeff & Jordan again. I'd much prefer all fresh faces but if we must have these back, I have to say I'm looking forward to seeing Dick chew up Brendon & Rachel and spit them out, and I always enjoyed Jeff's humor. I also have a feeling the eight new ones will be paired up somehow, possibly through 'pre-existing relationships' since they like that angle. They still don't have a proofreader but I like the looks of the habitat this year, so all things considered, I'll start them off with a neutral until they earn worse.. after all, they do keep us off the streets and out of trouble all summer.





Adam Poch, 39
East Brunswick, NJ / currently Hoboken, NJ
Music inventory manager, has a girlfriend

I like this guy, mostly because he likes me! He's a Hamsterwatcher and gave me a stupendous shoutout in his SuperPass interview, so you know he'll get his wish of his very own BB Drinking Game here. I hope he lives up to my expectations but more importantly, I hope he read my tips to finalists and will abide by them.
Most likely to have a huge & varied fan base, unless he turns out to be a jerk.





Cassi Colvin, 26
Allen, TX / currently Nashville, TN
Model, single

She's a daddy's girl, an apparently successful bikini/lingerie model, and she expects she'll be baited into catfights but claims she won't participate in them - we'll see about that. She'll provide hours of entertainment for bikini aficionados around the pool, but I don't expect her to bring much else since she's one of those who's here 'for the experience'.. yawn.
Most likely to get confused.






Dominic Briones, 25
San Mateo, CA
College student/SF State, 'attached'

He's another model and wannabe actor. He seems nice enough, but nice isn't why we watch. He reminds me of BB1 Curtis Kin, and that reminds me we've been doing this since 2000 - we really should all get a life, Hamsterwatchers. He's only here for a 'break from real life' so he probably won't win much, but he's freaked out about sharing a bathroom & shower, so that'll be fun.
Most likely to speak in cliches and merge into the background.





Kalia Booker, 30,
Philadelphia, PA / currently Los Angeles, CA
Writer, has a 'special guy' but would fake a showmance

She says she has a sex site, which I'm sure we'll hear a lot more about in the next weeks. She won 'best interview' in a 2005 pageant, so she knows how to play it up in one; therefore I'm not trusting her videos and will reserve judgment till I see her in action. She says she left behind 'an amazing life' so I hope she doesn't complain too much about missing it.
Most likely to stir things up.






Keith Henderson, 32
Bolingbrook, IL
Human resources manager, single?

He's ready to play the ladies which could be fun to watch (especially when they play him back) but that potential is weakened because he's already planned and named his alliance, Keith's Angels. I hate alliance names to start with, so naming one before it even exists is way over my line. He's got a great smile and could be funny, but he's bringing a Bible and we know how that goes.
Most likely to have his plans blow up.





Lawon Exum, 39
Urbana, IL / currently Inglewood, CA
Legal file clerk, single?

It says legal file clerk but he's done some entertainment work too. I'm hoping for great things from him and I just hope he won't disappoint, which he might, since he likes to make up words like 'handsomefied' and 'handsomexy'. I wouldn't call him 'flaming', but he's close. He's probably going to be the one with a costume trunk since he promised his 'fashion sense is gonna be buck wild, WILD!'
Most likely to give good Diary.






Porsche Briggs aka Porsche Lee, 23
Fort Lauderdale, FL / currently Miami Beach, FL
VIP cocktail waitress, single?

When they describe themselves as sexy, it just comes across bad - am I right? I don't have much else to go on for her, except that she too will be a Bikini Hour star. Apparently she dated Josh Hartnett so I hope she brings more than stories about celebrity hob-nobbing and being chased by paparazzi, as that stuff gets old fast. And yes, she & Janelle are friends.
Most likely to complain.





Shelly Moore, 41
Centerville, OH / currently Prairieville, LA
Outdoors industry executive, married, 8-year-old daughter

'Outdoors industry' means branding & business services for hunting & fishing companies, and 'executive' means VP of Business Development, so it sounds like she's brainy and likes guns. Much like last year's Kathy, the mom role has been filled by a mom who doesn't fit expectations. She better bring more action & personality than Kathy did, as her voice and accent are already grating on people.
Most likely to be the target of brutal chops.








Linking to any page here is fine but please do not repost any content from this site (or any other) without permission, and do not repost or hotlink to any images


!! THIS MEANS YOU !!








UPCOMING EVENTS


7/2 Move-in day!
7/7 The Talk on 4 hours inside the habitat
7/7 CBS premiere 9pm
7/7 Feeds link & test video 9pmPT/12amET
7/7 Feeds begin 10pmPT/1amET
7/7 Android app available
7/14 First eviction



THE REAL SHOW IS THE LIVE FEEDS

Save $10 with code BB13QTEARLY
Discount good thru July 6
Includes Flashback, video clips, live talk shows, interviews, $10 of free music every month and more!
Sign up for a free trial




Clicky: caps sorted by day - all caps


News & updates
Please see my previous Hamsterwatch episode for twist details (what we know anyway), mobile feeds info, and other pre-season stuff



I'm not sure what to do with this guy, Jason Thomas, who made it all the way to interviews but was dropped at the last minute. Much like last year's Paolo, we'll never know if he would have ended up a better hamster than the ones they kept, or if he would have been a self-absorbed, egotistical muscle-head like he came across. I don't think I'll keep him in my cast section as an 'almost' like I did for Paolo, because everyone kept asking all season who she was, and because he'd make them an odd number and upset my layout. For the record, Jason's 26, lives in LA, and is a boxing recruiter.

Allison Grodner confirmed to We Love Big Brother that the returning duos are in sequester, which doesn't mean it can't be any of them who have been tweeting lately - the HOH doesn't tweet in real time either. She also said there will be two twists (my money's on returnees + pairing of the new ones), there will be Have-nots with their own room again (liquid diet instead of slop please!), and that the conflicting HOH pics were merely design changes.

The CBS poll is pointless, as the duos are already selected - you are not voting for who will return.

Dr. Will has confirmed he won't be there, and Natalie has confirmed she & Jessie won't either.

Superfans Ross Mathews and Ryan MacDonald will be doing weekly-ish reports on Big Brother 13, which is the best news we've had yet! Their first episode with first impressions of the new cast is linked below.

SuperPass continues to crank out lots of exclusive content and Big Brother talk shows, so be sure to GET YOUR FEEDS
so you can check it all out and see the real showr!



Thanks for nothing, Amazon
So just when I asked you all to use my links for purchases from Amazon.com, they cut off all their California affiliates over a sales tax argument with the state government here. I don't make a ton of money from them, but I need every bit I can get, especially during BB. This is particularly pissy of Amazon in my opinion, since we affiliates built them into what they are today: the largest online retailer in the world, and now they don't need or care about us little guys anymore.

That said, my other ads don't generate much income at all, so getting your feeds
though my links is the best way you can help me keep the site going.

Donations via Paypal are gratefully accepted as well.




Thanks for your support!