This site is about the Big Brother feeds and contains spoilers! It isn't necessarily thorough: it's what I catch and/or what interests me. It also isn't necessarily about who will win, who should win, who's cute or who's horrid. It's about watching hamsters: who's doing what and why, who's fun and who's dull. If they aren't entertaining, get rid of 'em! Thanks for encouraging my behavior.




MORE FIGHTS ARE COMING
The sex is gone, but fireworks
are guaranteed
* SIGN UP NOW *
for a two week free trial
JERRY DRINKING GAME
Take a swig whenever he does his Beavis & Butthead laugh
heh heh heh <hic>
THURSDAY SHOW DELAYS
Football makes CBS more money than BB - check your local listings





NEXT SHOW


Thursday, August 28 at 8pm: live eviction, HOH comp, noms, veto comp, 2nd live eviction, a couple out-of-sequence dramas







INTERNET STREAM


Westies can watch the air show live when it's on in the East at www.watch.videobrother.com
Extra traffic could be a problem on Thursday







RATINGS WATCH


Tuesday's show dropped to third with a 4.3 rating and 7 share, behind 'America's Got Talent' on NBC with 7.3/11, and a 'House' rerun on Fox with 4.7/7.




Donations are gratefully accepted through Paypal using the button above or direct by email. Please support other BB10 sites that you like, too. Many thanks!







UPCOMING EVENTS


More fights are possible: Jerry hasn't weighed in yet

No 'Late Late Show' this week - Craig's still on reruns

Thursday's show will be booted or delayed for football and/or Democrats in many areas

Look for confusion, then resentment on Thursday night about the HOH questions (after they recover from Fast Forward Shock)

Monday is Dan's birthday

Hopefully they'll get another shot at earning the grill.. it's waiting, impatiently, and so am I








FAQ


Announcements/clues/comp questions:
·121 marble slots in a Chinese checkerboard
·Sweden is slightly larger than California
·The tallest building west of the Mississippi is 73 stories
·Over 300 species of turtles alive today
·Wurlitzer 1015 Bubbler arguably the most popular jukebox of all time
·Birch is the national tree of Russia
·It takes 1000s of volts of electricity to power a neon light bulb
·Largest weather vane is in Spain
·15 republics in the Soviet Union

'Switzerland', 'The Psychologist' and 'Dairy Queen' refer to Diary Room; 'Vacation' refers to pre-show hotel sequester

Jerry is being called 'The Colonel'

The winner will once again receive $500k, and second place gets $50k. The weekly stipend for the others remains $750, including sequester weeks.

The habitat has 52 cameras and 95 mics this season

The recorded Big Brother in-house announcements are the voice of producer Don Wollman

Finale was scheduled for September 17 - maybe now it'll be the 16th. It's a slightly shorter season than usual, by about 10 days



AMERICA'S PLAYER

Task 1: Who should Dan get nominated? Jessie/successful

Task 2: Who should Dan hug for 10 seconds? Jessie/successful

Task 3: Who should Dan vote to evict? Jessie/successful

Dan gets $20k if successful and not discovered. Apparently the previously-announced 4th task has evaporated. It's not clear whether all the 'Dan is America's Player' suspicions will invalidate him.




August 27, 2008 - Day 51



>> past >> present >> future >> all

>>

Dan is Head of Household - Jerry & Michelle are nominated

<<

* PLEASE NOTE * Lots of folks won't have a timely live show on Thursday.. I don't know yet if I'll have access to one or not, but will do my best to update the site as we go.. Twitters might not go out timely either as Democrats will be clogging the internets around then.. I'm not thrilled with having to work up obits for all seven ahead of time, but so it goes



Dear Monica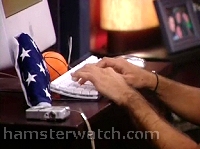 It's rare we see them typing their blog, but we got some extra minutes watching Dan work up his

Memphis Bob reported to the others that Dan had been kissing his Monica pic, and that "it was pretty gay".. Dan had his photos nearby to do his writing, and his mini basketball and (properly folded) USA flag were perched at the keyboard for inspiration.. later he said he did word association in it, posting one word for each of them (but he wouldn't tell them which words), along with a plea that he's still got a job, and a message to Monica

He also said (twice) that he couldn't remember how to spell grateful - but the word doesn't appear in the blog (nor does greatful), so that was maybe a subliminal comment for jury buttering up purposes.. or maybe nothing

Before all that, the camera had came out, like it does, and they did their cutesy posey smiles, like they do.. later Jerry said he wouldn't pose when Dan asked



Gunshots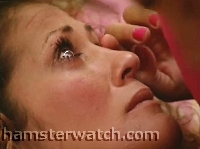 I've been half-hearing Michelle & Ollie talk about the gun-themed wakeup songs they had one day, as part of their recent whispery parannoying (© BB5 Diane)

Big Brother does assign a theme to their daily wakeup music sometimes - often giving a clue to that day's comp, or who's leaving on eviction days - but I didn't pay enough attention to the details of the Paranoid Pair's take on the shootout theme til Michelle gave a teary guilt-trip to Dan, asking why she's become the victim of a deal she wasn't a part of

She told Dan they were Monday's wakeup songs: the day he gave his Veto Roulette speech (and was allowed to deviate from the veto meeting script - a first, I believe), and she asked him flat out "Are you a plant here?".. remember Hamsterwatchers, just because you're paranoid doesn't mean all your worries are your imagination.. this was another good connection by Michelle, in my opinion

Dan didn't address the plant question/accusation, but the tears did get to him



Keesh-fest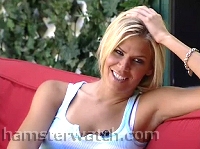 I'm kicking myself for not remembering that Keesha is pals with BB8 Zach.. I knew she was even before we had her name confirmed: way back then, when her MySpace was leaked, I hit "mutual friends" and found only one: Zach.. no other hamsters, and no other BB sites or fans

Shortly after, it came out that either she or Zach had pet-sat for each other, so they weren't just casual acquaintances, but it didn't seem like they were best buddies either, so I forgot all about it.. til now

Keesha's boyfriend JJ and Zach put up an auction the other day on Zach's eBay to sell off one of her Hooters outfits, getting a jump on the other jurors (prior evicteees must be running around nekkid by now), and that's when the penny dropped and I remembered the Keesha/Zach connection

Ask yourself why she doesn't talk about Zach when has-beens come up in convo; or why she won't say how she got on the show when that comes up; or why she works in a Hooters outfit and says she'd do Playboy, yet she's downright modest on the feeds (way more than most); or why she doesn't give up much personal info at all - let alone much strategy talk - or make many enemies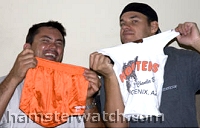 Then ask yourself (again) why she had no photos of live-in boyfriend JJ among her HOH pics, and why she didn't give much explanation about that when asked.. he's posing with Zach & her short-shorts, so it's not because he's camera shy

I've come up with a possible reason for it all: coaching, from one who's been there, whose nekkid romp hit CBS along with all the sites, and who stuck til Final Three (and who might have gone to finals but for the blood connection he was up against).. I've always said their HOH letters, pics & goodies from home could (and should) provide them clues.. it's very possible that JJ pics might have been code to change horses, and no JJ meant stay on course (aka with Renny)

Call me paranoid but it was an early HOH and she hasn't really tried to get one since.. it's something to think about anyway, and make you go hmmm



Damage control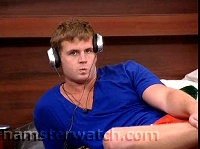 Back to our story, Dan & Memphis Bob talked about hamster nekkies on the web, and Memphis Bob said they could sue (us) to have them removed - uh, I don't think so

The guys also made meatloaf, and Renny woke up from her nap to make something to go with it.. Keesha doesn't eat meat, and Ollie stayed away.. he did have several chats with Renny throughout the evening though, as it's Wednesday and the habitat is serving up waffles, as usual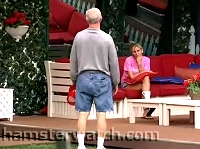 Feedmasters sent us another message at one point, like the one they sent about Jessie's impending eviction: this time they panned from napping Jerry to the POWER OF VETO wall sign and back to Jerry - for whatever that's worth.. I'm still remembering Keesha having said Jerry wins the next HOH, and she was right about Dan

Maybe Jerry got his hands slapped after last night's Keesha cuss-fest.. he made an attempt to talk nice to her for no apparent reason, telling her she doesn't eat enough to stay alive

Maybe that didn't do the trick, as later, while campaign waffling was in full force around the habitat, he sat down with her in his punk room and had a nice grandfatherly chat about the insanity of the game, no hard feelings, cute furry animals in general and their doggies Pepe & Gizmo in particular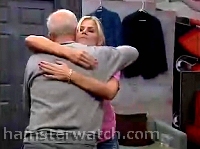 Jerry told her, among other things: "It gets a little nasty, little smiles & smirks, bullshit, and things get said, heh heh heh.. I don't want to hear any sour grapes".. yep Jerry, it sure does get nasty sometimes.. he also put everyone playing the Jerry Drinking Game under the table

Afterward, Keesha went to HOH and reported the convo to teamies Dan & Memphis Bob.. Jerry moved back to Ollie and went to town about "those pricks" Dan & Memphis Bob, and about someone whose "pussy can't fucking control me - my dick don't need her".. I'm not sure who it's about this time, and don't much care



What's the odds?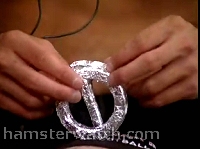 Dan spent two hours cutting up plastic rings and covering them with tinfoil at bedtime.. nope, that's not a typo - two hours

Then he held it up and said it was the Platinum Power of Veto, and that it looked like the real thing.. then he wrapped it up carefully and tucked it away.. most likely to get caught selling counterfeit veto symbols, indeed

Some screencaps from the day are in the forum, thanks to ABT, as are some thoughtful discussions on this whole mess, BB10 Park, and some other fun stuff too



Daily ratings - Semi-rerun edition






Ratings are yesterday's (mostly) and will stand - pics are new though



The poll questions are divvied up here by who might end up 'winning' them per the voted results.. not necessarily my answers. Thanks to Aldav & Attw x for playing along - each wins a copy of the home game.



Won: $20k (presumably)
HEAD OF HOUSEHOLD

Called a hero after saving family from burning building

Self help book goes to #1 on the best-seller list

Devotes their life to helping the poor

Caught making counterfeit veto symbols for Memphis Bob to sell





Won: $4k
NOMINATED

Turns slop into international diet fad

Entrusted with national security secret

Tips $1 on $1000 tab






Has plastic surgery to remove crow's feet from around eyes

Petitions government to name a holiday after themselves

Uses winnings to build farm for abandoned animals





Won: Classic Camaro

Caught selling counterfeit veto symbols made by Dan

Voted sexiest person of the year

Named used car salesperson of the year





NOMINATED

Arrested by the fashion police

Beats Jessie in arm wrestling competition

Gossiping gets them fired from job






Gets lost on their way home from work

Loses spelling bee to a five-year-old






Headlines national comedy tour

Awarded 'Noble' (sic) Peace Prize

Life story made into a feature film






Won: Designer clothes, $5k
We've had sex on the feeds before, but we never actually saw it until she came along. She one-upped often but to her credit, she impressively won the first endurance. She had delusions about her importance in & out of the habitat, and her Barbie Battles with Keesha plus her other fights were something. But we knew from the start she wouldn't be invisible, thanks to her most unusual introduction to the others.






Won: Hawaii trip, $1k
She ran the tie-dye room with an iron fist but only for a short time: her minions had turned on her long before Jessie & Michelle painted a bull's eye on her for being their leader. She took a lot of flak for leaving her babies and for choosing Hawaii, and her financial sob stories didn't always add up. But she told some fun stories, rebelled against giving comp recaps to Diary, and added great fireworks to fights.






The first to get an empty wheel before their time, his comic relief wore off fast and he brought nothing but a major mirror obsession and raging insecurity. But it's not all bad: he laid around in pink pillows and talked himself gone with rampaging harangues, and he'll carry the fact that he lost to a girl while wearing spandex, then lost to three girls plus Renny. Rehabs will profit from the Jessie Drinking Game.






The third fan fave to walk the plank, she was a great sidekick to the fun guys but she didn't bring much after they left, including any real attempt to save herself. Like many who have gone before, she seems like she'd be a cool person in reality, but this isn't. Her angry hat and illegal tribute bandana aside, she did a great Julie puppet and manscaping. Bikini fans will miss her, as will the Behind Pillows alliance.






They all liked him and his shenanigans, but his comp potential and desperate pledges of multi allegiance got him booted anyway, plus he was Brian's pal. He entertained them and us like few have before, with skits, dances, nekkid romps, Ambien-induced bedtime stories and general looniness. Too bad he went before he made it upstairs: he'd probably have revived Bath Buddies® and done it right.






He made more of an impact than most who get voted out first and he had the potential to be a fan fave but he over-allied and betrayed too early and had a very negative edit to boot. He was smart, funny, and a good ringleader for the guys - time will tell if they can be as fun without him. Sock Puppet Theater on only the second night of feeds, under his direction, could be the highlight of the season.


Please do not repost any content from this site (or any other) without permission, and do not repost or hotlink to any images
!! THIS MEANS YOU !!

SEX!! MURDER!! MAYHEM!!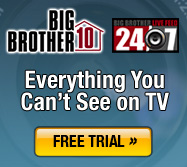 14 day free trial
Monthly or quarterly billing

Maybe the headline is too exaggerated? Site revenue is down 60% from last summer so I've installed a Marketing Department.. they said go for it

(okay, I lied: it's just me here)






GET TWITTERED! FREE TEXT ALERTS
Get free Hamsterwatch updates to your cell phone! Text 'follow hamsterwatch' to 40404 to sign up (21212 in Canada; 5566511 in India; +44 7624 801423 anywhere else). my tweets - more info






LINKS OF THE DAY

Dan's HOH blog Dialectizer

- select a dialect and enter hamsterwatch.com (or any site) for a chuckle or ten.. Hacker is especially funny, for long-time chatters

Or try the

Pornolizer

if you aren't easily shocked - it's even funnier



Click to see my full list of BB10 links. These are some of my favorites:


24/7 feeds - 14 day free trial see everything that happens before it gets edited into something else for tv

No time-out feed links including set-up how-to, plus Real contact info

Hamsterwatch Chatroom

Hamsterwatch Forum

BB9 adult/explicit links - might get updated for BB10 if we have hamsters with naughty pasts

CBS Big Brother 10 the official site

DogDave BB10 aka Aldav scouts all the BB sites so you don't have to: all the news, edgy stuff & the best mini-recaps in town

Attw x's houseguest tributes all seasons fun & reference by BB's number one fan

BuddyTV - Big Brother 10 TV supersite with news, articles, discussions

Sir LinksALot Big Brother 10 all the links, once again



LINES OF THE DAY
Renny: They give [booze] when they want to give it, that's about it
Keesha: They do everything when they want to
Michelle (to Dan): Are you a plant here?
Renny: The colonel's out for blood
Dan (about his nekkid shower slip): I hope [the BB sites] didn't see that
(about BB sites in general)
Memphis Bob: Whatever, that's the chance we take
Dan: There's gonna be so many opinions about us
Memphis Bob: Curiosity killed the cat
Dan: You're about to eat some of the finest meatloaf and potatoes you've ever had in your life
Keesha: I don't eat meat
Ollie: We gotta see everybody every day for two months
Jerry: Yea, this is terrible.. damn!
Dan: These ants are biting
Dan (on BB6): There were pairs, but they didn't play together
Dan: I've definitely lost Michelle if I make it to final two
Dan: Replacement Nominee Roulette did things I didn't expect - I didn't expect that to drive Ollie over the edge

DAILY JERRYISMS
(about the week after next): They still have two weeks left (cut to fishies.. how does he know the schedule? Nobody else does)
You gotta have some humor in [here].. Jesus Christ, it'll drive you up a wall
I wanna buy a motorcycle so bad
[His grandson] is religious - he wouldn't sign a release (cut to fishies - after several minutes of chat & info about the grandson)
Jerry: Hey baby
Michelle: What??





EXTRACURRICULAR TALLY



Sex: April/Ollie (12x)

Makeout pairings: 2
April/Ollie, Angie/Steven

Major fights: 10
· Jessie vs Renny (pre-feeds)
· April vs Keesha
· Jerry vs Libra, plus Renny
· Jerry vs Michelle
· Jerry vs Memphis Bob (not on feeds)
· April, Keesha, Libra, Jessie free-for-all
· April vs Ollie
· Jessie post-eviction free-for-all
· April vs Keesha + Libra vs Michelle
· Ollie vs the habitat

Impressive party tricks: 2
Renny's fist, Renny's headstands

'The Soup' mentions: 5
· Meet April's boobies plus Jerry's affirmation
· Jessie's HOH pics of himself
· Jessie's farewell to Angie plus Michelle's 'whore slut skank' catsuit rant
· Renny's dirty mouth
· 'Dumbest houseguests in history' vs has-beens food comp plus Michelle & Jase 'two fax machines mating' noises

'Best Week Ever' mentions: 1
(BWE wasn't on during August)
· Ollie/April sex with the lights on