This site is about the Big Brother feeds and contains spoilers! It isn't necessarily thorough: it's what I catch and/or what interests me. It also isn't necessarily about who will win, who should win, who's cute or who's horrid. It's about watching hamsters: who's doing what and why, who's fun and who's dull. If they aren't entertaining, get rid of 'em! Thanks for encouraging my behavior.




SEX & FIGHTS GALORE
We're only halfway and this cast has already topped all others
* SIGN UP NOW *
for a two week free trial
Save $2 a month for life!
Use coupon code
BB10E0826
BB10 DRINKING GAME 2.0
Take a drink whenever April whines or complains
Start looking for a sponsor
THANKS TO DOMINIC
For providing the CBS Mobile alerts for a couple seasons.. he's been shut down by The Powers That Be





NEXT SHOW


Tuesday, August 19 at 9pm: Veto comp, veto meeting, assorted out-of-sequence dramas







RATINGS WATCH


Sunday's show stayed in second place with a 4.0 rating and 7 share, once again behind the Olympics on NBC with 14.7/25.




Donations are gratefully accepted through Paypal using the button above or direct by email. Please support other BB10 sites that you like, too. Many thanks!







UPCOMING EVENTS


A growing chance of fights

Much waffling & whispering

'Late Late Show' taping with Craig Ferguson is Wednesday around 4-5 pm; it airs Wednesday night on CBS after David Letterman

The only remaining birthday is Dan's, September 1 - if he's still around then

Hopefully they'll get another shot at earning the grill.. it's waiting








FAQ


Ollie & Jerry are on slop plus lollipops

Memphis Bob cashed in his slop pass
(Janelle's and Sharon's remain unused)

BB announcements - clues?
·121 marble slots in a Chinese checkerboard
·Sweden is slightly larger than California
·The tallest building west of the Mississippi is 73 stories
·Over 300 species of turtles alive today
·Wurlitzer 1015 Bubbler arguably the most popular jukebox of all time

'Switzerland', 'The Psychologist' and 'Dairy Queen' refer to Diary Room; 'Vacation' refers to pre-show hotel sequester

Jerry is being called 'The Colonel'

The winner will once again receive $500k, and second place gets $50k. The weekly stipend for the others remains $750, including sequester weeks.

The habitat has 52 cameras and 95 mics this season

The recorded Big Brother in-house announcements are the voice of producer Don Wollman

Finale was scheduled for September 17 - maybe now it'll be the 16th. It's a slightly shorter season than usual, by about 10 days



AMERICA'S PLAYER

Task 1: Who should Dan get nominated? Jessie/successful

Task 2: Who should Dan hug for 10 seconds? Jessie/successful

Task 3: Who should Dan vote to evict? Jessie/successful

Dan gets $20k if successful and not discovered. Apparently the previously-announced 4th task has evaporated. It's not clear whether all the 'Dan is America's Player' suspicions will invalidate him.





August 17, 2008 - Day 41



>> past >> present >> future >> all

>>

Renny is Head of Household - April & Jerry are nominated - Dan holds veto

<<



Street fightin' apology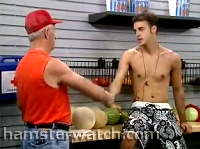 I guess that's what this was.. I'm not sure if Jerry actually came out and apologized but he said he was "taking Judas off the table", and he excused his behavior towards Dan by saying "I'm a street fighter mentality" five or six times

Dan didn't say much, in a not-able-to-get-a-word-in-edgewise kinda way, and Jerry didn't directly ask him to use the veto.. it was another convo with a set-up feeling, and you can bet it'll hit CBS on Tuesday night sometime before the veto meeting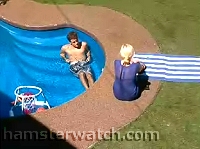 April saw them enter & exit the pantry/conference room and hit up Dan later at the pool to talk herself up, like she does, but that probably won't be seen on the show due to poor audio: watch for a replay later

Earlier, Jerry told Dan he wants to write a book about "what really happened" in there.. sorry Jerry, there just isn't much of a market for that - trust me.. otherwise it's another too-quiet day around the habitat, with Renny giving Dan & Michelle haircuts, and Michelle shaving Memphis Bob's back.. yep, fun times for sure



Let the waffling begin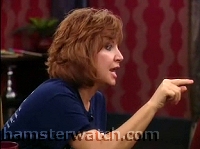 Renny met with Keesha and they tossed names around, including Memphis Bob & Dan, and talked about Dan's meetings with Jerry & April.. Michelle joined and pushed a deal proposal for April to stay, which Keesha obviously doesn't want

When Michelle left, Renny exploded "She doesn't want Memphis to go!", and Keesha pushed her own epiphany, that Michelle was in thick with April & Ollie

Dan joined them next, and was evasive to most of Renny's very direct questions about Jerry, the veto, and Memphis Bob.. later Dan & Keesha whispered in the spa how difficult Renny was making this week, and Dan asked her not to ask him anything in front of Renny.. then Renny came along to use the massage chair

Officially, it all remains up in the air for now.. the nominees have $9k between them to buy favors but Dan probably won't use the veto and April will probably go, but the intrigue is getting interesting.. suspicions are running high all over town about who Memphis Bob, Michelle and Dan are in cahoots with.. veto meeting is Monday, sometime between 11am and 1pm



Still more fishies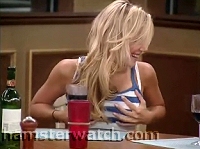 We're still getting way more than the required allotment of fishies in our daily diet

Much of them are still over nothing and much of them are still over singing, but lots of them came along because apparently Keesha was upset with one of the female Diarists and mouthed off about it some time after booze delivery

They missed a few fishies chances though, including one when Keesha was called in to be reprimanded and/or apologized to: April & Michelle started bitching about said female Diarist snapping at them to put on mics and the like, but being all sicky-sweet when she asks the guys to do the same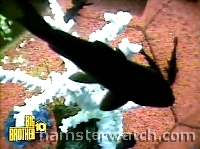 Meanwhile, I'm getting to know the fishies more & more, and their habitat is also becoming interesting.. one of the two remaining blondes is being targeted by the others and she's pretty sure it's only because she's blonde.. one is using BB5 Drew's sleeping strategy (like Dan & Ollie), and there's one who openly attacks by nibbling anyone nearby.. the goldfish who live in the bowl downstairs refuse to get involved in such petty problems



Update: Decision '08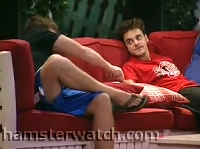 After several days of working overtime on Dan, Memphis Bob finally got a win.. and worse, they've named themselves "The Renegades"

I think I'll be spelling that Renny-gades for the duration

Dan said he'd turn down the $5k if April offers it, and he won't use the veto, and added "But it's gotta be one-two in the end, and death before dishonor, and we need to shake on it for the Renny-gades" and they did.. Memphis Bob didn't mention that he also has an F2 deal with Michelle

A few more screencaps are in the forum thanks to Gwynndal and ABT



Daily ratings - Dear Diary edition






Ratings are based on entertainment value



Is the Diary lady they're all complaining about lately the same person who's been so hyperactive with the fishies the last few days? Their disdain for feedsters becomes more apparent every day.



Won: Designer clothes, $5k
NOMINATED
It's mind boggling how many transformations her hair goes through in a given day, and how bad most of them look. Combined with her variety of unfortunate expressions, it's truly something else. She's looking like a goner and when she goes, the sex goes with her along with the Barbie Battles, most of the drama, and most of the show.





Won: $20k (presumably)
HOLDS VETO
He spent almost all day and night in meetings that accomplished nothing definitive until he finally gave in to Memphis Bob after midnight. I don't think he got his usual quota of naps today, but he attended most of the meetings horizontally. Naming an alliance is always the last straw for me: the last few seasons most alliance names were devised by Diary and promoted by CBS, not the hamsters. Speaking of Diary, why is he always YELLING in there?





Won: $4k
NOMINATED
He's told them all 'four weeks' and/or '26 days on slop' so often, most of them now believe it's been consecutive. I happily ignored today's weight fluctuation reports though, along with most everything else he said.





When viewers start hating on this or that hamster, I always like to say 'fight the real enemy: the producers' and tonight Keesha did. We heard all about a new and unsympathetic Diary lady, and as much as they try to block anything bad about Diary, that came through loud and clear.





Won: Classic Camaro
It took him a few days of working overtime, but he finally got the choir boy in his pocket, where Michelle & Keesha have been for some time. More importantly for him, he prevented himself going up as the likely alternate if the veto were to be used.





I have to give her credit for infiltrating so many places so well after being so isolated, and after losing her only ally - who was hated by everyone. But Holly Poodle is still usually more watchable.





Tonight's little revelation from his & April's pillow talk was that he once slept with three girls who were best friends - separately, I think. It might be interesting to see what he's like on his own, but he might be as dull as he usually is now.





HEAD OF HOUSEHOLD
She knows Memphis Bob is cagey and getting around more than most, and she may live to regret not putting him up and out this week when she probably could have.






Won: Hawaii trip, $1k
She ran the tie-dye room with an iron fist but only for a short time: her minions had turned on her long before Jessie & Michelle painted a bull's eye on her for being their leader. She took a lot of flak for leaving her babies and for choosing Hawaii, and her financial sob stories didn't always add up. But she told some fun stories, rebelled against giving comp recaps to Diary, and added great fireworks to fights.






The first to get an empty wheel before their time, his comic relief wore off fast and he brought nothing but a major mirror obsession and raging insecurity. But it's not all bad: he laid around in pink pillows and talked himself gone with rampaging harangues, and he'll carry the fact that he lost to a girl while wearing spandex, then lost to three girls plus Renny. Rehabs will profit from the Jessie Drinking Game.






The third fan fave to walk the plank, she was a great sidekick to the fun guys but she didn't bring much after they left, including any real attempt to save herself. Like many who have gone before, she seems like she'd be a cool person in reality, but this isn't. Her angry hat and illegal tribute bandana aside, she did a great Julie puppet and manscaping. Bikini fans will miss her, as will the Behind Pillows alliance.






They all liked him and his shenanigans, but his comp potential and desperate pledges of multi allegiance got him booted anyway, plus he was Brian's pal. He entertained them and us like few have before, with skits, dances, nekkid romps, Ambien-induced bedtime stories and general looniness. Too bad he went before he made it upstairs: he'd probably have revived Bath Buddies® and done it right.






He made more of an impact than most who get voted out first and he had the potential to be a fan fave but he over-allied and betrayed too early and had a very negative edit to boot. He was smart, funny, and a good ringleader for the guys - time will tell if they can be as fun without him. Sock Puppet Theater on only the second night of feeds, under his direction, could be the highlight of the season.


Please do not repost any content from this site (or any other) without permission, and do not repost or hotlink to any images
!! THIS MEANS YOU !!

* SEX * FIGHTS * DRAMA *
Save $2 a month for life
Use coupon code BB10E0826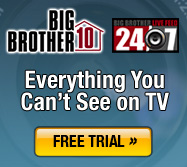 14 day free trial
Monthly or quarterly billing

Your subscription will include
BB8 Evel Dick Donato's live show
on eviction days






GET TWITTERED! FREE TEXT ALERTS
Get free Hamsterwatch updates to your cell phone! Text 'follow hamsterwatch' to 40404 to sign up (21212 in Canada; 5566511 in India; +44 7624 801423 anywhere else). my tweets - more info






Click to see my full list of BB10 links. These are some of my favorites:


24/7 feeds - 14 day free trial see everything that happens before it gets edited into something else for tv

No time-out feed links including set-up how-to, plus Real contact info

Hamsterwatch Chatroom

Hamsterwatch Forum

BB9 adult/explicit links - might get updated for BB10 if we have hamsters with naughty pasts

CBS Big Brother 10 the official site

DogDave BB10 aka Aldav scouts all the BB sites so you don't have to: all the news, edgy stuff & the best mini-recaps in town

Attw x's houseguest tributes all seasons fun & reference by BB's number one fan

BuddyTV - Big Brother 10 TV supersite with news, articles, discussions

Sir LinksALot Big Brother 10 all the links, once again



LINES OF THE DAY
April: It's easier to have two people give you their word to not put you up than one
Keesha: I think Memphis & Michelle are trying to take each other to the end
Renny: And they brought Dan in on it
Keesha: But I think they're using Dan
Memphis Bob: I can work my way around a grill
(them's fighting words.. we'll see)
Keesha: I can't stand these production people sometimes
Ollie: I'm gonna sauté some pickles - I'm gonna do a little stir fry

DAILY JERRYISMS
Can I kiss everybody's ass not to spend a whole week alone with Libra?
I haven't used my most famous line on anybody yet





EXTRACURRICULAR TALLY



Sex: April/Ollie (10x)

Makeout pairings: 2
April/Ollie, Angie/Steven

Major fights: 9
· Jessie vs Renny (pre-feeds)
· April vs Keesha
· Jerry vs Libra, plus Renny
· Jerry vs Michelle
· Jerry vs Memphis Bob (not on feeds)
· April, Keesha, Libra, Jessie free-for-all
· April vs Ollie
· Jessie post-eviction free-for-all
· April vs Keesha + Libra vs Michelle

Impressive party tricks: 2
Renny's fist, Renny's headstands

'The Soup' mentions: 5
· Meet April's boobies plus Jerry's affirmation
· Jessie's HOH pics of himself
· Jessie's farewell to Angie plus Michelle's 'whore slut skank' catsuit rant
· Renny's dirty mouth
· 'Dumbest houseguests in history' vs has-beens food comp plus Michelle & Jase 'two fax machines mating' noises

'Best Week Ever' mentions: 1
(BWE wasn't on during August)
· Ollie/April sex with the lights on