This site is about the Big Brother feeds and contains spoilers! It isn't necessarily thorough: it's what I catch and/or what interests me. It also isn't necessarily about who will win, who should win, who's cute or who's horrid. It's about watching hamsters: who's doing what and why, who's fun and who's dull. If they aren't entertaining, get rid of 'em! Thanks for encouraging my behavior.




SEX & FIGHTS GALORE
We're only halfway and this cast has already topped all others
* SIGN UP NOW *
for a two week free trial
Save $2 a month for life!
Use coupon code
BB10E0826
BB10 DRINKING GAME 2.0
Take a drink whenever April whines or complains
It's not as bad as the Jessie Drinking Game, but it's not for lightweights





NEXT SHOW


Sunday, August 17 at 8pm: Food comp, nominations, assorted out-of-sequence dramas







RATINGS WATCH


Thursday's eviction show placed second for the hour with a 4.3 rating and 8 share, once again trailing the Olympics on NBC with 12.7/22.




Donations are gratefully accepted through Paypal using the button above or direct by email. Please support other BB10 sites that you like, too. Many thanks!







UPCOMING EVENTS


The middle sized table is due

A growing chance of fights

Veto meeting on Monday

'Late Late Show' taping with Craig Ferguson is Wednesday around 4-5 pm; it airs Wednesday night on CBS after David Letterman

The only remaining birthday is Dan's, September 1 - if he's still around then

Hopefully they'll get another shot at earning the grill.. it's waiting








FAQ


Ollie & Jerry are on slop plus lollipops

Memphis Bob cashed in his slop pass
(Janelle's and Sharon's remain unused)

BB announcements - clues?
·121 marble slots in a Chinese checkerboard
·Sweden is slightly larger than California
·The tallest building west of the Mississippi is 73 stories
·Over 300 species of turtles alive today
·Wurlitzer 1015 Bubbler arguably the most popular jukebox of all time

'Switzerland', 'The Psychologist' and 'Dairy Queen' refer to Diary Room; 'Vacation' refers to pre-show hotel sequester

Jerry is being called 'The Colonel'

The winner will once again receive $500k, and second place gets $50k. The weekly stipend for the others remains $750, including sequester weeks.

The habitat has 52 cameras and 95 mics this season

The recorded Big Brother in-house announcements are the voice of producer Don Wollman

Finale was scheduled for September 17 - maybe now it'll be the 16th. It's a slightly shorter season than usual, by about 10 days



AMERICA'S PLAYER

Task 1: Who should Dan get nominated? Jessie/successful

Task 2: Who should Dan hug for 10 seconds? Jessie/successful

Task 3: Who should Dan vote to evict? Jessie/successful

Dan gets $20k if successful and not discovered. Apparently the previously-announced 4th task has evaporated. It's not clear whether all the 'Dan is America's Player' suspicions will invalidate him.





August 15, 2008 - Day 39



>> past >> present >> future >> all

>>

Renny is Head of Household - April & Jerry are nominated - Dan won veto

<<



Lollies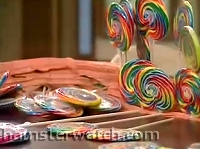 Giant lollipops won the latest dumb poll, and those who didn't do well in the gross foods comp get to supplement their slop with them

It's looking like Ollie, Memphis Bob & Jerry were the losers.. Memphis Bob cashed in his slop pass (a wise move, before food comps come to an end).. Jerry's going the "four weeks out of six" martyr route

There's always an upside though: we could get a bit of activity from sugar rushes, and the ants will enjoy the lollies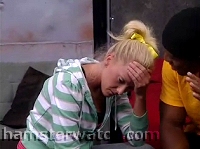 Renny met with Dan and proposed pawning him to get rid of Jerry.. a bit later she proposed the same thing to Ollie to get rid of April

After several more convos, Renny ended up nominating Jerry and April.. Jerry was shmoozing her after the noms, and April was crying to Ollie



Baby watch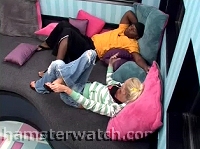 Finally, the potential mom & dad broached the subject on everyone's minds

April: I have the worst cramps in the entire world
April: I was freaking out because my period was late.. I told Michelle 'I haven't had sex so I don't know why my period would be late'
Ollie: That would be some real reality
....
April: I don't think anyone has a clue [we're having sex].. wait til they watch the tapes
Ollie: Don't talk about it [to Diary].. if you don't talk it, they can't air it



Randomness




Compared to some nomination nights, this was a snoozefest as they sat around waiting for a midnight comp

The evening wasn't a total loss though: E!'s "The Soup" zeroed in on them again, and twice this time: Renny won their Orbit (Sangria Fresca) Dirty Mouth Award, and later host Joel McHale called this cast the "dumbest houseguests in the history of the show" but added that Michelle & Jase's "sound of two fax machines mating" was his favorite clip of the year

But back to the habitat, Dan moaned about having only two shirts and two pair of shorts, as he checked one of the shorts for cleanliness

Jerry & Michelle had a post-noms hug which probably was as hollow on both sides as it seemed.. Keesha rotated through her third color-coordinated turquoise outfit (by my count) since she went with turquoise nails.. and Holly Poodle now has a purple neck brace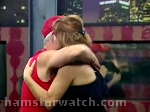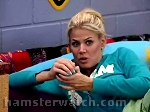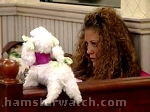 Dan shoots, and scores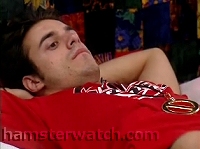 Either he stopped throwing comps, or he took Renny's pre-noms talk as a threat, or he won the midnight veto by mistake.. whichever it was, he won it

He seemed very bummed about it too, moping in bed wearing the necklace, then staring forlornly at the photo wall after hanging it up

The comp sounds like it was about number guessing: how many cockroaches, how many pairs of underwear?, how long was an animatronic snake, how many nails on a board, et cetera.. it sounds like it was messy too

Ollie was already pep-talking April, telling her she had some cash she could put to use

A few screencaps are in the forum



Daily ratings - All day suckers edition






Ratings are based on entertainment value, and I'm getting tough on them



Okay, how did they get so many oversize lollipops in one morning? I'd question the integrity of that vote, but it wouldn't do any good. They really need to can the intern they've got on the fishies switch some days and/or provide some guidelines. Much of the day and most of the night we had strobing fishies for things that are in their CBS bios! And yet they let slip through that they actually had two votes for that first night HOH election. Was the first a tie, or did TPTB want Jerry in there at any cost? They still haven't installed the middle sized table and it's now past due. Finally, we're approaching that sad time of the season when Diary attempts to perk them up by telling them they each have 'internet fans'.. heaven help us all.



Won: Designer clothes, $5k
NOMINATED
Sure, she's a pain and a poor-me victimized princess, but if she goes we lose the show. She's carrying this whole thing on her shoulders between after-hours porn shows, pregnancy watch, Battling Barbies, unpredictable hissy fits, and the widest variety of sour expressions seen since Nellie Oleson on 'Little House on the Prairie'. April already looks a bit like Nellie, but the yellow hair ribbon and extra-sour expressions today really completed the effect. She gave some jewelry to Michelle last night out of her newly delivered prizes, and if the brands of the rest of the stuff are anything to go by, I'd sure like to see April's face when she finds out what it was worth, and that she - not Michelle - will have to pay taxes on that value. Chances are real good it wasn't a $9.99 trinket from Target.





Won: $20k (presumably)
HOLDS VETO
He has to be the most sheltered 24-year-old man on the planet. He interrogates others all the time but he curls up crimson when anyone asks about his own background and especially anything having to do with girls. Tonight he hid behind a pillow when Keesha was changing under her blankets, and he was shocked - shocked I tell you - when Keesha & Memphis Bob mentioned that some So Cal clubs have unisex restrooms. He refused to believe such a thing existed. He's a nice guy, but nice guys don't necessarily make for good hamsterwatching. Bottom line, none of this would be so bad if he didn't sleep all day. I should upgrade him to neutral for winning the veto, but he's moping around miserable about it.





Won: $4k
NOMINATED
I'm tired of hearing him call all the females 'baby', I'm tired of hearing about his fried slop, I'm tired of hearing him report his weight four times a day, I'm tired of all his newly-cut 'muscle tees' and his blue jammies shirt, I'm tired of hearing about the pharma rep granddaughter who married a doctor (we rarely hear about the other offspring - why?), and I'm tired of hearing him say he's old. In short, I'm tired of him.





Her voice and laugh are annoying to many, and her 'I'm going crazy in here' is getting very old. But once darkness falls, at least she brings some life & sparkle to the feeds with her easy, infectious laughter, her silliness, and her stories. True, her stories could be better, and maybe they would be if it weren't for Dan cutting her off. When she said 'I met John Stamos in a club, in the bathroom' we never heard the rest of it because Dan couldn't get over two genders setting foot in the same restroom.





Won: Classic Camaro
He got quite a sugar rush tonight from chomping on an oversize lollipop: first he herded Michelle into the pantry/conference room to panic about what Renny's nominations really meant, and then he told several rambling stories that all seemed to revolved around 'I was so wasted'.





Her 100 mph non-stop yacking is only superseded by her 200 mph non-stop whispering, her goofy sound effects, and her babytalk. She rarely gets around to making a point, and now she's started puppy-dogging April & Ollie around the clock so they never get a chance to get around to their own brand of dogging anymore. I don't really see her stepping things up anytime soon, so I may have to swap out her spot here for Holly Poodle, who's a more sympathetic character and actually has more adventures.





He's only saved from a resounding negative for doing absolutely nothing in there day after day after day, by his line regarding the possibility of April expecting a little Ollie or April: 'That would be some real reality.' That could be the line of the season, especially coming after his saying that the only internet camera in HOH is one near the shower.





HEAD OF HOUSEHOLD
She was doing some good sniffing before noms and some of the warmth between her & Keesha really seemed to cool off when Keesha stuck up for Memphis Bob when questioned about him. Her noms were something of a surprise, since she'd threatened Dan going up with Jerry as well as Ollie going up with April, but maybe those talks were just to curry future favors. As far as a finals vote, she doesn't need Jerry gone anymore so that's a peculiar nom, but she's got the excuse that he put her up. She buttered up April real good before noms, saying she's such a great competitor - which April bought, naturally. Renny may have a veto alternate in mind, but it likely won't be Memphis Bob like it should be (due to Keesha), and it might not be Dan either, who she should start worrying about for finals. If she pits Ollie against April, we'll have some good fireworks and sex this week, but excitement on the feeds will pretty much dry up after one goes.






Won: Hawaii trip, $1k
She ran the tie-dye room with an iron fist but only for a short time: her minions had turned on her long before Jessie & Michelle painted a bull's eye on her for being their leader. She took a lot of flak for leaving her babies and for choosing Hawaii, and her financial sob stories didn't always add up. But she told some fun stories, rebelled against giving comp recaps to Diary, and added great fireworks to fights.






The first to get an empty wheel before their time, his comic relief wore off fast and he brought nothing but a major mirror obsession and raging insecurity. But it's not all bad: he laid around in pink pillows and talked himself gone with rampaging harangues, and he'll carry the fact that he lost to a girl while wearing spandex, then lost to three girls plus Renny. Rehabs will profit from the Jessie Drinking Game.






The third fan fave to walk the plank, she was a great sidekick to the fun guys but she didn't bring much after they left, including any real attempt to save herself. Like many who have gone before, she seems like she'd be a cool person in reality, but this isn't. Her angry hat and illegal tribute bandana aside, she did a great Julie puppet and manscaping. Bikini fans will miss her, as will the Behind Pillows alliance.






They all liked him and his shenanigans, but his comp potential and desperate pledges of multi allegiance got him booted anyway, plus he was Brian's pal. He entertained them and us like few have before, with skits, dances, nekkid romps, Ambien-induced bedtime stories and general looniness. Too bad he went before he made it upstairs: he'd probably have revived Bath Buddies® and done it right.






He made more of an impact than most who get voted out first and he had the potential to be a fan fave but he over-allied and betrayed too early and had a very negative edit to boot. He was smart, funny, and a good ringleader for the guys - time will tell if they can be as fun without him. Sock Puppet Theater on only the second night of feeds, under his direction, could be the highlight of the season.


Please do not repost any content from this site (or any other) without permission, and do not repost or hotlink to any images
!! THIS MEANS YOU !!

* SEX * FIGHTS * DRAMA *
Save $2 a month for life
Use coupon code BB10E0826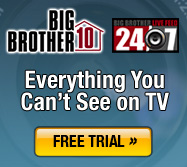 14 day free trial
Monthly or quarterly billing

Your subscription will include
BB8 Evel Dick Donato's live show
on eviction days






GET TWITTERED! FREE TEXT ALERTS
Get free Hamsterwatch updates to your cell phone! Text 'follow hamsterwatch' to 40404 to sign up (21212 in Canada; 5566511 in India; +44 7624 801423 anywhere else). my tweets - more info






Click to see my full list of BB10 links. These are some of my favorites:


24/7 feeds - 14 day free trial see everything that happens before it gets edited into something else for tv

No time-out feed links including set-up how-to, plus Real contact info

Hamsterwatch Chatroom

Hamsterwatch Forum

BB9 adult/explicit links - might get updated for BB10 if we have hamsters with naughty pasts

CBS Big Brother 10 the official site

DogDave BB10 aka Aldav scouts all the BB sites so you don't have to: all the news, edgy stuff & the best mini-recaps in town

Attw x's houseguest tributes all seasons fun & reference by BB's number one fan

BuddyTV - Big Brother 10 TV supersite with news, articles, discussions

Sir LinksALot Big Brother 10 all the links, once again



LINES OF THE DAY
Renny (to Michelle & Keesha): Do any of you two want to be pawns?
Michelle: I don't talk to [Ollie]
Michelle: I think cricket legs are embedded in my esophagus
Renny: You wouldn't be going home [if Ollie's nom'd with April]
Ollie: Do you know that for a fact?
Renny: Mm-hmm
Ollie: I know for a fact I wouldn't if I didn't go up
Memphis Bob (to Renny): I would never put you up.. unless I had to
Keesha: We are not a boring cast, that's for damn sure
April: I find it creepy if people are watching us 24/7
Ollie (about nudity): They can't show that on the internet - that's not right

DAILY JERRYISMS
Jerry: You have to send me a picture of that cat on the toilet
April: That's Keesha's cat





EXTRACURRICULAR TALLY



Sex: April/Ollie (10x)

Makeout pairings: 2
April/Ollie, Angie/Steven

Major fights: 9
· Jessie vs Renny (pre-feeds)
· April vs Keesha
· Jerry vs Libra, plus Renny
· Jerry vs Michelle
· Jerry vs Memphis Bob (not on feeds)
· April, Keesha, Libra, Jessie free-for-all
· April vs Ollie
· Jessie post-eviction free-for-all
· April vs Keesha + Libra vs Michelle

Impressive party tricks: 2
Renny's fist, Renny's headstands

'The Soup' mentions: 5
· Meet April's boobies plus Jerry's affirmation
· Jessie's HOH pics of himself
· Jessie's farewell to Angie plus Michelle's 'whore slut skank' catsuit rant
· Renny's dirty mouth
· 'Dumbest houseguests in history' vs has-beens food comp plus Michelle & Jase 'two fax machines mating' noises

'Best Week Ever' mentions: 1
· Ollie/April sex with the lights on