June 2005



>> to the future >> to the past >> daily index
>> latest HamsterWatch episode >> linkage



The fishies swim again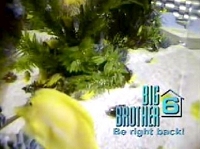 "Summer of Secrets" ramps up and the feeds are on! Careful as you go to sign up though

Monthly SuperPass has a 14 day free trial, and will then cost you $12.99 a month

Big Brother 6 SuperPass has a 3 day free trial, and will then cost you $29.99 for 3 months

Sign up before July 6 and enter coupon code bbearly for a 20% discount

Last year's season ran 82 days so wait a few days before signing up for the 3 month pass just to be safe (it doesn't really start til July 7).. it would blow to spend $30 and miss the last day or two.. Be sure to save your signup info and remember to cancel before your subscription ends if you don't want to be billed again
First cap o' the season by attw x

Newsflash Variety reports that everyone going into the house knows someone else in there - friends, coworkers, relatives, etc. The phrase "significant other" was even used (about time, just a year late for that nebulous committed couple!) Each twosome thinks they are the only pairing, which pretty much confirms they are now sequestered. If any of these "teams" of two ends up in the one-two positions at the end, they will get $1 million and $250,000 instead of the usual $500,000 and $50,000. The article also confirms the house design is by the guy who does "The Surreal Life" trainwreck decor, and that there will be 10 beds for the 14 hamsters when they arrive.. with a "hidden bedroom." Ooh, aah.

Newsdud So much for a D&D house tour on "The Early Show" - Julie wasn't even there today.. I think that one originated on Diane's site - maybe she mixed up taping day with air day.. stay tuned

As for all the fuss over the new ads and threats of yet another Big Twist, refer to yesterday's interview with Arnie: "This season we have what we are calling 'The Summer of Secrets' meaning that because it is a brand new house there will be multiple secrets uncovered throughout the summer that the HouseGuests will find" - the dreaded new Twist is prolly (hopefully) the house itself.. don't forget, the average viewer doesn't keep tabs on rumors and news all year long like uhh.. some of us

Newsflash Well, not really but there isn't much else.. Arnold Shapiro dodged providing any real info again today, with vague slippery references about the "secrets" coming up.. the only real "news" he gave is that HOH is upstairs, and that there are 4 more cameras and 10 more mics than before.. he also confirmed there will be no moderator and no all-stars, laying to rest yet more rumors that will survive anyway (how about that "committed couple" eh?) read it

Newsflash There's some talk of reality writers unionizing (don't think there aren't writers).. it's even possible they could strike.. if a strike were to be organized and undertaken in the next three months it'd be bad for us, HamsterWatchers - read more - on the other hand, if it does happen, Mr. Shapiro & Ms. Grodner, remember that I am available

Newsflash Last year's handjiving lovebirds Diane & Drew will tour the new house on June 28 on the CBS Early Show



Let the games begin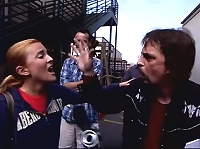 CBS has launched their Big Brother 6 site, or at least a placeholder for it. You can click on over, or not - everything they've got up I've linked here.

You can get a sneak preview of the new TV commercial featuring last summer's hamsters looking like a fun, energetic bunch (?) and watch a video with the casting director who admits they are always surprised by who ends up a good guy and who ends up a villain (?) But the real treat is the video clips of hamster hopefuls at the LA open casting call.

Here is a sampling of the featured wannabe's and what they had to say. Chances are one or two of the folks in the video have already been cast, in which case some of these quotes may become catchphrases for the season.. chances are probably greater that I've left out the people who are already cast. Oh well, we'll find out enough.



I'm just a modern day redneck



I've never seen it, don't have no clue



#1 to win the money; #2 it's my favorite reality show; #3 avenge Danielle's loss



I'm determined, I'm sexy, and I wanna be the mom of the house this year, plus I've got a gay son, right here.. we're not twins, we're mother and son!



Hopefully there'll be hotties on there, like Drew.. I'm hoping to bring my karaoke machine



The land of the misfit toys? I'm one of those people



This is a perfect show to see when I could snap, or pop



I have dual personalities, so a lot of people can't figure me out.. I'm older than I look



she: That's hot
he: Every time I go anywhere with her someone says 'It's Paris Hilton!"
(I thought he was with the sexy sister-mom?)



I can be giving people massages to make 'em feel better



I would be funny on tv cuz I talk funny



I think it's fascinating in the pure Orwellian experience



Do I look like Brad Pitt?



I'm gonna let my presence be felt



I hear it's a popularity contest



From day one, that house belongs to me



You need somebody who can make a really, really good peanut butter & jelly sandwich.. I make shrimp jelly sandwiches, cucumber jelly sandwiches, lettuce jelly sandwiches



I'm good at entertaining myself



The CBS site also confirms the first show will air on July 7, that Mrs. Moonves will once again be our host, and Real Networks will once again provide the feeds.



Linkage




CBS Big Brother 6 the official site
House Calls weekdays live 10am BB/1pm ET on BB main page - show archives
Live feeds signup - No timeout feed links
BB6 Park by TD listed on Hamsterwatch daily index
Hamsterwatch on Youtube BB6 & BB7 videos off the feeds
Hamsterwatch Big Brother 8 here we go again
Hamsterwatch Big Brother 7 All-stars in the house - from me, that dingo person
Hamsterwatch Big Brother 5 Dailies, Cowboyisms & Hollyisms - also from me
Aldav has all of the edgier stuff & the best mini-recaps in town
BB Chatter feed updates, screencaps, and fun boards - easy to use and functional!
Screencaps refresh site is back, from bbfan
Reality TV Links - Big Brother 6 emphasis on individual hamsters' sites
Sir LinksALot Big Brother 6 all the links
Big Brother Link news, info, caps, forums, and links
Big Brother Fanatics chat, updates, caps, news, and links
Big Brother 6 Keyhole peruse various BB sites in the same window, feeds too
Joker's Updates Big Brother Grins can't do BB Park this year
2005 or 2006 Kaysar calendars by BBVoyeur - pdf format
C=Venus BB6 chops new site full of really great work
BB6 Houseguest Fun play Mr. Potato Head, mess up their faces, send cards
Destroy a houseguest fun for fishies times by johnbb
Patrick's Place one-man BB show - 15 streaming cams including his car, turn his lights on/off
YAYsports! snarky stuff for sports fans from the creator of Michael's Blog
another 2 cents quasi-intellectual sleaze & radical gumbo aka blog

Today's must-click special: Cooking on the Edge with Marvin video from Marvin's site

Stay tuned for daily ratings on the 2005 hamsters once the feeds start. You & me to the end!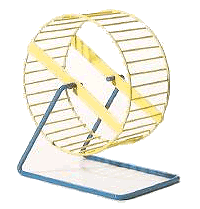 Bring 'em on - we are ready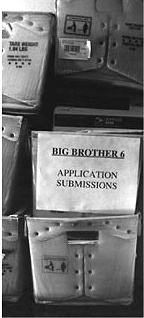 I love keeping tabs on the feeds during summer, and wish I didn't have to do this.. but the reality is it takes a ton of time that I can't really afford to give away. If you like the site and would like to help support it, please visit my sponsor links by clicking on the banners, or make a Paypal donation here. Many many thanks!



"This is the summer show everyone is waiting for. A summer staple for the past five years, the series is so completely awful it's fantastic. Watch as host Julie Chen tries to act natural, the producers make up rules as they go along, and the cast acts like a bunch of backstabbing, intoxicated nitwits. This year, the prisoners - er, houseguests - will live in a brand-new house, giving them more space in which to act like morons. We can't wait."

MSNBC.com







This site isn't necessarily about who should win, who will win, who I'd be friends with, or who is cute. It's about watching hamsters: which ones are doing what and why, which are fun and which are dull. If they aren't entertaining, get rid of 'em! Thanks for encouraging my behavior..

that dingo