This site is about the Big Brother 13 feeds and contains spoilers! It isn't necessarily thorough: it's what I catch and/or what interests me, and it isn't necessarily about who will win, who should win, who's cute or who's horrid. It's about watching hamsters: who's doing what and why. If they aren't entertaining, get rid of 'em! Thanks for encouraging my behavior. Your pal, dingo







POWER STATUS


Rachel is Head of Household
Keith & Porsche are nominated
Rachel & Brendon did not use veto
Have-nots are Kalia, Shelly, Cassi, Lawon
Daniele has Golden Key







BB13 DRINKING GAME


Take a swig whenever Adam mentions bacon (as suggested by Adam)





Big Brother 13 at iTunes

Season Pass or individual episodes







FAQ


Nominations & veto will be pairs-based until there are 10 left.

The surviving partner of evictee gets one of four Golden Keys, meaning they can't be nominated or play for HOH until there are 10 left.

Dick left myseriously, off the feeds, due to 'personal reasons' per CBS. We may never know the full story.

CBS shows air Sundays and Wednesdays at 8pm, and live eviction Thursdays at 9pm

BBAD airs 1-4am Thursdays and 12-3am other nights, on Showtime in USA and Global Reality in Canada

BB13 prizes are the same: $500k for the winner and $50k for 2nd place. The others still earn $750 a week including pre-show hotel and jury sequester.

The habitat has 52 cameras and 95 microphones.

The recorded Big Brother in-house announcements are the voice of producer Don Wollman.

All feeds stay on one 'scene' when someone's in Diary.




>> >> >>

IF YOU DON'T HAVE THE LIVE FEEDS, YOU ARE MISSING THE REAL SHOW
Long time till Thursday (Monday)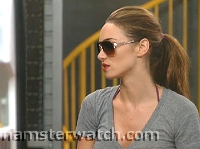 The waffling is well underway: Porsche was almost guranteed to go but now they're leaning toward Keith - they'll switch it up a few more times before Julie says "Hello houseguests".. things will pick up then, as the newbies catch on to the desperate life or death situation they're in, and Rachel & Brendon falling from power is always a good show

Speaking of Rachel & Brendon, they got busy last night in HOH - flashback to 7/11 3:32am F1 to see it, if you dare.. the sex events portion of my Extracurricular Tally is now open, thanks to them.. he made a comment today about not wanting her boobies all over the internet and she countered with a reference to Penisgate, which shut him up

Kalia's got a plan to pawn herself with the goal of Lawon leaving (so she'd end up with Golden Key safety).. she's told some of the vets team about it, so she's telling some of the newbies how much she wants to go home, she doesn't want the kind of "fame" reality TV brings, etc, and then she's telling the vets why she's saying that, in case they hear about it - in other words, she's complicating a very simple (and likely stupid) strategy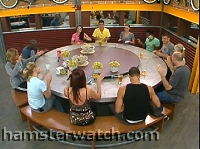 Shelly continues to clean a lot, and she & Cassi continue to smoke a lot with occasional company from Adam, Jeff & Porsche.. Lawon continues to be funny without going over the top.. Dominic continues to make a lot of awkward sexual comments.. Daniele continues to get around and infiltrate everywhere.. Jordan continues to be moody & a bit mopey.. Porsche told like a long story about like getting like punched by some like random guy, but otherwise neither she nor Keith are bringing the first nominee drama or hysterics we've come to expect, and that's disappointing

Showtime brought booze and another noisy round of BLAM BLAM CLAP CLAP POW POW followed by a noisy drum circle.. Brendon had the time of his life once again with each, putting on one ecstatic goofy face and pose after another.. later in the daily Brendon & Rachel fight, he called them "asinine games" - flashback around 1.15am for that, including his Line of the Week "I don't have time for crazy TMZ scandals" - as if Penisgate was her fault

Ratings will return Tuesday, with a very special Rachel edition on Wednesday



No veto for you (Sunday)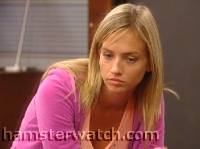 After a lot of frenzied morning convos, Rachel & Brendon did not use their veto and Keith & Porsche remain on the block - see, this is why I don't follow all the waffling closely this early in the season, as it rarely comes to anything

Keith's been getting around so he's a little more confident than Porsche at this point, but they're both on shaky ground.. Porsche keeps talking about who she will or won't be friends with after BB13 which is an unusual strategy, but she's friends with Janelle and Beau, and maybe Hardy, so in a way it makes sense but it isn't going to help her this week - she needs to step it up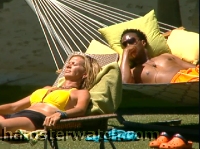 Afternoon Bikini Hour is back in full force.. bikini fans especially are hoping Porsche will start fighting to stay.. Lawon & Kalia look like the next partnership ready to dissolve.. Brendon keeps saying how happy he is that everyone wants to hang out with him & Rachel, unlike last year - apparently he forgot how the whole HOH kiss-up thingy works, not to mention how long & hard the fall is afterward

Beer came for Showtime and they debated which game to play for a long time rather than just drinking it (and fighting).. I'm not expecting a lot to happen before Thursday, vote counting & waffling & recounting excepted, but maybe they'll surprise us.. things will pick up once Julie says "you are evicted" to one or the other - they always do after the first one walks the plank.. the ants are in residence already.. ratings will return Wednesday







Linking to any page here is fine but please do not repost any content from this site (or any other) without permission, and do not repost or hotlink to any images


!! THIS MEANS YOU !!








UPCOMING EVENTS


7/12 Julie on The Late Late Show
7/13 HOH pics and blog?
7/13 Ragan Fox & Spicy SuperPass show 3pmPT/6pmET
7/13 CBS 8pm - Dick's exit, veto comp, veto ceremony
7/14 First live eviction



THE REAL SHOW IS THE LIVE FEEDS

Includes Flashback, video clips, live talk shows, interviews, $10 of free music every month and more!
Sign up for a free trial





RATINGS WATCH


Sunday's show placed first for the hour with 7.1 million viewers, 4.2 rating and 7 share, ahead of 'Extreme Makeover: Home Edition' rerun on ABC with 5.6/3.4/6, 'The Simpsons' and 'The Cleveland Show' reruns on FOX with 3.5/2.0/4 and 3.0/1.7/3 respectively, and 'America's Got Talent' rerun on NBC with 2.5/1.7/3.







Clicky: caps sorted by day - all caps


News & updates
Dick posted a video statement about his exit, but he didn't really explain anything - the link's below in Links of the Day

The Android app is out and available to download from Android Market. You need Android 2.2 or higher, Flash, a SuperPass subscription
plus additional mobile access fee.

Some people aren't able to use it yet but they are aware of the issues and are working to fix them up - see Monday's update.. be patient, it's only the beginning of a long, long summer.

Sorry, but I'm unable to answer questions about various phone models. SuperPass technical support is being responsive though, and you should contact them if you're having problems.






Mobile access feeds
Everything you need to know about getting the feeds on your Android or iPad/iPhone is in the forum. Like SuperPass subscriptions, adding mobile access through me will help me keep the site going this summer. If you already have your SuperPass, just click the banner up top of this page from your mobile device browser, sign in, then click the Live Feeds tab. It'll know you're coming in via mobile and ask you to sign up for the add-on access.

If you don't yet have SuperPass, you can add it to your subscription when signing up by clicking the banner up top. Thanks in advance!

Donations via Paypal are gratefully accepted!




Thanks for your support!





LINES OF THE DAY
Monday
Kalia: Toothpicks are great for picking your nose

Porsche: Now I know I can take a punch
Dominic: If you got knocked down, you can't take a punch

Cassi: Porsche is a fucking dumb little cunt

Adam: They don't test for steroids? They should.. oh, if they did, Jessie wouldn't have been here.. twice

Rachel: I love you
Brendon: --
Rachel: I love you
Brendon: Okay
Rachel: I love you
Brendon: I love you too.. I don't want to get in arguments up here
[argument ensues]

Brendon: I don't have time for crazy TMZ scandals

Sunday
Rachel about veto: We'll probably have to stare at the wall together

Shelly: I've become Aunt Slop Jemima

Rachel: We didn't get any banners
Daniele: That's because nobody watched your season

Jeff: I might need a note to get out of Cassi's abs class today

Jordan: What's estrogen?


LINKS OF THE DAY
B-Side Blog with Sunday's show

Dick's statement

Dr Will on BB13, again

24/7 feeds - SuperPass free trial
see everything happen before it gets edited into something else for tv

BB adult pics & links - explicit! Updated with Brendon & Nick

CBS Big Brother 13 the official site

All my BB 13 links merchandise, other BB sites, everyone's Twitter.
Some of the best of the best:
DogDave BB13
Attwx Remembers Big Brother
I Hate Big Brother
Sir LinksALot Big Brother 13
CBS BB East Coast live feed







EXTRACURRICULAR TALLY
Premature exits: 1 Dick

Sex events: 1
Brendon/Rachel 7/11 3.32am F1

Noteworthy fights: 1
Brendon/Rachel (ongoing)

CBS goofs: 4
Labeling Jeff as Dominic
Premature show schedule
3am wrong trivia screen
Typo 'Evil' Dick