This site is about the Big Brother 12 feeds and contains spoilers! It isn't necessarily thorough: it's what I catch and/or what interests me. It also isn't necessarily about who will win, who should win, who's cute or who's horrid. It's about watching hamsters: who's doing what and why, who's fun and who's dull. If they aren't entertaining, get rid of 'em! Thanks for encouraging my behavior.


THE FEEDS ARE COMING!
It's a whole different show than CBS puts on the air
Early Bird discount is available now!
Click here
and use coupon code BB12QTEARLY





BB12 DRINKING GAME


Take a swig every time you see someone guess who the saboteur is - that's right, we're starting off serious with this







POWER STATUS


Nobody is Head of Household
Nobody is nominated



Donations are gratefully accepted through Paypal using the button above or direct by email. Please support other Big Brother sites that you like, too. Many thanks!



UPCOMING EVENTS
More videos & interviews are due
July 3 or 4 Hamsters move into the habitat
July 7, 3pm PT/6pm ET - SuperPass video chat with Janelle, Jordan, Chelsia & Missy
July 8 Julie's house tour on The Early Show (it's already linked on the right sidebar)
July 8, 8pm - Big Brother 12 premiere
July 8, 9pm PT/midnight ET - Live feeds and our fun begins!
July 12 Julie on Late Late Show with Craig Ferguson
July 15 First live show & eviction






FAQ


Hamsters will be told there's a saboteur among them when they move in. We'll find out who it is on July 15. He or she is not playing for the $500k.

There will be Have-Nots again, with their own room.

The winner of BB12 will win $500k again. Hamsters will probably still earn $750 a week including pre-show hotel and jury sequester.

The habitat has 52 cameras and 95 microphones.
















June 30 - July 2, 2010 - Still more pre-season


>> past >> present >> future >> all

>>

Big Brother 12 begins Thursday, July 8, 2010

<<

>> Early Bird discount for live feeds is now available!<<
>> Click here
and use coupon code BB12QTEARLY <<

>> Tweeting Big Brother since BB8 - click to see all or follow - latest:



Wreaking havoc with.. duct tape?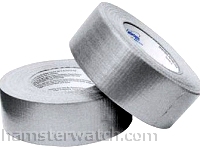 I've been trying to be optimistic about the new season (my usual BB cynicism will hit later, around Day 6) but then Friday happened.. they started off by asking the twitterverse for sabotage suggestions and loads of good ones rolled in.. then they posted the list of things "the saboteur has access to": duct tape, super glue, rope, padlock, food coloring, condiments, rubber bands, wire, glow in the dark ink, and beeping electronic device

You'd think the good suggestions would slow down with those choices but no, they went all social media on us and embedded anyone's Twitter, Facebook, Yahoo! or MySpace messages who wanted to be seen, and you know how that goes.. it wasn't just sabotage suggestions or general BB stuff that showed up on the CBS page either: it was every message you sent about anything, to anyone.. naturally it all quickly deteriorated into repetitive suggestions of things that simply will not happen, most of them involving super glue (the toilet lid, clothes, undies, food, toothbrushes), misspelled easy words, more undies, lots of "duck" tape, and spam.. okay, I admit I shot my URL out there twice but that was my limit - I do work hard at not being annoying to my visitors & followers with signup begs even though I'm losing a lot to those who are annoying about it, but that's another subject

Back to the duct tape situation, you have to ask WHAT THE HELL ARE THEY THINKING? This could have been a good twist that worked, but instead they're a) turning a potentially brilliant premise into a bunch of 5th grade pranks with this idiotic list, and when we have a high ratio of seemingly smart, college educated hamsters, no less; and b) telling the hamsters from the get-go that there's a saboteur.. Chelsia even asked several of them how they think the twist will affect their game - not a twist, which was odd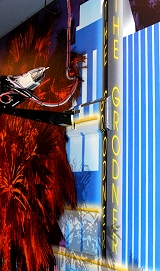 Which brings me to this pic, a South Beach style mural marquee in the habitat advertising a club called The Grodner.. I don't know who actually signs their paychecks but we all know (and they soon will) that Allison Grodner is their true boss, and they'll see a not-so-subliminal reminder of that daily

But the kicker, considering that, is the definition of the word sabotage: Merriam Webster's first entry is "destruction of an employer's property (as tools or materials) or the hindering of manufacturing by discontented workers" - kind of ironic, don't you think? MW goes on to define the word as it relates to war for the second entry, and "an act or process tending to hamper or hurt" for the third.. maybe it's just semantics and/or me being picky, but considering their official excuse for booting Chima was destruction of BB property, Summer of Sabotage seems a potentially risky subtitle for the season

For seven seasons - now eight - I've been letting them know I'm available for hire to prevent such gaffes as this from going out there but to no avail, so I'll just keep pointing them out here for free.. I don't expect I'll ever be hired by The Powers That Be, but I'd be happy with a thank you here or there (or once), or even acknowledgment of my existence, but I digress

Along the same lines, SuperPass misspelled Ragan's name on their interview links Friday, which I let them know about (nicely), but it remains "Regan" as of now - they did however fix Brendon's link so it doesn't lead to Hayden's interview anymore

In spite of all this, I am still cautiously optimistic about our cast, and am focusing on them rather than the shenanigans centered around CBS, and their new ploy to up their site traffic (which equates to advertising dollars) - don't think for a minute they'll be picking sabotage ideas from the thousands of ideas posted, or that they'll even read them.. but yes, I am looking forward to the rest of the video interviews coming along, and to the feeds on Thursday so we can see what the new hamsters are really about




I need your feed signups so I can afford to cover the feeds all season
Thanks to those who have signed up thru my links already

Start digging, Hamsterwatchers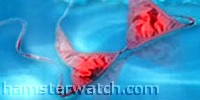 A floating bikini top is featured on the CBS site this season - I wonder if it's a threat or a promise

We've got hamsters now, and house tours, and all kinds of dirt is beginning to roll in - I'm updating my linkage page as I find stuff, and sending out tidbits to my Twitter, Twitpic and Facebook, so be sure to follow me as it won't all make it to the daily episodes here

The official word on the missing 14th hamster is that "she" bailed at the last minute, but there was also a supposed finalist named Shantrice who announced same a couple weeks ago and so perhaps was uninvited by The Powers That Be - as usual, we may never know the real story.. not surprisingly, we've got two bikini models, Rachel & Kristen, in addition to advertised model Monet, whose credentials are legit and mostly in clothes-on fashion.. also there's some buzz around the interwebs about Enzo (charged with homophobia) and Ragan (charged with racism), but for the most part this group seems relatively scandal-free - so far, anyway

Meanwhile I'm tweaking their individual ratings as we go, and the sidebar Links of the Day for info & interviews - get in the habit of checking those and Lines of the Day as that's where the best stuff lands on a daily basis.. please let me know if you find more about any of them

Now it's your job to learn the names and faces, and prepare for a fun summer with our shiny new hamsters



Screencaps du jour



Click thumbnails to enlarge - click for all my pre-season caps - click for all my caps
Log in using your Twitter nick and password to leave comments on any cap, and your comment will also be automatically posted to your Twitter



Daily Ratings - Snap Judgements early edition






I may add to these preliminary ratings as I gather more evidence, but they're starting to firm up. Ratings are based on entertainment value potential, just this once. Factoids are per official CBS bios, and may or may not prove to be accurate.



I'm not sure about the whole saboteur twist, but I'll wait to see how it plays out - there's nothing we can do about it anyway, so they get a pre-season complimentary neutral even though the casting folks seem to have delivered the usual 'types' again. I would have given them ups just for coming back, but Wednesday's press release continued the misleading fiction BB is known for by saying they'll learn there's a saboteur 'Upon moving into the house on premiere night..' err no, they move in days before premiere night. But we may get lucky this time, since 'The Mole' was one of the better reality shows to have been cancelled. We were promised 14 by TV Guide but one of them escaped already - that one is already the true winner.





Andrew Gordon
39 - Podiatrist
Miami Beach, FL

Divorced, one daughter, 9
It's always good to have someone in there with a medical background for the inevitable band-aid emergencies. Much is being made of him being an Orthodox Jew and possibly not playing comps on Saturdays (veto comp day), but the feedster fun will be in his keeping kosher as that will confuse mealtimes more than usual, especially if he irritates the others about it. He mentioned in several interviews he enjoys toy shopping with/for his daughter in several interviews, but he won't let her have any Barbies, other dolls, or anything pink. He's one of several 'superfans' who watches CBS but not feeds.
Reminiscent of BB6/7 Kaysar, food-wise





Annie Whittington
27 - Bartender
Tampa, FL

Bisexual, has a girlfriend
I'm predicting her as a huge fan favorite even if she isn't overly fun, and especially if she's even just a bit likable. She does say she's over-dramatic and that's a very good sign. She might also be the first to get cabin fever paranoia. BB made her dye her blond hair dark.
Reminiscent of BB10 Angie





Brendon Villegas
30 - High school swim coach
Riverside, CA

Single
He's a swim coach but just for now - he's on his way to a PhD in biomedical physics. He recently got his MS from CSU Long Beach, where Ragan teaches. His announced strategy of pitting girls against each other is an obvious one that tends to backfire. Update: Maybe he realized that, as he changed to no strategy after doing several interviews. He's like to use winnings in part to get his brother treatment for drug addiction. He claims to be fun, which is usually a good indicator that he won't be. He was recruited.
Reminiscent of BB8 Zach





Britney Haynes
22 - Huntington, AR
Hotel sales manager

Engaged
She says 'when in doubt, please note I'm being sarcastic' - we may be in doubt a lot. She also says she's argumentative and she seems pretty judgmental, and these are great qualities for a hamster. She may form a natural Arkansas alliance with Kathy.
Reminiscent of BB8 Jessica, BB11 Jordan, or a young Dolly Parton





Enzo Palumbo
32 - Insurance adjuster
Bayonne, NJ

Married, baby daughter
His original official bio said he's afraid of 'rats and AIDS' - now it just says rats. He wants to be called Meow Meow and lead a Meow Meow Mafia, but I'm guessing it's more likely he'll be known as Guido. I think he might be a love him or hate him kind of guy, which is good for polarizing feedsters and causing chatroom flame wars.
Reminiscent of BB9 Matt (without the prison stripes) or someone on 'Jersey Shore'
Thanks to @tattierpub for the bio cap





Hayden Moss
24 - College student
Tempe, AZ

Single
The pretty jock role is one that never does much for me as I simply don't understand it. On the plus side, he doesn't like messy people. Like BB11 Natalie, he goes to ASU, where Ragan got his PhD.
Reminiscent of BB9 Nick





Kathy Hills
40 - Deputy sheriff
Texarkana, AR

Divorced - one son, 23
Kudos to her for surviving ovarian cancer but I hope we don't have to hear about it every hour, or the fact that she's a cop. Showing up for a primetime network TV show with such drastic roots says something, but I'm not sure what. She may form a natural Arkansas alliance with Britney. She's super religious which could cause problems for us feedsters - it often does.
Reminiscent of BB9 Sheila, in preparation for hourly reminders





Kristen Bitting
24 - Shoe boutique manager
Philadelphia, PA

She may sell a shoe here & there, but really she's a bikini model - see my links page. She says she'll do 'close to anything' to win which could make for some good feeds, especially for the overnighters. She seems a bit stuck on the 'I'm pretty and smart' loop, which could get old fast.
Reminiscent of BB6 Ashlea, BB11 Laura





Lane Elenburg
24 - Oil rig salesman
Decatur, TX

Single
The guy next door role tends to go far in BB, and they are usually good for a laugh or two without being offensive to many. He doesn't want to share a bathroom, so that could get interesting. What could also get interesting is that he might have a temper, since he was involved in an assault accusation with his brother in 2008. He claims he lies all the time, and I think there's potential for some Laneisms here.
Reminiscent of BB10 Memphis Bob, BB9 Ryan (who both finished second)
Thanks to Dogdave for the assault link





Matt Hoffman
32 - Web designer
Elgin, IL

Married
The obnoxious tattoo'd guy role, this one is going out of his way to promise obnoxiousness, saying he has 'no filter from brain to mouth' and he likes 'annoying people for my own amusement'. Since this time it'll be for our amusement, let's hope he annoys the right people. Update: he's not so bad in his interviews - maybe CBS encouraged him to play up the obnoxious. He was a BB11 finalist. Like Ragan, he calls himself a superfan but only seems aware of the CBS version.
Reminiscent of BB8 Dick, BB9 James





Monet Stunson
24 - Model
Glen Carbon, IL

Single
Can she be as princessy as billed? I sure hope so! That'll make for some fun for us, unless she's too whiney about having to clean up after herself or others, but chances are very good she will be. Her billing as a model is accurate - she has some nice photos out there and is a known entity in the Saint Louis fashion world. She bugs her eyes a lot when she speaks, which will drive many feedsters nuts.
Reminiscent of someone on 'My Super Sweet 16'





Rachel Reilly
26 - Chemistry grad student/VIP cocktail waitress
Las Vegas, NV

She does those things and is also a bikini model - see my links page. It can't be easy to find someone to fill the brainy but buxom role, but they did it once again. Hopefully there's more to her than her labels. She's not into jock types (which could be fun as they'll likely be into her) and she hopes there won't be any - but that doesn't mesh with her calling herself a BB superfan. She describes herself as 'bubbly and effervescent' which is a bit worrisome, but it could make for interesting afternoons in the pool.
Reminiscent of BB6/7 Janelle, BB9 Jen, and BB11 Michele





Ragan Fox
34 - College professor
Los Angeles, CA

Gay - single
Like just a handful of hamsters before him, his credentials are solid: he's a PhD, a known media personality and published author, and he's also put some controversial subject matter out there. He talks a lot about being gay, which is the BB formula for that particular role, but says he knows how to talk to conservative people so CBS's hoped-for fireworks could fall flat. Several others are already planning to cozy up to 'the gay guy' so that could be beneficial for him. He got his PhD at ASU (where Hayden goes), and he teaches at CSU Long Beach (where Brendon just got his master's degree). He likens BB to chess as if that was a brilliant insight rather than an obvious, ongoing, in-your-face comparison. He's a big fan, but of the CBS version only: he implies that's enough to be a 'fan' and that feedsters are a little wacky. He also promises fart jokes.
Reminiscent of stereotypical college professors who wear bow ties (and you thought I was going to say BB's gay guys)






Lucky #14 got away without any secrets exposed or embarrassing incidents to live forever on the web, and her dirty laundry will remain in the hamper.


Linking to any page here is fine but please do not repost any content from this site (or any other) without permission, and do not repost or hotlink to any images
!! THIS MEANS YOU !!

EARLY BIRD DISCOUNT AVAILABLE NOW

Use coupon code BB12QTEARLY
Free trial! Includes FlashBack
See anything and everything
from BB12, BB11 and BB10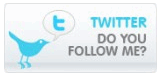 Get free Hamsterwatch updates to your cell phone! Follow me at my Twitter page or text 'follow hamsterwatch' to 40404 (21212 in Canada). Click for more info.



LINES OF THE DAY
'Tell them there's a saboteur without explaining what the word means' -
@spooloflies
'.. also, everyone tells me I have a really good driver's license picture' -Monet, in response to greatest accomplishment question
'Rats
and AIDS
' -Enzo, in response to what he's afraid of
'A gay guy's like a woman in a guy's body' -Enzo
'I didn't really like hardly anybody off of last season' -Britney
'I'm not scared of birds - it's like a medical condition phobia' -Britney
'Present guest excluded, I hate blond dimwits who are unintelligent' -Andrew, to Chelsia
'The magic is always in the casting' -Julie Chen
..or lack of magic -dingo
More to follow

EXTRACURRICULAR TALLY

I expect this to be a busy area this season

Sex events: TBA

Makeout pairings: TBA

Major fights: TBA

'The Soup' mentions: TBA



LINKS OF THE DAY
Early Bird feeds discount
Only $29.99 for the full season
Price good thru July 8
Use coupon code BB12QTEARLY
Steals of the Week! Clearance bins at Overstock.com
My BB12 links
I've been gathering sites, pics, etc of the new kids
The saboteur's weapon list
- 5th grade pranks for college educated hamsters
House pics
from
Dogdave
who also has a bikini collection
Cat Lady Gazette
first impressions of the cast
Excerpts from Ragan's BB3 application
- does BB allow apps to be posted?
Hamster interviews
with BB9 Chelsia Hart -
Watch them with SuperPass
Hamster interviews
from Andrea Reiher/Zap2It
Journalist day in the habitat
part 1
-
part 2
-
part 3
-
part 4
part 5
-
part 6
-
part 7
-
part 8
-
part 9
Alan Carter (CBS2/KCAL9)'s writeup
B-Side Blog's writeup
Matt Maynard (WLBB)'s writeup
Early Show meet 'n greet
Another version
Julie's house tour
Every Hamsterwatch episode is still here on the site - go back and relive the madness!
BB11
-
BB10
BB9
-
BB8
-
BB7
-
BB6
-
BB5
some links on them might be bad now



Click to see my full list of BB12 links
These are some of my favorites:

24/7 feeds - SuperPass free trial
see everything that happens before it gets edited into something else for tv

SuperPass FlashBack instant replay by time/date/feed (requires SuperPass)

Hamsterwatch Twitter - Twitpic

Hamsterwatch Chatroom - Forum

BB adult/explicit links - updated with BB10 Steven Daigle

CBS Big Brother 12 the official site

DogDave BB12 scouts all the BB sites so you don't have to: all the news, edgy stuff & the best mini-recaps in town

Attwx Remembers Big Brother all seasons fun & reference by BB's number one fan

Sir LinksALot Big Brother 12 all the links, once again

BuddyTV - Big Brother 12 TV supersite with news, articles, discussions



BBQ SMACKDOWN SCORECARD

Big Brother 12
I'm hoping for some killer matches

Big Brother 11
Round 1: BBQ 0, Jeff 0
Round 2: BBQ 0, Jeff ½
Round 3: BBQ ½, Kevin 0, Michele 0
Big Brother 10
No title events
Big Brother 9 Winter Edition
Round 1: BBQ ½, Ryan 0
Round 2, BBQ ½, Adam 0
Round 3, BBQ ½, Ryan 0
Big Brother 8
Round 1: BBQ 1, Dick 0
Round 2: BBQ ½, Zach 0
Round 3: BBQ 0, Dick 1
Big Brother 7 All-Stars
BBQ training sabbatical
Big Brother 6
Round 1: BBQ 1, Ivette 0
Round 2: BBQ 0, Howie 0
Big Brother 5
Round 1: BBQ 1, Cowboy 1, Drew 0
Round 2: BBQ 1, Drew 0, Diane ½
Round 3: BBQ 1, Cowboy 1, Nakomis 0, CBS 0